Brad the Painter – Painting Tips by a Professional offers advice and recommendations on how to do your painting project well, safe and fast.  You'll find tips known only to the pros, and painting tools that save time and money. Brad has been in the business for well over 30 years, and is now in semi-retirement passing on the secrets to you.  There really need not be any dread of painting by yourself. There are tools that do not cost much that save you time and cut through frustration.
Painting Tips
From the first steps of choosing your color, to getting your project prepared, and then to actually painting and cleaning up, we will offer easy painting tips and recommendations for interior painting.
The products we recommend are carefully chosen.  Advice leans toward safety and away from toxic and environmentally unsound products and only recommends that you get what you need.
Whether you are going to do a small room inside or your entire house inside and out, check out the informative, often funny, and always helpful tips and advice you will find here.
About Brad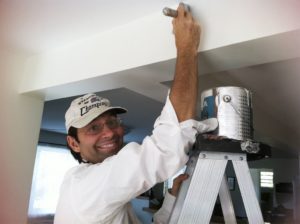 I have been a professional painter since I was 17 years old and I pride myself on my neatness and professionalism.  In most cases I can come to see your project the same day that you call, (free estimates of course), or at least the next day depending on the hour that you call.  I can usually begin the work on the day of your choice.  Thanks for considering me!
My Training
I was trained by, and have worked with several professional painting companies both big and small.  I am very proud of the fact that in all the years that I have been painting, I have never had an unsatisfied customer.  Not just a residential painter, I have also been the contract painter for a number of large property management companies.  I often work closely with several talented interior designers who I can recommend to you.
My Fees
The labour prices that I charge are far less than for large painting companies but the quality of the work is the same.
The Paint I Recommend
I always recommend using Benjamin Moore paints even though the price is slightly higher than other paints, because the finished product is easy to clean, easy to touch-up when necessary, and does not fade quickly like other paints that cost nearly as much.  Using my contractor's discount, I can buy paint for you at a reduced rate, and it is important to note that I do not make money on any materials that you may need for your project.
Recommendations From Clients
I love giving professional tips on painting. Please be sure to read some of the recommendations that a few of my clients have written.  If you would like to speak with anyone of them, I can arrange that telephone conversation at a time that is convenient for both of you. Contact Brad