My advice: be conservative: choose the best deck stain you can afford. On my own deck, I used ECO Wood Treatment(1-gallon size): it is once-per-lifetime of the deck. It's a powder you mix and spray in a garden sprayer. But if you go with a traditional stain, the key point is low maintenance and it is what you will get with the best deck stain and sealer.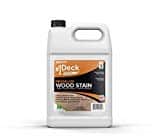 I tell all my customers: semi-transparent stains are great because they are low-maintenance, even though it may not protect as long as thicker stains, there is never any scraping—just a quick pressure wash at most, then re-staining. A product called "#1 Deck Stain", from DEFY, is actually pretty decent and has a lot of good feedback. Very good price and easy to clean up. Definitely one of the best deck stains on the market. There is one more good one below.
---
What types of quality deck stain are available?
Jump below to the list: best deck stain and sealer. (Also, check out our page all about deck supplies/prep tools etc.)
Once-in-a-lifetime deck preservative: This is what I used on my deck: Eco Wood Treatment and sealer. Here you can click on the image for the one-gallon mix.  This saves you money because it's once-per-lifetime of the deck. Low effort, low cost, great protection. Safe chemicals alter the wood so that it can not rot. Really, there is no downside, except only 5 colors are possible. Just cannot say enough good things about my deck with this treatment. See our post dedicated to just this product. (No we don't work for them! Just love the stuff.)
Deck sealers: A deck sealer offers water protection (until it ages), but will not protect from sun damage: it will not prevent the color underneath from graying. My recommendation is Benjamin Moore Arborcoat Translucent. Please NEVER use Thompson's Water Sealer on your deck: it lasts about a day. Oh, the bad stories I have heard. But Arborcoat gives great UV protection in a clear deck sealer.
Transparent stain: Same as the next one down on the list, just fewer "solids" in the solution. This is not for color, just protection: Ben Moore Arborcoat is what we recommend.
Semi-transparent stain: Now you're talking. Next to EcoWood, this is the next best deck stain: low effort, low maintenance, medium protection. This a semi-transparent in four color choices. The container image is at the top of this page: click up there to see the colors and more.
Semi-solid stain: Simply a transition between the one above and the one below on this list. Shows some wood grain.
Solid (opaque) stain: DEFY also makes a good solid deck stain, also called "#1". Almost exactly the same as paint. We cover this in our post on the best deck paint. Solid deck stain and sealer can hide many imperfections but hides the grain of the wood. Downside? Scraping in 5 years. Or 10 at most. I don't like the name, "#1". Rah rah. But it is one of the best deck stain products today.
Restore deck paint: BIG WARNING… Most of these do not work and are now or have been sued in class actions. If your deck is in horrible shape, this might help delay the installation of a new deck.  They always lose. LO-OO-S-er products! There was one possible product—a three-step process from Anvil, but now it is no longer available. All 3 big makers, (Olympic, RustOleum, and Behr) are in class action law-suits up the Wazoo. The Rustoleum product is shown after 6 months on one guy's deck.

Deck restore after 6 months

Some companies claim they can restore a deck, but deck restoration is often not possible. We have a post on restore products good and bad in our Paint or Stain a Deck.

Replacement. There, I said it. My advice here is that if you can afford it, go with a new deck and treat it as soon as the lumber cures. I have recently learned that composite decking such as Trex is not as good as wood. It bends. If you use it, make your supports very close together.


---
Colors
Remember that semi-transparent deck stains will allow the wood grain to show through, while deck stains with more solids are more opaque and cover the grain more fully.
The exact same stain will be a different color on different woods
When deciding what is the best deck stain and sealer for you, choose a small hidden piece of wood from your deck and remove it. Take it to your local paint store and ask to see the different samples applied to it. If that can't happen, buy or ask for some free deck stain samples. Stores sometimes have mistake-tinted stains for reduced prices, but you usually have to ask.
Here is a nice article, sponsored by Minwax, explaining how the stain combines with the wood. Below you see 5 types of wood getting the same exact stain: before and after. You can see that some sections of the samples were treated with a condition for better penetration (photos from Minwax).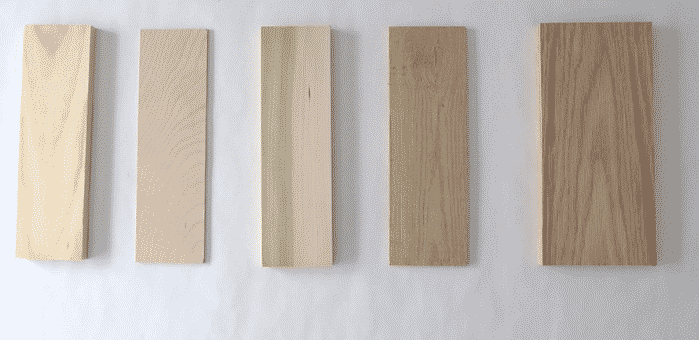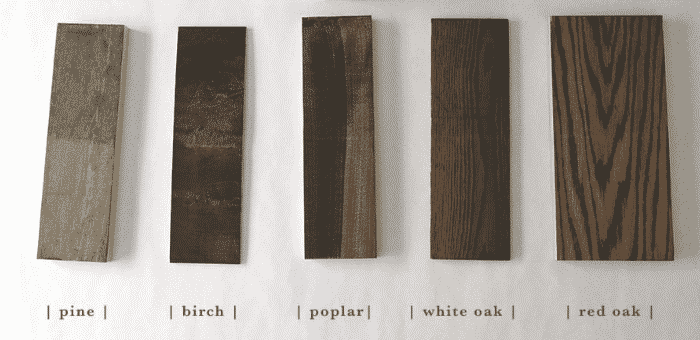 ---
Surface graying from the sun (UV) exposure
The best deck stain and sealer will protect the wood better if it contains some solids (resins etc) to cover and block the sun. The more solids in your deck stain, the better your protection. So this is a factor that you have to balance with your desire to have a low-maintenance deck.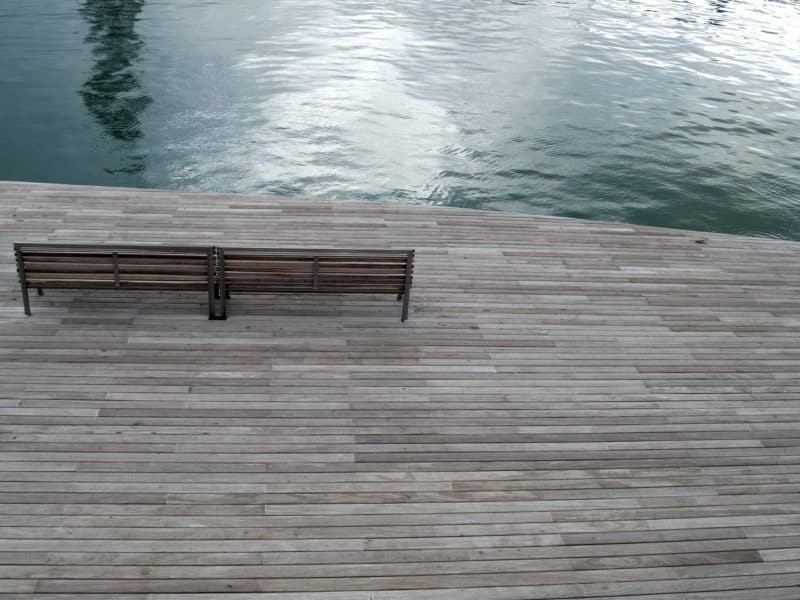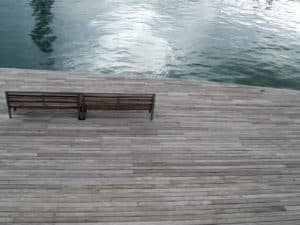 Makers of today's best deck stain and sealer
Olympic, Behr and so on have decent products but we don't recommend them these days. We don't like the fact that some of them have false advertising (as in 'one-coat' paints etc). We only go with the big boys on the block, Benjamin Moore, and so on, and we do not get paid to say this. Avoid Thompson's unless you like spending money and having little protection (it looks good and protects for a year at most even if applied gentle climates). You should hear the stories I have heard.
How long should the best deck stain and sealer last?
For water-based stains with fewer solids (semi-transparent etc), perhaps every two to three years, depending on where you live. For oil-based semi-transparent stains, expect to re-coat in three to five years, perhaps.
Thicker solid stains of both types will last longer.
More solids, more opacity, longer lifespan. (But more scraping later!)
Remember
Shake well just before opening as the solids settle out fast. The store will shake a non-rusty can for you even if you have opened it, but you then need to either use it right away or shake by hand. It's best to just shake it by hand on the spot. See my short video of how a professional painter shakes paint. (Don't shake clear coats—it makes bubbles! Stir it Mr.Bond.)
The list: best deck stain and sealer
Tip: Thining of spraying it? Greenlight. Read about the best paint air and airless DIY sprayers. I researched garden sprayers for spraying stain: this is the way to go for light stains, not opaque. In this post, I selected sprayers that can handle cleary, transparent and semi-transparent stains. The low-cost sprayers cannot do it all. These are life-long quality stain applicators: just keep them clean as I explain in that post.
Everyone would like a product that looks great and lasts a long time, but you have to choose between the look you want and the labor you are prepared to do (or pay for).
In my 35+ years as a painter, I've done tons of decks, literally. I've also been looking around the internet at the state of affairs of these big stain and paint makers. It's not pretty. Many products succumb to the elements very quickly and you have wasted your money AND you have to do it all over again!
There are too many categories and it confuses me too: but here are the basic categories:
One-time products. I put Eco-Wood Treatment on my deck last year. I'm lazy and hate to spend money, and I like gray decks. At the time I was told they only offer gray, but now I see they have 5 colors. I have written a lot about these products, but there is too much to say, so I have put everything in a new post on Spray Wood Stain. It's a powder you mix with water and can spray from any garden sprayer. You get a tint bottle with it and can use all of it or not. I really recommend that everyone consider this option carefully.


---

Best deck sealer. A deck stain alone, however, will not protect from sun (UV) damage. This can also cause the natural oils in the wood to become dry and crack. The best deck sealer I know of is the Benjamin Moore Arborcoat Translucent. It has the best UV protection out there. In any case, please never use Thompson's Water Seal. It is simply paraffin wax dissolved in mineral spirits. Send your money to starving children: this will have the same deck protection as this so-called deck sealer.


---

Transparent deck stain. Almost the same as semi-transparent, but just has fewer solids in the solution and will need re-coating more often. Here, there are no options for deck colors. Ben Moore Arborcoat Clear to the rescue. It does need reapplication every so many years depending on your climate, but the prep is just a quick power washing and wait for the wood to dry. Nice.


---

Semi-transparent stain. This is in our opinion

the best deck stain and sealer

(after Eco Wood). I always try to protect my customer's wallet and this is what I recommend. There is next to zero prep when re-doing (just a quick pressure wash), but on the other hand, you do have to do it more often. The look has some color, but not as much as the stains below in this list. We like DEFY's Semi-transparent for both the walking surfaces and for railings too. Very good price and easy to refresh every few years. It's water-borne so easy to clean up: just an excellent product.
---
Below this option, there is nothing that I hesitate to recommend to any customer as these products all start to involve more maintenance (but I have to admit, they look better!)
---
Semi-solid deck stain. This product comes in between transparent and solid deck stains. More protection than a transparent stain, and less than an opaque stain. If you go this route, give a look for Cabot Semi-Solid. There are not many choices out there as most folks go semi-transparent or full solid (and paint). This Cabot is oil-based and offers moderate UV protection. Cabot Stains: since 1877 !


---

Solid (opaque) deck stain. Opacity is the degree to which you can see the natural grain of the wood. They peel over time and require much labor to keep in good condition. The "#1" from DEFY has perfect ratings as of this writing. Opaque is the only product to use if you want to stain over paint. There is little difference between this deck stain vs deck paint. Comes in 5 colors.


---

Luke, these are not the droids you are looking for:

Deck Restore Products. Super thick paint, but most do not last and some make things worse for your wood. Even the great Sherwin-Williams is in hot water here. Some will have "4x" or "10x" on the label: this means it is 4 or 10 times the thickness of paint. This is supposed to fill cracks and "restore".However, please read about some lawsuits involving Rust-Oleum Deck Restore, and Olympic Rescue It, and Behr DeckOver, and others.
---
Sample many stains
If you cannot take a small piece of wood to your local store, you can ask for free samples (they often have open cans for this if you ask) or you can buy a few small cans. Apply the deck stains in an out of the way areas with different amounts of light (and be sure to look at it at night if you have lighting on your deck).
What deck stains last the longest and why deck stain jobs go bad
More solids in opaque stains last the longest, and less so as stains become more transparent.
Jobs go bad because of too much stain: do it once–don't re-coat
Decks are not cleaned well with water pressure
People stain or paint when damp
Before staining 'pressure-treated' wood (the green/brown stuff) read about it in How to Stain a Deck.
People fail to allow all new wood to weather for some months
You should not apply even the best deck stain and sealer in direct sunlight
---
Final tips: How to stain a deck… a summary of our other post
We explain this in How to Stain a Deck, but just to summarize:
The most difficult job I do as a painter is scraping and sanding old paint. This includes 'solid stains' which are essentially paint: they crack and peel with age.
For more transparent stains, the only prep for re-treatment is a light washing using our #1 prep tool: a pressure washer. They last for-ever.
We save an enormous amount of time by spraying the stain with a low-pressure insecticide sprayer. We take our time and protect non-decking with plastic sheets and tape and paper. This saves a large amount of time: no cleaning overspray in the end: that's a drag. Read the list of deck tools, and just pick what you need.
With any applicator (and a 9-inch roller is also good here), we always have a quality brush handy to push the material; into the grooves and corners. A soft spray lets the wood soak up the stain, and if there are any puddles, you push them around with your brush.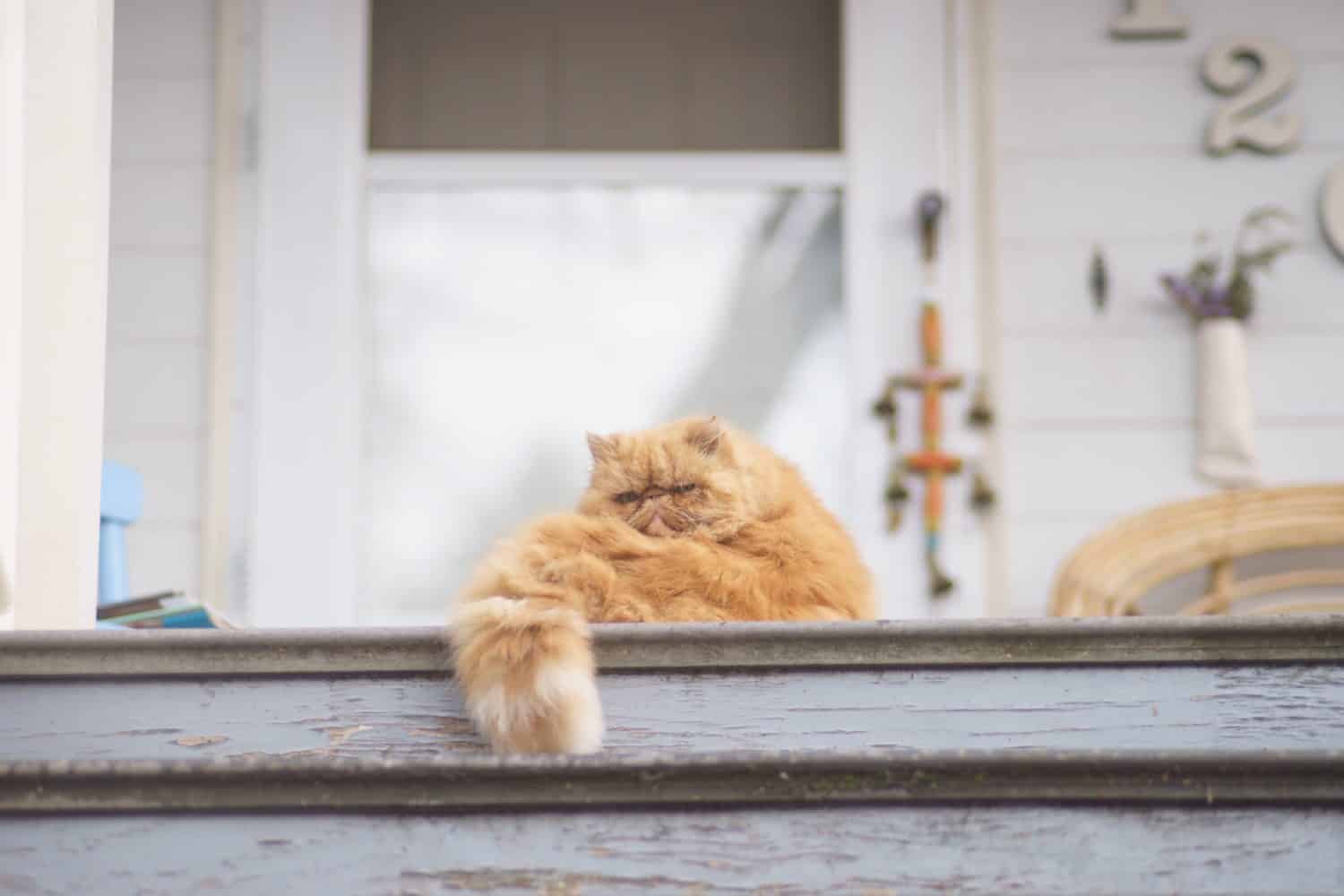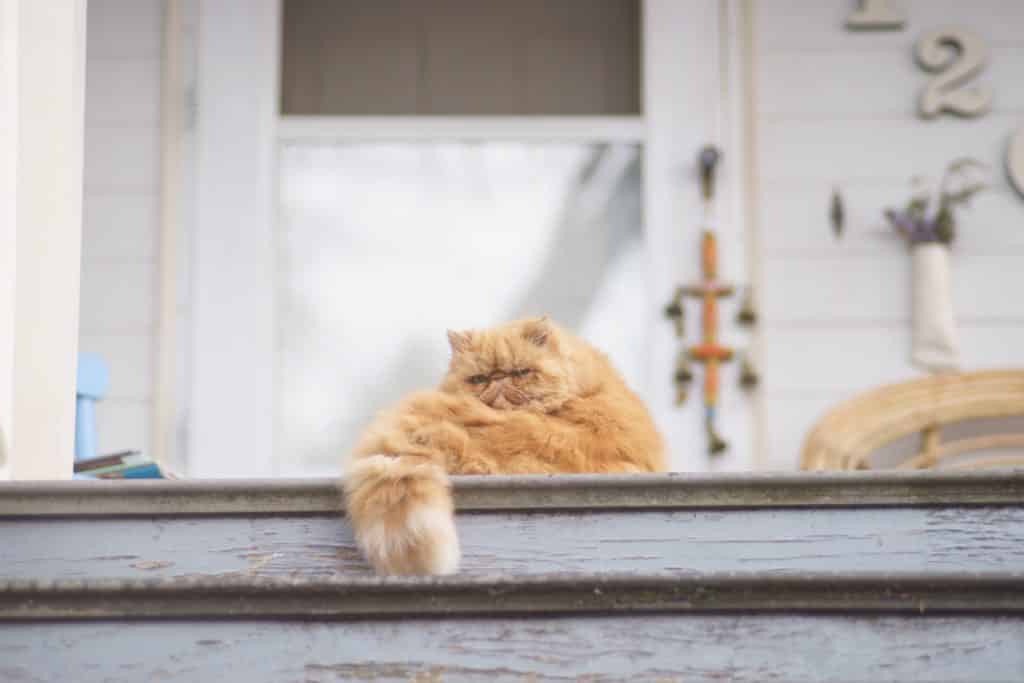 Related: 
Spray Wood Stain – Zero-Maintenance Deck Stain Treatment
How to Stain a Deck Quickly, the Right Way
How to Paint a Deck With One Big Timesaving Tip
Best Deck Paint (with a Big Word of Caution)
Paint or Stain Deck? (bonus: Deck Restore Products That Don't Work)
Be sure to have all the painter tools that you need
---
Good luck. Contact me with any questions in the comments below!