As a professional, I use and recommend to my customers the best deck protection. What I like is not necesarily the prettiest stain but it's once per lifetime. I think I have your attention.
I really dislike scraping paint. (Opaque stain is basically paint).
Ah, to never have to do it again! One and done baby. I'm so happy that my paint store buddy recommended this to me—I had no idea of the existence of this type of one-time-only spray wood stain.
You want this for your deck, Luke Skywalker. This is the droid you are looking for. The force is strong in this deck treatment!
It's more than stain—it's not really a true 'stain', just better, Master Yoda. Namaste.
The spray wood stain that I used
Eco Wood Treatment,  is a once-in-a-lifetime preservative: low effort, low cost, great protection. Really, there is no downside, except maybe that colors are limited to 4. I sprayed it with this insecticide sprayer. I wrote an entire post about using pump sprayers for stains: it's tricky for 'real' stains.
Eco Wood comes as a powder that you mix with water, then either spray or roll/brush. Below we discuss applying it. No-brainer: spray it. Like gray ("Silvery Patina")? Don't use any tints.
Choose packet size on this page:
One gallon (perhaps a 10 x 10 front porch stoop)
We got enough to make 5 gallons: we have a party-sized deck. It comes in multi-packs too.
Colors: see below.
I view this type of deck treatment as being like the factory green/brown "pressure treated" wood treatment. A remarkable story on this treatment in my short video at the bottom.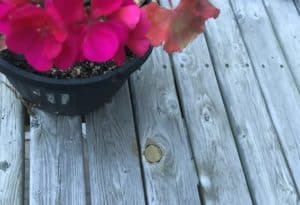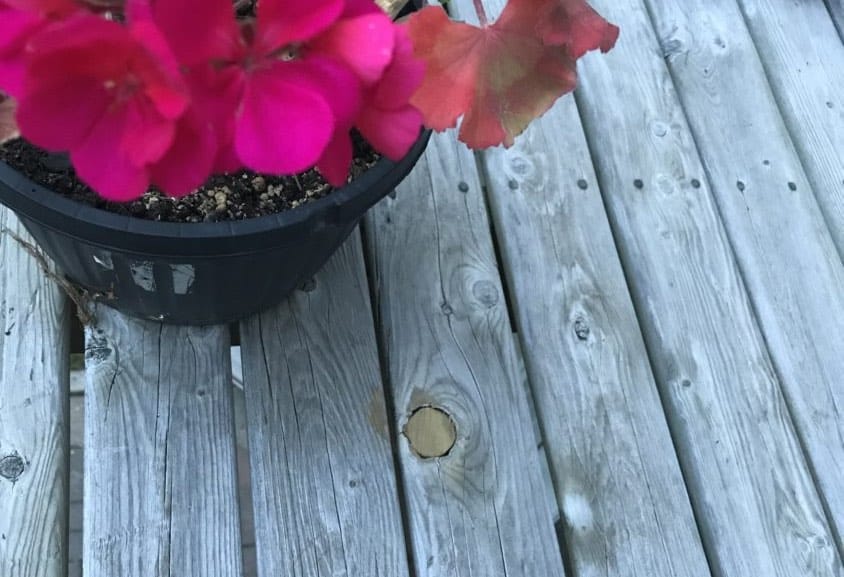 This photo shows my deck just after treatment (Silvery Patina non-color): we had a 20-year-old deck of the 'green' pressure-treated wood that was totally faded but still tight. You can see where we had a knot fall out some years ago and how I replaced it with a plug of the green-treated lumber. In the photo at the top, it has aged 2 years: looking good.
The only reason to re-treat after some years would be if the color fades and you want to refresh it. The wood is protected forever.
Simply apply and let dry above freezing temperatures.
---
Color choices for this spray wood stain



---
EcoWood Treatment has come out with several color versions since I did my deck. It's based on the same powder that you mix with water, but it comes with a bottle of dye you mix with the solution. The colored version is not supposed to be used on surfaces you walk on, but it can be used on all other outdoor wood. Sort of a deal-breaker for me.
Slivery Patina

(no pigment added)

Black

Brown

Gray

Red 
I used the non-color version: Silvery Patina, the one with no dye included (you see this product in their video). In my video (see below) you can see what it does to wood very clearly. My 2nd video below looks at the 4 colors.
Looking for Redwood Stain? I doubt the red is like the ever-popular redwood deck stain, but email them to find out: excellent response time.
What convinced me to try it? Parks Canda uses it on many outdoor structures and walkways, and other cities are doing the same. That means a lot. 
Also, it's not expensive. 
In the company's website FAQ, they say it will:
"actually increase its effectiveness as it ages. Eco Wood Treatment will migrate with cracking and checking in order to penetrate newly exposed wood. It will not cause the wood to crack nor create checking in the wood."
I asked in an email, as I made my decision about trying it about re-application. The rep at EcoWoodTreatment wrote:
"Hi Brad, it does not come off..it stains the wood–rather than just coating it… The colors will slowly fade away after 5 or so years and may need to be reapplied."
So that sounded very honest to me. They seem to honestly say that the color may fade, but the protection is permanent.
Best to spray it
I applied it with this insecticide sprayer. Using this as a deck stain sprayer is the way to go since it can be kept at a low pressure (pump it less). Much more control.
If you want a big-boy sprayer, the real McCoy, read our post about sprayers for DIY people.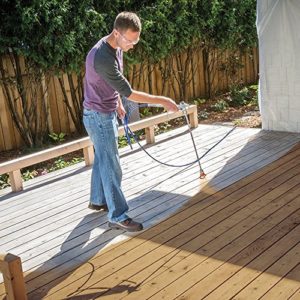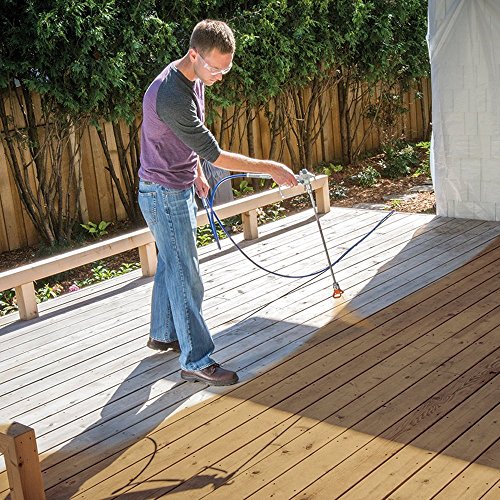 Key tip with all sprayers; keep the tip wet when using and be very clean when storing. Submerge the tip in a can of water when taking a break and blow out air for a long time when totally done. Don't let anything but clear water dry up in the tip and it will last for years. Mine has. You can spray wood stain or paint as well, of course, but the cleaning is a bit harder.
---
In my professional opinion, Eco Wood Treatment is the best deck sealer for some key reasons:
Non-toxic (even use inside)
Very long-lasting
Easy to mix and spray
Decking oil and other types of spray wood stain need re-application forever, what that wha?
In the video from their site, the fellow makes only one claim that I found to be not-so-true.
He says that the dried film on windows is easy to remove. Well, I let it dry without wiping and the film was very difficult to remove from glass. I had to scrape very hard with a wet rag and razor blade. Slow work. I should not have let it dry, duh. Have rags and a bucket of water handy.
As with any deck stain or deck treatment you spray, protect with a hand masker that dispenses a film of plastic. I mostly use it to mask with paper. See me demo this tool in this video.
I actually invented this masker in my mind in 1977: I just cannot prove it!!
When you get the paper or plastic along your line, just tack the loose ends down with painter's tape.
---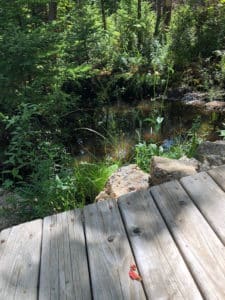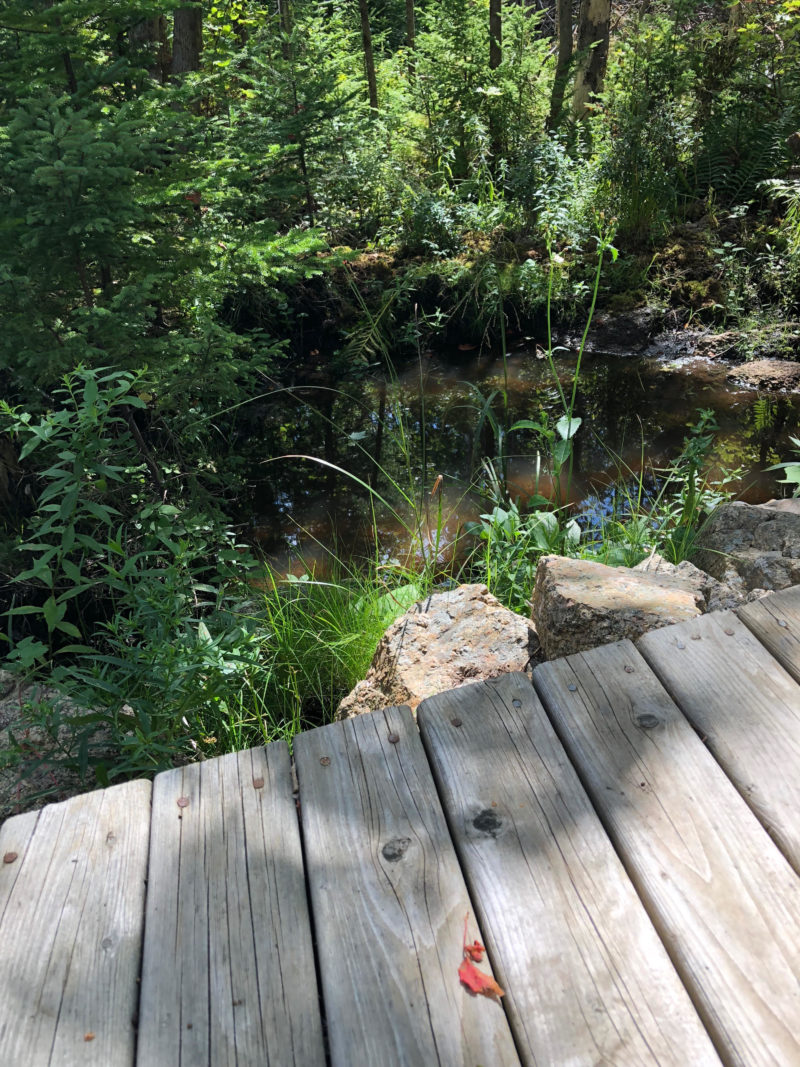 Make sure Eco Wood it will work for you: It works only with either brand new lumber or old lumber that has no paint or sealer, or has had the old paint etc., totally removed.
Another issue is pressure-treated lumber
Factory treatment may have affected the ability of this type of wood treatment to actually wet the wood surface.
Test it: Before buying and applying the product, sprinkle water on the new pressure-treated wood as a test. If the water beads up, then there's too much water repellency for Eco Wood Treatment (or any deck stain treatment) to work. Just wait until natural weathering occurs and the water does not bead up. That may take a year.
How long does wood stain take to dry compared to this? This stuff absorbs and dries like a quick rain shower. Oil-based wood stain takes hours, but that's expected.
Can I brush it? Yes, use a deck stain brush: very wide to cover lots of area at once. You want a quality staining brush as the bristles fall right out of the 'budget' ones. Here is a 6-inch brush that can be attached to a broomstick, Hilda.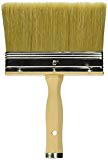 Keep a good brush clean (read how) and comb the bristles straight to dry—it will literally last for generations. The wide 6″ does go a lot faster. Still, I love the old 9-inch roller and Purdy brush (see our tools post for the complete list.)
---
Competitors for 'lifetime' spray wood stains:
Valhalla Lifetime Wood Treatment: about the same price as above. They seem to make all of the same claims as Eco Wood above, but I cannot vouch for it.
TallEarth has Eco-Safe Wood Guard that I have not tried but seems to be much like the Eco Wood Treatment above. It seems to darken all woods (from the reviews). This product is often unavailable. Like EcoWood it comes at least 2 sizes (1-, 3-gallon mix packets) but in only one silver/brown/aged color.
---
So before you go to DecksDirect to start replacing parts or all of your deck, you can certainly extend your deck's life this way.
Related:
Before starting, be sure to have all the painter tools that you could ever need!
How to Stain a Deck Quickly, the Right Way
How to Paint a Deck With One Big Timesaving Tip
Best Deck Paint (with a Big Word of Caution)
Best Deck Stain and Sealer: Complications Simplified
Paint or Stain Deck? (bonus: Deck Restore Products That Don't Work)
Questions about any type of spray wood stain? Use the comments below. Thanks!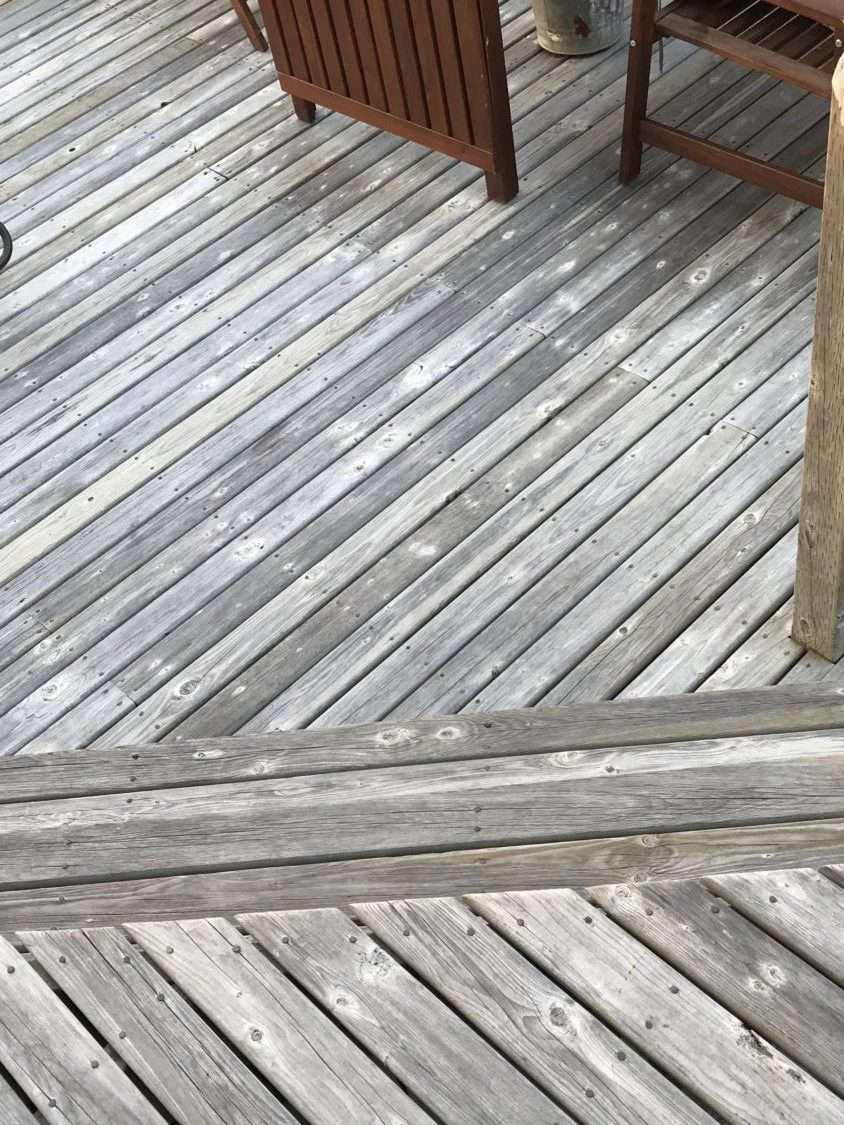 Video story about the power of the dark side (pressure-treated wood):