Here is a list of what we have found to be the best floor paint. Doing a basement floor (or garage)? That is a slightly different animal as in this article on basement floor paint.
Read more on how to paint plywood in particular. Concrete? Read our in-depth article about concrete paint.
First, the best floor paint recommendations and then a complete list all you need to know about how to paint a floor. Fairly easy.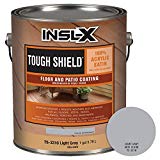 My#1 choice for best floor paint today is Benjamin Moore's Tough Shield, a very tough coating: Ben Moore's best floor paint period. The coverage is high and the price is not much higher than the competition: plus it's better…hello? I recommend this to my customers because it lasts.
Easy work for a painter, and savings for you
I always looked forward to painting a floor: no dropcloths, no ladders, and fast! (Just as long as I had my knee pads).
I won't make any jokes about getting painted into a corner. I'm not trying to be funny. If I was trying to be funny I'd say did you hear about the beer just for painters? They put the label on the bottom that says: "Open Other End."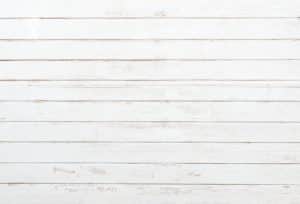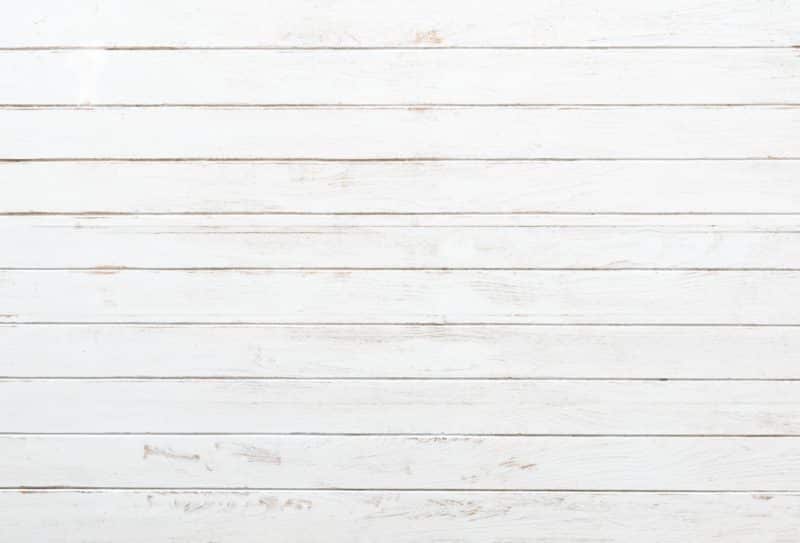 We get asked: "Can you paint laminate floors or paint vinyl floors?" Salespeople will tell you yes. We say a big no*. Yes, you can sand, use chemical etching and expensive primers and try to make the best floor paint bond to these materials, but you are really setting yourself for a big mess that's worse when you must re-do later. This kind of flooring is not made to be painted and the job will not last very long. Just pull up the laminated floor and put in something that you never worry about.
Can you paint ceramic tile? No, but some will say yes, and they will say "buy my stuff". Don't do it. Tiles were never made to be painted! Same as the paragraph above!
Tips:
Buy the best floor paint you can afford to prevent future headaches! Floors get abused. Why repaint after only a handful of years? Many photos you will see around the internet are taken right after the floor was painted so of course, it looks great. How about 5 years later? Use the best floor paint—save time and money.
Plan on a lot of free time later: floor painting goes very quickly. Other than moving furniture, most house floors take about an hour to actually paint. Plan carefully and copy all the steps that relate to your situation from the checklist below.
---
1. One coat is ok for previously painted floors (with the best floor paint)
Here are 3 good choices (#3 is best)
KILZ Interior/Exterior Enamel Porch & Patio Latex Floor Paint
This floor paint has great reviews.

Very reasonable cost
Only 2 colors to choose from—a gray and another gray—but we all like gray, right?
Low-luster (typical for floors)
Not for garage floors, not for concrete
Interior/Exterior
Water-based, one gallon covers 200-300 sq. ft. This is less than wall paint because floors have more texture, little peaks and valleys take paint.
---
Another option is from a very old company: Valspar
A very good choice that can be used indoors or out
3 color options, including white which is hard to find in a floor paints (white, light gray and dark gray)
Water-based
Not for garage floors
Fine for concrete, wood, and primed metal
Coverage for a gallon is not specified: we were told in a support email: "400 sq. ft. depending on surface porosity. When 2 coats are needed for new concrete or badly worn areas, thin the first coat w/1 pint water per gallon paint, and apply 2nd coat un-thinned".
---
Benjamin Moore's INSL-X Tough Shield Acrylic Floor/Patio Coating 
Made by Benjamin Moore and professionals use a lot of it
Not expensive for the quality, and shipping is free, so just sayin'
5 colors, lacking a white
Not for garage floors, but ok for concrete, wood, (and metal if you use a metal primer)
Interior or exterior, water-based
Great coverage per gallon: 350-450 sq. ft.
This is Ben Moore's best floor paint
---
HonorableMention is Benjamin Moore's INSL-X Sure Step (comes in 6 colors)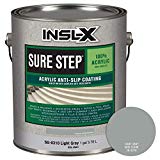 Tested in extreme conditions as are all Ben Moore paints: this is also one of the best floor paint for the money, no doubt.
Comes in six colors including white: believe it or not, white is hard to find in a quality floor paint
Interior or exterior, and water-based
Wood, concrete, or metal floors
Anit-slip but you can still add sand (silica) – toss it on the wet floor and roll over it, don't mix in the solution!
It goes on quite thick: it only covers about 100 square feet, but that is a big plus
Not for garages
---
2. Floor paint and prep: "how-to"
First the prep
Think it through. Plan how you will move furniture back and forth in 2 phases of painting if you cannot move it out. You'll get paint on things, so think about covering nice things with plastic drop cloths. To hold the plastic in place and for edges, use green painter's tape: the old fashioned tan masking tap leaves a glue mark after a few hours. Have soft old blankets or cloth (even cardboard) standing by (to protect the newly painted floor).
Under your furniture, place old blankets/cloths you will need when you move it to the freshly painted section for phase 2. This will keep the furniture from scratching, or sticking and pulling off the new soft floor paint. You may have to clean in sections, them move, then paint in sections, or be willing to do half to completion, then the rest. Remember that paint takes months to cure to final hardness.
Here you can grab any of the prep tools you don't yet have. Make a list based on our list. Think scrapers, wire brushes, work light… We have lots of info on easy cleanup on this site. Start with how to clean rollers.
What you see is what you get: the final product how smooth or rough the floor looks when your prep is done. Feather the edges of old paint that won't scrape off, and sand and clean well any wooden floors to create a paintable surface. This pack of sandpaper has a variety of grits (start with coarse and finish with the medium).
Un-even floor in spots? A floor leveler is easy to use. DAP is trustworthy: Here is a concrete patch and here is a floor leveler other floor types. First, measure the area for what you need and check the details so you don't buy too little. If your floor leveler calls for a primer, prime it when you do the rest. I know that you probably knew that.
Caulk/fill cracks after cleaning and priming. Large gaps should be filled with a special floor crack injection. A good option caulk tubes of cement caulk. Read all about how to caulk and caulk guns. Crack fillers may need to be primed (check the product you buy), but caulk generally does not need to be primed.
First, clean the area you will do LAST. When you clean anywhere, you will spread dust so only clean one time, in two stages. Clean your holding area first, then move furniture onto that section, then cover it all with plastic/cloth as above, and protect the floor you cleaned from dust. Then clean the other section that you will paint first.
Clean in this order: vacuum then mop, then on your hands and knees use a damp cloth in corners. You want to get 99% because everything you leave on the floor will make it's way to the paint bucket and get spread around. This will lead to paint chipping in time. This is the hardest part: it gets better.
Concrete floors that were never treated probably do not have to be acid etched first. If the builder trowled it very smooth, then yes, you need to create a 'profile' or roughness like the feel of about medium (80 grit) sandpaper. Acid washing does this. My advisor at one big paint company prefers floor sanding to acid, but both create the surface you can paint. Muriatic acid is the lowest cost way to do this and if you are comfortable with using a mild acid, go ahead. We prefer Rust-Oleum eco-friendly concrete etcher which is not harmful to plants or healthy skin. Rinse either solution 3 times and suck up with your wet/dry Shop-Vac or towels. If you have a drain, and it works, that's best. Work the etching solution with a brush or a broom. If you decide on real acid, please always add acid to water—never add the water to the acid which prevents any acid splashes. Heat is generated and can propel it out at you. (Wear full protective gear for eyes, skin, etc). Rinse 2-3 times and let dry fully. See California warning on muriatic acid below*.
If needed after it's dry, use concrete crack filler discussed above.
Primers: Some concrete floors are very alkaline (especially new ones). Special masonry primers allow you to use any floor paint because by creating a bond to the alkaline concrete, where the paint will not. (Remember, always wait at least a month for new concrete to cure). Ultra-spec is the contractor line of paint from Benjamin Moore, and this masonry sealer is intended for garage and concrete floor priming. You can our detailed article about concrete floor paint and planning.
How to paint the floor: Karate Kid wax on
Ready? Go. Wait. Safety first.  Wear a respirator if you will be using any toxic materials. Here I explain how to keep it simple.
Any of the paints listed above are a good choice: we always say get the best you can afford as it really saves money in the long run. These will usually only need one coat, but read your paint's label. Now, to paint a floor is the easy part…
Cut the edges. Go all around the edges first. A quality brush will find the corners at least as good as taping, but some people do prefer the tape. For walls and ceilings, we tell people to ALWAYS roll before you brush (cut), but when painting a floor, you cannot do that. Work this fact into your exit plan. Doing epoxy or oil-based? Use a good brush, but not so expensive that you'll hate tossing it, which you will. Another decent choice is the Wooster 4-inch. Don't go with the dollar store thing. The bristles fall into your paint and you won't like picking them out. Same for the roller cover below: did you ever see lint in the paint on the wall? No thanks. Get one for life by spending a few dollars more, Clint. Here is the easy & quick way to clean a quality brush.
Roll. I once wrote: "roller pans are for rookies, so use a bucket". But for floor painting, we don't even use a bucket! We just pour a cup or two of paint on the floor in a puddle! We use an adjustable pole which saves your back work. This pole works with broom screw rollers and quick-lock. The roller cover you use is important: budget roller covers shed lint and will totally ruin your work. This shows how trying to save money is very expensive! Most floor paints call for a 3/8-inch roller nap, but do check your paint's label. When brushing and rolling, don't leave puddles, but do coat it liberally. Cleaning roller covers is easy.
Start painting far from your exit point and leave a path to it.
The next day most paints will be dry enough to walk on, but soft so you'll want to wear socks as you walk. Make sure it is dry as you don't want to stick to it and pull it up.
Need 2 coats? Use a work light to see the coverage, but that depends on your color and if you used low-cost paint (which leaves a thinner film: fewer solids in the solution). The cut may not need 2 just because the roller applies less volume than the brush. The paint can instructions tell you how long to wait between coats but don't wait too long or you will not have good bonding between coats! Check the can's label for minimum and maximum re-coating times, if needed. Don't clean the brush/roller yet: wait for touch-ups if needed. Warp in plastic.
Is the newly painted floor totally dry? Be sure. Use your fingernail to test if it is soft. Can you mark it? If yes, wait and wait. What, do you have some hot date? Hey, that rhymed, Simon.
After each section is painted
Lay your blankets o

ut and put your furniture etc., on that and if you think you need to, cover it (same plastic, same tape). Lay your furniture on the big flat sides, not the legs—the intense weight on the legs might cause sticking.

As the floor drys, check that not objects are sticking. Gently move things frequently and see and if you pull up any paint: if so, touch up right away.
If you are doing your floor painting project in stages, now simply repeat the steps of cutting, rolling the unpainted sections. Your newly painted floor will be soft for weeks in the summer or months in winter: treat it gently!
Clear coating option:
Generally, painters don't recommend clear coating because the next time you need to paint you have a bigger problem. With clear coating over paint, you are creating layers of different products: we think long term. We hate scraping. Many painters disagree. They say it gives longer life. Correct. But eventually, the floor will need a re-do. It's going to be easier to stick with one product for life.
However, these are very useful for covering the color flakes if you use them.
But if you like, before the re-coat window is passed, seal it with a quality clear top-coat—like this high gloss urethane.  Of the urethanes out there, this is one of the best, and the price is reasonable for this type of product. Water-based and stands up to brake fluid, gas, etc. Sounds good to us. The idea is to add years of life before you have to paint again.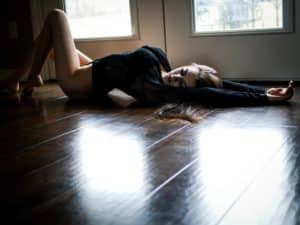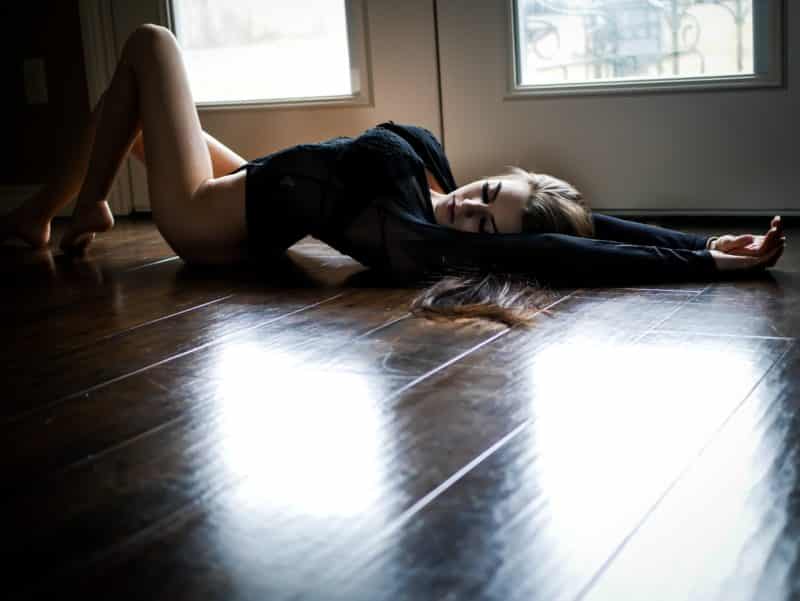 ---
*WARNING: Muriatic acid can expose you to a chemical that is known to the State of California to cause cancer and birth defects or other reproductive harm. For more information go to www.P65Warnings.ca.gov.Related: