No matter what grade of plywood you need to paint, they're almost all the same. We will start by looking at the right paint for plywood, then move on to the details of painting plywood.
You can also jump below to:
Painting plywood floors? Special paint, with some cool stencil ideas, is at the bottom (along with some very cool plywood tricks like iron-on glue banding, etc).
Shopping list for painting plywood
 The one thing you'll definitely need for painting new plywood is the proper plywood primer   don't use just any primer. We explain below about raising-the-grain*.
---
Which Paint? Five good choices.
So many paints… so little time. A typical shelf or plywood project is done with semi-gloss (like other woodwork). The best way to paint plywood is simply a quality primer and to use the best paint for plywood that you can afford.
Drum roll please…
5. A decent quality plywood paint   comes in many colors: click the pages to find the family of blues, greens, etc. For shelves (hard use) surfaces, aim higher:
4. There is no better semi-gloss white on the market than 
3.   fills cracks and evens out to hide imperfections. Three colors, Chocolate, mmm, chocolate, Slate, and Redwood.
2. A very durable paint from none other than Ben Moore comes,   This is our go-to floor paint: we recommend it to any customer. Spending a little more up-front saves money in the long run because quality lasts longer. It's our prime directive, Captain.
1. A modern idea used for painting plywood shelves, furniture, etc., is   which dries very smooth and flat (for chalkboards), but then is covered by   Looks like a spray job. Sixteen colors.
How shiny?

♦ Semi-gloss and gloss finishes are easier to clean when dry and this is what we almost always use to paint
♦ Flat or Satin: not recommended for anything you will touch as it marks easily and is not easy to clean
*You can get a very smooth latex finish by adding   to water-based paint. It slows the drying time allowing brushstrokes to flatten out.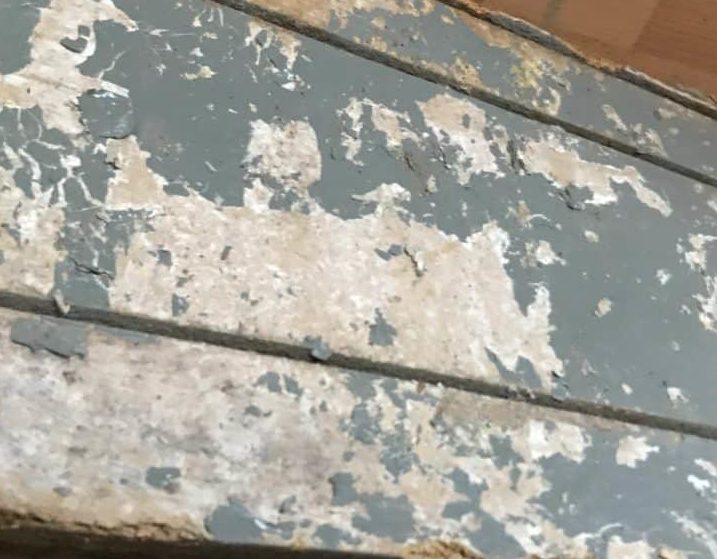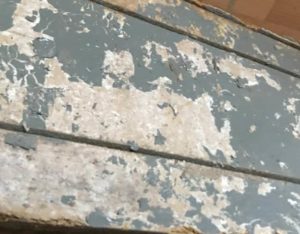 If you're painting plywood that will be outside, as in a shed, go with   after using the oil primer above.
Going Clear: Varathane is still king. Comes in   Note :if not going over paint, it's used mostly for furniture grade plywood (imperfections show in lesser grades). (Varathane has a cool website.)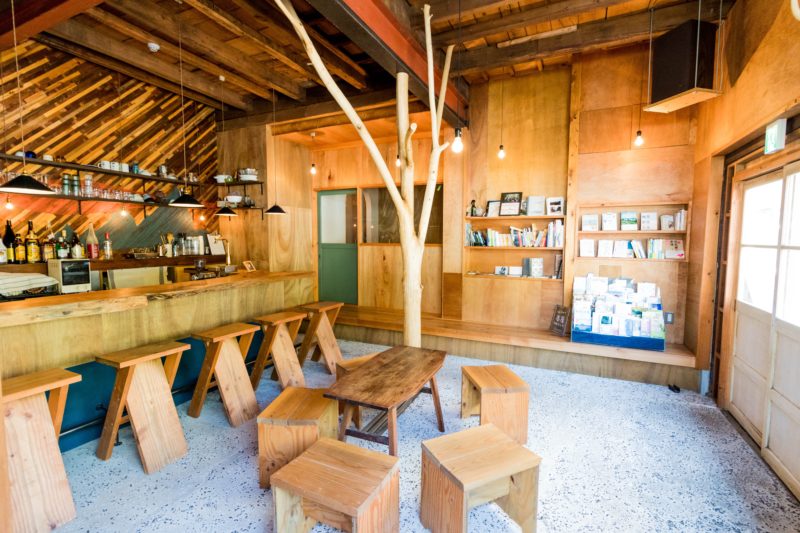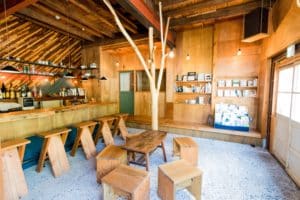 ---
How to Paint Plywood
1. Filling holes, imperfections
2. Sanding and cleaning
3. Primer is Pivotal
4. Painting is the easy part
5. Clean up secrets
Tip: Vacuum the floors all around the project (this keeps dust from flying into your paint.) What would I do without  
1. Fillers
Big tip: With a damp rag, wipe what you'll paint very well. Small dust will be noticeable.
What to filler use? For furniture/shelves etc,

 

Hard to sand, but dries, umm, hard. For floors, see the bottom of this post on floors.
Apply

 

wider than the biggest hole.
For walls, a low-cost

 

For furniture, shelves etc, you need

 

Don't sand the dried filler yet
Note: thick patches may shrink, so let dry and if needed, just top them off.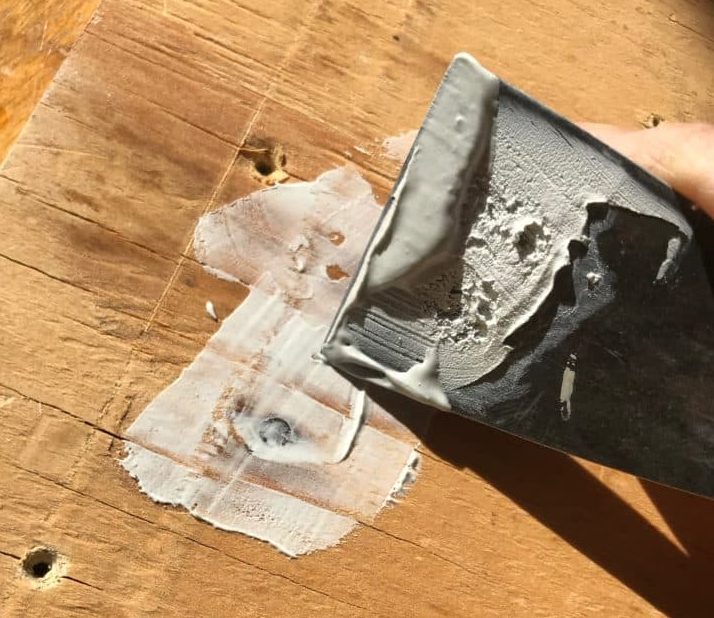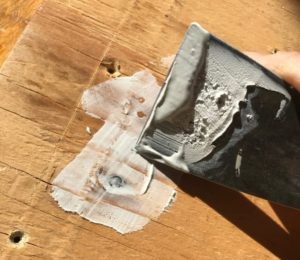 2. Sanding plywood and cleaning: make it or break it
Furniture-grade plywood is great (at 70 dollars+ per sheet), but if you bought the 40 dollar stuff, elbow grease will bring it up a level. We'd recommend getting at least medium-grade for not even a fist full of dollars, Clint.
Why do higher grade plywoods cost so much more? Because sanding plywood takes time and money.
Can you turn medium grade into furniture grade plywood? Yes. Fill the gaps and sand baby, sand.
♦ Sand the entire surfaces at the same time you sand the dried hole-filler.
With what? Start off with 100 (medium-rough) then go finer and finer (higher numbers) up to 220 for very fine cabinet level work.
♦ Clean the dust off with your shop vac or a barely damp rag (or use  -soaked rag). You don't want it water—wet ever.
3. Primer is Pivotal (if the plywood not coated already)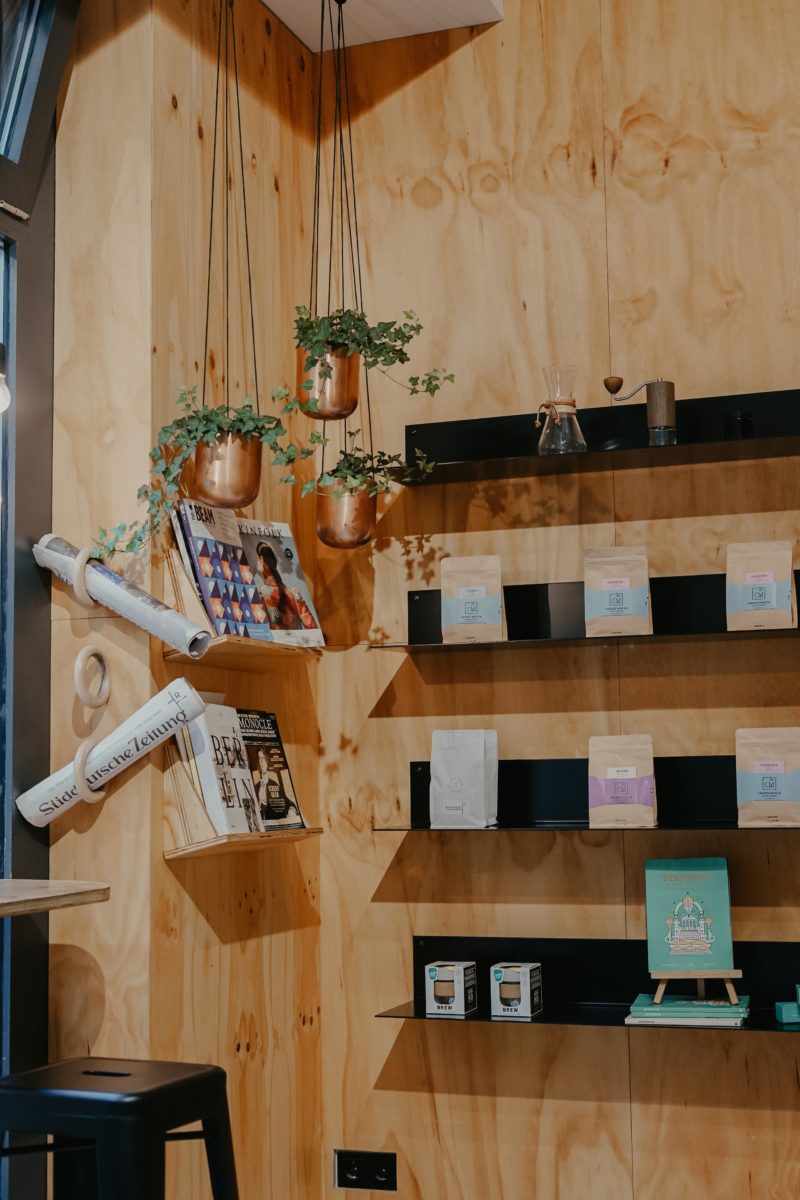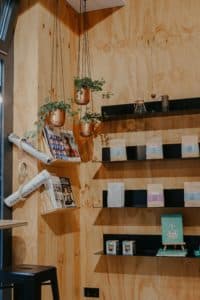 Plywood primer of some kind is a must: plywood is a composite with all kinds of wood knots and glues and resins and you have to seal them or they will bleed through into your top coat.
It also creates bonding between wood and top coat. Ever see wood with paint chipping off? Bad primer.
We don't really recommend paint and primer in one "as seen on TV". There are times it is useful, but not here. Some disagree. Read this forum about the danger of screwing it all up with paint-primer-in-one.
Check for sags, runs, errors, and any men left on base. Depending on drying time, these errors can develop after you think you are done. Dry drips? Just shave them with a razor and try lightly sanding (sanding latex is almost impossible).
4. Painting time
Did you miss our choices for the best paint for plywood? The best semi-gloss white is

 

How do painters go so fast? A roller to spread the paint (makes a very even coat), then "tip it out" paint with a good brush.
Your lifetime brush and roller are under "Shopping List" below.♦ Don't go low-budget on the brush or roller as they fall apart when wet. There outta be law.
Between coats, inspect. Do you see any holes you forgot to fill or that shrank? Just hit them again, let dry, sand and then prime/paint to catch them up.
Read the paint can label on re-coating time. There is a minimum and a maximum. If you wait too long, you have to sand between coats.
Walls? Painting plywood walls are the same as painting any walls after the prep is done. Choose   painting roller cover: about 1 inch. People will not know you have painted plywood walls.
Tip #1:
You may be able to save time and paint by tinting your primer. Careful: too much tint reduces the ability of the primer to do the job you are paying for. Aim for a light gray in most cases: by   Almost all colors cover gray amazingly well. You might not need a 3rd coat (2nd top-coat). Ka-ching.
Tip #2
Paint will not fill tiny cracks, but adding   for water-based paints   for oil-based paints helps the paint to "flow," smoothing out the "grain" plus brush marks totally disappear. The thicker   is good for this too.
Tip #3
Those websites telling you to 'brush with the grain' or 'brush against the grain')? Bunk. Does not matter at all. Primer is key: do it well. That's it.
5. Clean up is way easy
Clean your brush: wire brush the dried crud (handle too) and pound the heck out of the bristles under warm water until 98% clean (more details: 5-minute read). Comb straight to dry: it will be line new next time. Easy. (Video demonstration).
For the roller: massage it under a faucet until mostly clean, then soak in a bucket overnight: the rest of the paint will settle to the bottom. (details: 5 minute read). We use 'spinners' (see video).
Quality tools are hard to kill. A   lasts us 6 months of daily use: all friggin' day.
---
 General plywood tips:
Plywood caution: Ask the store if the wood is from China: there is a lot of junk going around (the layers come apart).
Building something? The best way to paint plywood: do it before cutting it. Then just touch-up the edges where you cut: this saves a lot of time.
All you ever need to know about plywood (every type of composite) is on Wikipedia, Lord of the Internet.
Here is a great video all about the types and uses of plywood and composites.
Spray painting plywood is probably the best way to go if you have a lot: here is a post on 3 sprayers for 3 budgets.
Time out: A plywood guitar? Yes, a very expensive plywood guitar: a 1929 or 1930 Dobro. Owned by Robert Johnson! Not. See the very bottom.
---
Painting Plywood Flooring (and Using Stencils)
Nowhere will you find any floor covering for less than a dollar per square foot except for painting plywood floors.
We priced the cost (including tools, see our list here), at about 50¢/sq.ft. Wow. Clearly attractive. Laminate 'click flooring' is 4x to 16x as much.
There are two basic choices:  , and a decent   You need to like gray.
White?   is a good choice. In two 'shades of gray'.
We have more about this in our post on the best floor paint as well. Painting a floor is the easiest thing we do as professional painters. Cha-ching, the money maker. We have a post about the best basement floor paint, that's all about painting floors (it's not just for basements), that discusses how/when to move furniture, etc.
Be glad and read about how filthy carpet can get.
Note: Plywood is softer than other floor coverings, so you'll get some dings….easy to fix and touch up as well if you like, but most dings will disappear in a floor stencil pattern.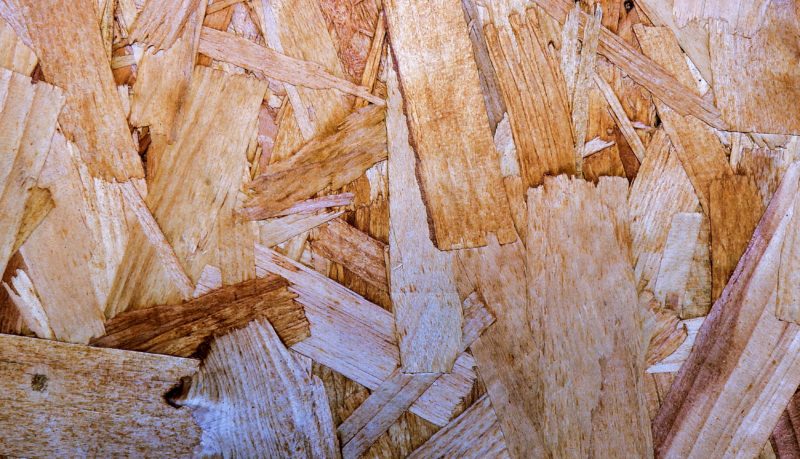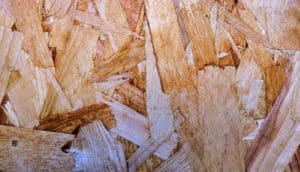 How to paint plywood flooring:
Remove or sink any nails/screws and

 

Don't use floor leveler! It cannot be sanded.
Follow the procedure for painting plywood above but use floor paint: especially

 

(more above) …and…
Plan it out: move furniture, paint in sections.
Read the post on protecting fresh floor paint.
Color tips below.
Very cool: stencil the floor after painting
  is a nice pattern to start your search with.  
Key tip: this requires one coat (only) over your painted plywood floor.
Stencils come with full instructions (videos too, duh).
Bigger stencils will make your work faster.
A mini roller with

 

may be the best application method for DIY'ers.
For 9 inch rollers,

 

not expensive. Clean and keep!
Simply lay the stencil in place, secure with painter's tape, then paint your accent color.
Use

 

(only) to hold in place while painting. (It has special glue that will not pull off recently applied paint).
Lightly roll or brush your roller over your stencil.
Clean the stencil after each square: don't let the paint dry on it and you'll keep the lines sharp.
Repeat.
Tip: Clean the stencil after painting over it with each section: you will need a water basin and old towels. Keeping it clean makes for sharp lines.
Colors
that
work
together

:
Bold choices might sound good, but looks sort of '70s. Go neutral, earthy.
The bottom color is the background. If the stencil color skips etc, you can touch up with an artist's brush.
Most floor paint is some gray etc. I used colors suggested by these architects.
They say gray goes with black, rose, green mint, cherry, sunny yellow, aqua and more. We did black over gray. Nice.
---
Banding: the illusion of wood.
Banding with     easy to apply with an iron. See my video below for how to make paintable plywood edging for almost no cost.
---
Shopping list for painting plywood: choose your weapons
Main Tools:

♦ We use

 

will last a lifetime.
♦

 

(a.k.a roller cage).
♦ The wool/poly blended

 

Choose the ½ nap for painting plywood. Budget rollers shed lint!
♦ A professional set up that replaces the flimsy roller pan: a

 

and inside it goes

 

Waaaay better than pans.}
Tip: Bristles fall right out of 'budget' brushes and lint out of rollers. Get my tools and you won't spend much more than you would for those all-in-one kits with the crappy brush and pan etc.
Quality tools: easy to clean up. Make them last a lifetime.
Other necessities 
A variety of

 

, and if you're doing a lot, you'll love having your

 

At publication time, this was well under fifty dollars: wow. Good price. I'm grabbing one too. Does not require specialty paper. Whoever thought up sanders that need special paper? Daft. This sander uses any "hook and loop' circular paper.

 

with 100 pieces and almost perfect reviews.

 
Primer is a must on new wood
Everything you need to know is below in 'how to paint plywood'.

 

as a plywood primer will not raise the grain of the wood*. There is also

 

 

dries very hard, and for gaps between plywood sheets. For floors you really want the gaps to give (hard stuff cracks), so get

 

Tape: Pros don't use it except for weird angles, but it may make you more comfortable.

 

has glue that will not pull off other finishes and can be left on for many days. (From a good brush comes a sharp line and you don't spend money on tape.)
* All wood has layers of soft/hard/soft grain. Water-based primer makes the soft grains swell more than the hard, and create a bumpy surface. Big time sanding. A world of hurt. Mucho problemo sandingo.
Don't like seeing the rough edges? Try    the best carpenters do it. Household iron required. More at the bottom.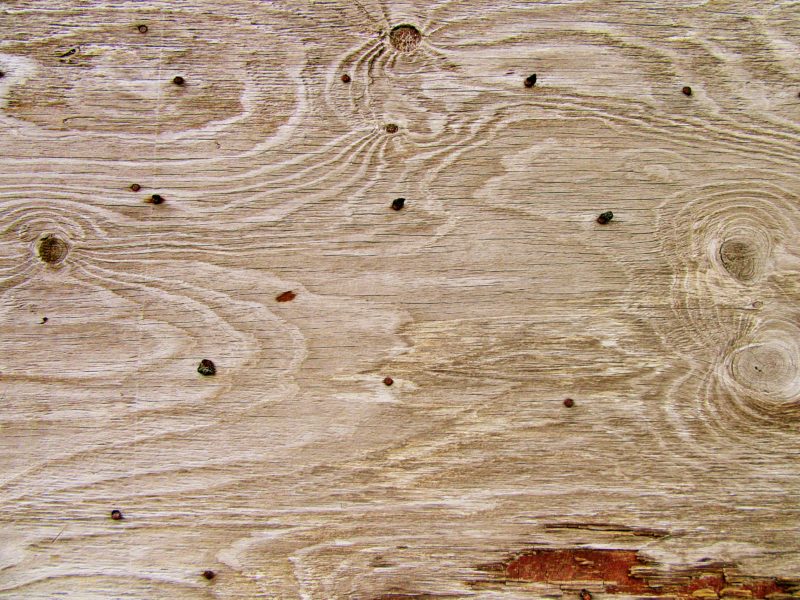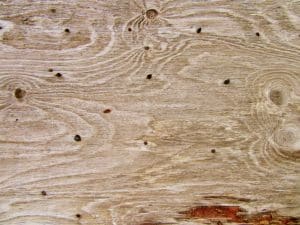 Related Links:
How Many Coats of Primer for Any Situation? You'll Like the Answer.
Best Floor Paint: Only 1 Coat!
Best Basement Floor Paint & Painting floor in 5 steps
Painting Tools List (with 5 BIG TIMESAVING Paint Tools)
Did we forget anything? How to paint plywood 'XYZ'? We hope we covered it all, but you never know. Let us know in the comments below.