We have used a number of quality paint sprayers that use air compressors (a.k.a. electric paint sprayers), and many different airless paint sprayers: we've boiled it down to the best paint sprayer for each budget.
There are really two separate worlds of paint sprayers: airless and air. The low budget model is an electric paint sprayer (just pushes with an air pump), we recommend the Wagner Flexio 590. – it is a very good quality paint sprayer gun for the price.
The best airless paint sprayers simply pump liquids. We have broken this down into the best paint sprayer for 3 budgets. The Graco Magnum is the man: see this strong lifetime machine. For a medium budget, it is a high quality airless sprayer. Taken care of, this excellent paint sprayer will last a lifetime.
We list important paint sprayer tips and the supplies you'll need at the bottom.
---
Low Budget: Best Paint Sprayer for Walls
The best paint sprayer maker of low-end sprayers today is Wagner (company website). If you have a low budget, you really don't want to buy an airless paint sprayer: you will not get your money's worth for your interior paint spraying.
The only reliable choice that is not an airless paint sprayer :
Low budget sprayer notes:
If you have only one project like interior paint spraying and you want to spray and then sell the machine (you only need it for a while), you can be sure the Wagner below will get you through.
These cannot be used with a power roller extension: you need a separate unit for that or the sprayers just below. We explain power rollers in a post just for them.
If you go low budget, you'll eliminate a lot of painting hassles and save a lot of time, but you won't have it for many years to come. For the money, they cannot go that distance.
---
Medium Budget: Graco Magnum
The big dog in the race, from Graco: the Graco Magnum 262800 X5 Stand Airless Paint Sprayer 
On sale for at time of publication: they seem to always be "on sale" if you know what I mean).
Classified as a "DIY", but used by many professionals (but check the High-budget below)
Can be paired with power roller extension (buy roller covers on this page too)
We have a post just on power rollers
Can be used an with extension wand (extra paint spraying speed is well worth the cost). We use the 30″.
Unlike the low-budget models, airless paint sprayer tips can be reversed and cleaned on the fly if clogged
---
High Budget, Professional Grade: the King of Airless Paint Sprayers
There is nothing like the Graco Pro 210 ES. The pros in the chat rooms rave about this machine. Worth every one of the thousand dollars it costs. It is certainly the highest quality airless paint sprayer for ceilings and walls.
You can spend a lot more and you will not find a better machine. No, we receive no money from the maker for saying this.
We have stripped away all the many choices in the high-end market based on experience with interior paint spraying and many other painters' paint sprayer reviews. Surprise: we pros don't spend thousands. What you see below is a high-quality pump that you will put in your Last Will.
You will get a great price online, but be sure you know where you will take it for service as paint stores tend to only like machines they sold you.
Enjoy. Lucky you.
---
Accessory: tip extension for paint sprayer
The paint sprayer "wand" is very helpful tip extension. Our choice is the 30-inch wand, but you can have bigger or smaller: size matters!
website
: we love Hyde tools and wish more stores would carry their items: they last.
---
Finally, to make this post complete, we recommend a garden sprayer for spraying stains (see one of our six posts on decks and staining).
Tip: Keep the paint sprayer tip (and interiors) clean and let the hose dry all winter and it will last and still be useful in the garden!
---
Just the tips on tips:
These come from my experience of 35 years as a professional painter. Plus,  a paint spraying tips from the maker: Graco website's tip info chart.
Every time you stop for even a short break, soak the entire paint gun in a bucket (water for latex, thinner for oils) This keeps the tip from clogging
Strain every gallon of paint, even right out of the can (also prevents clogging)
Paint pressure near the spraying tip of the interior paint sprayer is enough to inject paint into your skin: be careful
Test the paint gun tip's spray fan for density and width (test in the kid's room!)
Always turn down the pressure as low as it can go (saves paint and wear on the tip)
Many paint sprayer tips can be reversed. When your tip seems to be clogged or is showing 'fingers' in the spray pattern, you simply reverse, spray into a bucket, and it is clean.
Suggested spraying distance of 12 inches to start, then you will adapt
More below images

Other important paint spraying tips:
Wear a particle respirator (read: we made your choice easy) and if spraying indoors, use a chemical filter cartridge as well.
Eye protection highly recommended.
We use a hand masker with special green painter's tape (does not pull off paint), and wide paper and sometimes we mask with plastic.
If you are new, learn how to spray paint on some cardboard: mask nearby items
Ventilate well inside, and be careful of wind outside (cars nearby will be damaged!)
Keep pressure low and you will reduce the overspray, saving paint and money!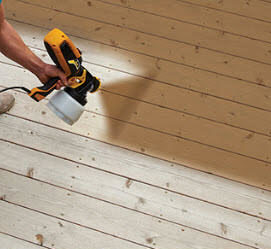 Recommended Tip Sizes for Common Coating Materials
| | |
| --- | --- |
| Lacquer or Stain | .009 – .013 |
| Oil based Paint | .013 – .015 |
| Latex Paint | .015 – .019 |
| Heavy Latex or Smooth Elastomeric | .021 – .025 |
| Elastomeric & Blockfiller | .025 – .035+ |
Supplies needed for airless paint spraying:
In addition to the normal painting tools, you'll need
You will need a few old empty paint buckets and lots of rags—whatever you have around the house.
This painter shows you how to use a paint sprayer: nice job buddy.
If you will probably only use an interior paint sprayer once or twice, I recommend you spend your money on an the low-budget electric paint sprayer: save money and save lots of time. The airless sprayers are better, but the electric paint sprayer will be enough (then you can sell it on eBay!)
There are many indoor paint sprayer reviews elsewhere, but we find that they are mostly sales articles. We hope this article helps.
Let us know if we forgot anything in the comments below. Thanks.