As a painter for over 35 years, I've done tons of decks: literally.This page contains everything on deck treatments you need to jump in. I'm with you.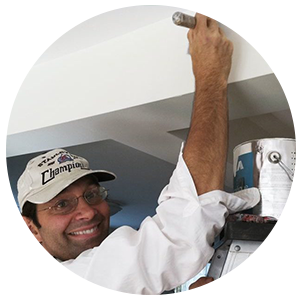 Hi, I am Brad (The Painter!).
I am a professional painter for over 30 years, and I am now passing on tips and trade secrets to you.
You can go much faster with your deck work with a good paint sprayer. Here are the main recommendations. You can read more about our recommended paint sprayers here. Also, be sure to look into the Deck Prep section: it has masking products you need for a spray job. Also, you'll need strainers and more shown below in "Deck Tools for Stain/Paint​"
Here you have everything you need to prep your deck job. How to use them is described in the various articles on deck care. Doing a good prep job with the right deck tools is key for your next step. We described how to use them for painting a deck or for staining a deck.
Deck Tools for Staining / Painting
All the fundemental tools in our bag of tricks: how we use them is described in the various articles on deck care, above. Some are merely time-saving items, but they will also come in handy in other projects…and we only recommend quality, reasonably priced items that last.
I've searched high and low for a good deck restore product. None of them are reputible. Please read the post all about deck restoration in detail and what deck products are known for. You can really have big problems if you apply them over rotten wood.
Here are the categories for your deck work. Everything here is selected by a pro: reasonably priced, high-quality products. Our goal: cut the labor involved—save time and money.