How to paint a deck is not rocket science, but a few tips will really help. To decide on what product you should use for your deck, read my post on Deck Stain vs Deck Paint, and if you will be painting, read about the best deck paint on the market. I use and recommend to my customers the best products you can afford. It's a no-brainer to spend more here as it means less time and hassle later on.
Picking colors and materials: I use and highly recommend the largest paint brands: don't be fooled by advertising. Most advertised paints and stains are nothing like the real thing: save money by spending more on the paint for your deck.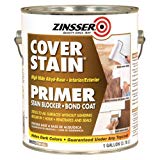 Top-level deck stains save on labor in the long run. Without a doubt, when deck painting, use the very best primer on the market, (Zinsser from Rustoleum). It blocks any tree 'knots' from bleeding through your deck paint which is not designed to block stains. (Paint thinner to clean up, but worth it.)
---
The Short List (with the full explanation below)
Pressure wash—as described below, this can do 99% of your prep—use water pressure to remove loose paint, but be sure to cover your grounds with large drop cloths. Paint chips fly a long way! The rotating tip shown with the washer below is a necessity: it prevents the wood from getting gouged.
Let the wood dry totally—bone dry.
Mask with tape and paper. Cover windows and cover or remove) hardware, etc, and spread drop cloths. There's a quick trick to using tape and paper together. Cool.
Create a spacious work base in a shady area and cover with a tarp or plastic (prevents foreign objects from dropping in your buckets etc).
Primer – mentioned above, use the oil-based exterior and have no fear that you can put latex over that. It's best to roll small sections with a normal quality (wool/poly, 1/2″ nap) roller cover and then brush (click on image) into all cracks and grooves well with a very good brush. Don't fear the cost: these will last you a lifetime.
Repeat with 2 coats of your paint/solid stain: there will be less work brushing into the grooves after priming.
Soak brushes and rollers etc right away until you have time to clean them: there you'll see another short post about cleaning brushes: way easier than you remember.
Spraying deck paint is explained below as well.

My favorite lady on her painted deck
---
How to paint a deck (big time-saving tip ahead)
1. Deck Prep
2. Deck Painting Tips (plus spraying option)
3. Annual Deck Maintenance
The key point to have a high-quality deck treatment is great prep work and the very best primer you can afford.
All the tools you can possibly need are on our main painting tools page or, for decks, our deck supplies page.
---
1. Deck Preparation
New Decks: just a pressure wash will do it
If your deck is in good shape (and not pressure-treated wood), jump below to the section on the painting section of how to paint a deck (below). Lucky you. You don't need to do any sanding or any prep other than a washing (for new decks only). Just below is the section on washing.
When not to wash: Don't do this with NEW green or brown pressure treated wood. The caution about treating this type of deck is in our other post on what to choose when you Paint or Stain Deck. Never paint a deck with newly installed pressure-treated wood. Wait. Read that post.
How Paint a Deck with Peeling Paint
There are 2 choices for how to paint a deck with peeling paint:
The pro way: use a rotary grinder to scrape the deck paint (more below)
The painful way: scrape the peeling deck paint
Scraping is hard work, best done by local teenage boys/girls that want money and are willing to work hard—whatever happened to them? Know any? Me neither.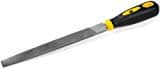 Buy a few differently shaped, good quality scrapers. See my favorites listed below. A good scraper is useless without a good file to sharpen every 10-15 minutes of scraping: yes, that often. Dull scrapers suck. In the video, I show how to use a file to sharpen a scraper.
Your main scraper is shown. Use the metal file linked above to keep it sharp and you'll blaze.
My right-hand tool has various edges, including a curve for squeegee a roller cover. It never leaves my person.
That's all you need!
---
Go electric, like Dylan.
We don't use much muscle in reality.
This is the second step (after pressure washing). How to paint a deck with peeling paint: grind it baby. We use the variable speed rotary grinder you see here to remove the peeling paint. We let the customer's electric bill do the work. A budget way to go is to use a drill attachment. Just never use a high-speed grinder: it melts paint.
This 5-inch grinder will work with the 4½-inch removal pad: the very efficient 3M Sandblaster pads shown here. How it works is demonstrated here on YouTube.
Depending on your grinder, you may need an adapter for this pad.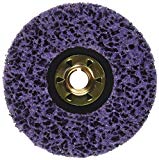 A great extension cord with an awesome rating is here.
---
Pressure washing a deck
If you like, you can carefully wash your exterior wood with the garden hose (slowly making sure to get all the surface), but this is quite slow. To do it right, a small electric pressure washer is what we use.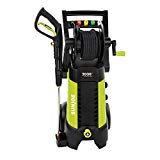 The Sun Joe (this one is medium-powered)  will go forever. If you click on the photo, that one has a reel for the hose. Mine paid for itself in under a season as a hard-use professional tool. Eight years later it still works (see my video at the bottom). This one is different from the ones linked at the top of this page. This one has a reel for the hose. Me like. You don't need an extra long extra hose, just a long extension cord that can handle 15 amps. Great one linked just above.
Key Tip on Powerwashers: you only need one accessory—the rotating tip: this prevents the wood from getting accidentally gouged by the pressure of the water: I never work without one.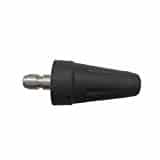 ---
2. How to paint a deck big tip: roll, but never dip your brush!
How to paint a deck the easy (but good) way. What primer and paint to use? We cover that in our post on the best deck paint. When you have that all set…
How to paint a deck in 5 steps:
Dip roller with a good deal of deck paint or deck stain (just so it's not dripping).
Gently roll and let the paint/stain come out of the roller, pressing more firmly as you dry out—think in squares, about 1-yard square or so per dip. Start high and work down to the floor.
Don't worry that you'll lose some paint through the cracks—you can put plastic under if you want to try to save it (and protect the earth).
Follow up with a brush (no need to dip brush). Work it into the grooves.
Repeat steps 1-3 until you need more paint/stain.
No brush dipping! You just need to dip your brush when you do corners etc, where the roller cannot let it flow.
Spray that puppy?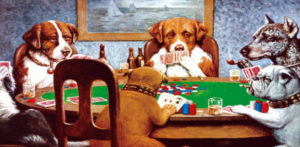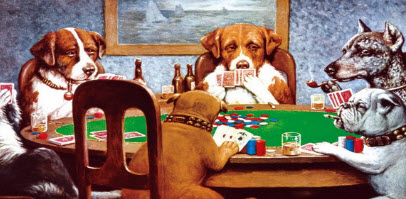 Spray painting a deck is 10 times faster than paint rolling or brushing, but there is more waste, obviously.
There are 2 basic types of paint sprayers: airless which are costly but pay for themselves in time saved… and small project sprayers which are slower. The two paint sprayers brands homeowners can trust are Graco (company website) and Wagner (company website).
Read our post just about sprayers: short and sweet.
Two recommendations for two budgets:
If and when you need parts, (the tips do wear out) you can find them easily if you go with one of these major brands.
Some keys to spraying painting a deck:
Mask what is not getting painted: use plastic and/or canvas and lots of tape. Take your time masking—you'll save a lot more time in the end. Use a razor knife to get sharp lines or come back later to cut edges with a brush (I do this).
Practice first: In a less visible area or on some cardboard, move your sprayer hand at a uniform speed, and when you change direction, you make a quick flick of the wrist so you don't have paint build-up (sags and runs).
Spraying Oil? Soak the sprayer nozzle in paint thinner (or just gasoline if you are in a pinch) right away when done. Have your cleanup station ready–don't let your tip get dry.
Spraying Latex? Soak the sprayer tip in a bucket of water when you put it down to do something else other than spray: keep it wet as it will clog fast, especially on a hot day.
Use the

best deck paint

and you should have no problem covering in one coat in the best case.
A short video from Graco is very good: you won't need anything more than this video.
 
3. Annual Maintenance
This is necessary if you used deck paint or opaque stain, but not so much if you use semi-transparent deck stains and similar products.
Sorry to tell you, but on top of all that, you have to do annual upkeep: it's easier than doing nothing for years, then scraping the entire thing all at once. This work gets old fast!
Just go around one dry day per year in the summer and look for cracks. Scrape (or blast with the pressure washer) the loose paint off, you know, like Steve Martin doing dentistry.
Then sand the edges with some course-grit sandpaper. Lastly, hit with the same primer recommended above, (or just the stain if you are doing stain), let dry, and then 2 coats of your finish paint/solid stain, etc.
This is easier than waiting for years while your deck paint cracks and then you have to do all of it again. Just stay on top of the problem!
---
Tools you will need
Related:
Here is our deck supplies page
Best Deck Stain and Sealer: Complications Simplified
Spray Wood Stain – Zero-Maintenance Deck Stain Treatment
How to Stain a Deck Quickly, the Right Way
Best Deck Paint (with a Big Word of Caution)
Paint or Stain Deck? (bonus: Deck Restore Products That Don't Work)
Be sure to have all the painter tools that you need
Good luck. Let me know in the comments if we missed anything.
---
Questions about how to paint a deck: let us know in the comments.