Here, we give clear steps on how to 1) choose the best product and 2) the first steps you'll need to take to paint a deck (or how to stain a deck).
The one thing you will always need to do first is pressure wash: for the cost of paying someone, you can own your own quality pressure washer (this is the 2000 p.s.i., adequate for deck washing)
less expensive 1740 p.s.i. version
(with either you can wash the car in 10 minutes too!) These will last for decades even with hard use.
Deck restoration is possible, but some makers are in legal trouble: class-action complaints. Jump down to #3: Restoring a deck in bad shape?
Think of the future by choosing your treatment carefully
Removing old deck paint or deck stain?
Restoring a deck in bad shape?
Fun fact: I did a deck treatment on my (big) deck last year. What does a professional painter use? See the end of Section #1 below! Or check my favorite product here
1. Paint or Stain Deck?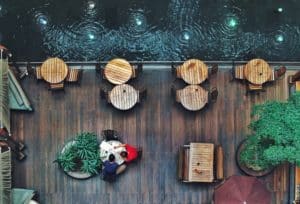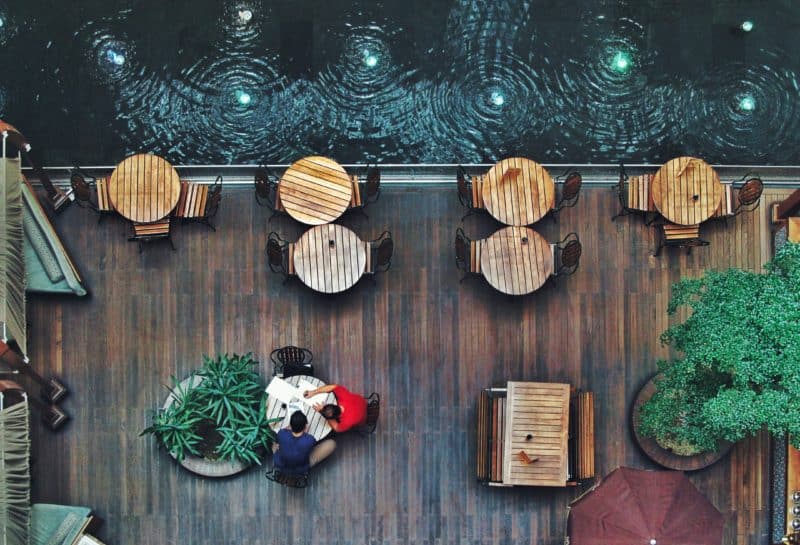 After you decide whether you will paint or stain the deck, read about what is the best deck paint, best deck stain, and then how to paint a deck or how to stain a deck.
New deck? Lucky you.
Pressure treated decking: Do you have the 'green stuff', the pressure treated wood? Big caution here! Before you can decide what you will do with the deck, you need to read about what this wood will accept. See just below.
New deck but kiln dried wood? Go for it. No need to wait. Look at what's on the market to paint or stain deck wood, in this section, just below.
New deck with water repellent added? Your wood dealer will know. The common process is called "Thompsonization". You have to use oil-based stains with this. They told you that, right?
Do you have a new deck, but not pressure treated wood? Just gently wash with some water pressure, let dry and read about how to paint or stain deck wood. If you have cedar in a dry climate, you can take your time deciding. Cedar is the best naturally resistant wood. Some people never paint or stain deck make from cedar.
Old deck? I'm with you amigo! Me too—have one that is. The most difficult job I do as a painter is paint removal. This includes 'solid stain' (see Benjamin Moore's line up here) which is basically equal to paint. As Clint Eastwood said, "I guess you have to ask yourself one question." Are you willing to take on the painful labor of scraping loose paint (opaque stain) every 5-7 years?  To us, the intense labor is not worth it just for the painted look.
Recommendations
We make 2 recommendations to our customers and both are low-maintenance.
Faced with this choice, most of my customers choose semi-transparent stain (and this includes Benjamin Moore's Semi-Solid) because of the low maintenance. It comes in colors, but color coverage is not as heavy as paint/opaque stain. That is a good thing! No build up means no scraping. You simply refresh it every 3-7 years (depending on location) with no future prep cost (except a quick washing).
The other one and my favorite (what I put on my home deck) is a 'once-in-a-lifetime-treatment'. Well, we will see about my lifetime, but the product is very low-cost, easy to apply, non-toxic, and bugs and water and sun hate it.
Pressure Treated Wood
Depending on your seller, this wood has a green or brown tint. But after the first few weeks of exposure, the color will slowly turn gray.
Some people just let treated lumber age and gray naturally: that is nice too, but if want some color and more protection (especially from the cracking on flat surfaces), you can apply deck paint or deck stain.
Be careful here. The wood is likely still wet from the treatment and do you know what happens when you put deck coatings on wet wood? You don't want to know. Hot climates may reduce this waiting time. There is no way to test when it's time to paint or stain deck wood because the deck coating will look fine for a while even if the wood is too wet.
We say you should wait at least six months before staining pressure treated wood. Others say anywhere from 1-9 months. Discuss with your paint store manager: they know the response of wood in your climate.
TIP: When prepping to paint or stain deck wood that has not been treated before, there is no need to sand it. Just apply light water pressure only on treated lumber: just remove the dust in the grooves: don't remove the green/brown protection you paid for! For other wood, we use our #1 helper: an electric pressure washer. Awesome fun. Washes the car too!
Why deck paint jobs go bad.
It's not necessarily neglect. The main cause of trouble decks is the poor preparation before the last paint job was done. If you skip the mess and pain of scraping and so on and just paint over it, ignoring the growing problem of peeling paint (while the wood underneath begins to rot), you are in a fix.
Not removing loose paint and soil is a major culprit (not to mention painting wet wood-oh, the horror).
What kinds of deck stain and sealant are on the market today?
Paint and Solid stain: the cleanest look of all, but much more work to maintain. If you choose to paint or use a solid stain, buy the best deck paint or best deck stain, and don't let the weather beat you: How? Do some annual maintenance and big-time maintenance when it comes to re-do. That means spot scraping and touch-ups. Don't miss a year.
Semi-solid. Shows more grain than the above, but hides more imperfections that below. Very similar to semi-transparent. Low-maintenance.
Semi-transparent stain. Now you're talking. See the section below on this, my 2nd favorite method: low effort, low maintenance, medium protection.
Once-in-a-lifetime preservatives: What I used on my deck. Low effort, low cost, great protection. Really, there is no downside except limited colors. See more below.
What NOT to use: We have been watching the big paint makers for some years and have been following some lawsuits involving some that have lost lawsuits making claims of greatness. At the bottom of this article is a little bit about that, but to stay positive, we'll just recommend what we trust.
The reason we recommend Benjamin Moore and Sherwin Williams (we have no income from them for saying this) is that the research into the chemistry of deck and stain is state of the art. Yes, these cost more up front, but that problem with peeling and failure you have read about will not happen with these big boys. Plus, you don't need to re-paint or re-stain nearly as often as you do with lesser brands.
BOTTOM LINE:
Stain vs Paint: we like low maintenance deck stains.
Translucent, a.k.a. semi-solid and semi-transparent stains are like a clear sealant with some tint added.  You really must see them in person before buying. They have samples in your paint store: know what kind of wood you have (grab some scrap or remove a small piece and take to the store).
Big plus: One coat usually does it.
These deck stains are very easy to apply. Downside: they only last about 2-3 years on walking surfaces and about 4-5 on railings etc, depending on your climate, then you must re-apply. But this application is quick as there is not scraping or prepping other than a thorough washing. Again, we recommend highly this electric pressure washer.
TIP: to give your semi-transparent stain more power against wood's graying, choose a darker color (more pigment = more UV filter).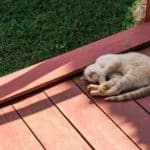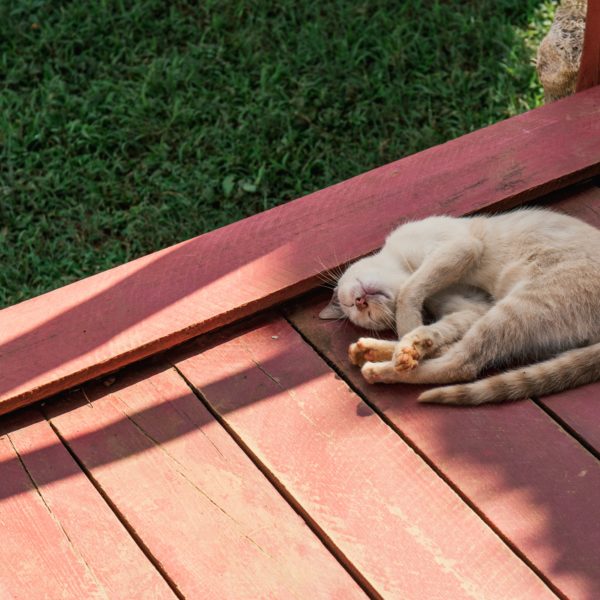 One-time treatments, including what I used on my deck
What did I use to stain my deck? I'm a lazy painter, and I only wanted to treat my deck once. I mean once in my life. So I used what Parks Canada uses. Below, I'll recommend two other products that I have no experience with, but all three seem to work the same way.
You'll loooooove the prices too.
These 3 are all powders. Just mix with water and it's easy to spray.  I used this garden sprayer. (Big tip: keep nozzle wet when using and totally clean and dry in storage: years of service). It's low-cost and you can control the pressure very easily (you need low pressure).
We also have a post just about sprayers: big time savers.
Overspray is not a big concern, but as with deck stain or deck paint,  it leaves a film on glass and vinyl siding. No worries about overspray on wood. A gallon sprayed this way will do a small deck: it's hard to think of coverage because there is overspray and railings etc. Return packages you don't open! My post just on these explains more.
First is a product that I used called ECO Wood Treatment. They have 4 colors, but I just used the one linked here. I corresponded with the company and the reply was that it can be once in a lifetime, but depending on climate, may need a re-do. So I'll repeat in about 10 years I would think. A post just on this type of spray wood stain is here.

Tall Earth deck treatment seems to be the same. They stress that they have a formula for Wood Boring Insects (insert your own joke here), such as Carpenter Ants and Termites.

OneTime Wood Protector also seems very good. I read a blog of someone chronicling the product: it has stood up to 3 winters and summers on the Great Lakes.

2. Removing old paint or stain?
We have been in touch with House Painting Info, a company that specializes in restoring old decks. I love their website and feature some of their photos below. Whether you will paint or stain deck material, this is the way.
The key tool is water pressure (or if that is inadequate, sandblasting).  Please be very careful with high-pressure water: it can severely cut your hands and feet etc. I don't highly recommend gasoline powered washers unless you rent one. I own an electric (see links above).
If the washer you buy does not have a rotating tip, buy one to protect your wood (a steady 'fan' of high-pressure water can easily gouge your wood).
Then when dry, it's sandpaper time: the rough stuff–50 grit or 80-grit in an electric orbital and/or belt sander. Might be best to rent. Chemical removal does not cut it (see at the bottom of this post all about the lawsuits of products that claim they can restore a deck).
Use electricity and really blast the paint off with a drill attachment or a variable speed grinder with the awesome 3M Sandblaster pads.
Here is a video of how it works.  The grinder can also use this cutting wheel made with chips of diamond like a hack saw that also cuts stone. You can try different pads for 4½ grinders: some tools come with assorted washers so you get a tight fit.
Sorry to tell you, sanding is very hard work. If it's too far gone, go to the next section and read about replacement options.
We`ve seen lots of decks that suffer from neglect or poor treatment choice, but the plan of attack will be the same: strip off that crap down to the wood and start over. What about scraping in between the deck boards and in the corners? Don't do it, or just get what you can. You'll be using a preservative that will penetrate and protect (see my recommendations below).
3.  Restoring a deck in bad shape?
Dishonest advertising has resulted in many in people buying some problem products: see more at the end.
Best deck treatment for restore projects:
Your wood is getting wet and slowly weakening. Ok, this is going to hurt. Like my bedside manner? You will need scrapers (best to go electric, as seen here), and sanders–at least.
Don`t worry, there is light at the end of the tunnel, and if you have teenagers in the neighborhood willing to work hard for a few dollars, you can rest easy.
Worst case: Deck restoration is urgent. Rot and weak lumber and you are going to need at least some sections of new lumber (or non-wood decking*) maybe in order and you need some experts to give you free estimates. If you think you can save the deck, by all means, spend your money on the sanding routine above, but it may be best and safest to just take out the bad sections and replace them.
Decks where moisture is constant: probably the best, the only real solution for you is TREX. It's expensive but lasts and lasts. Plastics and composites are also rot-proof, even when submerged. They do stain however so drop a burger and the deck stain is there forever. You can stain Trex with deck stain. Most composite materials are manufactured using recycled materials, which is a big plus. From the TREX website: 
*  Trex decking is made from 95% recycled materials, including reclaimed wood and sawdust as well as recycled plastic from many common household items, such as the plastic overwrap on the packaging for paper towels etc. 
Best deck stain for restore projects: More is Less
Spending more on the best products saves you a lot of time and money in the end. If you pay a professional like me, he or she only needs to come back less frequently and that is where the big money goes. My advice is to never try to save money using cheaper paints: always go with the big boys: Benjamin Moore and Sherwin Willimas (I get no money from them for saying this).
The best deck and stain and paint products are in the links just above. Below are the ones to stay away from (Hint: ignore TV ads if you are planning to paint or stain deck).
4. Not as advertised: Shortcomings of Deck Restore Products
Deck resurfacing products are basically are extremely thick paint. The idea is to mask the wood cracks.
After you use this product there is no deciding whether or not you will paint or stain deck wood. You'll paint.
These all have one thing in common–short high failure rate. If you will paint or stain deck wood, be careful with these products. Ask a paint store manager: they know.
LAWSUITS OF
RUST-OLEUM RESTORE
OLYMPIC RESCUE
BEHR DECKOVER
Note: Thompson's WaterSeal does not appear here, but we always tell our customers about it's short lifespan: from our experience.
1. Lawsuit: Rust-Oleum Deck Restore
Even though they have lost this lawsuit, Rust-Oleum Deck Restore is still sold to unsuspecting consumers and has not been pulled from the shelves.
Consumers who have used the Rust-Oleum Deck Restore 1ox,  and have had a poor experience with peeling and failure, and they have won a Class Action Lawsuit against them.
2. Lawsuit: Olympic Rescue
Many customers are reporting the failure of this product and the company paid 6.5 million dollars to claimants in 2016, but still sell this product.
3. Lawsuit: Behr DeckOver
This lawsuit is just getting started, so I will just point you to topclassactions.com.
---
Now that you have decided whether to paint or stain deck(or hopefully not replace!), please go on to the details about your first step.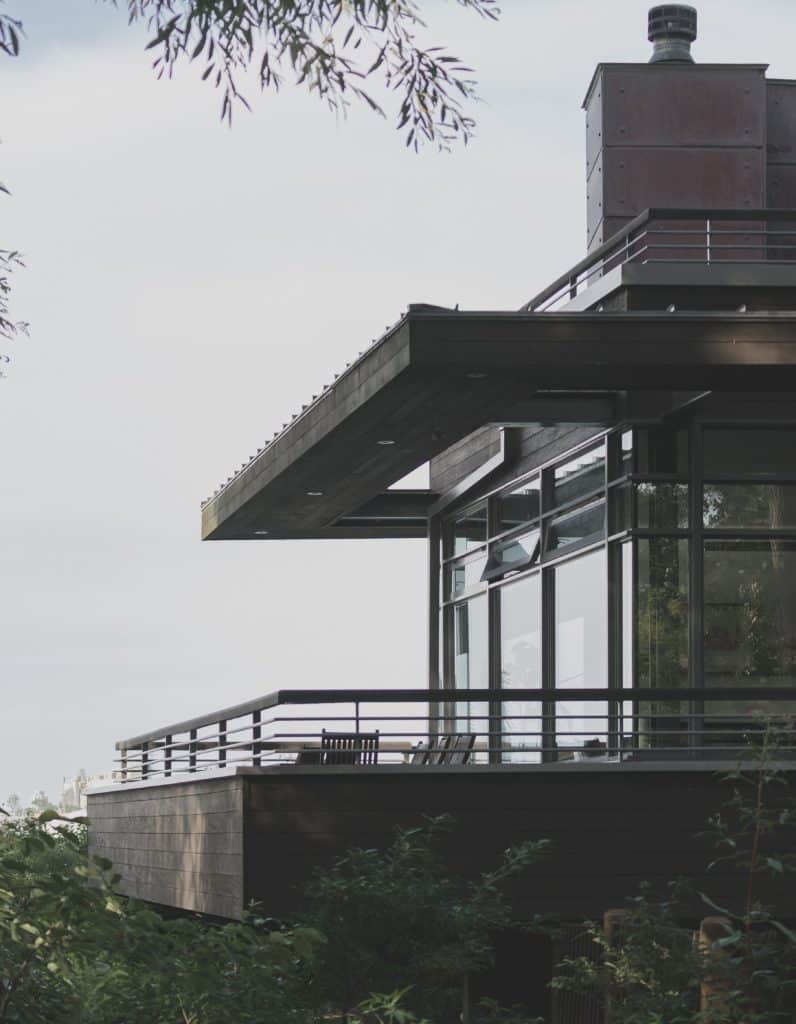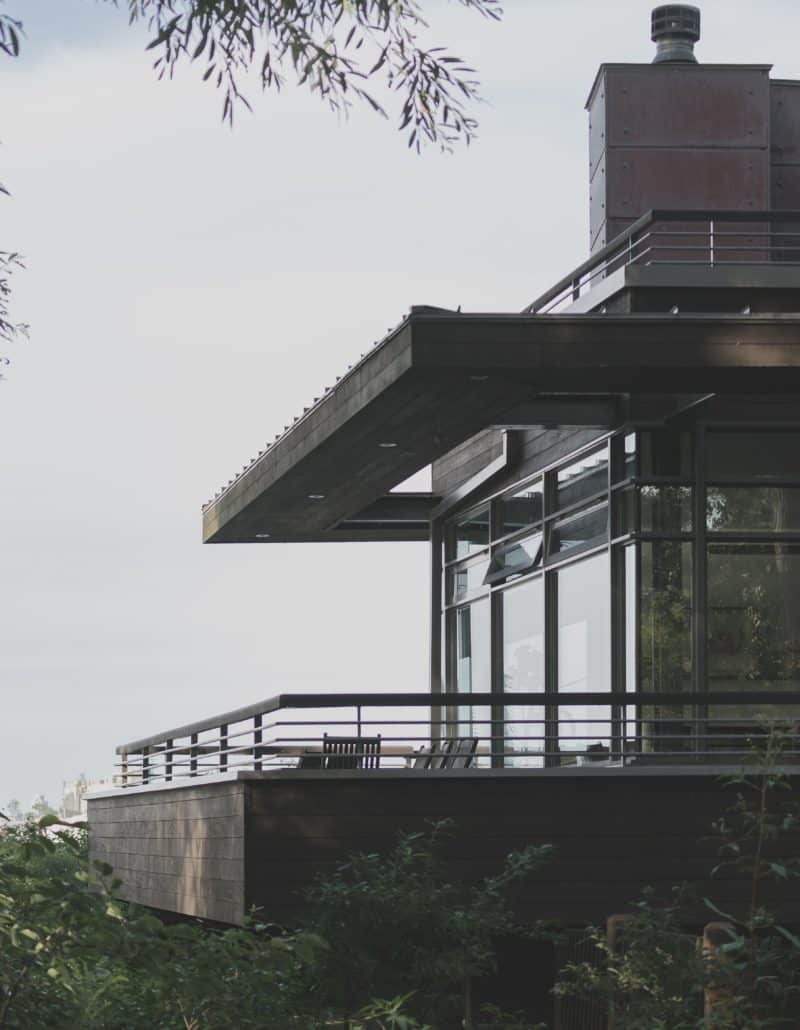 Ps, if you live in the Mississauga area, you want to call Mississauga Painters Ltd. They are excellent painters. They do residential and commercial, interiors and exteriors and have been at it for a long time. They have a long list of satisfied customers.
Related:
Be sure to have all the painter tools that you need
How to Stain a Deck Quickly, the Right Way
How to Paint a Deck With One Big Timesaving Tip
Best Deck Paint (with a Big Word of Caution)
Best Deck Stain and Sealer: Complications Simplified
Spray Wood Stain – Zero-Maintenance Deck Stain Treatment
Questions? email us.