To decide on what product you should use to stain a deck, read our short summary of Deck Stain vs Deck Paint. If you decide to stain, read about the best deck stains available these days. I always recommend avoiding paint and opaque stain (which is, wait for it, paint). The low-maintenance of lighter stains is a no-brainer to me. Looks great, less filling (of the painter`s wallet every 3-7 years). Here is how to stain a deck: a few tips that will help you.
Big time saver: start your deck prep with a pressure washer like my favorite one here. I've had mine for 8 years, and it has paid for itself a hundred times: I just can't kill it. The Sun Joe above is what I'll get next if I successfully can kill my old one: "I want you to die, Mr. Bond." Curses on your quality, Sun Joe! Need bigger? Washing a truck? Go gas or go home.Honda motor, very pricey, but will pay for itself if you are a pro and if not, you'll never have major problems with it.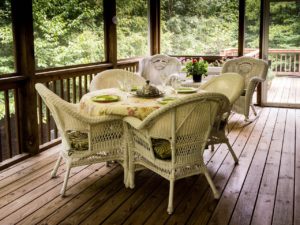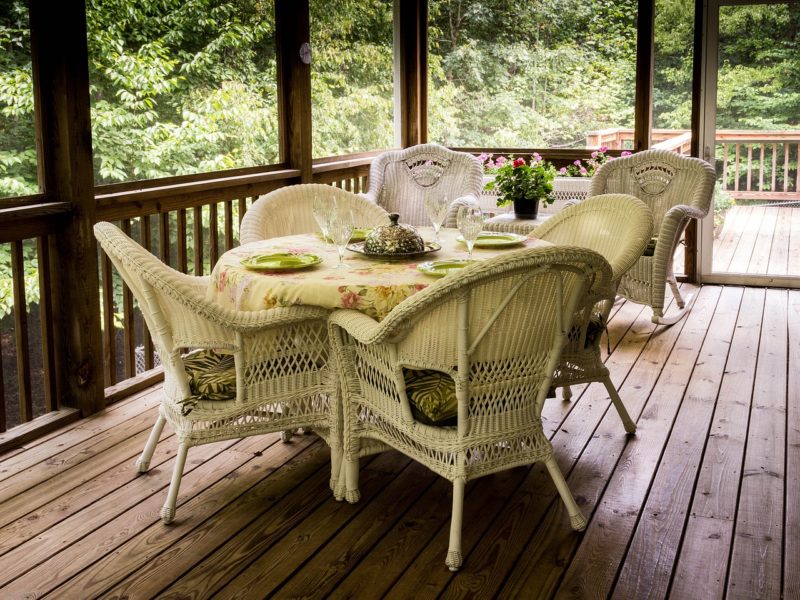 Picking deck stains: We prefer Benjamin Moore deck stains (company website). You will save money by spending more on quality deck stains up front. Think of the future labor savings! We have a post all about the best deck stain.
---
A short summary of how to stain a deck (full details below)
The tools you will need are compiled on our deck tools list.
If your deck was stained before with heavy (opaque) stain, pressure wash (described below—this will do most of your prep—use water pressure to remove chips, etc., but be sure to cover the land with drop cloths.
If your deck was not treated before or was but with only light stains, you don't have much to do: pressure wash lightly
Let the wood dry completely.
Remove or mask well the door/window hardware you do not want stained (even if you do not spray) and spread dropcloths.
Create a work area and cover with cloth or plastic (keeps dirt and objects from polluting your liquids, etc
Begin staining (described below is how to use a roller for very fast, quality results)—best to roll small sections with a regular roller (wool/poly, 1/2″ nap) roller cover (click on photo) and then brush into all cracks and grooves well with a very good brush (this is my biggest tip to save you time).
No need to re-coat if you are using lighter stains, but with opaque stains, you may need a 2nd coat (no matter what you saw on TV !) The product label will tell you about re-coating.
Soak brushes and rollers etc., right away until you have time to clean them which is easier than you think.
Spraying deck paint is explained below as well.
---
How to stain a deck (big time-saving tip ahead)
1. Preparation
Two cases for two basic conditions (and how to pressure wash) in this section
Stain a deck that is new
If your deck is in good shape (and not pressure treated wood), go to the painting section of how to stain a deck (below). Lucky you do not need to do any sanding or any prep other than a washing (for new decks only). See below regarding pressure treated wood: be careful here.
---
Peeling deck paint? How to stain a deck that is old and beat up
Scraping old paint or opaque stain is very hard work. For that work, I would hire a young person with young wrist tendons: I've damaged mine doing the scraping. If you want to do it yourself, have a good set of scrapers: see my favorites on our deck tool list. You must have a good file to sharpen every few minutes of scraping: yes, that often. Dull scrapers cannot cut a sharp edge that you can sand and later coat. This short video show how to sharpen with a file.
This pull scraper is all you really need
This multi-tool is very useful in many ways: my 3rd hand
Tip: We pros try not to do much hard work: we rely on electric tools. We went electric, like Dylan.
Stripping paint from metal and wood, etc., could be other methods like including a drill attachment or my favorite…
A variable speed grinder. A bit pricey, but worth every penny and can be used with diamond cutting blades, etc. Mine has been going great for years of professional work.
Attach to any 4½-5 inch grinder, the very efficient 3M Sandblaster pads (click on photo). Here is a video of how it's done. Depending on your type of grinder, you may require the universal adapter pad. It's not expensive at all considering the time you save. You will need an extension cord an awesome perfect rating.
---
Start your prep with a pressure wash*
Deck wood can be washed with the garden hose (but it's slow and not very efficient). We use a small electric pressure washer. This one is much like the one I bought years ago. I used it very hard as a workhorse tool eight years since then, it is still pumping like new (I need to replace the hose and handle, but I'll probably just upgrade to a 3000p.s.i. so I can go faster.) Watch it in prepping action in the video at the bottom. It's not essential to have the extra hose, but it's good to have a long extension cord with a capacity of 15 amps (I can't get over this extension cord's ratings: could not be faked).
We only use a washer with the rotating tip (called 'turbo' tip) prevent damage to wood.
* Don't pressure wash "pressure treated" wood. We explain why in our other post that discusses whether you should Paint or Stain Deck.

---
2: How to stain a deck:
My big "tip" is to use both roller and brush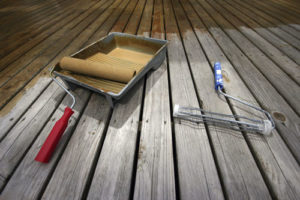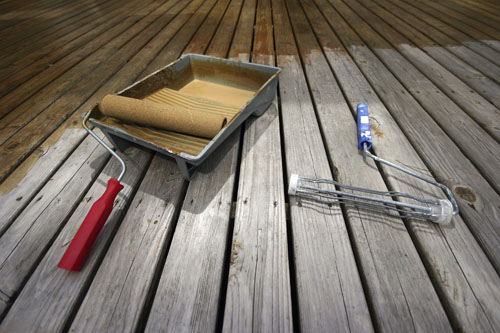 How to stain a deck in a very fast, but still very proper way. What stain should you use? We cover that in another short post on the best deck stain. When you have all those decisions made, you are ready.
zzz
How to stain a deck with a roller and brush
You might think you either spray or brush to stain a deck, but we use a normal 9-inch roller to get the stain evenly were we want it, then use the brush to wet the areas that the roller does not reach. Why?
What takes up all your time when staining a deck is going back and forth between the can and the wood. But the roller holds many times what the brush can hold. So the roller is just doing the heavy lifting–you are still brushing your deck, but your brush rarely gets dipped in the can of stain.
For any deck stain or paint:
Dip roller with a good deal of deck stain (don't let it drip, just like you would with deck paint)—as much satin as it will hold—so it's not dripping
Start rolling gently and let the stain come out of the roller, pressing more firmly as you go
Follow up with a brush (Big tip: you don't need to put a brush in the liquid—just dip roller, then 'tip' out the surface with the brush. See how fast you go? Easy.)
Some stain will drip through the cracks of the deck but you can catch it in plastic under the deck if you want to try to save it (sure you can re-use it ! I would)
Repeat steps 1-3
The roller, brush, etc.,  are all on this deck tools list
So there is not much need for brush dipping! When you do corners etc, where the roller cannot reach.
---
Spray that puppy?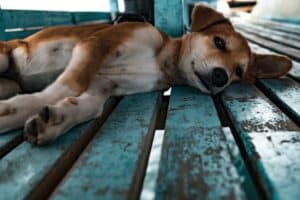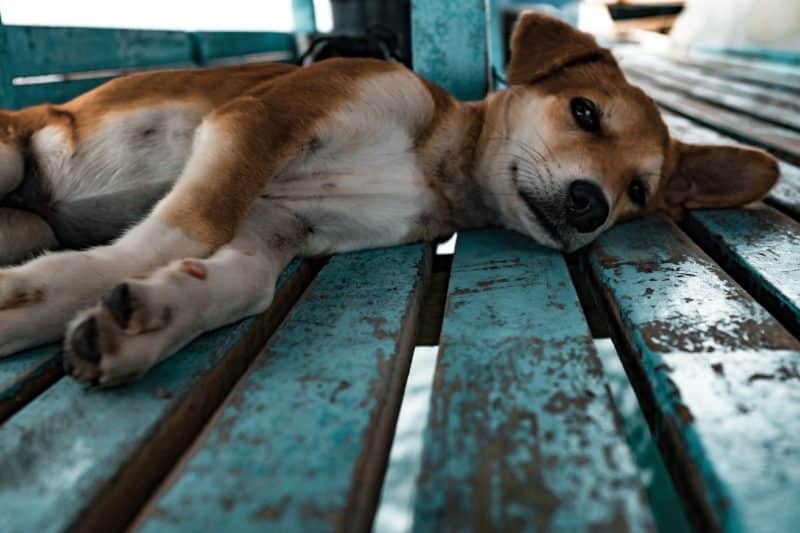 Spray painting a deck is many times faster than rolling or brushing, but you have to consider the damage overspray stain will do. You have to be very careful and move all the cars around.
The two makers of paint sprayers you can trust are Graco (website) and Wagner (website).
Read our post just about sprayers.
Two recommendations for two budgets:
The best non-commercial paint sprayer today is hands down the Graco Pro 210 ES. It's pricey but will last a lifetime with proper care
The budget choice is the Wagner Flexio 590. It has a very reasonable price for what you get.
The spray tips wear out after many hours of use, and if you buy a well-known brand, you can easily find tips easily.
If you want to use a thin stain, you can spray it with a backpack garden sprayer: just clean the tip very well and don't let it dry out with stain inside! We have linked to the kind we use in our deck tool post.
Some keys to spraying painting a deck:
Carefully mask (see a great hand-masking tool for this in the deck tool list) what is not getting painted: use plastic and/or canvas and lots of tape (all on the same deck tool list). You'll save time in the end if you go slowly here (use a razor knife to get sharp lines).
Practice spraying technique first: You can just put water in your sprayer to practice this. Keep the sprayer hand moving at a uniform speed, and when you reverse direction, try to make a quick flick of the wrist (avoids puddles).
Spraying Oil? Keep the tip of the sprayer wet with thinner: you can use a wet rag or a small can of paint thinner.
Spraying Latex? Soak the tip in water when you put it down: if you don`t it will clog fast.
Read about the best deck stain and even if you are spraying opaque stain, it should cover in one coat.
A short video from Graco is excellent to see how it's really done well.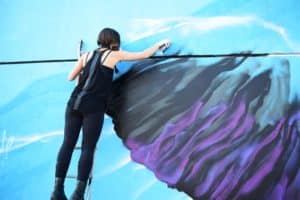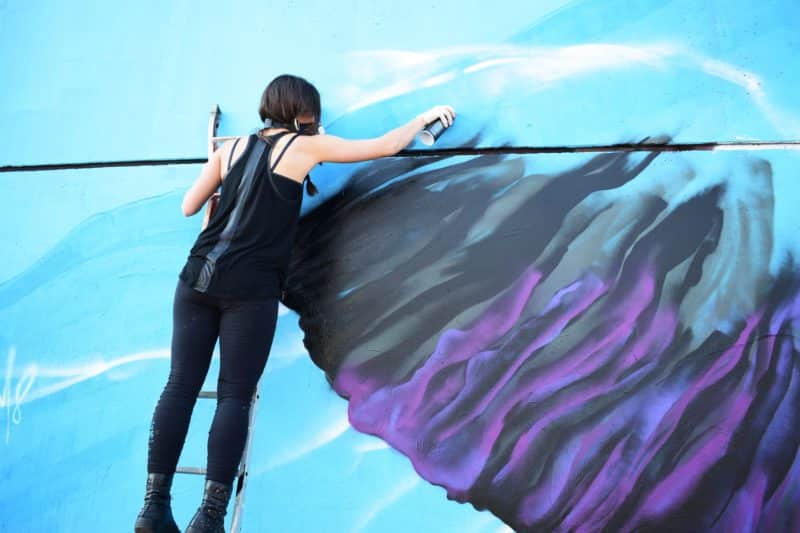 Stain a deck made of pressure treated wood
Wait 6-9 months after installation to put any stain on your pressure treated wood: it's still wet from the factory and if you don't wait, you'll have a big problem later on. We discussed this more fully in our post on choosing whether to paint or stain a deck.
---
3. Maintenance?
Annual upkeep is not really necessary for the lighter stains like semi-transparent and so on. Just re-apply when faded. Keep an eye on the opaque stain, however. In fact, if you choose an opaque stain, which is cracks much like paint, read the maintenance section, (Section #3) of the post on how to paint a deck.
---
Here is a video showing how to do pressure washer paint prep before staining your deck.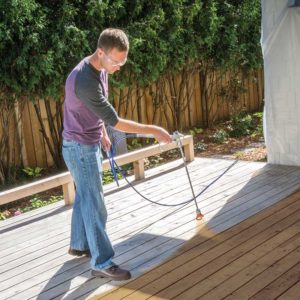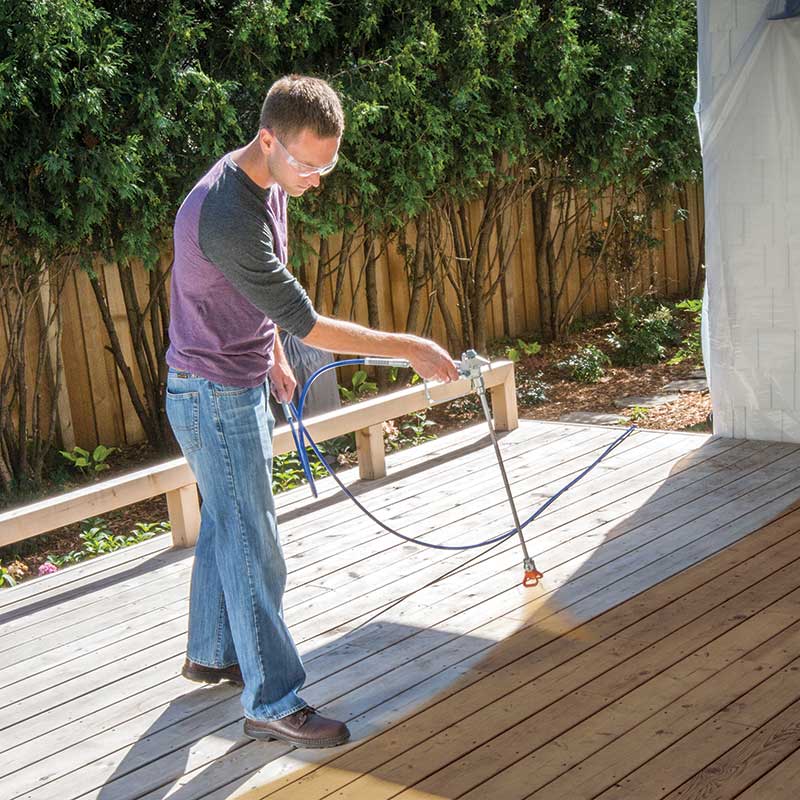 Related:
Be sure to have all the painter tools that you need
How to Paint a Deck With One Big Timesaving Tip
Best Deck Paint (with a Big Word of Caution)
Best Deck Stain and Sealer: Complications Simplified
Paint or Stain Deck? (bonus: Deck Restore Products That Don't Work)
Spray Wood Stain – Zero-Maintenance Deck Stain Treatment
Any questions about how to stain a deck? Let us know in the comments.