The best paint roller cover:
What surfaces will I paint?
Do I care about the stippled look of the dried paint?
Also, below is the step-by-step 'how-to' and these 2 important tips:
What is backrolling—(saves paint)
Why we roll before the cut—(saves time)
Key tip: The best paint roller cover will save you money and time.
 If you just want the bottom line here at the top, the best product is  , because of it's longevity and speed, it's a great deal. This is definitively the best paint roller cover for interior and exterior.
Almost all the tools that we use to apply paint are made by the excellent brands Wooster or Purdy—Rock and Roll.
Biggest tip I can give:
Higher-quality actually costs less: The best paint roller cover is woven, not glued to the plastic cylinder at the core. Paint dissolves the glue in 'low-end' roller covers making the fibers shed. This results in a wall with fuzz all in it. Ick.
Want to see the whole set up? Here's what we recommend for the best paint roller system (roller frame, pole, and accessories). Bottom line: nothing we use costs that much more than the 'budget' all-in-one kits paint stores try to sell. Those rollers shed lint and drag you down!
Composition
All covers here work for oil and latex paints.
Our top choice: the 50/50 — Wool/Poly blend.
Hands down the best paint roller cover for painting almost everything. We use the 50/50 almost exclusively because we want value. The polyester gives long life and the wool holds a great amount of paint: less time dipping.
As we said above, the best product is 

 

, because of it's longevity and speed, it's a great deal. This is definitively the best paint roller cover for interior and exterior.
Runner-up: Wool only.
  but does not last as long as the type blended with Polyester.
Honorable mention: Polyester only.
Great longevity, but does not hold much paint.  
Foam: just like pillow foam and leaves a very smooth finish. Really only  
Mohair: Old school. Angora mixed with polyester: leaves a very smooth finish and short paint roller nap. Great for   but the above rollers work for these also.
---
Paint Roller Nap Basics:
What is paint roller nap? It's the absorbing material:
Composition (above) and length are all you need to know.
Pros use the 1-inch (or longer) almost always: the stipple is pleasing enough and long nap holds a lot of paint. Go with this or 1/2 or 3/4 unless you have a reason not to.
Shorter paint roller naps—Holds less paint but make more smooth surfaces, more uniform stipple in latex walls.
Remarks:
Smoother surfaces can look too stippled with a long nap, so as John Travolta says, Get Shorty. Nice video break. Ah.

Longer paint roller naps—Holds more paint, rougher surfaces, stipple is more like a rag mark.
Remarks:
Rough surfaces will require a long nap that you can push into the cracks (don't get an inexpensive roller frame (a.k.a. cage) for this—they snap right in-two.

Choosing a paint roller nap length:
1/4 – and 3/16 – inch nap for smooth or fine surfaces, such as doors and trim (yes semi-gloss)
3/8 – inch nap for smooth walls and ceilings (see our post on the best ceiling paints)
1/2 – inch nap for most walls and medium rough surfaces
3/4 – inch nap for rough surfaces, such as textured walls and ceilings
1- up to 1.5 – inch nap: For rough surfaces like stucco or a heavily textured ceiling and concrete
Even though the above is what is correct, still we use 3/4 or 1″ in apartments and homes: it's a rougher stipple marking, but we like it and so do the customers.
---
Best paint roller covers: shapes/sizes
Standard 9-inch. Used 99% of the time.
Remarks:
Below this section, we simplify the many options. ( Canadian? Read this. )
---
Big Boy on the Block: the 18-inch pro. It's very heavy, but very, very fast. We used to have teams of 2 guys, each doing 2 apartments PER DAY. Really only for pros, but if you have a lot of painting coming up, go for it. Talk about how to paint a wall with a roller!  You need a   and here is the Purdy   and of course the   Ah, those were the days back in East Brunswick, NJ. What exit? Ha.
---
Mini Roller Covers; Here is a    that is very long and narrow). The mini is good for behind toilet etc, and standard cylinder size only 3 or 4-inch good for trim, small projects.
---
Foam roller covers: (of any size): super short paint roller nap–for  
Remarks:
We use these for oil-based high-gloss paint on bathroom stall dividers, etc.
---
Textured wall roller covers
---
1- Drywall texture roller: Textured walls are acoustically more pleasing (quiet), but expensive to have done professionally. A pro will load thinned 'mud' into a sprayer (a contraption with a big hopper) and spray globs onto unsanded drywalls before priming. (You can have patterns and even buy this in a can!) There is a better way: I have never tried it but this guy seems to know what he's doing. The texture roller cover you need is here. Good luck! Let me know how it goes!
This roller leaves a pattern called   —very nice. Also, choose from:
Goop
Poinsettia
Crow's Foot
Serengeti
BasketWeave
---
2- Paint pattern roller: These are a new style roller product and it can make designs for you, but make sure you want to live with this for a long time! It's a lot like wallpaper: just easier and more fun to apply. Here are some products to have a look at. Each page shows a sample of a painted result. This video shows (start at 4:00) the roller working.
Remarks:
My recommendation: even the best paint roller cover will not do what a specialist painter can do for you. Pros use cloth, sponges etc: they are true artists. They make paint look like marble.
If you try the rollers, send me some photos and we'll post them!
---
3- Do what the pros do for about 35 bucks.
 Landladies and lords take note: save your beat-up walls with texture. You don't need the big machine: this is an all-in-one unit: electric motor sucks in the air you need. Brilliant idea. Has 3 tips for the main texture types you see.  Watch the video on the product page.   If you want to do what the big boys do, search my site for sprayers: a world of hurt.
---
Finally, a dishonorable mention:
Painting Pads: not recommended
Remarks:
A way to 'brush' edges. This is nothing like the best roller covers and brushes: but this holds little paint, does not apply evenly (except on TV). If you really want to try,  
---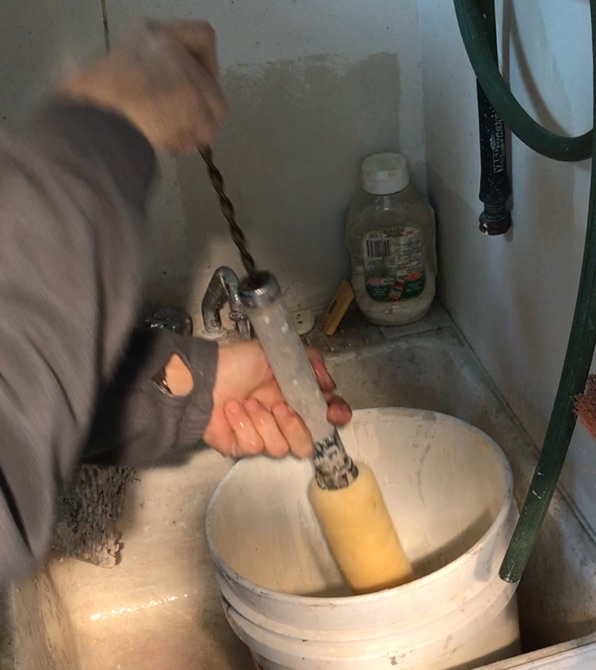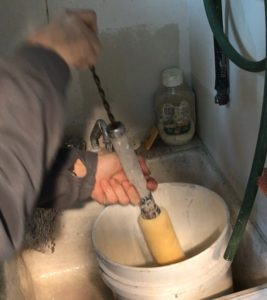 Cleaning the Best Paint Roller Covers
"Clean up is a drag"…Not !
To remove roller cover from the roller frame you can bang on the edge of a bucket (cover it with a large rag: it splatters). Do this before it can dry and glue the paint roller cover to the frame.
After squeezing* most of the paint out of your roller (

 

), soak your latex roller in a large bucket of water overnight. This makes the remaining paint fall out to the bottom.
In the morning, discard the water and repeat. After you get most of it this way, just squeegee with your hands under water. It gets clean by itself… takes time tho.
You only need to get about 95% of the paint out and a quality paint roller cover will still live a long time. (Not true for oils).
A high-quality paint roller cover has a plastic core and will not be harmed by soaking. I have soaked the best paint roller for weeks with no problems.
Watch me use a spinner and get it over with. (If you're into it,

 

)
Soap is not really necessary (except for some sticky red and yellow pigment), but warm water does speed up the process. The best roller covers can really bounce back.
---
*Above is roller   I keep this at my garage sink: very handy. The brush comb on the other edge is for AFTER you clean your brush: comb them straight to dry like new. (p.s. little known tip: you don't need soap, but a little hair conditioner on your brush gives longevity).
Using oil-based paints? We almost never ever clean a roller with oil-based paints. We did ONCE UPON A TIME, but it's just too long of a process and when a 'clean' roller cover dries, it still has oil and stays crusty. Luckily, oil-based paints are almost a thing of the past. When we must roll oil, we select an old, used up wool/poly roller cover then throw it away. RIP, Krusty the Clown.
Just one mo' time: Even if you don't plan to use these tools again, buy the best paint roller cover on the market. Save your money.
---
Ask me anything. No account needed here to comment below!