Most Important Tip for Painting a Ceiling: use the best ceiling paint to cut your work and stress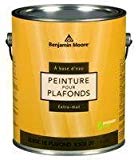 Even if my customers are on a budget, they understand that it saves money to use the somewhat pricey Waterborne Ceiling Paint Ultra Flat from Benjamin Moore. It is without a doubt the best quality ceiling paint on the market and it's zero VOC (the toxins in most paints).
What kind of paint is best for ceilings?
Choose a long-lasting one-coat paint that you won't need to repaint for a long time.
If you want to save money in the long run, you don't want to be buying paint every 5 or even 10 years: you want your paint job to last. The paint you see above is a high-quality, ultra-flat white latex paint that does not yellow, and that covers the old paint in one coat.
Flat latex paint can be used on any interior ceiling, even if they are textured. We would recommend spraying textured ceilings and rolling flat ceilings. Another reason to use very flat white ceiling paint is that the small imperfections are well-hidden (higher gloss paints show imperfections). Here is a short article on the sprayers for homeowners.
Benjamin Moore's Ceiling Paint costs a little more but it's designed to COVER IN ONE COAT. It will hide and cover most yellowing, aging, and the stray puck mark from when you were playing hockey inside. (Well, puck marks need 2 coats!) This great paint covers in one coat if the old ceiling is off-white or white. (Non-white surfaces will need a primer first, or two coats of ceiling paint: a hard-fast rule when changing colors).
You can also read more about what makes the interior wall paint in our other post. It's a no-brainer: I usually recommend Benjamin Moore paints (company website). They spend a lot of time researching longevity and durability.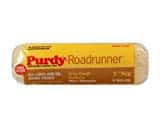 The second most important tip after choosing a good ceiling paint is to use a quality roller cover: budget rollers and brushes shed lint and bristles. Guess where the lint ends up? Did you ever feel a wall that is rough like sandpaper? That's lint from the roller cover.
This roller cover is 50% wool and 50% poly. Wool for absorbancy, poly for longevity. It's a pro cover, and it's not expensive. One of these lasts me for months of daily use. Anything less sheds lint.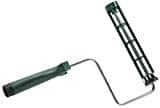 Also, you need a strong roller frame that will last you a lifetime. With a good frame, you can use force to push a roller into the corners instead of a brush (video below explains). The type that comes in a kit with the pan etc, will bend easily. We also have written about power rollers: worth it if you paint often.
If you are painting ONLY a ceiling and nothing else, skip to the last paragraph "Just painting the ceiling".
Important Point When Doing Only One Coat on a Ceiling
Doing only one coat, you must go slower and cover all well. Use a good light at an angle to see skips. A quality wool/poly roller 'cover' or 'sleeve' is essential here (shown above). You don't want to have to hear the term "flashing". This is when the old paint has a sheen that is either flatter or glossier than what you are using, and if you miss a spot, it will 'flash'. It's a sore thumb.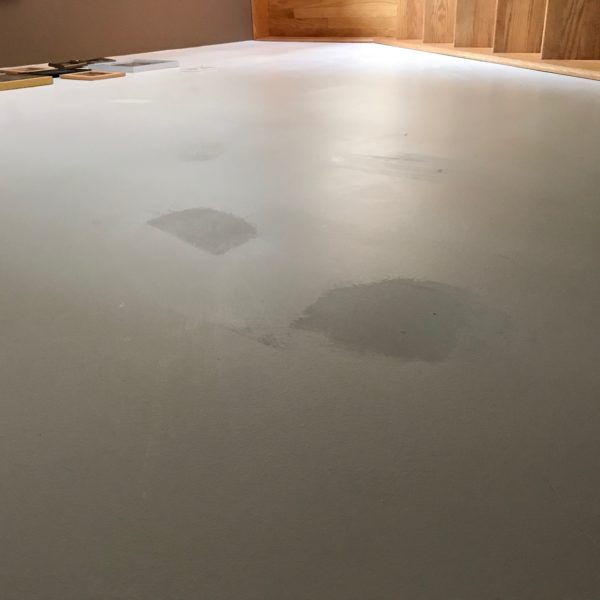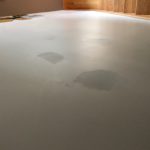 Multiple coats of paint build shine (sheen) so even missing a section in one coat will flash somewhat.
Sure, you can touch up skipped spots later and it will be better, but it's not ideal. Hopefully, you will inspect the job BEFORE you clean up!
Normally with walls, when doing a second coat, you can go faster on the 2nd coat. We often do 2 quick coats for walls, but not so for ceilings, because they are hard work even for us. You always want to just do one coat when working above your head.
Best Ceiling Paint for Old Painted Ceiling with Discoloration/Stains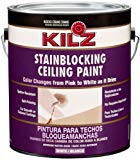 If your old painted ceiling has some discoloration you need stain-blocking resins in your paint/primer. Go with the runner-up of ceiling paints, Kilz Color-Change Ceiling Paint, shown here (turns white when dry). It blocks discolorations better than the Ben Moore above, and it will also act as a primer if you have a new drywall ceiling/walls. This paint may require 2 coats.
For real water stains (clearly brown/tan), spot prime water stains, etc., with a primer with stain-blocking power. New drywall ceilings need 2 coats, but you might be able to do one drywall primer and one latex ceiling paint. I would not clean the roller when making the switch from one white to another: just squeegee out most of the old white and dunk the roller in new white paint.
Also doing walls? Here is a big time-saving tip:
Brush? On a ceiling?
No, my friend, don't work so hard. Don't work so long.
Our secret Professional Ceiling Painting Tip: Eliminate (Almost) the Brushing
When you are doing both the ceiling and the wall, there is no need for brushing when you use a quality paint roller and frame. A longer nap roller works better than shorter, but both can do this. This Wooster ¾-inch roller cover is great…used with a high-quality ceiling paint you'll be laughing. (The roller cover shown at the top has a choice of nap length also).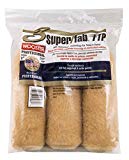 In the corners where 3 surfaces meet, yes a little brushing is necessary and of course around the lights, etc, but not the long sections where walls meet the ceiling. I know painters who have not thought of this: they still waste tons of time dragging a ladder around and brushing the joint where the wall meets the ceiling. Hello? McFly?
What the wha? Here is a video showing what to do (this video is also at the end of the post). Here I'm demonstrating with a silly 3-inch roller, but you will use a 9-inch. Just push your roller into the corner getting ceiling paint all over both surfaces. No cutting the ceiling. Let it dry and then cut walls only. It's good to smooth out any mounds of paint as you smoosh with the roller: they might start to drip, or show as small mounds when dry.
How do you paint a ceiling with a roller and almost no brushing?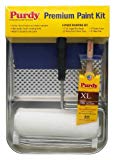 Dip roller with a good deal of ceiling paint (just so it's not dripping)
Push paint into the ceiling corner and slide maybe a foot or 2 or 3 to one side
Lift the roller and rotate the roller cylinder about 1/3 turn for more paint
Repeat steps 1-3 until the roller is too dry
Tip: push harder as the roller get empty of paint (less dipping)
Be sure to fill all of the corners
Don't leave 3-D gobs—they will show when dry
This is nothing wrong with using your roller as a brush!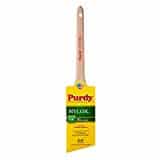 You don't have to worry about getting ceiling paint on the wall as you will be painting over it soon anyway! Learn how to not drip at my post about paint walls or trim first.
If using a high-quality latex ceiling paint and a good brush, as shown here, you will only have to 'cut' (brush) only once. Let the paint dry, then with a good brush, lay your wall color right up to the corner you filled in with white ceiling paint. Brushes with poorly made bristles (cost about 7 bucks) will not give you a nice clean line(plus the bristles fall out). The line somewhat makes itself with a good Purdy brush and they never shed bristles. A Purdy will last you a lifetime if you remove 99% of the paint in it each time you clean it.
It may cost 15-20 dollars, but your frustration with the lesser ones makes this one worth it.
To make this method work at it's best, long roller nap length is helpful
The best is a long nap paint roller cover: we like a ¾ inch (or more), in a wool/poly blend. A nap of 1-inch or even 1¼ can work. Longer naps leave a slightly different dimple pattern on the wall, but that is not important to us—if it is to you, go with a short nap "designed" for walls, but they don't hold as much paint and you have to dip them more often. Yes, the stipple pattern is nicer.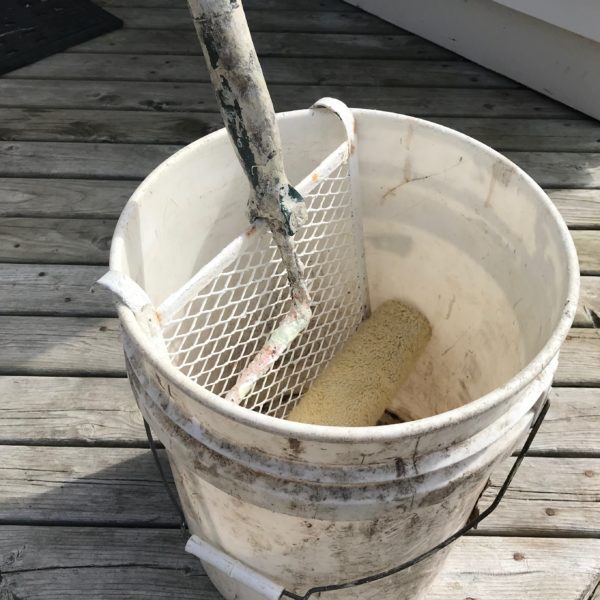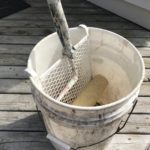 We use only Wooster or Purdy paint roller covers: the poly gives longevity and the wool sucks up the paint. The Wooster ¾ inch wool blend is only about 7 bucks (sometimes as low as 3!) A better value is to buy a pack of three and not worry about getting more later. This will last a homeowner a lifetime. Learn how to quickly clean paint rollers.
Pros don't use trays: the screen and bucket etc you see here are all on our tools page. Did you ever kick and spill a tray? The bucket and screen system is just so much better.
Most people say ceiling paint should be a flat finish.
People want their ceilings to be white because the reflection multiplies your lighting and makes the room feel bigger. True. We always recommend a flat white latex ceiling paint, and flat on walls if the home has no children. The flat sheen in most paints will show handprints easily, and is difficult to clean: but how often does someone put hands on a ceiling?
Plus, the flat sheen is soft and does not draw attention to itself.  Designers say: more sheen, more attention. Shineyness makes you look, so flat ceiling latex paint is the norm for good reason.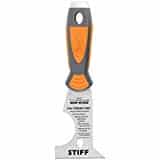 A tip you might use if you are later painting any other white or off-white: don't clean your roller and brush after you are done with the ceiling: just use the curve in your multi-tool to scrape most of the flat ceiling paint out of the roller, then just smoosh the brush's fibers/bristles of old paint and go right into your other white paint. Before applying your new paint, soak up a lot and work it in and out of the roller/brush: you are all set to go. (Don't tell the boss you do this!—but it won't matter at all in the end and save time cleaning-whew).
Just painting the ceiling? Big tip: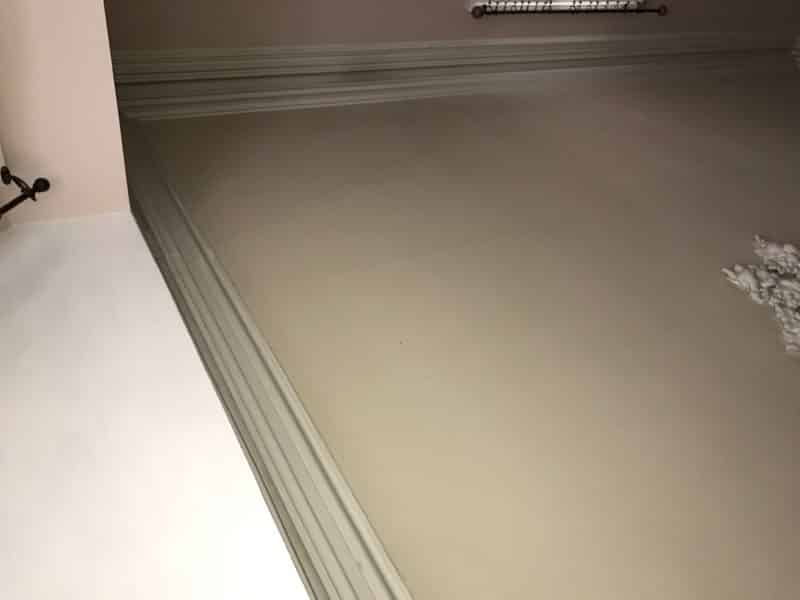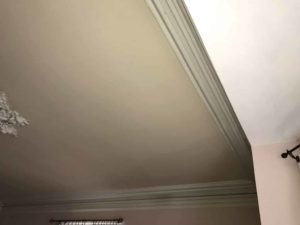 Obviously, be sure to protect your floor and furnishings from drips: tape some light plastic to the walls near the ceiling and remove the art or carefully cover with the plastic. If you use old bedsheets etc to cover things, be sure to wipe any drips as they happen because sheets will allow the paint to bleed through onto your things.
Do you paint walls or trim first?
As with all paint jobs paint the TRIM FIRST. Why? It is by far much easier to brush the line on the wall instead of the trim. If doing only one coat, paint the trim carefully making sure not to leave any skips, and feel free to get your trim paint on the wall.
The proper way to paint walls: Roll or brush first?
After the trim paint dries, roll the wall as close as you can to the trim without touching (obviously). Then "cut" with a good quality brush, we like Purdy latex-only brushes shown above. The quality bristles will find the corner for you and you don't really even need a very steady hand. Get the 2-inch ( or 3 if you have a strong arm, as it is heavy when wet!). This brush will work like new for life (see my post on how easy it is to clean up).
This post explains in more detail why you should paint the trim first.
Have a question about the best paint for a ceiling? Please write a comment—I'll try to reply asap!
---
Drop cloths: be happy and get a canvas for the floors and plastic for the furniture.
The plain canvas is fine and the best value. But if you can afford it, go for the one that will not slip around as you walk on it: a constant source of worry for us. (The photo is a link to a different size.) buy a large and cut it into thinner 'runners' for against a wall.
Even paint spills are no problem (should you 'kick the bucket' while looking up as you paint your ceiling)!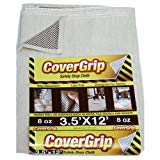 I avoid very thin plastic. I prefer the 1-Mil thickness because it tends to stay put, and I use green painter's tape to hold it in place. If you are only painting a ceiling, this is a must: you simply cover the walls, bringing the edge of the plastic near the top.
These drop cloths are also useful at home for all kinds of projects.
---
Large ceiling? Do you have other projects lined up for the future? Spray that puppy. With any ceiling paint, you will cut your time tremendously.
Spray painting a ceiling is 10 times faster than rolling. Painting a ceiling is the hardest thing a painter does.
Two recommendations for two budgets: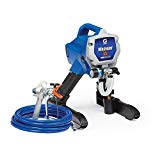 Two paint sprayers brands you can trust are Graco and Wagner. If and when you need parts, (the tips do wear out in time) you can find them easily if you go with a major brand.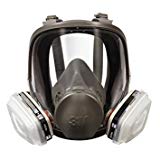 Some keys to spraying paint
Related:


How to efficiently apply a good quality ceiling paint: