If you put just any average primer on stained wood, on walls with water stains, or on wood with 'knots'…and then paint it…the stains will bleed through every of paint and you will have to start over—square one. Stain blocking primers are very important.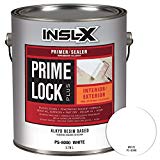 Primers come in various levels of firepower and when you have stains, you need a stain-blocking primer with a lot of power.  On a daily basis, my choice to make sure I have sealed off the stain is Prime Lock from Ben Moore. It's an oil-based interior primer. Others that I use, such as latex primers shellac primers, and some exterior primers are all shown below with what they do for you.
What is the best stain-blocking primer? This depends on your problem. If you had a water leak and you are painting walls or ceilings with stains, you need to block the stain with a primer that contains stain-blockers. These stains will bleed through all paints if not stopped with a stain blocking primer.
Can I use any primer? Not for stains or for wood "knots". Primers without stain-blocking components merely make different surfaces with un-alike porosity all the same: they do not block tannins and resins. This is oversimplified but true, you do need stain blocking primers.
If you want the shortlist here at the top,
For blocking severe stains use:
Benjamin Moore's best blocker: (interior) Prime Lock Plus indoors and Block Out for the exterior—see exterior primers, jump below. I have never had any tree sap, or tannin or any water stain or tree knot stain bleed through this top-notch primer. These stains can take a long time to bleed up into the topcoats which makes us unprofessional. Because PrimeLock is an oil-based primer, have some mineral spirits (paint thinner) handy for clean up, as well as disposable rags. To apply, I like to pour off some into a quart can, and cut the handle of an older brush that I will leave in the can for next time. It's messy, you'll need gloves, but why throw away brush after brush? Just a pro tip for you.
When you don't want to mess with oil-based blockers, go with Aqua Lock Plus. This is Ben Moore's best water-based primer and it's what I use as a primer when the walls or ceiling have some staining issues. After this primer dries, if any of the tough stains come through, I hit them with a spot of the PrimeLock shown above. My time is money. I don't get 'call-backs' for stains that I left behind.
What is the best stain blocking primer? The ultimate nuclear-option, the very best stain blocking primer is BIN, a shellac-based primer with white pigment. That link is for the quart and the image below is for the gallon. It's very toxic but very effective. Cleans up with rubbing alcohol, and comes in a spray (linked below). It is the #1 stain blocking primer on the market and dries very quickly. As with the Prime Lock above, I keep a throw-away brush right in the can, because there is no cleaning a brush in any reasonable way when you use BIN. I cannot see using a brush once then throwing it away! BIN needs to be stirred or shaken every few hours. Watch the video below as I make a fool of myself showing how to shake a paint can without taking it to a paint store.
Primers do get very complicated, but below I make it digestible. You'll be the judge of that!
Prevent a nightmare: get the right one!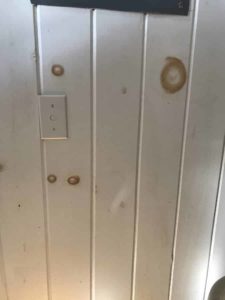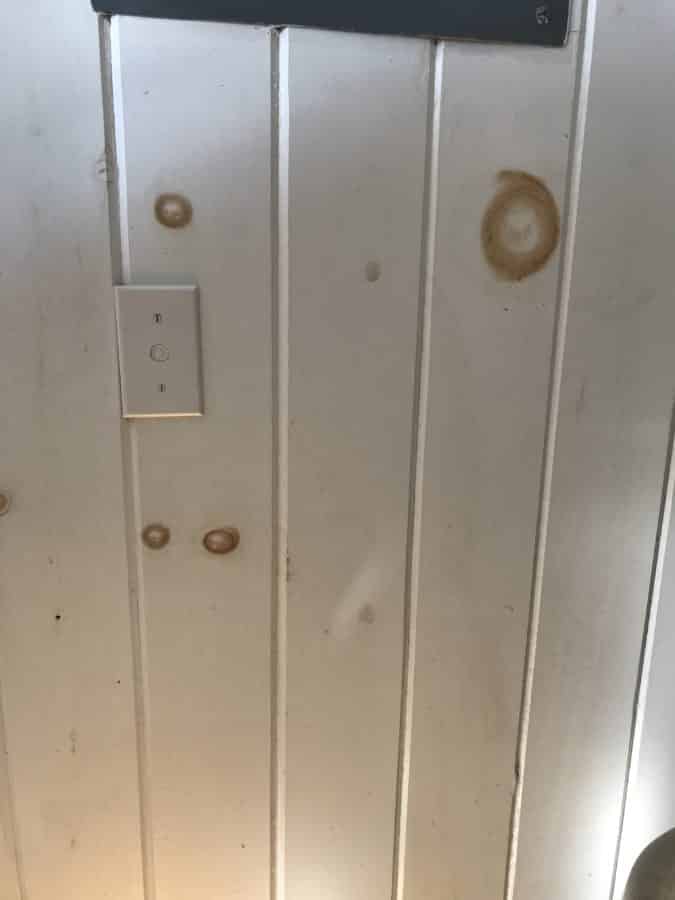 Primers without blockers: Like with new drywall, different surfaces have different pore densities, and a primer fills and seals them all equally and creates an even surface so your paint will not be shiny here and flatter there. We call this 'flashing'.
Stain blockers come in the more expensive primers—these stop resins, tannins and other bad guys like tree sap, that will bleed through into your topcoats of paint.
Do you always need a primer with stain blockers?
No, not unless you see stains or if you are painting never-before-painted-wood.
Sometimes it takes a year for some wood knots to bleed through, so you need to be sure now.
---
Choosing a Stain-Blocking Primer
You want to block all the stains in one step. You should really never need 2 coats of any primer. (Exterior primers are at the bottom.)
As always, using poorly engineered primers (and paints) is more expensive in the end. Spending more upfront saves money in the long run.
Choice #1: Simply the best
Whether you just have a few stains or even if are you converting wood trim or cabinets to paint: Lightly sand every square inch (just enough to scratch it up for better bonding—we use 150 grit sandpaper—then…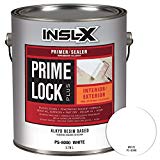 The best and first choice should be an oil-based primer (yes, you can put latex paint over it). For daily use, I use Prime Lock Plus from Benjamin Moore, and I've never had a problem with stains coming through. Important: wear a respirator (we simplified the complex world of filters here), and open windows or somehow ventilate the area. This off-gasses fast, so after a few hours, you're safe to be around it with no respirator.
Prime Lock blocks crayons, smoke damage, odors, and all the other stains already mentioned. (See Ben Moore's spec sheet).
---
Converting wood trim or cabinets to paint? Jump to this info.
---
Choice #2: A great stain-blocking  water-based primer
If you don't like oil-based paints, (and who does?), use Aqua Lock Plus, a water-based primer almost as powerful as Prime Block. This link is for the quart, and the image below is for the gallon. Now, this primer has considerable power, but not like the oil-based primer above. Here is one way to go: prime you surface, taking a mental note of where the stains are (a photo is helpful). After the AquaLock dries, check to see if these stains have come through. This may take overnight or longer.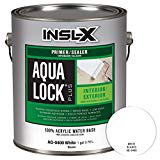 If there are any stains bleeding through, hit them with either the PrimeLock above, or go nuclear with BIN, a shellac-based primer (this link is for the liquid, the spray is just below). Shellac cleans with rubbing alcohol or denatured alcohol.
The BIN spray can is good for any small extras you did not get the first time, but you have to be careful with overspray: it does not come off!
IMPORTANT: you need a respirator for shellac primers! First, you pick the mask (I use and recommend this), which comes without filters…and this filter kit has a great filter for vapors plus paper overlays to keep the dust out of it. Read about the masks, filters, etc on my respirator post. Note: the mask linked just above is the 6200 medium size mask for average size faces. 6100 is small, and 6300 is large.
Choice #3: Odorless oil-based stain-blocking primer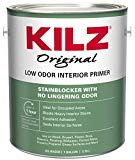 Odorless Kilz oil-based (this link is for the quart, the image is for the gallon), gets you much of the stain blocking ingredients that cannot be mixed in water-based solutions but without the stink. I used this for a very sensitive customer who just bought a smoker's old condo. But it worked. Popcorn ceiling and all. It's not totally odorless, but close.
For people with allergies and/or sensitivities, this is a great choice.
Choice #4: Taking a risk with whatever
If you have some random primer leftover from some project, or if you want to avoid the level of toxicity of the big boys above (Aqua Lock is not that bad), go ahead and use your primer. After a short time, you may see some stains bleeding through. Remember that some stains may take a year or more to bleed up through the topcoat.
At that point, just spot prime with BIN (link above) and touch up. NOTHING gets through this primer, period.
---
Special Problems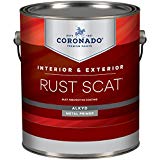 For rust and other metals, seal it with Rust Scat an oil-based, fast drying metal primer. I was surprised how fast it dries on a warm day (outside).
Rust converter from 3M also acts as a primer after changing the rust by chemical reaction. I would still recommend that you prime with Rust Scat (just above) after using it as well before painting.
What happens if you paint over mold?
For mold, first, of course, you need to kill it, using a powerful mold killer (comes in spray bottles too), and then when dry, apply a Mold Killing Primer in any place the mold might grow. Finally, add Paint-Guard a mold-inhibiting additive to your topcoats of paint.
Big Tip: Please don't use bleach. Bleach does not kill all the spores and the ones that survive multiply faster. Also, bleach is a deadly poison!
---
Exterior Stain Blocking Primer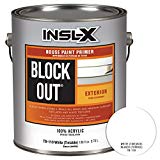 Oil-based primers are preferred by most painters but if you prefer water-based, go with Ben Moore's Block Out, a latex stain blocker that you can prime your whole house and get great protection and bonding.
Oil-based primer and stain blocker is my preference and I use the old standard: Rustoleum's Cover Stain oil primer when painting outdoors. I've gone through a gallon or a thousand.
For the actual work, my advice is to use an old paintbrush for the primer and save the new brushes for the topcoats.
---
Now, how to do convert wood trim and cabinets to paint…we have it all covered for you, not literally!
---
Spraying primer? Sure. Go for it. We have written all about sprayers here. Graco is the brand that most professional painters trust.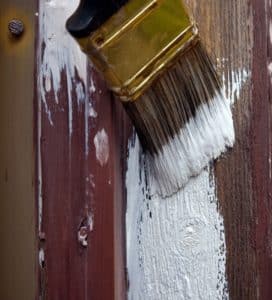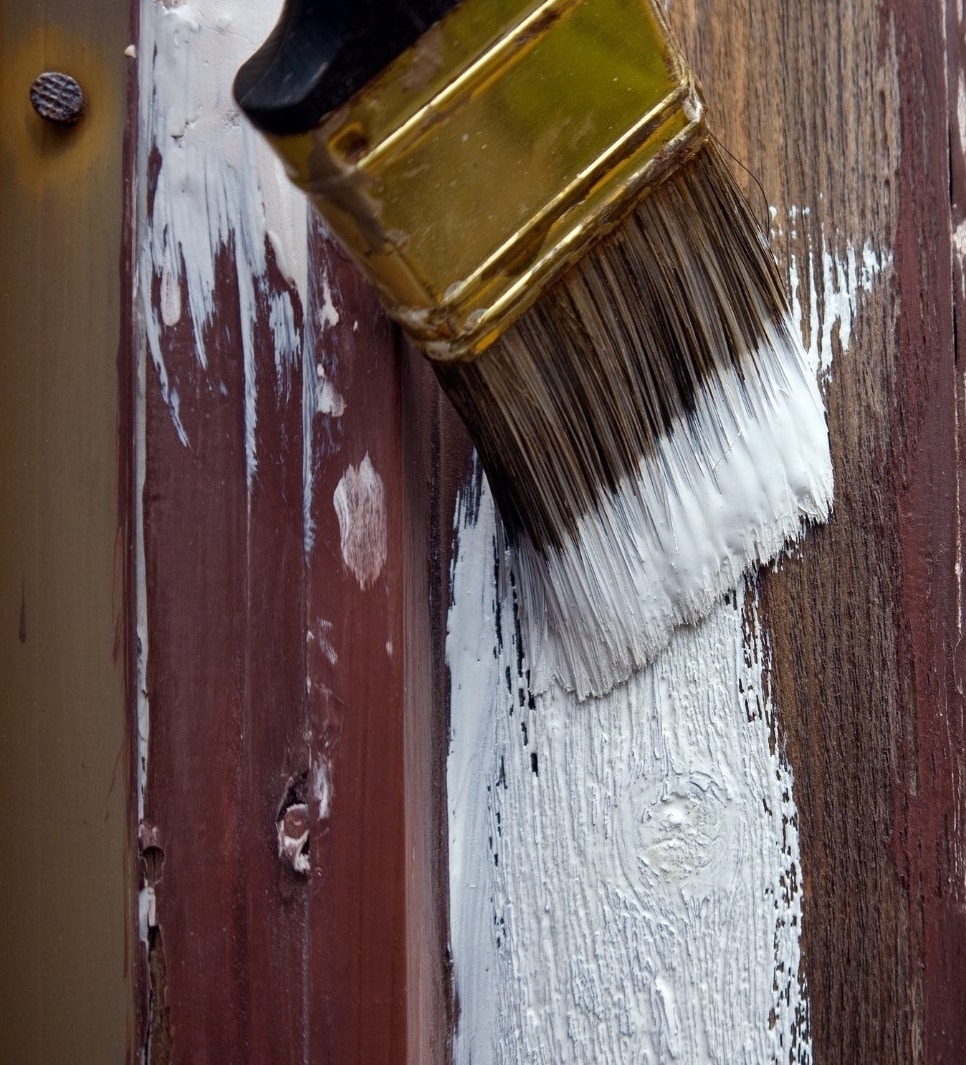 Tip on primers used for spot priming. BIN, in particular, is nasty stuff and as soon as you put a brush in it, that brush will never be useable for anything else. I buy dollar-store brushes for this, even though the bristles fall out! Here is what I do: before dipping the brush, cut off the handle so the brush will fit inside the can with the lid closed. After you're done priming, seal the brush in the can! Yes, it's messy when you go to get it out (rubber gloves, man), but you only ruin one brush per can.
Paint and Primer in One?
Most painters don't love them. In the early days, they did not work. But nowadays they have become better at blocking stains. I discussed this in detail in this post on paint and primer. The technology now is that tiny particles come together to form a seal and act as a sealer/primer, but not necessarily a stain blocker. If they fail, we look bad, not the paint makers. Even if the customer does not see it, we do and have to do touch-ups. But it is a faster and less expensive way to go and it's used in many rental properties.
---
That's our look at how to block stains with primer. Have any comments? Let us know below.
---
Related posts:
Here we just need to seal a stain from a wood knot that bled through the primer and top coats of paint:
How to shake a paint can: always do this for stain blocking primers to mix the solids into the solution.