When it comes to picking a trim paint, in every case, you save money in the long run by using quality paint: always get the best paint for trim that you can afford. Quality paint looks better, holds its color longer, goes on without spitting…and you can really scrub it clean. Other paints: meh, not so much.
If you need to block stains, read our post about stain blocking primer.

If you just want the bottom line: there are 2 trim paints that we use over and over, and both are excellent:
Want to spray? Read about sprayers. We are production painters: we spray the trim, then mask it, then spray ceilings and walls!
The Best Paint for Trim:
The #1 rule in painting: you save money by using quality. You can really see the quality of good paint, and they are tougher so they last longer and won't yellow or fade like the budget brands.
---
Top Two Excellent Choices
— There's a short section on basic tools and one on primers after this. —
1. The Very Best Choice
The best of all the best paint for trim is Benjamin Moore's Advance this is the semi-gloss, what we put on most trim. But here is the satin finish ).
Read about how to prepare stained wood trim for this paint.
Our customers love the oil-based paint look, without the oily toxins and mess. They did not name it Advance because you need to be an advanced painter, but some experience is helpful. It behaves like oil in that it is slow drying and that can cause sags and drips. This won't happen if you apply thin coats: we always do more than one. Don't try to for one-and-done. But the look is really, really nice. You'll quickly get the hang of how to apply it.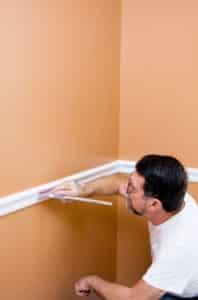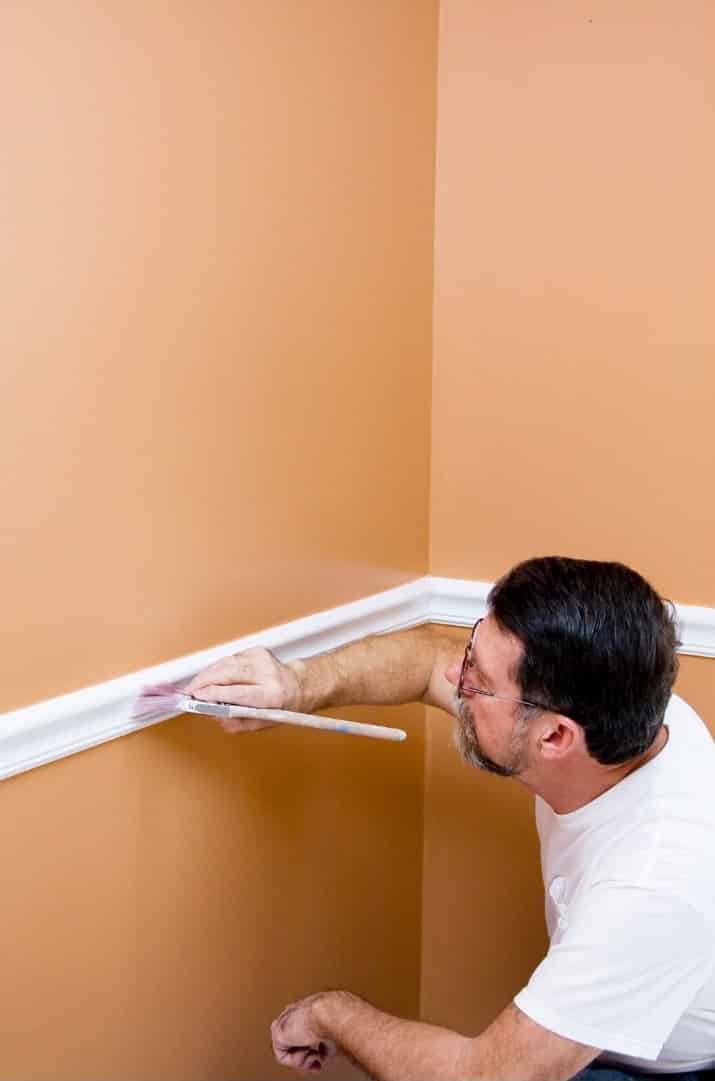 More about this product: Dries to the touch in 5 hours (with normal conditions). This slow tacky time is what lets the paint enamelize, or even out like oil-based paints and look just beautiful. Latex paints don't do this and so you have brush strokes, which is ok too. Fully dry and further coats can be applied only after 16-24 hours. Unlike latex, this paint is easy to sand when dry, even though it dries so hard. So if you get some bad spots you want to re-do, just hit with some 220 grit sandpaper and bingo.
Kicker: Another reason this is the best paint for trim is that you can roll this paint on trim, and you don't have to use a brush to 'tip out' as you do with latex. We always paint trim with a roller, and with a good brush, we tip it out so the brush strokes are parallel. With Advance, we don't do that: it's going to all even out anyway, so there's no need. You do need a brush for where the roller cannot reach.
I contacted Purdy, owned by Sherwin Williams and asked what brush is best for Advance. They replied that the XL Elite Glide would be best, but that the Nylox which is our go-to brush is also fine.
Finally, this paint, like all paints, takes 30 days to cure, so treat it gently for a month or more. If you took off cabinet doors to paint (always best), wait a while to put them back on. Kitchen cabinets take a beating and Advance is the single best kitchen cabinet paint, as well as the best paint for trim (interior trim).
2. Tradition…Tradition!
A very good latex trim paint that we have used literally thousands of times is Benjamin Moore's Regal and it comes in satin and semi-gloss. It is available in any color: if you buy here, you first choose your color from the Ben Moore website. Get the paint number and name, and email the seller thru the product page when you buy. Just click on 'seller' in the product page right-hand column.
Tip: For trim or kitchen cabs, try the color "Cloud White"; many of our customers choose it before we ever talk for the first time. A really nice white.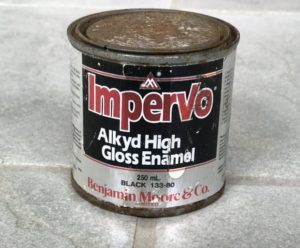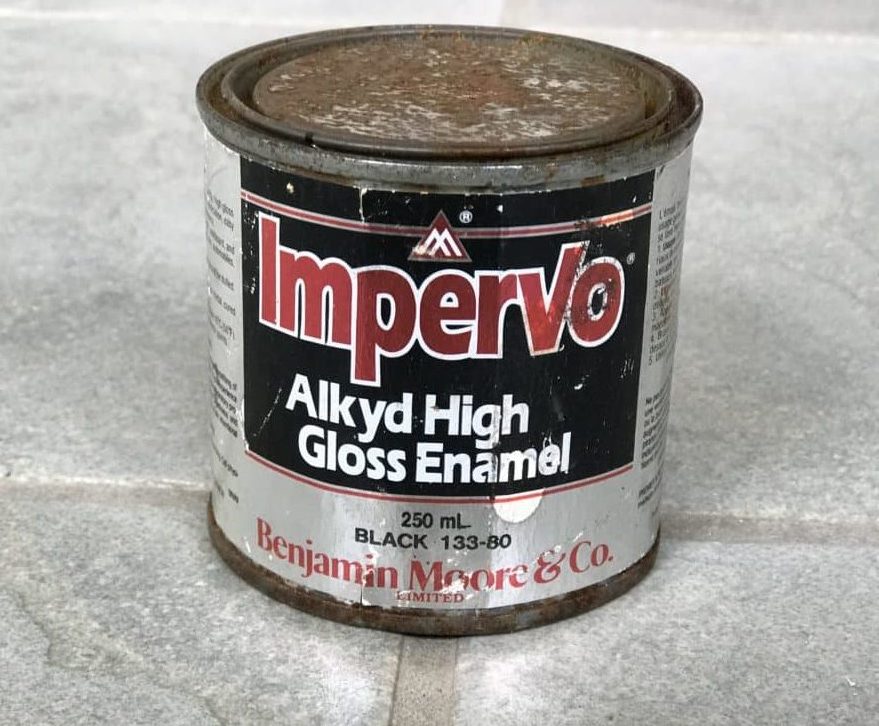 Want to use real oil? You'll have a hard time finding it, and when you do, you probably have to buy it in small cans (quarts, etc).
Oil is on the way out and for good reason (it makes us all sick), and when you have so many water-based acrylics to choose from, it's for the best. Oil was once considered to be the best paint for trim: no more.
How Shiny?
Sheen: Generally these days, designers put eggshell on all walls (including kitchen/bath) and semi-gloss on all trim.
For trim: People still use semi-gloss on all trim. There are folks some rare times that will go with satin (less shiny than semi-gloss), and some like the high gloss. Generally, designers feel that semi-gloss is the best paint for trim.
Basic tools you need for painting trim
We have combined all the basic painting tools all into one place for you, but the very minimum you need is a brush, roller, roller cover, drop cloths, tape, ADD TO THIS AND THE OTHER POST SAME THINGS THEN LINK
We have another post that describes what we use them for.  LINK TO PAINTIN TOOLS MAIN POST
A quick primer on primer
When do you need a primer for trim?
The two main issues are bonding and blocking.

Big color change? If you are changing colors radically: dark to light or vice versa, use a low-power (inexpensive) primer as a first coat: why paint 3 coats of expensive paint when you can save money on the first coat? What primer here? We use Kilz Original if we do not need to block any stains (wood knots, water stains, etc.). It just covers all bases and is not that much more expensive than the lowest level primers. With the bottom level primers, we cannot be sure will give us the bonding we need on pre-painted walls.

Not into special primers? Ok, try the budget brand primer you got on sale in test spots, and do one or two top coats over it. Then when very dry, see if you can scratch it off easily. A slightly less expensive, but quality primer is BIN from Rustoleum.
Paint and Primer in One? We don't love them, but since they broke onto the market they have really improved with tiny particles that form a seal and can take the place of a primer, but not a stain blocker. We like Kilz. Here is the semi-gloss paint-and-primer-in-one for trim.
The reason we don't use this unless requested is that very often there will be stains of some sort that will bleed through to the top. That makes us look bad; we have to do touch-ups and that's a drag. However, it's also a fast way to go—landladies and lords love it for that reason. Some folks are selling and are painting trim white, and just slap this on with no primer or prep: very bad idea. Bad karma, Buddha say.
FAQ:
How much trim will a gallon of paint cover?
Calculate how much paint you need like this: A gallon of the best trim paint will put 2 coats on 3-4 average rooms (with some shelves, doors, windows, baseboards).
Can I trim without sanding?
Yes, unless you have oil-based paint or varnish. To test, simply rub some acetone (often in nail polish remover) or rubbing alchol on some paint/varnish. If it gets gooey, it's latex. No sanding.
What color do you mostly paint kitchen cabinets?
We feel confident saying that the Advance shown above is the best paint for kitchen cabinets white, off-white or other. The pure white, or Cloud White, is the most common.
---
Related posts:
---
That's our view on the best paint for trim. If you have any additions or comments, please let us all know in the comments. Thanks!
Here is a short video discussing the best paint for trim: