We have used and we vouch for all of these recommended tool gifts:
No thin plastic that breaks in a year: just quality tool gifts
All these great presents have free shipping and most are Prime as well
We try to find tools gifts made in the USA or Canada whenever possible
They all have very high customer satisfaction ratings all around the "internets"
I'm a tool freak and these are my personal favorite tool gifts
Don't miss our other tool post:
If you are looking for a tool gift that has never been given before, there is a list of very modern and inventive tool gifts—ideas for the type of homeowner who already has everything ever invented.
If you think that giving a screw gun is a boring gift, not so. I have 4, yes, and I sue them all. Some are in a toolbox that moves around, and others are handy for quick tasks. It's a great invention and we have listed some below of course, but we have a full post about just them and the necessary accessories.
Finally, if your gift is for someone about to do a big painting job, they would really appreciate some of the quality painting tools on our main list.
---
 First & Best of Tool Gifts: The Big Dog: We wrote all about the vast world of the screw gun in our recent post as it's the number one great tool for most of us handy-types, certainly one of the best gift tools for DIYers. What's fun is all the gizmos that go with a screw gun… you'll see my own tip-holder invention: patent pending! 
Best tool gift on the internet. Two guns, huge power. A lifetime set. Enjoy.   
Low budget, but a great tool for the money (mine is 5 years old and I use it all the time) –  
---
Digital Stud Finder / Wire Finder  Personal favorite: Jokes about stud finders write themselves: You can put it on a belt buckle (or chest etc), and make it beep and say : "Yep, this works." Hardy ha ha.
But seriously, you're a great crowd.
Sees density changes so well it shows edges of studs: that's very new
LCD shows 'image' of stud and beeps indicate at the center point
Through drywall up to 1-inch: unheard of
Sees live AC wires
2-year warranty with 45 days money-back
These really do work and every pro has one: from plumbers to painters.
Click on image to read more and buy.
---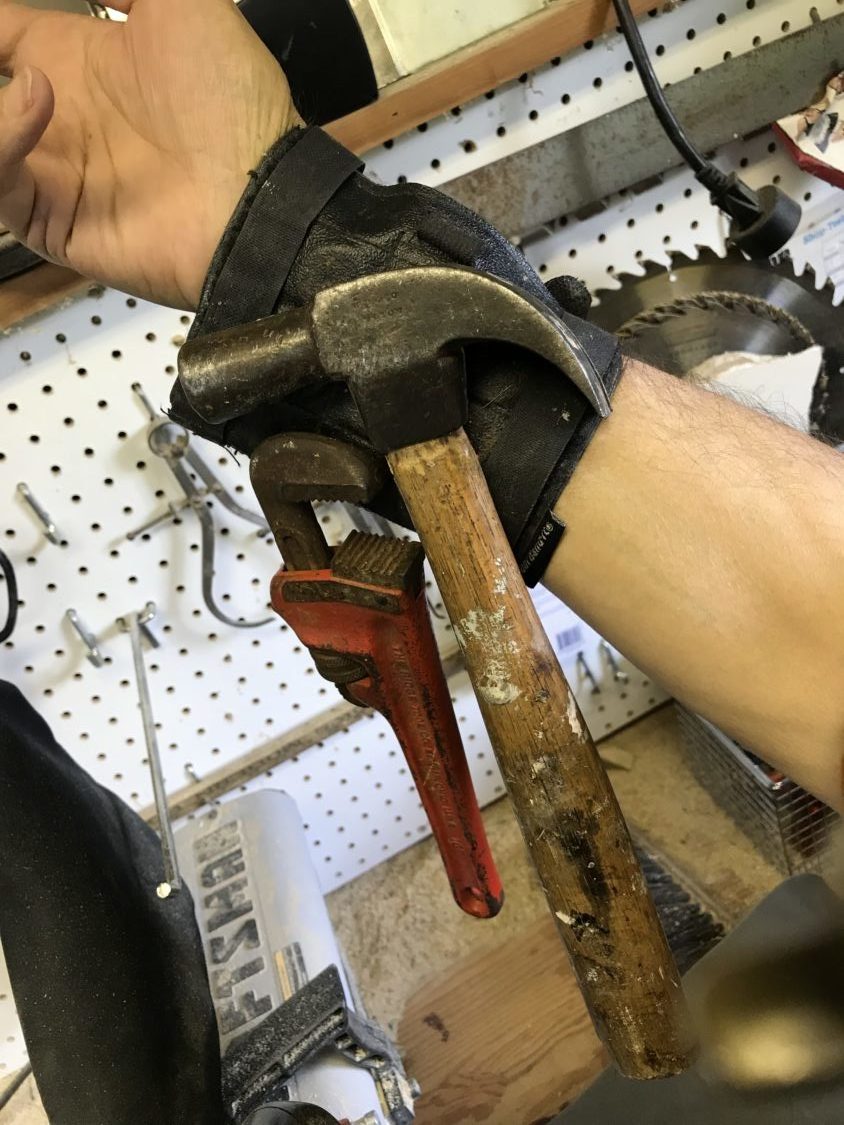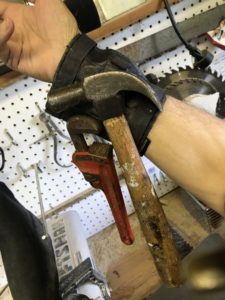 Magnetic Wristband with Strong Magnets: My 3rd hand. Magnets can hold small hammers, plyers, and probably even your beer!
Great for when your spouse can't help: just too busy shopping online. The one you see on my wrist is an older generation, but still going strong. Save gift receipt: you have a full year to return it. Click on image below: 
---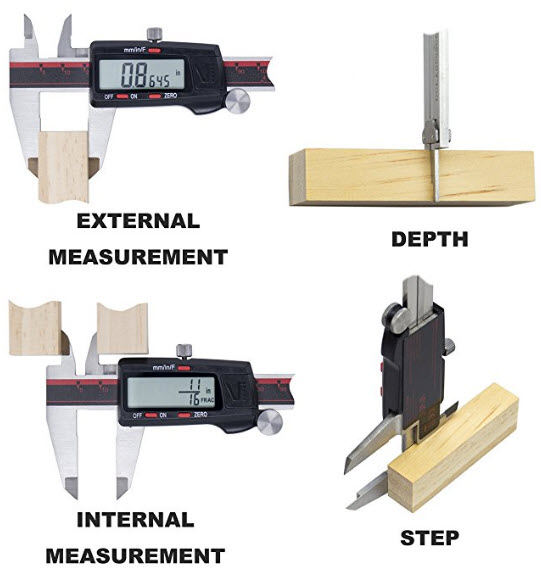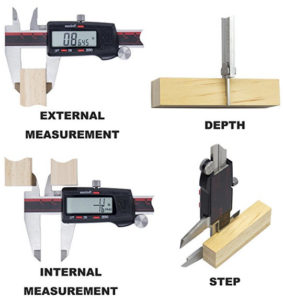 Digital Vernier Caliper with LCD Screen: Not just cool looking on your peg-board. I use my grandfather's caliper to get accurate measurements all the time. This one is steel and has a digital read-out. Grandpa, you should have invented digital! One thousand good reviews cannot be wrong about this newfangled digital style. Hmm. Kids today. Image below takes you to the tool.
---
Cool tool Organizers, Big and Small: For small necessary things and one for hand tools (hand tools and 5-gallon bucket shown are not included). I cannot work without both of these.
Look and buy: Small organizer below and the hand tool organizer right:
---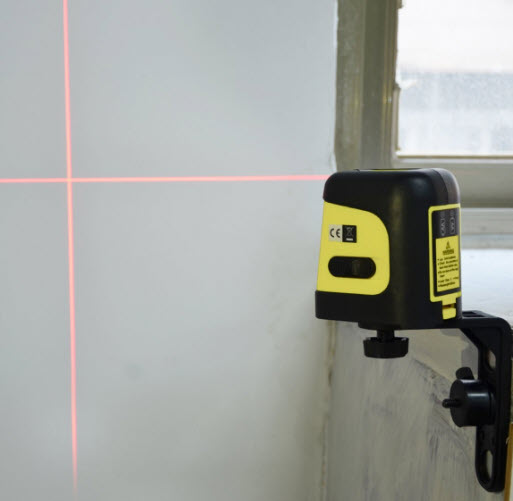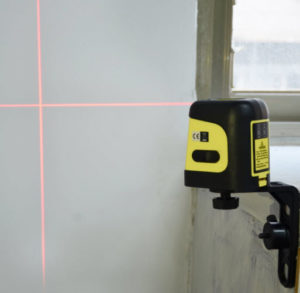 Laser Leveler: I got an early model laser leveler and I originally thought "how stupid". but it turns out to be one of the most useful gadgets I use around the house. The new type has a plumb line laser as well and can even do angles. Watch it work on YouTube. Tops the list of cool tool gifts.
Look and buy here: 
---
Multi-Angle Measuring Ruler: Template Tool & Angle Finder: I bought an angle finder last year: my porch needed support that would be both at an odd angle and askew. My older version has no hardshell case. So this is the one to get. Be sure to buy metal: plastic won't cut the mustard. Enjoy.
Oh, that case? Of course, I made one. Duh. Look and buy here: 
---
 Waxed Canvas Tool Apron: Top of my cool tool wish list for all who read this: buy me this pleeeease!
As Marlon Brando said, "A man without a canvas tool apron can never really be a man". A great gift for a carpenter or handyman. Like me. Look and buy here: 
---
Digital Soldering Station: For anyone who has to re-wire anything, this soldering iron gets very hot, unlike the weaker models. Hakko is a respected maker of electronic supplies making soldering irons since 1958, and all made in the USA. There are cheap knock-offs for sale even on Amazon, so I verified via Hakko Customer Service that this seller is legit. This goes with the next item if you want a tool gift supreme. Look and buy here: 
---
Gadget tools – Helping Hands Third Hand. So useful and handy. The clips rotate and the arms have a magnetic base so you can move them around. We use this to hold recipes in the kitchen too. Look and buy here: 
---
Work Lights: We used to use halogen work lights: very bright, but very hot. On a cold day, it is nice to be in the heat of halogen light (until you bump it and get burned, knock the thing over and break the expensive bulb). These days, we use the more durable LED work lights. I love this light, one of the best tool presents. You might prefer one with a rechargeable battery. 
The corded model is shown, and the  
---
Find gold, Jerry, gold.
Garrett Metal Detector: the best maker in metal detectors since 1964.  
The complete set is shown, but depending on your budget for a gift, you'll be able to start on this page and just navigate to the one or ones that you want. The handheld (orange) Pinpointer detector is for underwater if needed, but can be used anywhere. The problem with this is that you have to be on your knees and bent over to scan the surface.
Garrett sees deeper than other brands and does not use the slower Bluetooth to achieve the wireless system. The Z-Lynk system used here is much faster so you can scan faster, even in highly mineralized soil/water such as salt beaches.
The wireless headphones get a beep when the detector finds gold, brass, etc, and the subtle signals (faint targets) are boosted. Batteries included.
We rent our equipment from time to time, which helps to offset the cost. Thank you, free ads.
Click on image to read more and buy.
---
New in 2019: The supreme cordless drill.
Hitachi (now called Metabo) has a new cordless drill system with a brushless motor and compact head. The larger ½-inch chuck will take all bits in anyone's toolbox. 
The LTX-3 comes with two 18 volt lithium-ion batteries are all the power anyone really needs. Operates in 3 speeds and has automatic overheating protection. Only 11 lbs, it has a high torque setting for fast drilling.
We loved the belt hook: finally, someone is thinking over in Germany. We're glad the Japanese sold Hitachi back to its original land. By the way, Metabo comes from 'metal boring', the name for the original German drills.
An unheard of 3-year warranty on the battery pack: wow. They have an extremely long runtime and service life and an indicator of battery charge status. So cool.
Simply the best cordless drill on the market.
Click on image to read more and buy.
---
Safety Tool gifts show that you really care. Us older workers no longer take chances with our health and safety as we did in our youth.
The next few items in our best tool gifts list protect your hands, eyes, ears, and lungs.
---
Ironclad General Utility Work Gloves: Almost perfect reviews. Ironclad strikes a balance between cost and longevity.
As a painting glove, I cut off the first digit of each finger/thumb. I keep them wat to act as a painting rag as well. Machine washable. Six sizes including XS for women and children.
Padded palm and rubbery knuckle covering. About half leather, only where you need it. Hands-down the best value in a work glove. The palms are reinforced only where they tend to wear the most, which allows more freedom of movement.
Also, look at the top-grade chemical protection gloves: don't buy cheap ones as they tear and expose skin!
Sizing: large fits me snugly and I'm 6'1″. I prefer X-Large for comfort and quick removal by shaking.
Look and buy work gloves shown: but there are also many variations to choose from.
---
Drink pure water, live longer. 
These days, we cannot be certain what comes into our tap water. Reverse osmosis is the – and – only way to remove every amount of toxin possible. Engineered for a flow rate twice as fast as other RO systems, and very easy filter changes (no tools necessary).
Home Master TMHP is the best of the ten under-sink models Home Master makes. This filter system is the best we could find with a reasonable price tag, and they offer luxury or standard packages with fair pricing. Surprisingly, from lowest to highest capability, the prices don't vary so much. 
We chose this one because it provides mineral water on tap: key for replacing the minerals we chose when drinking any filtered water. The TMHP-L is the 'loaded' version for 25% more cost you get a salt rejection membrane, fridge connection, and brushed nickel faucet. Replacement filters are shown below.
Filters last a year or almost 4,000 gallons. The RO unit has a 5-year warranty.
Made in the USA.
Click on image to read more and buy.
---
Hearing Protection Ear Muffs: Very important when you work with electrtic saws is good  . This on is real quality and not that expensive. Tell your friend's ears what my doctor told me: if you want to be able to hear when you are older, protect your ears now.
Rating on this item: 3000 x 5 stars. Wow.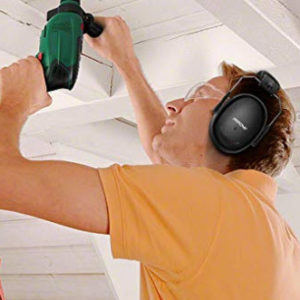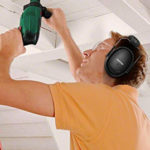 ---
Face Shield: I bought this one when I got my chainsaw, but now I prefer it to protect my eyes every time I use any high powered saw or spray paint. 
Quality eye goggles are the other option, (get the case to keep it from scratching).
---
Respirator: The mask and filters come separately. 
Then see our post on respirator mask and the variety of filters that work with it, or just get the kit shown below. It's a gift of love and not expensive. We use two types of filters mostly: the HEPA and the chemical, as explained in the respirator article.  
---
Portable Power Station: Allows AC power anywhere. Total protection when working with high power tools: I love my power strips: one of the coolest tool gifts. 
---
Work Table and Sawhorse with Quick Clamps: Folds up to be only 5 inches thick for both storage and transport and holds up to 300 lbs. THe clamps on rails we find especially helpful for holding objects for painting. It's sturdy but that comes at a price: it's 30 lbs, so sort of heavy. This is the old Workmate that came out in the early 70s, but much improved. Thanks, WORX.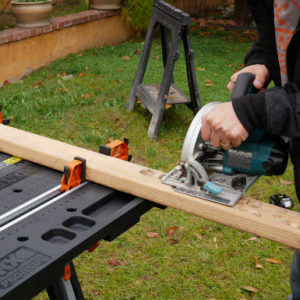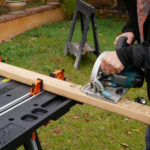 ---
Compact Circular Saw: You need power for this kind of tool so the off-brands don't cut it. WORX saw is big enough to cut a 2×4 without flipping it. This is the best of the 4.5 inch saws out there today. Has a 3-year warranty. Nice. 
These come in SO handy.
---
 Multi-Use Ladder: We feature many different ladders in our post just on ladders for painters. This one is a very good brand name and it's an extension ladder as well as a very stable stepladder in several configurations. Holds 300 lbs. Just have a look at the photos on the product page: really great.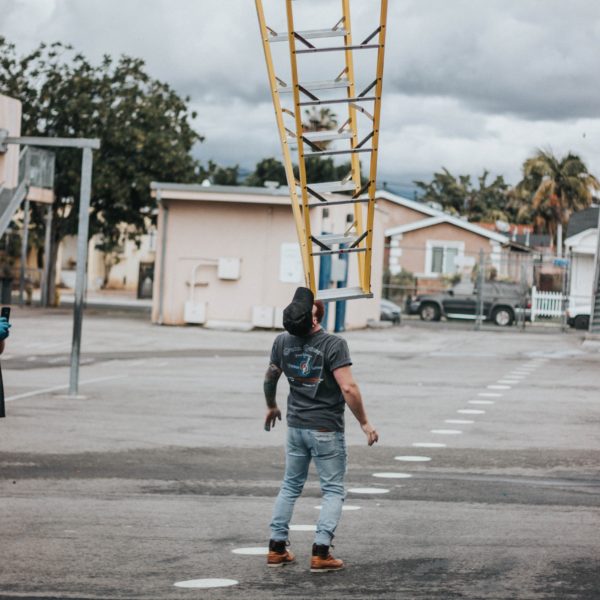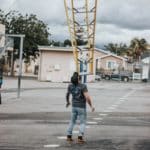 ---
Dremel Rotary Tool: Great little tool and a fun gift to give. Fun to work with too. There are many, many other attachments that you can get for this tool for all kinds of specialty applications. We highly recommend adding the flex shaft attachment on the same page. This is the tool for small, tight spots and the flex tool is just amazing. 
---
Reciprocating Saw: The best tool invention in the last 50 years. With a metal blade, it's a hack saw sent from heaven. Why didn't I think of that?
If you call any recipro saw a "Sawzall"… but that is a trademark of Milwaukee and are still made in the USA.  
It is the only saw that works in some situations. Do you remember that thing that is like a metal plate with one jagged edge… You know, you rub it against metal and it cuts! Without electricity! Amazing. This replaces that…and for metal too.
Comes with a roomy case.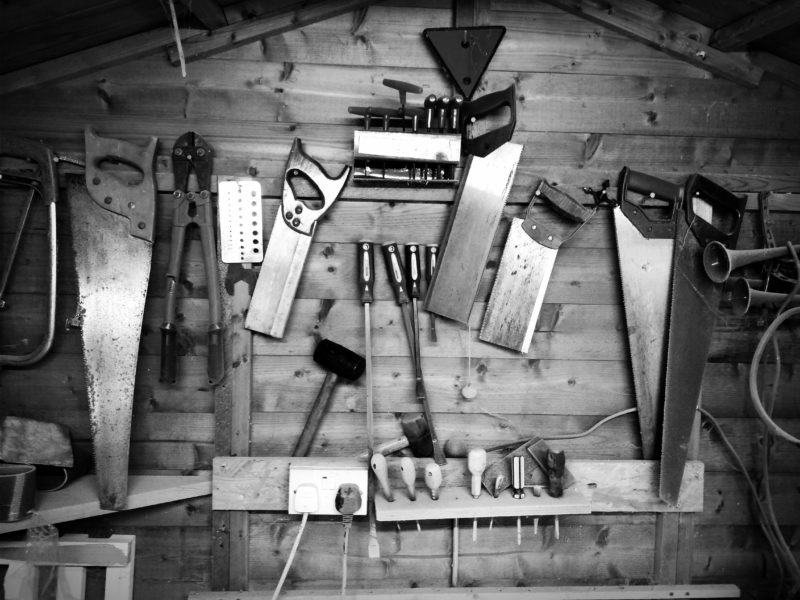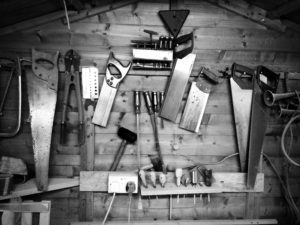 ---
Here is our way to extend the life of a work glove… and below that let's look at one last tool, sort of.
Not speaking of chainsaws, I always wanted to be a lumberjack. Leaping from tree to tree…the smell of fresh-cut timber…Just like my dear Papa. Beautiful plumage.