The best ladder for every budget.
My go-to ladder is the Flip-N-Lite: has a rare 5-star rating. I've put mine through 10 years of hard, daily use and I don't need a new one. I highly recommend it as an all-around house project ladder: it's is a ladder that's well-made, versatile, stable, and not expensive. I am not paid by the manufacturers to recommend say what I think is the best step ladder or any other recommendation on this site: get this baby.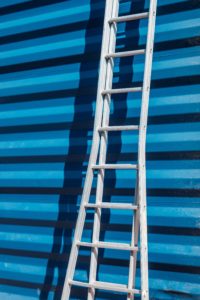 Keep these things in mind about the ladders and extension ladders:
Safety (stability comes from a high weight rating, is it slip-resistant?)
High-quality material
Cost (life-span per dollar). Good looks cost more for less height.
Height/Adaptability
Beauty: where will it live?
How can you use the top step?
Is it easy to store yet versatile?
Is it slip-resistant?
Here are the results of a lifetime of testing: the highest quality ladder in every price range! Extension Ladders are at the bottom.
The best ladder deals for every budget
Low Budget: The Best Step Stool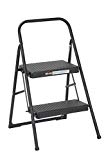 My Pick: The Cosco 2-step is going to last and last, and you can fold it up: nice. A perfect kitchen step stool.
What I wanted was a couple of cheap step stools or step ladders to not have to drag around: they stay where I need them. I keep one in the pantry which has high shelves and one in the basement under the clotheslines: I kick them around as I work.
More money, good looks is a Bamboo Step Stool. Hey, it's not ugly! This step stool works outdoors too.
---
Medium Budget: the Best 4-step Step Ladder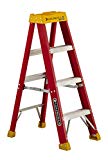 Best Choice: Louisville 4-Step: the best deal on 4-step step ladders. It is a very good quality ladder.
This 4-step ladder is very stable which you need because sometimes the smaller step ladders are the most dangerous: we think we cannot fall.
For a light and simple 3-step or 4-step that can be quickly around the house, you don't need something that passes construction site requirements.
---
Medium-High Budget (and the best house-project ladder)
The Flip-N-Lite Ladder: is a better deal than the COSCO, under 100 dollars. I've had this same style step ladder for years and it is still like new (minus all the paint). I would not trade it for many higher-priced step ladders. It is the best painting ladder: stable and versatile.  5 stars rating and Free Shipping? Done.
---
High Budget: Best Multipurpose Ladder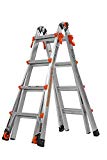 The Cosco Multi-Use: it is a small extension ladder (13′) or a step ladder capable of many configurations. Five ladders in one – step ladder, extension ladder, scaffold, stairway ladder, and wall ladder. Stable and high-quality ladder: slip-resistant rungs and feet. Convert easily to any position without special tools. The ladder can fold flat for storage, it is easy.
Here we get into multi-purpose ladders. Honorable mention is the one with wheels: the Little Giant mulit-purpose just because of the awesome reviews: I have not owned one. I tried adding wheels to a step once. Blah. Waste of time.
---
Very High Budget: Best Big Multiposition Ladder
Big multiposition ladders are both step ladders and extension ladders, they are very high-quality ladders.
The Werner 26 is the top of the line. Enjoy, but handle with care.  Read the safety tips below: a key point is that you should not level this ladder with blocks, but dig into the earth for a more stable footing…and remember the 4:1 rule when using it in extension mode! I've spent a lot of days on a big step ladder: I would never go up a cheap one.
---
LADDER ACCESSORIES: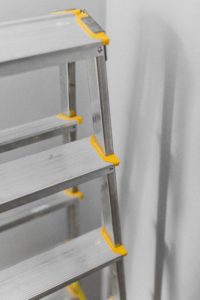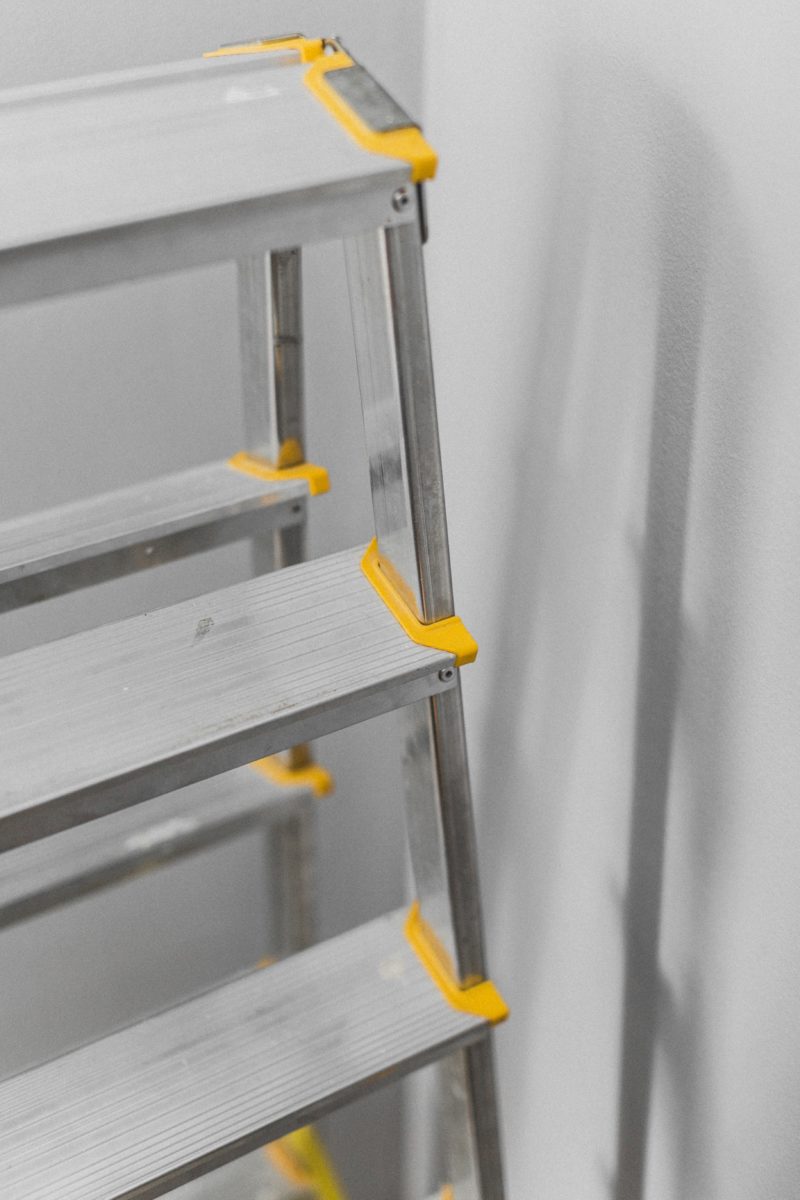 I've used all types and weight ratings and I've spent a lot of money on quality ladders over the years. The best ladders today are manufactured by Werner, Louisville, and (surprise) Cosco.  High-quality materials go into the manufacture of those ladders: these are worth every dollar you spend. Professionals using ladders are required to have very high weight ratings (Type I for 250 pounds, Type 1A for 300 lbs, and Type 1AA for 375 lbs), or they risk serious fines, but you will get along very well with much less.
The best step ladders are an A-frame style and could be called a folding step ladder, but we'll show you a range of different types. There is no single best ladder type. Some are work platforms for home improvement projects, but others are just to reach a high shelf.
After our recommendations for the best ladder, you will find:
Some frightening statistics on ladder accidents and how to prevent them.
Don't put your paint can on the ladder shelf: to quote the great Mel Brooks flick Blazing Saddles: "We don't need no stinkin' shelf" Hint: your shelf is not for paint. What then? See my unique tip at the bottom.
Step Ladder Safety:
Remember: if it says "not a step", don't try it.
Here is a great ladder safety guide from OSHA… and a very good read put together by some concerned people in Austrailia.
Some often overlooked key points:
3-point rule: Keep two hands and a foot, or two feet and a hand contact on the ladder when climbing
Keep your body near the middle of the step and always face the ladder while climbing (see diagram)
Do not use the top step/rung of a ladder as a step/rung unless it was designed for that purpose
The proper angle for setting up a ladder is to place its base a quarter of the working length of the ladder from the wall or another vertical surface (see diagram)–that's 4 up, one out
Always face the stepladder when climbing up or down
When on the ladder, have a helper nearby to listen for any calls for help…or worse
Tie off the top of a tall ladder to something secure
Know that in the USA, OSHA can give you a ticket if you leave a ladder upright outside your home unattended. It invites innocent children to play: it's a good law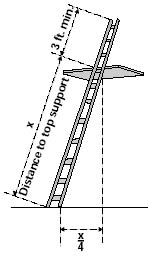 There is one ladder-related death every day and over 2000 ladder injuries every day: that's why you should watch this video of some fundamentals. This video of ladder safety is less than 2 min. You can fall and get seriously hurt or worse from even the very best ladder.
A short story on a ladder fall
As I climbed an extension ladder once,  it happened.  The ladder slid sideways along a wall, picked up speed and just as it hit a ledge over a doorway, I jumped.
I landed on my feet.
That I landed on my feet was not luck: I practiced mentally for this day hundreds of times.
I tell everyone now: when you are working on a ladder, take a minute and think about the possible directions you might fall, and ask yourself what spot will you pick to jump for? It's your best bet. Paratroopers say close your eyes so you are not tense when you hit: I don't think that's a good idea here.
My Unique Tip: the Birth of the Hook, and its Mother, Necessity.
In days gone by, my buddy was looking for a way to rest his paint can so he could use both hands. The idea was born there: he drove a nail into the top of a wooden step ladder and the paint can was surprisingly very stable.  We moved on to hooks for even more stability.  See video and photos below.
Nowadays, not many stepladders are wooden, and the plastic or metal ladders will not securely hold a hook.  So you simply need to place a strong stick under the top of the ladder and drill baby drill.  The stick will stay in place and you'll be safe. Watch me try to shake the can off the ladder. Now it's the best ladder in the world for painting!
Gallery of what NOT to do!