Sanding drywall is downright painful and don't get me started on drywall dust: it has a mind of its own if you are not using a drywall sander vacuum (dust extractor).
Bottom line: most folks buy a low-cost drywall sander (not top quality but fine). It's a US-based company called WEN and this tool is fine for homeowner jobs. Really not for pros, but some pros do use it.
The WEN drywall sander has GREAT, and I do mean great ratings: and it's fast. See it here. More details just below.
Re-sale value is good for these tools, so pull that trigger, fly through the work, then get at least half your money back.
Here is the drywall sander for every budget: from the pro-type orbital vacuum sander to the ole trusty: pad and stick. See my favorite sander here: expensive, for pros, or serious tool lovers. More on this baby at the bottom. But here are the main homeowner level tools:
1 – BEST VALUE: WEN 's orbital drywall sander, costs a lot less than the what the pros buy, but does the same work. Reviews are stunning: 'really well made'. Re-sale value is very good. Comes with disks to start. See below for more.
Big boy toy: if you want what the pros use…

this rig is pricey but worth every penny. Jump down to check it out. Your new franchise!

---
Bottom line—our top 4 tools for drywall sanding, all from makers of the real-deal pro tools: the first 3 suck great!
More detail on these below, plus the downside of not using dust-extractors, shop-vacs (and how to improvise one).
Drywall Sanders: Top 4
After the best sanders are some ways to control the dust.
You know those ridges left by the wall sander…like dried mud under the paint? That's because you had a lazy sander. It used to be very hard work.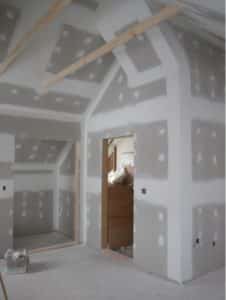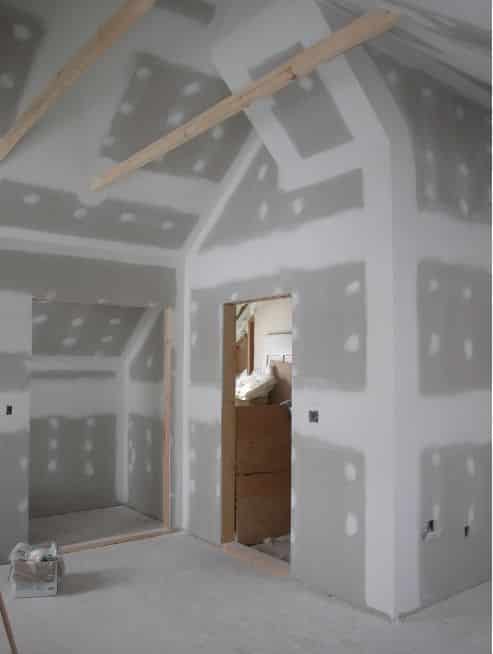 Our advice: Cut your time in half and get a good electric drywall sander that sucks…up almost all the dust. Then, re-sell it online: you will get most of your money back: "Only used once" … pros always need a good drywall sander vacuum, plus they will buy your leftover paper.
Of course, you need a respirator: we simplified the crazy, complex world of filters here: for drywall dust, you just need P100 or HEPA filters: look for the kit with the retaining clips.
---
2. WEN is a company we have come to trust. They make lower-cost power tools like this almost dustless sander that have thousands of great reviews. Our guess is that they want to become accepted with the big boys like PorterCable and DeWalt, then they will raise prices. For a homeowner, this would be a decent choice.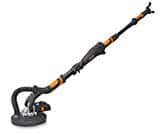 same 9-inch hook/loop (velcro) paper that the pros use (see the 120-grit drywall sander paper I use)
the hose is 1.5 inches (get this adapter if your shop vac hose is 2.5″, etc)
only 9 lbs, and has a telescoping handle: nice job Wen
hand help version is ½ the price (not worth it in our view)
comes with some paper, but you'll appreciate this variety pack
How I use this tool: I start with 80 grit after the first coat of drywall compound is dry just to knock down the big chips. Then a quick blast with 120 grit and then more mud. For the final sanding I give a quick touch with 12- then use 220. In other cases, I feel 120 is enough.
New to this? Experiment with how much drywall board (paper) can take before you scratch it. You will get the hang of just keeping the drywall sander head on the dry mud.
---
3. Hyde's hand block vacuum pad: drywall sander with a vacuum attachment comes vacuum hose adapters for any dust trapping canister style vac. Hyde also sells a similar one that has no pole attachment (save about 10 bucks). DON'T USE SANDPAPER: You need the dust to get sucked through a screen!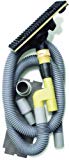 Get the Norton washable drywall sanding screens.
only 3 ounces (plus the weight of the hose)
snap-lock, not wing nuts to hold sanding screens in place (thank you Hyde)
comes with hose adapters for different shop vacs
must use sanding screens, for drywall sanding: not sandpaper
Comes with a 6-foot hose, so if you have high work, you'll have to put the vac on a stand or get a longer hose (see below for the extensions).
---
4. Dewalt Orbital 5-Inch
If you are not doing a very large job, this will handle it, but your arms will need rest after you are done. The nice thing is that this is a workhorse tool for so many other things you will do…and you will leave it to your grandkids. DeWalt is quality. Here are 5-inch sanding discs: fast change hook-n-loop.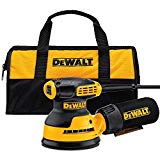 you'll love the dust catcher system you change with one hand: others are clumsy
the dust bag gets most of the drywall dust but gets 100% of sawdust
optional shop vac hose connector (1¼ inch) that swivels
larger hose adapters below
sanding drywall with an orbital sander is a bit messier
---
5. Old school: pole sander head, fits threads for a broomstick/painting pole, but also comes with 'free' adapter for (use with our main quick-lock paint roller pole). All pros have one of these. Use this "hook-n-loop" 9″ sandpaper. The paper is fast to change, unlike the 'old school' with screw clamps, uggg.
No dust control, but look at the price, and: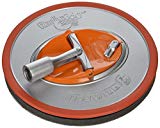 does not flip (which causes new dents in new sheetrock)
lowest-cost way to get the prep done
can be paired with a washable duster head shown (necessary before priming)
does not control dust
metal ones are better than the plastic: metal spreads the force evenly from the pole: that's very important
it's not heavy-metal, Judas
---
Vacs, and other associated drywall sanding tools
The main thing today making your drywall sander into a virtually dustless drywall sander when it is connected to a dust collector—but you have to get the filter.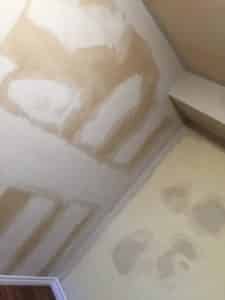 IMPORTANT: You cannot use your regular shop vac for this ultra-fine dust—it will kill your upright carpet vac in one use—and instantly void your warranty.
"Low-dust" drywall compound (mud) is supposed to sand off in larger particles: but in reality, it floats for hundreds of yards
The best way to clean up drywall dust off the floor and walls
These vacs are not just for dustless drywall sanders with vacuum attachments
Without dust trapping ability, you'll blow this stuff all over the house.
Here comes my favorite all-around shop-vac, and the very best for drywall dust collection.
I researched drywall sanding dust and shop vacs to handle it… and DeWalt wins the day, with a close runner-up (below), both made in the USA.

I picked two: the DeWalt 10-gallon and the slightly bigger DeWalt 14-gallon. Few other brands are sold in drywall supply stores that pair the DeWalt with the Porter-Cable drywall sander shown at the top.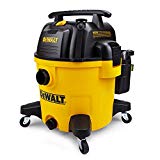 Washable filter: you'll want to stop after sanding a while with your drywall sander
The 10 gallon uses "Quiet Technology" which other DeWalt models lack and they claim that it is built to live twice as long. Why do they only put this in some models? Don't know.
The 14 gallon has large rear wheels and a cart handle, (yeah, baby), and actually costs about the same.
Long cord, about the same number of horses, and a tank drain.
In addition to the washable cartridge filter, there are different bag-type filters explained below.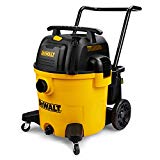 The filters are easy to find with the model numbers
Start by clicking here, then simply search for the model numbers in bold:
Washable Cartridges
The "standard" cartridge comes with the unit (1.0 micron, DXVC6914).
Add the fine (.3 micron, DXVC6914, about 30 bucks).
Add the very fine, HEPA (.3 micron, DXVC6914, about 40 bucks).
We had never before seen a washable HEPA filter for a shop-vac. Nice going DeWalt.
Filter bags
use with 2 types filters for whatever the job calls for and they are not expensive for a change (average 5 bucks each)
fleece bag DWV9402 (concrete, wood, drywall dust)
dustbag – DWV9401 (concrete, wood, drywall dust)
---
The Vacmaster 4 Gallon with a washable cartridge filter. Big power, small price won me over when I saw this.
5 HP
Washable filter: accept no less
Tool containment: everything has a place
15-foot cord: thank you
You have the option for 2.5, 4, 5, or 6-gallon sizes, and the 5 comes in 3 HP or 5 HP.
Look out DeWalt and ShopVac.
---
Honorable mention is this surprisingly powerful and stable 1.5-gallon unit from Shop-Vac. I have had one of these for years* and: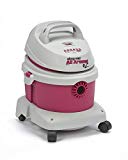 uses washable filters that go a long time: just love that.
downside: you have to clean the filter after suctioning up drywall dust for 20 minutes, but that goes fast: we have washed some 50 times
recommended for non-pros
works with reusable filters: the best deal is from Shop-Vac, not China!
Here is our video of one way to trap the dust as you sand using an older model. We travel with this powerful mini Shop-Vac everywhere: it is strong enough to pull paint out of carpet: thank you, thank you, thank you.
* I keep my old one dedicated to just cleaning my chimney after brushing: read how I clean my chimney.
Shop-vac hose adapters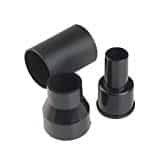 These adapters should work for almost any hose and any vac, but measure your hose: size matters.
This particular adapter is 1.5 to 2.5 inches (for the WEN above).
Counting for wall thickness, you will get, for the inner diameter (ID) about 1+3/16″. They are tapered so they will fit if you are close.
Extension hoses, adapters
These plastic ends taper so they will snug up when you install the one that you want.
Wipe down your walls before priming/painting or your walls end up feeling like sandpaper:
Complete info for drywall priming and painting:
Before priming, you must dust the walls—start with the ceiling (even if you did no ceiling sanding…the dust flies up and sticks!)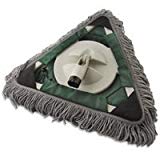 You can use any broom, but a treated pad is the fastest and you will wipe down twice. This is a Wooster product (well-known to us in the biz) and it really grabs the dust. Never wash it: just shake it off outside. The shape fits into all corners and it is designed not to flip over.
Wooster is a paint/drywall tool company brand all the pros use, as much as Purdy and Benjamin Moore.
Use with a broomstick or the standard painter's quick-lock types.
We use these for general house cleaning as well.
---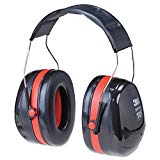 Ear protection is helpful with shop-vacs and sanders (as you know).
A good work light is key to finding ridges before the primer (when everybody will see them).
FUN TIME: Improvised dust-trapping shop-vac.
This video is a copy of a buddy's idea to trap dust in water in the chamber of the vac with just the large-particle foam filter. We wonder if all the resistance we created will kill our motor. It's a risk.
---
FAQ: What about wet drywall sanding? Meh. It's only ok for drywall sanding the 1st coat of mud at best. It does a poor job: the topcoats must be dry sanded unless you just don't care. Fredo, don't break my heart.
Here is a short video showing that wet sanding ain't all it's cracked up to be.
---
Pro's Ultimate Drywall Sander: the Festool Planex LHS-E 225
(Pricey, but extra speed and no clean up pays for itself quickly)
This drywall sander is my choice. Festool makes others, but this hits the sweet spot of affordability and ease of use, especially for ceilings. This unit was designed to be paired with the CT 36 Dust Extractor in mind (see just below).
Redesigned by Festool based on customer feedback: no drive shaft so you  can have a flexible head,
Comparing the upgraded model (the LHS 2 225) I see they added light and about 600 dollars. Well, it's better in other ways, but the LHS-E 225 is just as good in my view. They should keep their prices down, but they are quality made, so you get what you pay for.
Great reach
The variable speed at trigger level
Remove part of the guard quickly for inner corners
Best used with Festool extractor just below
Very low weight
Direct-drive brushless motor and flexible head joint
Storage bag (sells for 160 separately)
Covered by Festool 3-year service all-inclusive warranty
Only weighs about 8lbs, so it's going to be manageable all day over your head.

Dust actually gets sucked from the outer edge and the slightly curved head reduces vibration. That's only on the "Easy" model you see here.
I recommend you add on the shoulder harness if you do a lot of ceilings unless your name is Schwarzenegger.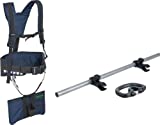 Your clients will notice the neatness more than the smooth walls. Pros: you want this.
Paper: You need to buy the paper with the same pattern of holes for the vacuum outlet: this is how the system works.
Yes, the Granat abrasives (here's the 120 grit)… are a bit more expensive but they really last. They are about a buck each.
Here is the 220 grit for the final light sanding. You mostly only need the 120 for this best drywall sander.
Download the manual for the Festool 571935 Drywall Sander LHS-E 225
This drywall sander is pricey but remember that Festool makes designs to make us money. Here is the sales video, by a paid pro.
---
Pro's Dust Extractor
The Festool CT 36 was made for the sander above: it has the correct hose and auto-clean feature and was designed to be paired with the Planex E 225 above.
And it's not loud. Thank you, FT.
Amazon has a competitive price and free shipping.
You get 36 L (9.5 gal) capacity. I've looked at the larger and smaller versions but the 36 is enough to work for a long time without stopping. Is the 48 worth the extra money? I'd say 36 is enough.
What's the auto-clean? It's just a burst of air to clean the HEPA filter for continuous use. Nice to not have to stop and clean.
The HEPA filters are not washable, but you can clean without water many times with a brush before replacing and the replacement is easy to find. Festool says with all-day use the HEPA filter lasts at least 2 months. In practice it's a lot more. It's 100 around the net, but amazon has it for 40. Cool.
The CT 36 has:
tool trigger startup
variable suction control
11.5 foot hose, 25′ cord
virtually dust-free sanding
self-clean filter bag
anti-static feature
hose and cable wind up space
3-year warranty
33 lbs, and a locking brake
more features, but this is the meat
Made in Germany, so you know it's well-made.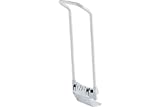 Add a pull handle for about another hundred? Maybe worth it, but it's got wheels and you'll pull it around with your hose. But at almost 29 lbs, it's a lot to lift every day.
Download the Festool CT 15 Dust Extractor manual
You'll love the flat tabletop for your beer.
Option I don't recommend is an extension to the pole. If you don't like stilts or ladders, you might want to add 20 inches to your, uh, length. This only adds one lb. of weight and gives you more leverage with your lower hand. For the price (well over 200! ), it seems too much, but I know some of you will want it.

Eventually, OSHA will regulate collection rates more strictly: they have been moving that way. You'll be ready with a HEPA-rated system.
Festool's video: getting started, and some of its features
---
Related:
Painting Drywall with how-to steps
Best Drywall Primer and how to do it
---
Let me know in the comments if you have a question: I see them daily.