I bet you didn't even know some of these new tools existed. Neither did I. Enjoy the best of the modern new tools on the market.
These are some of the best gifts I ever got. Check the laser line leveler: so handy.
Another tool post covers some very cool ideas for tool gifts.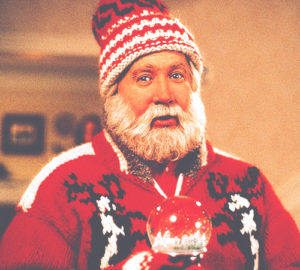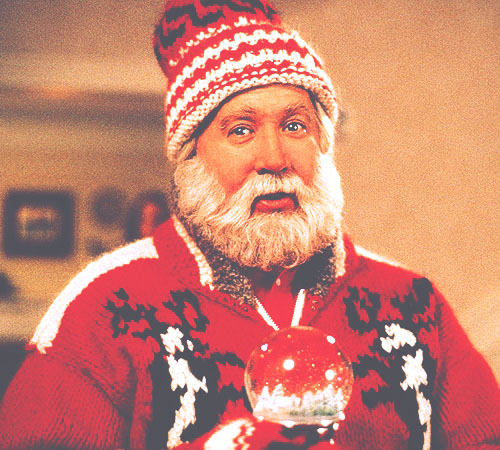 Handy-folks use two or even 3 drills or screwguns at the same time (predrill bits, screw bits etc).
The most desired tool gift of all time
You cannot have too many cordless drills and this is the one I picked as the best value for the buck.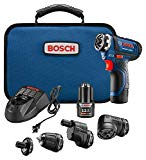 Great screw-gun: For tight corners like cabinets plus it's got power and it's small.
With 12 volts it's got all the power most of us need. But it's the attachments that make this one special.
Look at the pictures of how you can offset the chuck. I wish I had invented this. I did mentally but I'm a stupid old painter!
This will make someone very happy.  This video review shows it well.
---
Great new inventions: New Type of Clamp
Make a clamp of any length with just a 2×4. Stanley quality. They sure come up with great new tools. See this fantastic new invention.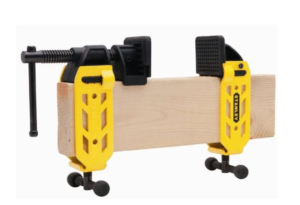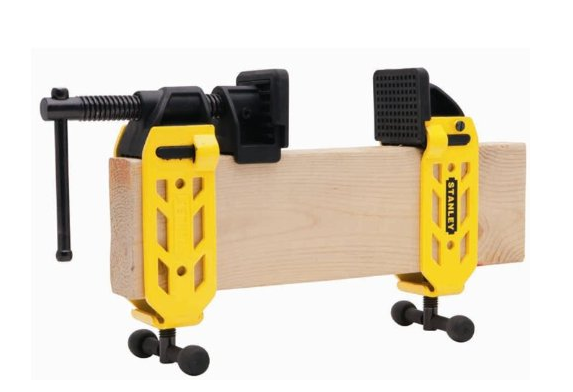 ---
My favorite gift to give: Auto-Leveling Laser / Stud Finder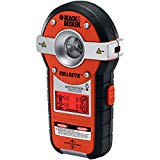 This leveler gives a perfectly level laser line on the wall: so helpful when you want wall art to be at the same level. It also detects studs of wood, metal, studs and live A/C wires.
This was given to me as a housewarming gift. I thought, "Meh"… But it has become essential to me: it is a great invention. Reasonable price.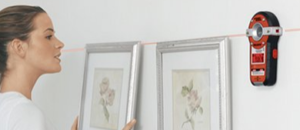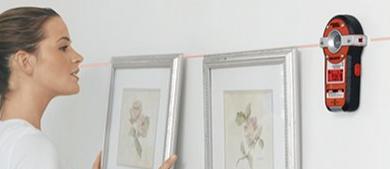 ---
12 Volt Portable Tire Inflator
Small and a potential lifesaver. Beats calling a tow truck.
Plugs into any 'cigarette lighter' 12v socket (including this spare power bank and jump starter) and inflates almost anything. They say no truck tires, but they mean BIG ones. It has a gauge that's very accurate.
You can preset your desired psi so you can wait in your car.
0 to 30psi in under 5 min., 160max.
Not as loud as the old version.
12 ft. cable, German parts,  it's nice and small. Cool.
90-day money-back, 1 yr. warranty, lifetime support.
---
The Best Garage Storage Rack
This is meant to last: why waste all that space up by the ceiling of your garage?
This incredibly well-made rack:
Holds up to 660lbs
48″ x 96″
Flexible height (22 to 48″)
Designed to mount on joist spacing
Limited lifetime warranty and 30-day return
Download all the manual on the GR48 here.
Tip: Mount it perpendicular to the floor joists in the ceiling for even weight distribution.
Check the manufacturer's website for many other sizes and configurations.
---
Ring Doorbell
Not strictly speaking a tool, but very handy. I installed this in my house in 15 minutes.
More than an intercom:
If someone approaches or rings your doorbell and you are on the beach in Tahiti, people will not know you are not home while you chat with them.
You can see who's there on your phone and you also get a message when there is motion detected.
Bad guys know about the video storage option also, so even if you don't pay for that extra, they will not risk being on video.
We subscribed to the video save service (about 30 clams)
Fine for apartments as well as homes
It's powered by either your old doorbell wiring or a battery
What a great invention. We are very happy with ours: we are adding another to the back door.
Read all about this great gift.
---
Very low-cost Thermal Leak Detector
I use mine several times per year. Not nearly like the thermal camera just below, but this was one of the unexpected great gifts I was given. I'm always checking for air leaks in the winter, looking for new places to insulate.
You'll find what walls and cracks are sucking your heat out (or in for cooling months). Not for human temperature taking.
---
King of all new tools: Thermal Imaging Camera
Very pricey (at least 500 clams) but it's an amazing tool. It's a wonder to see it in action: it was my first time and I was shocked!
Find heat leaks with the infrared camera. This inspection camera is like a temperature gun but better: it shows great detail, it also finds water leaks, electrical hot spots, and insulation gaps letting in the cold (or hot) air.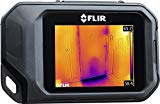 It also exposes heating elements that may be faulty, such as in-floor heating and other radiators.
This compact cam works as well as the big ones.
---
Digital Level: beeps when level!
Did you say beeps? Because the level sounds when it's at 0°, you don't need to take your eyes off your work and can mark your line, etc with ease. This tool is becoming a standard for modern carpenters.
More accurate than bubble levels as well. See it here.
---
Laser Distance Measurer (goodbye tapes)
A great new upgrade to a very old type of tool. The laser makes it infinitely long and it recalls the last 9 angles you measured.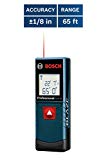 Tripod screw mount and magnetic to hold on saws etc. Backlit LCD display.
Comes in 3 lengths, but the small is the best deal because of the laser line.
Another great laser tool is this laser tape measure. Much more accurate than the apps in modern phones that work with an image.
---
Scepter SmartControl Fuel Container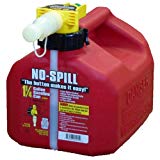 This well-designed can prevents accidents from fuel spills either in transport or while pouring. The third selection on the product page is for one single can: they did not make that clear.
This has a screen filter to keep particles out of your engines. Not a typical tool gift, but a thoughtful one.
---
Sun Joe 1500 PSI Pressure Washer
A quality pressure washer is an essential tool for painting, home washing, car washing, clean driveways, outdoor furniture, and more.
Painting prep? Watch how I prep old paint with this tool: 95% of the work is done with water!
1500 PSI is plenty for most, but the 2030 shown here has more power for not much more money, and can almost do what a gasoline unit can do.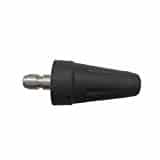 Be sure to get the rotating nozzle of course. We explained why in this post about deck painting.
Sun Joe's quality is worth a lot more than it costs. Any homeowner will love this totally unique gift.
It will not die on you.
---
Channellock's extra-wide wrench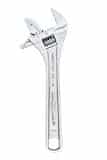 Reversible jaw. Most other wrenches do not work on large bolts, pipes, and other round stock: but this baby does.
It also has a scale to set the wrench which is something all adjustable wrenches should feature…maybe someday. The mouth reverses and works as a pipe wrench. So cool.
Cool new tool idea. It comes in 4 sizes: my advice is to get the 12 because it can do everything the smaller ones can as well.
For tool geeks and people who appreciate precision.
---
Magnetic Tool Belt: a new twist
The reason I use these rather than a technician's belt is that it's quick to put big tools like screw guns in and also to get them out quickly.
The new twist? Magnetic exterior to hold metal things like screws, tools, etc. Great design and is surprisingly inexpensive.
---
Clamping Power Strip
Smart idea in new tools: Clamp your power strip where you need it. Duh. I should have invented this.
Pivoting rubberized grips grab on to just about anything. By Stanley—it's quality.
---
All-Terrain Vise: fits on your trailer hitch! Pricey.
Whoever thought of this should win the Nobel Prize for top tools. Every builder wants this, but nobody knows it exists.
This fits in your car or truck's trailer standard 2-inch hitch receiver (most vehicles).
There is another maker of this style, but this one costs less and has higher ratings.
Cool tool award.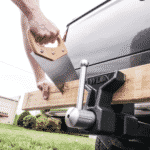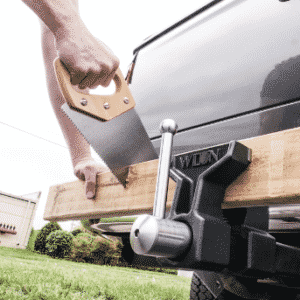 ---
Pick-up truck toolbox: fits over truck tire hump
What a great new tool idea: use the dead space.
Getting great reviews: be sure to get the right one for your vehicle: at the top of the page you select your make, model and year like you would a tire or wiper blade.
---
Tracksaw: table saw perfection anywhere
Most builders don't have this tool, but it's one of the things that you never knew how much you needed it. A very cool tool, and makes an awesome gift.
Buy the saw here and buy the track here. (They really should sell as one unit).
Many handymen and women don't like cordless anymore. Plus a long extension cord is always around (see below to buy a good one). This track-saw is simply better than the cordless.
A great brand name in Dewalt (company website) but still less expensive than other good ones. Pricey, but worth it.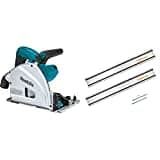 UPDATE:
Readers have told us they really like this Makita Saw with Rail. You can add made-for-it clamps, and rail extensions with a connector kit. Costs less than the DeWalt too.
---
Work light you can't knock over
Wobbles, but won't fall down…and break. 85 Watts is plenty for a portable. Cool Fluorescent. 27″ high.
This a great new tool invention and will be a smashing gift.
Pricey, but of all the lights in this style, it's the least expensive and boasts high quality.
---
H
eadband flashlight: great new work tool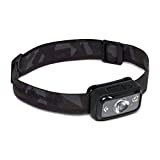 By far the highest rated. Most recommended by hikers, and works great for me around the house: even in the daytime, it's very useful.
See it here: it's like a third hand.
Great gift: it was one of the best gifts I ever got.
---
Moving Back Saver Straps
So many people get a permanent injury when lifting heavy and even light things.
This great system lowers the center of gravity: still, you lift with your legs, remember? Safety equipment is always worth it.
Amazing what we can safely do with our legs.
---
Furniture Slides Moving System
When I first saw this I celebrated! Why did I not invent this? So easy and safe.
Watch a quick video of how they work. Cool tool and very well-made.
---
Tie-down straps too!
Don't get the ratchet kind; they break and rust. These kick butt.
I bought these even though I did not need them. Come in handy.
---
Some Safety Tools
Hopefully not the best gift you will ever give. A saved life is the best gift.
A home can be replaced: we should all have these under the bed. It has an amazing rating.
You are only supposed to use one time, but I tested the one we got for our upper floor bedroom and it works great: just unstrap and drop over the window sill. This is very well thought-out. Nice job Kidde.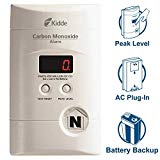 Unless you only have only electric heat, you should have one. I had a friend who almost died from CO. The gas is deadly and odorless. If you have a garage you need this.
If you have an electric car hybrid, this can save your life. How? If you accidentally leave your car on (it's silent), at some point the gas engine will kick on and position your home. It happens.
Once I forgot my beans on the stovetop. I wish I had this. I raced home to a burnt black pot, but not yet flaming.
For both electrical and liquid fires.
Every kitchen should have this. See the details here.
There are other sizes to choose from on that page. Also, see just below.
It's nice to have larger extinguishers handy as well, especially for wood stoves. These last forever and can be re-charged if ever used. It's a gift of love.
---
Portable Jump Starter
Get the best-rated car tool: it also has a flashlight and will charge phones via the USP outputs. At 1000 Peak Amp it can jump-start any family vehicle. Seatbelt cutter, glass breaker, alarms, and more. Wow. No wonder it has (near) perfect ratings.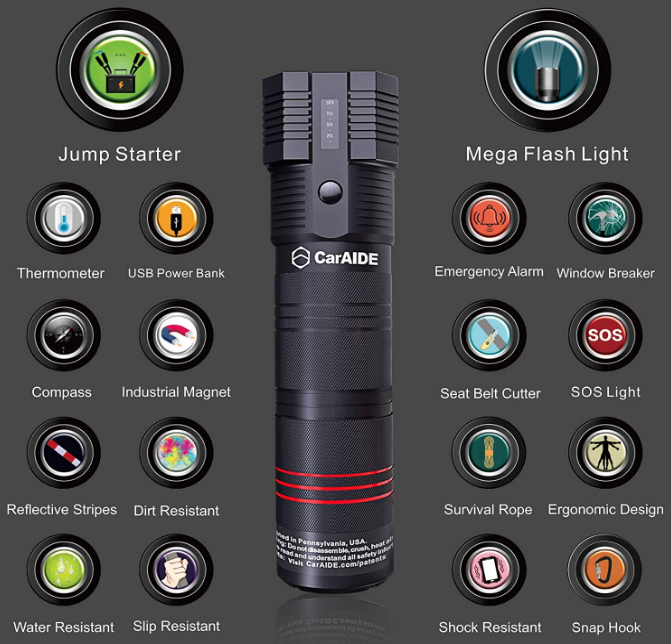 ---
Tool Bag, Durable Folding Stool
They improved the foam size and quality and the result: perfect ratings.
As da bluesman say, "Lordy I wish I was in heaven sittin' down". Ah.
Listen to a great blues song.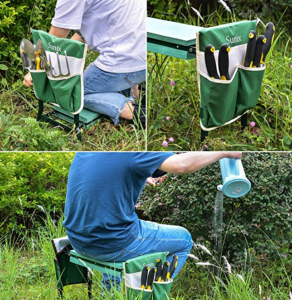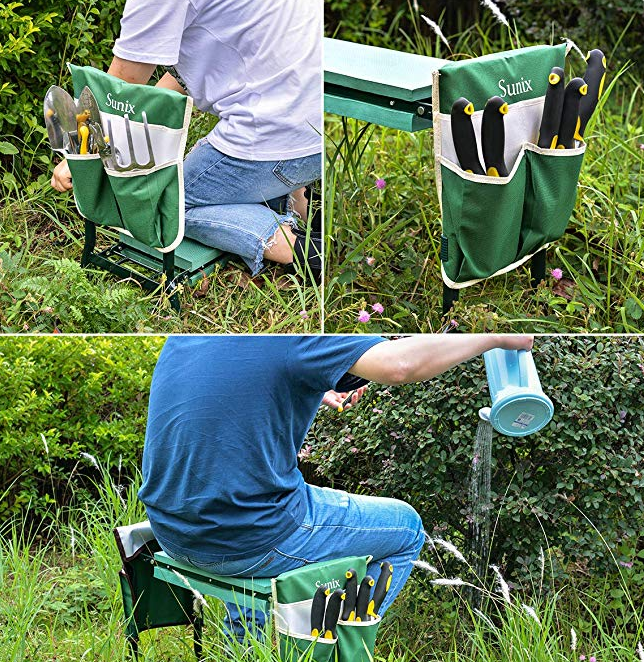 ---
Corded Drill: big ½-inch 
When you need to really work hard, a cordless screwdriver does not make the grade. This one has a level: very helpful.
The opening on most drills is 3/8 inch which is fine for most bits, but some larger bits have a 1/2 inch diameter so you need another tool. I chose this one over all the others.
This baby is for large jobs and real power.
PS…Give the titanium drill bits.
All this is mentioned in our post all about drills and screw guns.
…add the icing on the cake…
Magnetizer for screwdrivers and bits
Like having a 3rd hand, or helper. A very cool tool gadget: it de-magnetizes too since sometimes you don't want the effect. Great reviews. Makes it a great add-on gift.
Watch a 20-sec video: so easy to use. Costs very little.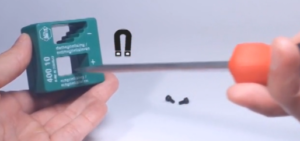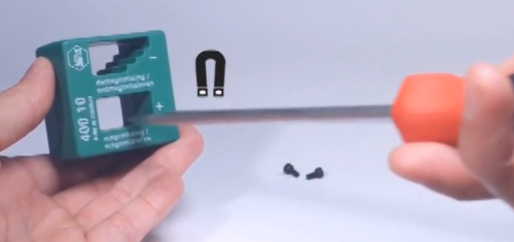 ---
Perfect Extension Cord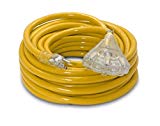 Pricey, however.
Lighted sockets to show if there is power at the end, and it has 3 socket slots that remove the need for a power strip. See it here.
---
Complete homeowners toolbox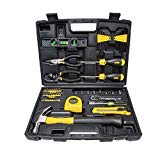 Not technically a new tool idea, but this Stanley kit will never get old.
My rule: always buy quality tools because low-cost tools tend to chip and snap just before you start swearing! This Stanley has an amazing rating… we recommend it highly.
Even if I had 2 of these, I'd use another one in the car!
---
Drones: Not just for fun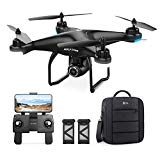 This tops the list of the most unique and novel tools. These are very helpful for looking at gutters, roofs, etc, as well as long-shot portraits. This one has almost 5,000 excellent ratings: very tough.
Go with Holy Stone, the top-rated drone today. In the related products, you will see some less expensive ones, but you sacrifice resolution and power.
can automatically follow your car
returns home when power is low
36 min flying time: wow
no FAA registry
one-button take-off/landing
save pics to smartphone
Above all, it takes great-quality photos.
---
Super-stable ShopVac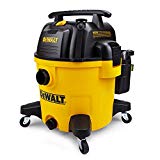 We hate when they tip over. Then came this.
There are less expensive wet/dry shop vacumes, but we like the stability of the offset wheels (does not tip over easily like most) and we love the brand: this DeWalt will never let you down.
There are other choices of course: if you can spend more, get the same vac with the roller handle: this is worth the extra.
---
Share your tool idea: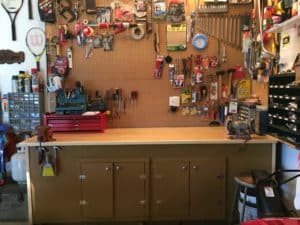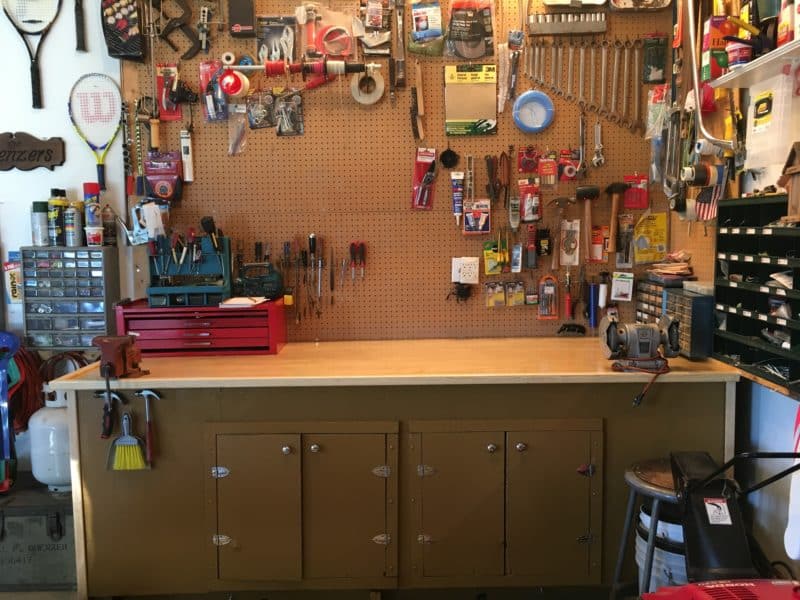 There you have some of the coolest tools on the market: these have made the grade in a very competitive tool market.
We want to spread the word about the best tools and gadgets and all of the top tools that people love and we want them here. We receive mail from folks who are doing the annual shopping for tool gifts and if you are one of them, please let us know what you want to see.
Let us know the best tool in your life and if you see any new hand tools or new power tools, we'd love to list them here. What's your favorite top tool brand? Please send us your gift list ideas for 2020.
In particular, I'm a big fan of cool hand tools and just cool new unique tools in general so please send me any of your top unique tools on your list. If you think we need to add some new plumbing tools – new woodworking tools – new tools – whatever — let us know in the comments.
The number one traditional gift tool: the champion of handy gifts: the screw gun.