I've gone through a screw gun or 2 (or 20) since my first one back in the 80's, so I call myself an expert. So here is the best screw gun and the best drywall screw gun and accessories. The best AC Corded Electric Drill is at the bottom.
We have other gift-idea-articles also (links at bottom).
---
Small Budget Best Screw Gun Winner:
 The Black & Decker 3.6-Volt: I bought this on a day of need as the only one I had on a job died, and it was low price and a quick-buy but wow, was I pleasantly surprised, it is a great quality screw gun for the price. It charges fully after years of hard use and it has not seemed to lose any power. I love my little orange drill.
---
Medium Budget Best Screw Gun:
 The Dewalt DCF813S2, 12-Volt comes with two batteries included: this company knows what it is doing. You can buy 2nd battery and charger to increase your tool gift awesomeness! Doubles as a perfect drywall screw gun.
---
Big Budget Highest Quality Screw Gun:

 The Porter-Cable PCCK618L2, 20-Volt. In our view, the best gift on the internet, a very high-quality screw gun set. Two guns, huge power. A lifetime set. Enjoy.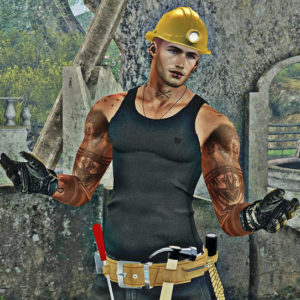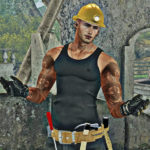 ---
Must-have accessories:
The icing on the cake of your best screw gun.
---
Screw Bits: you had me at hello
 Quality screw gun bits don't chip and turn into powder. There will be times you need to really push hard, and those 'budget' ones from China?… sorry China, but they chip and go to the trash bin. I stopped buying anything that is not top-of-the-line-period.
This set has   –wow.

---
100 Piece Combo Pack
 This one has 4x the variety: nice. Because the metal is hardened steel, this set should last a pro for a very long time, not to mention a DIY-er. Just a smart investment we made.
---
Hex Drill Set
 We have learned not to try to save money with drill bits, it is worth buying quality. In fact, it's more expensive in the end to buy low-cost tools because they break and go dull. But you can really push a Dewalt. No, the company does not pay us to recoommend this! We only get a referral fee from Amazon which costs you no extra.
These have the hex base so they can be used in a screwgun tip or a normal drill chuck. Thanks Chuck.  
---
Magnetic Bit Tip Holder
 I have been through quite a number of these and they all have pros & cons. What we look for is a strong magnet and an outer shell that does not rotate, so you can hold it as you screw.
  with this baby.  Under 10 bucks? Very nice.
---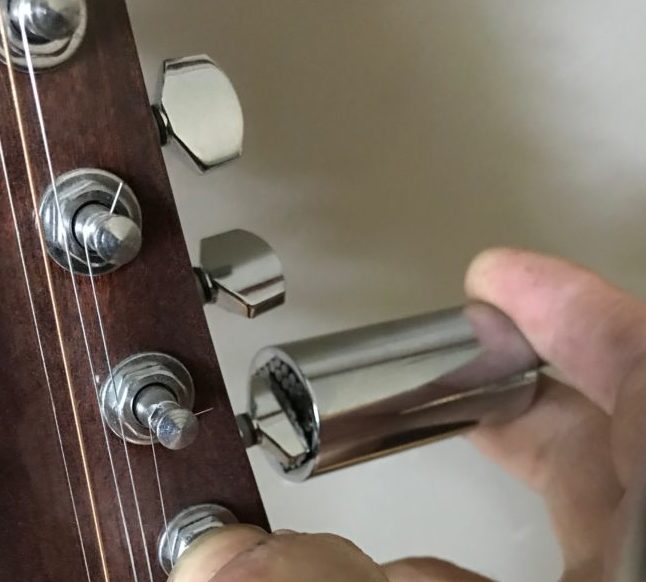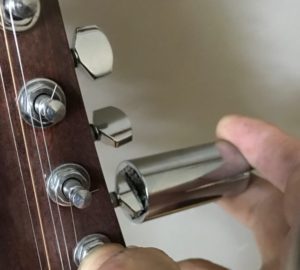 Universal Socket:  Don't laugh but this doubles as guitar tuning winder! This socket adapter fits tightly around any size screw-head, hook, or thumb-screw up to 3/4 inch.   
---
37 Hole Hex Bit Organizer—Magnetic:

 This relates to my own invention, just below! Actually, you could make this tip holder yourself with a drill and wood, but the tips would fall out if you flip it. This is a rubbery and magnetic unit so they stay put.
This is a 
---
MY TIP-TIP (TIP ON TIPS)
My best invention: glue your tip holder to your gun! We hate stopping to find the right tip… and for you dedicated readers, I made a video of how to do this: include the idea with your gift!
 The type of glue is key. I like construction adhesive in a caulk gun tube: the best and less expensive glue you can get (but it is not flexible when dry!) You need the mini-holster and a wipe clean with rubbing alcohol. Quality glue will NOT come off. Goop is great too.
You need a small one you see here. If you buy one with a few rows, it sticks out too much, and in working you only need several bits, not many.
---
Sometimes you need options
This Chapman set comes with a screwdriver handle and lots of options. Very cool.
  It slides on to handle for more turning power. This is a complete set with all the slight variations in the size of bits. 
Watch the Jay Leno 5 min. video on facebook here (it's not in an obvious place on the ChapmanMFG website)
---
Countersinks
 The head of a screw, when sunk to flush with the wood, provides great strength as well as a clean look. Dewalt had the forethought to make the drill bits inside all accessible with the same size Allen wrench. Why didn't you think of that Mr. Stanley?
---
Spade (a.k.a. Spoon) Drill Bits
    but I won't go into that here. To make this gift better, add on a larger size bit, not included in the set. Why Those larger TV/computer plug holes we put in the back of the cabinet or desk:   is what I got.
---
Flex-Angle Tip Holder
 I took a chance on the more expensive one: I'm so happy with it. I used it several times per month just around the house and show it off to my buddies.
The best screw gun accessory I own, very high quality.
  I always know where it is.
---
Socket Drivers
 It's great to drive sockets with power. Select the longer shaft for a really nice addition to a screw gun gift.
These drive fittings come in two most common sizes—the ¼ inch, and ½ inch. My suggestion: since most folks have large and small sockets in a typical set, grab one of each… 
---
Non-Hex Drill Bit Converter
 I did not know this existed until last Christmas. Way to go Daddio!
  in your hex screw gun. I actually invented this in my mind many years ago. Too late for that patent.
---
Stubby Ratcheting Screwdriver.
 Size matters. But bigger is not always better. Sometimes you cannot get a screw in or out without a very short screwdriver and this one comes with hardened steel bits: it's actually essential. I had about 5 individual shorties   Nice.
---
Cordless Drill Holster
 Cleary this is really cool, but it is also very useful. You just thread your regular belt through the slots and 'hang 'em low'. This keeps you from having to put the gun down while you get the workpiece ready, then reach down while you hold your wood, etc, and drop stuff—BLEEP! It holds adapters/bits in the outer slots.
---
Mixing paint and mud just got easier
 Has a hanger for when not in use: attaches to any gun and saves your arms (especially when drywall mud mixing).  It can be used for concrete mixes. When your buddy comes over, use it to bake a cake.
---
Smart-Bit Depth Limiting Drill Bit
 Overcomes our arch enemy: sinking the screw too deep. This is the best drywall screw gun combination on this page. You can replace the bit when needed.
---
Drill Stand for Hand Drills
 There are times we need a perfectly vertical, or square hole. So this is like a drill press you keep in your cabinet. Most of us don't have room for a drill press anyway. Saves mucho dinero on a drill press.
---
Corded Drill Winner: Dewalt DWD220:
Period.
 In our tool gift post (link just below), we featured   over the DWD210G even though it costs a bit more, because 210G does not have a clutch (the adjustable inner gear slips to prevent the drill or screw from binding, breaking, or going too deep). The clutch makes it a very good drywall screw gun if you need one so you can control the screw depth.
This is the highest quality screw gun on the market and not as expensive as I predicted. A lifetime tool. We chose this because it excels in every category:
Brand
Chuck size
Clutch or no clutch
Speed
Reversibility
Ergonomics (2nd handle can be added quickly)
This Dewalt leaves the others in the dust. Really the best screw gun out there for the money.
---
Other gift idea pages—we love our tools as you can tell: