"The trim" is the answer to the question "Paint walls or trim first?" Why? It's harder to cut a line on the woodwork. It just is. We (almost) always paint the trim before the walls: it saves us a lot of time. Read on and you'll see why: baseboards, window/door frames, etc., are easy to touch-up at the end.
For our technique to work well, you need a very good brush to cut a straight line, see my favorite brush.
---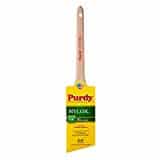 Why paint trim first?
The actual steps (and supplies) are just below but here's the bottom line: it's harder to cut a line when painting the woodwork: the wall cut is faster. We do this. Walls are last because when you goof and hit the freshly painted trim, it is easy to touch-up at the end! Ray Charles could do it. Would he paint walls or trim first? What'd I Say?
This is latex-only Purdy: the 'angle cut': nice for cutting walls, trim, and even window sash. The straight cut brush is below. We use both.
Some painters have a different take on this that I'll explain at the bottom: they paint trim last and if done carefully is very good too, but that system has a flaw that mine does not.
With crappy tools, you get low quality and slow, frustrating work. Use a roller and brush: I'll explain below.
For the roller, roller cover, etc., read our post on good painting tools: we point you to tools that last.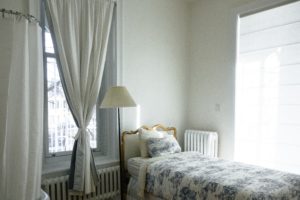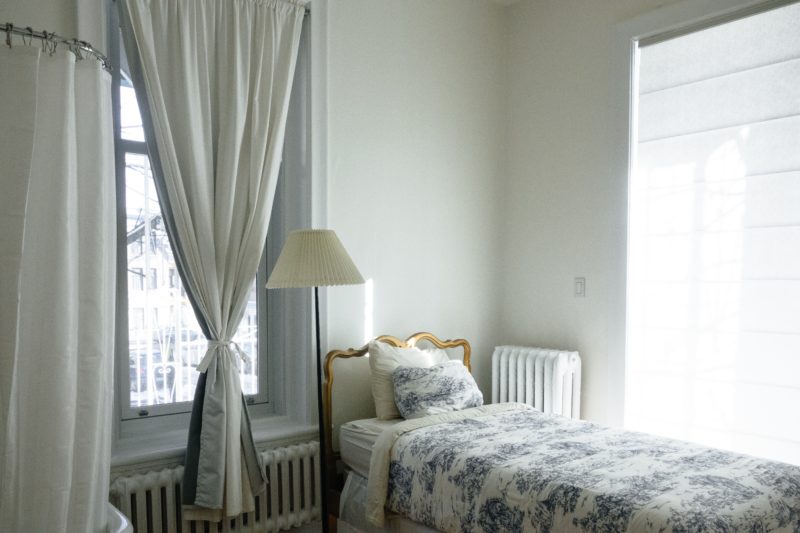 3 Simple Steps—Why Paint Trim First
1. Paint the Trim (completely finish it—it's ok to get paint on the walls):
How we paint trim quickly: Pour your trim paint in your tray or bucket (see the bucket/screen combination here: no spilling trays this way.)

Paint roller bucket and screen set up

With a normal 9-inch roller (details below), roll the big sections of trim, and 'tip it out' with your brush. You NEVER need to dip your brush. In the tight corners, your brush will be wet enough. We 'tip' the paint to have parallel brush strokes, not roller nap. (Read this about a trim paint that is water-based but evens out like oil: so cool.)
Paint the wall/trim boundary… overlapping on the walls: do all the number of coats you need on the trim. Don't fear that you will get wall paint on your new trim later! You will! It's ok.

This also fills hairline cracks in the corner…not big ones. (Read about using caulk to fill big ones).
Tip: use a roller cover with a medium nap (about 3/8 to 3/4-ich is nice). Quality rollers are very quick to clean. If you change from some white wall/ceiling paint to white semi-gloss (this is just for example…any 2 whites really)—scrape with the curve of your  5-in-1 tool, heaven's gift to painters). So many pros don't even know this: what are they thinking?
Let dry well. Then paint walls but don't go near trim…yet. This is in Step 2 below.
---
Key point: This requires a quality brush and roller set up. Many budget rollers and brushes SHED LINT and bristles… guess where the lint ends up? Yep.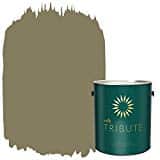 Brush: We use a 'latex-only' Purdy which cuts a straight line almost by itself and which will last the home-owner a lifetime). Needless to say, quality paint is also a big key: better coverage, longer-lasting color, and washable. We recommend Kilz Tribute and it ships for free: wow. Other pages have all kinds of colors but this page is the gray/green palate.
Roller: A low-cost roller leaves lint in your wall and it feels like sandpaper. Ick. But for only a little more, you get a lifetime tool that's easy to clean (read how to clean a roller easily). What do we use? This roller frame, (a.k.a. roller cage), used with this roller cover, I like ¾-inch for trim, (same or even longer nap for walls). Longer naps hold more paint, and the stipple pattern does not matter: you'll tip the paint out with your brush. This roller covers really last and they fast!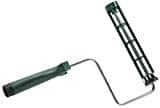 We have a post on how to paint wood trim the way we do: and you thought we used a brush. It has a few tricks.
---
Optional: You won't need to use tape with this method, but if you want to, use the green painters' tape (special glue on tape does not pull off paint later and tape is water-resistant) But as you'll see it's not necessary, even for beginners. See tip on tape, below.
---
2. Paint the Walls (don't worry about getting a little wall paint on the fresh trim)
ROLL WALLS BEFORE BRUSHING: by rolling first, you leave no doubt about what area you need to brush later. Why is this faster?
If you brush first, you'll brush a wider surface than you had to the other way around. Roll close and you'll only have to brush a narrow strip next to the trim.

Rolling walls:
Start rolling your walls and when you come to the baseboard or window/door frame that you already painted, allow your roller to almost touch (ok to goof and touch) the trim. Don't worry about the mistakes yet.

Push your roller into all the corners of the room as well—less cutting there too. (Assumes one-color walls).
Cut the wall paint at the trim boundary. A latex-only Purdy brush is shown here (choose any size) will cut a straight line even if you wiggle your hand a little. It's amazing and will last a lifetime for you. This brush goes 6 months of daily use for me. Pays for itself in an hour.
Later, you will touch up where you hit the trim.
Cutting walls:
Fully soak up a load of paint in your brush without dripping: Key to this: See my Purdy brush: I use one of these all day every day for 6 months, and it's still got life. Purdy is a great company (company website). These babies can hold a lot more than dollar-store brushes (with the crappy thick bristles). We mostly only buy "latex-paint-only" brushes for latex paint. We rarely need brushes for oil and brushes that can do both are inferior for latex paint. A Purdy is for life (I do not work for Purdy! My reviews of products are from the love of the tools.)
Big tip to 'cut' the wall paint faster: gently shake the brush low in the can to flick off the excess, then hold the brush over the can. Test this: Dip, shake and lift the brush up and stare at it. How long does it take to drip? That's how long you have to get it to the trim w/o dripping (don't shake it hard!) And certainly don't scrape the brush on the side of the can: you lose your heavy load!
Spread 80% of the paint that is in the brush over about a yard (a yard? yes). Don't try to get the paint very close to the new trim just yet.
When the paint is laid out, push and spread it into the edge/corner onto both the wall and trim. Fast right?
Let the trim paint dry.
3. Touch up the Trim
Where you goofed, just hit the spots and make a nice line: Purdy brushes make this easy. We don't need no stinking painter's tape!
Even if we did not paint the trim if we have the old trim color, we touch-up the trim. It sharpens the line for the 'wow' factor. Careful, because old trim can be faded.


---
Why you need a good brush when painting trim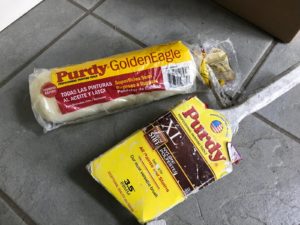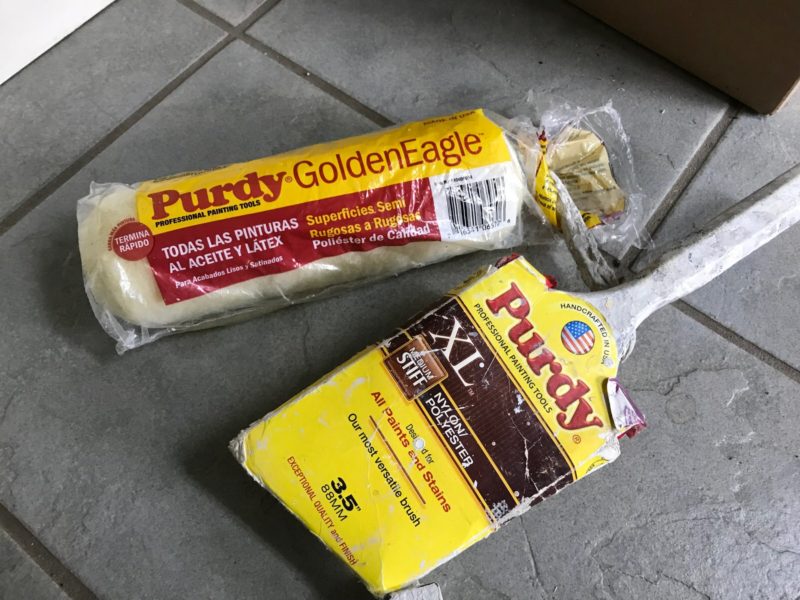 Quality bristles magically find the corner. You don't really need a super steady hand using a Purdy. Why "latex only" brushes? They last longer, hold more paint and cut better than bristles that also accept oil paints. If you might use oil later, there are Purdys that do both.
---
Advanced Professional Painter Tips
People are amazed by how fast we are at painting the trim. Secret: we use a roller everywhere we can. In fact, if I just finished a flat-paint ceiling in white (read about ceiling paint), and now I need to move to semi-gloss white, I won't even clean the roller—just squeegee with my 5-in-1. Try it and you'll see!
This is another reason why I answer "trim first" when I'm asked if we paint walls or trim first.
Read our post on what is the quality paint for walls.
Read our Easy Clean-up: best way to clean paintbrush, and how to clean paint rollers.
---
Last Tip… If You Use Tape:
Peel off the tape if you used it while the paint is still tacky, not fully dried.
Paint is a plastic film! Let it dry enough to firm up or it will 'spit' as you pull the tape. Do a test in an out of the way spot. Too wet and the tape spits paint…too dry and it can rip the new soft layer.
---
Summary of Paint Trim or Walls First: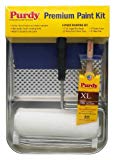 Paint the trim first—no need for tape
Painter's trick: we use a roller (the same 9-inch medium nap) and roll the paint onto walls to be painted and tip it smooth with a good brush
Let dry, roll walls very close to trim and let that dry. This is a good time to caulk.
Cut walls.
We list all the painting tools you could need.
FAQ: Do You Paint trim or walls first?
— Which has easier clean-up: painting walls or trim first?
Surprise: you don't have to clean the brush twice depending on color changes. If you do a white ceiling (flat) go right to the gloss with no cleaning (roller too). Just squeeze 'em out.
— What looks better: paint walls or trim first?
Same result. Even if we did not use this method, at the end of every interior room, we always hit the top of the baseboards (at least) with trim paint (whether we painted it or not (assuming it's white) as it brings out the fresh white-ness and the clean line with the wall. People like it. "Wow".  Meh. Secrets.
---
Alternate Method

: Paint Trim or Walls First? Answer: Walls.
This just bleu your mind, right?
Ask some painters "should I paint walls or trim first?" and they'll say they will paint all walls first with the roller—no brushing, coming very close to the trim. Then they paint the trim while intentionally getting trim paint in the corners and on the freshly painted walls.
Then they just need to brush (cut) the wall paint at the end.
Works ok, fast. Again, as with my way, it's faster and easier to cut the wall paint, not the trim. But…
A flaw in this method:
But what if the trim paint splatters on the freshly rolled walls? Will you see all the spots? Our way above is better and we've tried both many many times! Good luck!
Let us know in the comments if you are unclear about your situation and whether you think you should paint walls or trim first.
Video for painting the trim before the walls: