"The trim" is the answer to the question "Paint walls or trim first?" It's harder to cut a line between the woodwork and the walls. We always paint the trim first as it saves us a lot of time, every time. Baseboards, window and door frames are easy to touch-up at the end!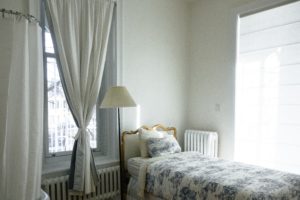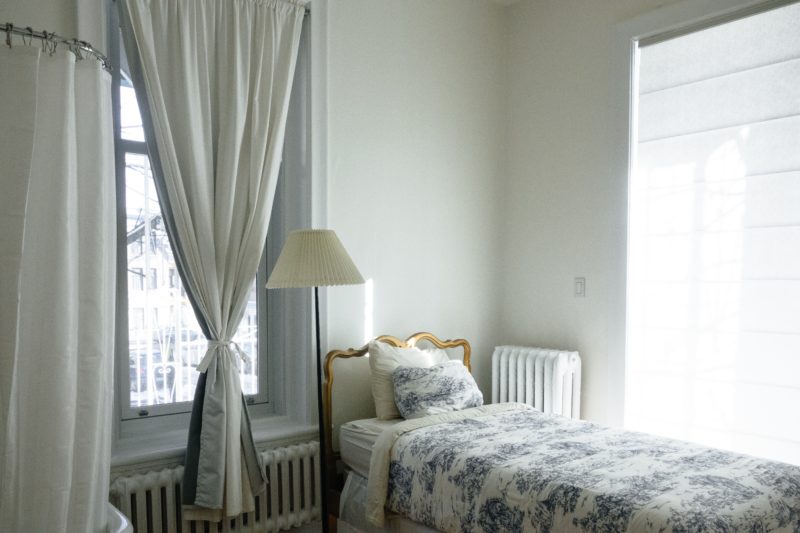 Do You Paint trim or walls first?
Lots of people ask me this question. My answer is always the same: paint the trim first. Will you get some wall paint on the trim? Of course, but you'll do a quick touch-up of the trim right at the end. (No you don't have to clean the brush twice…Keep reading). In fact, at the end of the job, we almost always hit the top of the baseboards with trim paint (whether we painted it or not (assuming it's white) as it brings out the fresh white-ness and the clean line. People like it.  "Wow".  "You're so good".  Meh. We have secrets.
8 Easy Steps to Paint Trim First and Save Time
Optional: If you want to use tape, use the green painters' tape (does not pull off paint later and is water-resistant), but as you'll see it's not necessary, even for beginners.
Fully soak up a load of paint in your brush: Purdy brushes can hold a lot, and we recommend latex-paint-only brushes (order online).
Shake the brush low in the can to flick off the excess (see video at end of the post), then hold the brush over the can. How long does it take to drip?  That's how long you have to get it to the trim w/o dripping (no don't fling the brush!). And certainly don't scrape the brush on the side of the can: you loose your load!
Spread 80% of the paint that is in the brush over about a yard (a yard? yes, 3 feet–see video at the end) or more, but don't try to get the paint very close to the edge just yet.
When the paint is laid out, push and spread it into the edge/corner onto both the wall and trim.  Fast right?
Paint the Walls Without Much Brushing:
Let the trim paint dry.
Start rolling you walls and when you come to the baseboard or window/door frame that you already painted, allow your wall paint roller to touch the edge of that trim which is an intentional 'mistake'. You do not have to brush the wall at the boundary ever!
Let the paint wall paint dry.
Touch up trim paint with a good brush over the wall paint 'mistake' and you're done! It usually just takes one coat with a quality paint. This is so much faster than brushing both edges!
3 Important Bonus Tips
You need quality brush and rollers: without them, that technique will not work as well
Roll baby: roll wall paint onto the trim (or baseboards), roll into the corners and roll into the trim boundaries
At the end: touch-up with trim paint, hit the top of the baseboards or other trim that has a bit of wall paint
You need a good brush when painting trim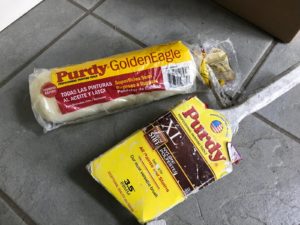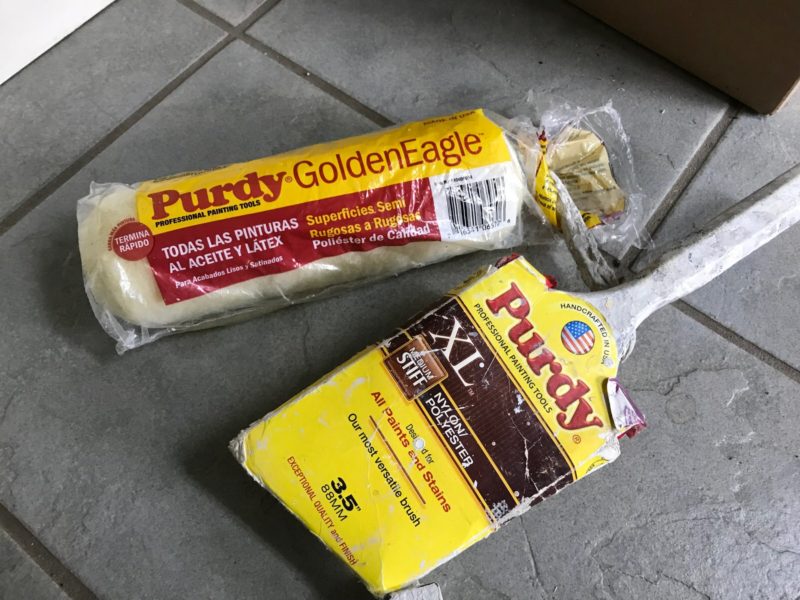 Purdy brushes have quality bristles and they magically find the corner.  You don't really need a super steady hand with a Purdy.  No, I don't sell them, but Amazon delivers! We use "latex only" brushes as they last longer and all we use is latex paint (except for the occasional special case).  If you might use oil later, there are other options.  But cleaning up with paint thinner/mineral spirits is a drag, so try to stick to water-based paint.
Advanced Professional Painter Tips
People are amazed how fast we are at painting the trim. Secret: we use a short nap roller (also 9-inch) and roll the paint onto most of the trim to be painted and tip it smooth with a good brush. Why? It's about 5x faster! This is only good if you have a lot of trim to spread the paint evenly and quickly.
We use a regular 9" roller everywhere we can.  In fact, if I just finished a flat-paint ceiling in white (see here which ceiling paint you should use), and now I need to move to semi-gloss white, I won't even clean the roller-just squeegee.  Try it and you will save so much time! This is another reason why we answer "trim first" to the question: paint trim or walls first. See here what is the best paint for walls.
Careful with cheap sets of roller and tray as the fabric of the rollers sheds like autumn cat hair and sticks in your surface making it rough: this is another reason to buy a good tool and clean it. But cleaning is hard?  No, not with water-based paints. If you have a septic tank, don't let much of it go down the drain, but otherwise, just water does the trick. No, not soap and water, just water.
Read our Easy Clean-up: best way to clean paint brush, and how to clean paint rollers.
Last Tip If You Used Tape
Peel off the tape if you used it while the paint is still tacky, not fully dried, to avoid accidentally removing any good paint along with it (paint is a plastic film!). Let it dry a little to firm up or it will 'spit' as you pull the tape.
Summary of Paint Trim or Walls First:
Paint the trim or baseboards first with a brush
No need for tape
Secret tip: we use a roller (the same 9-inch) and roll the paint onto most of the trim to be painted and tip it smooth with a good brush.
Be sure to have all your painting tools at hand
Videos for painting the trim before the walls