Experts agree—there is no safe level of lead exposure, even for adults. But there is a safe way to cover lead: lead paint sealer, a.k.a. lead encapsulating paint. We have another article to find out if you have lead: read how to test for lead paint.
Obviously, first, make sure you really have lead. Here's all you need to know and do in a short post on lead test kits.
Bad lead news from Nov. 2021 news at the bottom of the page.
News from 2022: That old Dutch Boy lead paint? Pay up pal.
Can you paint over lead paint?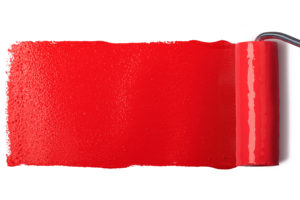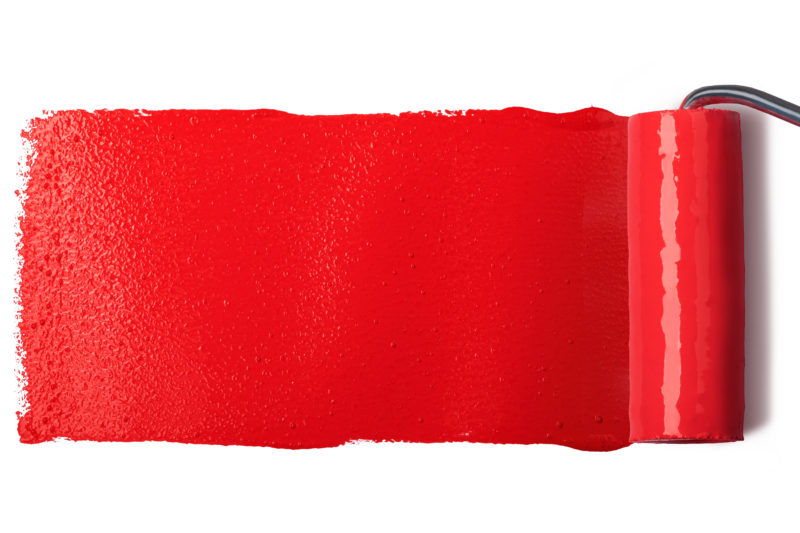 It's best to totally remove it, but yes, if having it removed is not feasible. You can encapsulate it and seal it by painting over it with a lead paint sealer. It costs a whole heck of a lot less if you cannot afford removal.
Remember that if the surface is rubbed (floors, railings, moving windows, drawers etc) you will also rub off this very tough, very thick, lead encapsulation paint.
---
Four points:
How to paint over lead paint in 3 steps.
The 2 best lead covering products on the market today.
Lead removal supplies list and info: – Jump to this section.
Facts on lead removal and covering lead paint – Jump to this part.
---
1. How to paint over lead paint in 3 Steps:
Important:

do not sand the old lead paint:

other websites tell you to do this…Don't !! Wearing rubber gloves and a chemical filter respiratory (see below), wipe it with Liquid Sandpaper, then throw away the rags you wiped the paint with. in accordance with local laws.

Clean the surface like for any other paint: a water-damp rag (then throw away the rag in accord with local laws).
The best painting method is an airless sprayer or apply like any other paint with a brush and/or roller in for proper thickness (thickness and the number of coats will depend on the chosen products, see below).
Let the first coat dry and apply a second coat if needed. Rarely will you need a 3rd coat with the paints I recommend below.
I've written short articles about painting trim and some tips on painting a room.
---
2. Best Lead-covering Paint:
Apply these like any paint, but do not sand the old lead paint: see above.
INSL-X Lead Block, Lead Encapsulating Paint, by Benjamin Moore. Available online.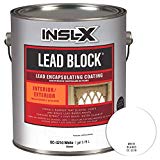 A extra-thick coating that has very strong adhesion: it contains a bitter taste additive to discourage any child from eating any chips that will contain the lead layers beneath it.
prevents lead from bleeding through

brush, roller, or spray (see #1 above

)

interior/exterior (any properly prepared wall, wood, masonry, stucco, wood, or metal)
exterior use not approved in Massachusetts
so-called 'low VOC': but 100 grams/liter is not all that low for me…(wear a chemical filtering respirator)
use this paint as a primer or topcoat
white only, eggshell finish only
clean-up with soap and water
stir well before use and do not thin
The number of coats:
The recommended final thickness is 14-16 mils when wet.
• apply with a brush and/or roller in 2 coats for proper thickness (thickness, when brushed, is 6-8 mills and 8-12 when rolled).
• The best method is an airless sprayer (spray thickness when wet is 14-16 mils: this is the maker's preferred method). (See my airless paint sprayer recommendation).
Download the technical data sheet explains every detail.
This is the best lead encapsulating paint out there today.
---
Tested using EPA's methods by a 3rd party, The EcoBond Lead Defender was confirmed to be effective in protecting human health.
By volume, it has 37% solids in the solution (compared to Lead Block above which is 44%), this paint might require a 3rd coat. But it does cost 15% less.
The brushed thickness wet is 4-6 mil (compared to the Lead Block above which is 6-8).
seals and treats lead dust

contains a bitter-tasting additive that children will never eat

low VOC

low odor
spray, brush, or roll
use as an interior primer or top-coat…or exterior primer
stir well before using
cleans with soap/water
888-520-7132 is the helpline
These paints are adhesive coatings. This is more than just a coat of paint, in that the thick coating is bonded to the lead paint. It is important to follow product instructions exactly to be sure that a strong, long-lasting bond is created.
3. DIY Removal and Supplies
Can I
remove

lead paint myself?

Only if you have government-approved training. This website does not advise that anyone without government-supervised training attempt to remove lead paint. As a professional painter, even I do not do this.

I will only advise you as to where you can get the training: you should only trust the EPA and not handyman websites like this one! This work comes with much danger.

However, I will get you started with a few documents and supplies you will need in any case. I am not providing the 'how-to' steps, just supplies and information on how to get trained.
Shopping list for lead paint removal project:
* The world of respirator filters and masks is complicated, but I simplified all that in this post.
Things you have already:
old clothing
garbage bags
rags
window fans (blowing OUT)
---
Key Safety Tips:
How do you get rid of lead paint? Download this authoritative page shows you all the steps you will take, and it comes from a trusted source. Download and read this excellent document from NY State on the risk and the precautions to take.
When in your home, professional lead removers should:
Work for 15 minutes, then take a break in another space.
Never use sanders or heat guns to melt lead-based paint—this creates toxic dust and fumes with lead.
Indoors, workers must make sure the workroom is well ventilated. They should set up a fan so it blows air out a window, and start by applying stripper near the fan and backwards, so fumes are always blowing away from you.
Never forget (in addition to all the information given here), workers should follow these rules from the EPA:
Remove all furniture, carpets, and drapes and use plastic to seal off the work area
Never eat or drink in the work area
Keep people (especially children and pregnant women) out of the paint removal area
Unless there is lead paint to be removed from the floor, cover the floor
Wear a respirator with HEPA or "P100" filters (they are the same thing)
After the job is done, dispose of the work clothing
Do not wear work clothing outside the work area
Destroy or wash work clothes separately from all other laundries
Clean up using vacuum cleaners with HEPA filters
Wet mop after vacuuming
Clean well all tools and dispose of all other contaminated materials in accordance with local laws.
---
4. Basic facts about lead
2.1 million homes with lead paint and a child under six. Not good.
Do I need to worry about lead paint?
Yes, for any dwelling painted before 1979, and it can be either exterior or interior paint. I recommend to my customers to test any old paint. Lead paint testing doesn't cost much. If the paint is latex, it is probably safe.
How do you know if the paint is latex or oil (alkyd)? Put some acetone (most nail polish removers have it). If the paint gets gooey, it's latex. No: it's oil. Lead is almost solely found in oil-based paints.
How do you know if you have lead paint?
There are 2 main ways to test: DIY kits or by sending a sample to a lab (info in this post).
How can a homeowner get rid of lead paint?
I would say no, but people want to do it anyway! There are many safety concerns you absolutely must know before you do this yourself. See the EPA docs just below.
Is it dangerous to live with lead paint?
Yes, it is for all of us, but especially for pregnant women and small children. Simply opening and closing a window frame or waking on paint chips can liberate lead dust into the air. Whether we breathe it or swallow it, it causes permanent brain damage.
Lead affects the brain and there is no way to be safe if you have lead paint exposure in your house. Remove it, or encapsulate it with special paint right away.
---
List of EPA documents on how to remove lead paint.
It's very pleasing to know the EPA is trustworthy on lead issues.
For any info at any time, call the hotline: National Information Center at 1-800-424-LEAD. They will have the most current list of accredited labs and removal contractors.
These are just the pages I selected as central to the issue: they have lots of good links to follow.
---
Is there anything you think we should have mentioned? Do you have a question? Please use the comment form below. Good luck.
---
News, 2021: The number of young children with lead poisoning may be about to more than double
---
For an informative look (with some humor) at the dangers of lead in water and paint, watch John Oliver on HBO.
Lead in paint was banned in the US in 1978, the year after I became an apprentice painter! So guess what was I scraping and sanding all those years.
Another excellent resource is from a lab in Wisconsin.