We eliminated all the products that are overpriced or low-quality. So here are the professional choices-only the best caulk. Some glues below also.

Top Caulk: Here is my top choice for the painter's indoor/outdoor caulk.
Bathrooms: The best caulk containing silicon for the shower, tub, or sink comes in 2 versions: a caulk gun tube or in smaller hand-squeeze tubes. More details below.
Second, how much caulk to buy? One tube would last me 1-3 average rooms.
My best advice for the long haul: Get the best caulk that does not crack over time.
You cannot store unopened tubes for years: see our other post about how to do the caulking, how to buy the right caulk gun and how to load a caulk gun.
Tip: For a very straight line between two colors, such as the ceiling and wall, we lay a bead of caulk in the corner. We caulk all trim/wall joints needless to say.
Tip: Some people use painter's tape to keep the bead of caulk small: that is good if you are new at this.
---
You also need a good caulking gun, we recommend one of those:
1. NORMAL PAINTING: 
Note that caulks with silicone, even paint-able ones, take longer to dry than non-silicone. Check the specs before using outdoors: many of the best caulks are suitable for both interior and exterior.

The #1, go-to product I have used all my life is here at a very good price: the painter's indoor/outdoor caulk from DAP. Some people call all caulk "Dap", like they call tissue "Kleenex". That's some branding! Ignore any bad ratings: people don't know what they are talking about: pros use this A LOT.
My 2nd favorite is Alex Plus: it's the same as the one above but has a longer life and more flexibility, (because it has some silicone, which therefore takes longer to dry).
Here is the white, but see the related pages for other colors: Clear, Almond, Black, Brown, Tan, Bronze, and Gray.
Just painting a small room or a few cracks? Hand squeeze tubes are the way to go:
Start here with the white DAP hand squeezer.
---
2. SHOWER, TUB, SINK:

If it gets wet, go the full monty: silicone caulk (our pick can be painted, but does not have to be painted). Even the best caulk made of silicon is toxic: read the warning section below!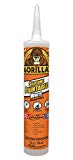 Use the best silicone product today: paintable Gorrilla (company website). This is the very best caulk for silicone caulking applications on the market. It comes in a caulk gun tube or in hand-squeeze tubes.
For cracks beyond help, try a plastic strip. These do last. Look around for other colors if your tub is not white.
How much to buy? One squeeze tube will do a tub if your cracks are small. Don't use to replace the grout.
Have a big tub or shower? You'll need a caulk gun tube (10 to 11 ounces), or several hand-squeeze tubes.
---
3. BEST CAULK FOR MASONRY, METAL, ETC:
Sidewalk cracks? Save your mothers' backs with concrete caulk: a case is a very good deal. It keeps water out of your pavement to extend lifespan.
Butyl Rubber caulk is suitable for always-wet applications – the product page talks about how to get good bonding.
Custom color: match any color: I've never tried it. Let me know if it works out? Thanks
More? You bet. Epoxy, rubber, resin, steel, yes, steel. It goes on and on. Very rare that you will need any of these, but…they are listed here. Any questions? I'll try to help: I hang out in the comments below.
---
4. Glue comes in a tube: ba-da-boom. Genius. Since you do have a caulk gun…
I use these two: Gorrilla Construction Adhesive, yeah baby. (This is not the expanding when wet type)…and…
Dap Construction adhesive comes in a tube and is the best deal in glue.
Summary:
When I was young my first employer taught me about the best caulk. If you have any questions about how to use a caulking gun or anything else, let us know in the comments.
---
You also need a good caulking gun, we recommend one of those:
Silicone caulk warnings:
You only need silicone where you splash water: most are very toxic and difficult (messy) to use, and where you have porous surfaces (it does not bond well). Use gloves, please wear a respirator: very important – the best respirator is linked in Part 7, below) and open windows.
You usually do need to use silicone for glass, tile etc, but you should know that it is quite hard to remove after it cures.
Let fresh silicone caulk dry overnight, 24 hours before using the shower cured and 100 percent waterproof. Even fast-drying products should be given 6-12 hours to cure before using the shower.
Silicone caulk is very sticky and cannot be washed up with water. Use rubbing alcohol to clean up before it dries. Full rubber gloves are a good idea as it sticks to hands like glue. (Read the label: some types use paint thinner/mineral spirits to clean up.)
Open windows and doors near the caulk you wish to cure faster and keep the area warm. You can set up fans and/or dehumidifiers too.
There is more under Section #1: "How to use caulk gun". Look for How to use a caulking gun in a shower?
---
5. Bonus: doing the job with no gun
If you are just doing this once and you don't want to buy even the lowest priced caulk gun out there: yes, you can get by. You can buy caulks in a toothpaste type tube silicone kitchen and bath and of course painter's acrylic caulk. So you really do not need to know how to use a caulking gun.
These small tubes are a bit more expensive for what you get, but it is a good thing to have around.
Please see my video below for what to do if your nozzle becomes clogged beyond saving: you don't have to trash it!
Ok fun time.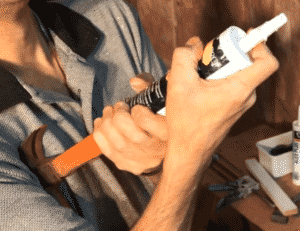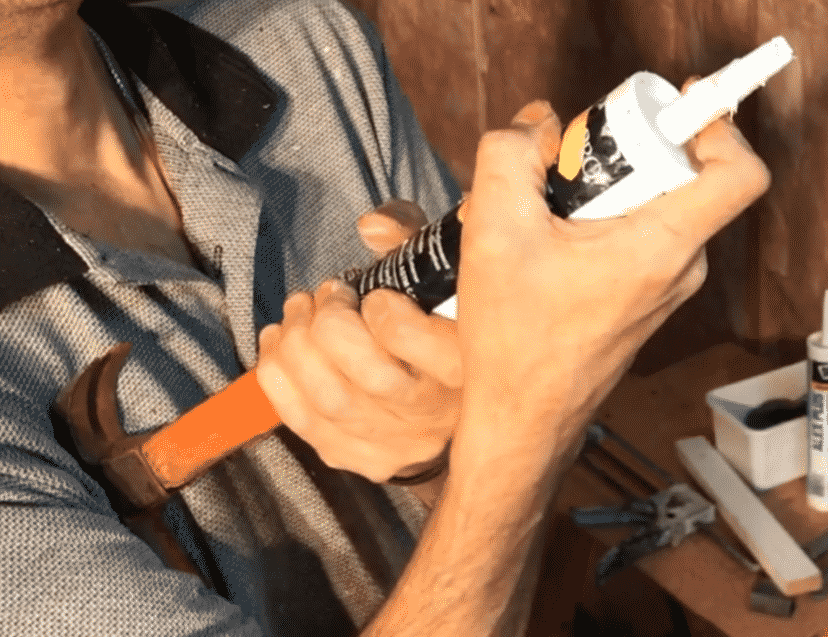 How to use caulk gun you make yourself (and this is in the first of 2 videos below at 3:45). Use a T-shaped stick (such as the handle of a hammer): Put the stick into the back of the tube and just push the caulk out by pulling the tube back into your shoulder or chest! That's how to use a caulking gun with no caulking gun!
---
Any questions? I read all comments below.
Video 1 of 2
How to use a caulk gun
Video 2 of 2
How to use a caulking gun: the actual process of laying a bead of caulk: