Choose your weapon here, then head over to our explanation of How To Use a Caulking Gun, complete with application how-to's, toxicity warnings, and more…from alomost 40 years of experience. We also have a short explanation on How to load a caulk gun, and finally on the Best Caulk (All Types)
What makes the best caulking caulk gun not suck?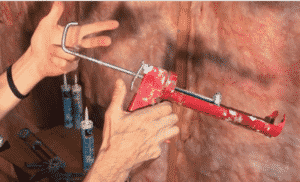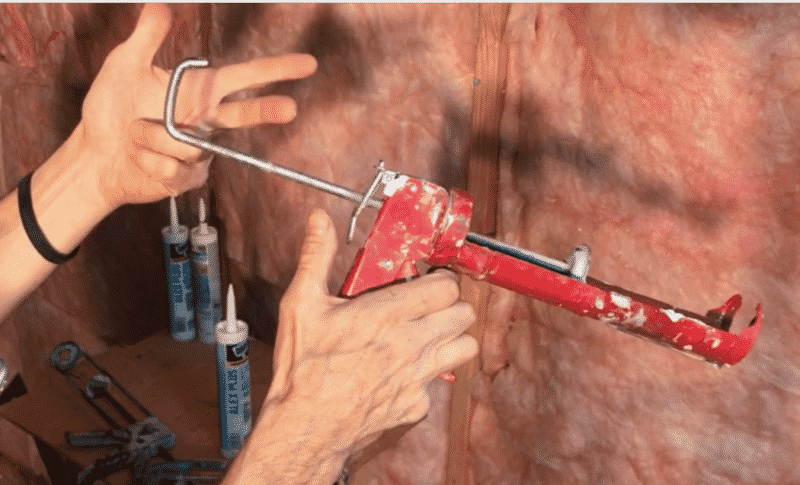 In two words, hardened steel. The "metal" claiming to be steel in Chinese tools bend and get jammed when you drop them. They also will drip after you click the 'off' button, and they have questionable trigger-to-piston ratios (a.k.a. mechanical advantage).
Quality caulk guns completely let go of pressure on the piston plunger stopping the flow.
Key features you want in a good caulk gun:
Get the right size! Most guns are for 10 or 11 oz. tubes. The big ones are for much larger tubes (32 oz).
Thrust ratio: how much 'goo' comes out with one squeeze of the handle–for gluing floors etc, you want a high ratio: lots of material, but for painting, we prefer the standard medium ratio: nice and steady. A smooth piston shaft, not notched is key.
Spout cutter: so helpful…see video at the bottom.
Seal punch: tucked into the gun somewhere, it flips out so you can puncture the seal in the nozzle of the tube.
Hook for hanging: helpful when on ladders, belts.
Thumb pressure release lever/button (the crappy ones make you twist the hook on the end of the plunger: FAIL !! ).
Our recommendation for the best caulk gun (quality/price): COX Chilton
Top picks quick summary
Our top picks for 3 budgets:
Low, Recommended, and Big Job Electrics.
Low budget
Top pick: Made in the USA, which is nice. Not necessarily the best caulk gun on the market, but will get you through your next few jobs. Don't drop it!
Runner up: The ratings of this gun are convincing: I can recommend it as a bottom-level choice. But just so you know, caulk (or glue, etc) may continue to flow after you flick the stop lever and continue dripping until the pressure inside the tube is zero. Not what we really call a dripless caulk gun.
---
Medium budget
The type of caulk gun you leave to your children: The all-steel Cox gun is the best tool for the money. We discovered at some point in the 80's that caulk guns from England were the best by far, and did not cost much more. The best caulking gun period. The Cox is the bomb. I love it.
 I want to marry it.
Runner up:
Another great dripless caulk gun from COX and a bit more affordable. You cannot beat this caulking gun for the money. You can see it here
---
Professional caulk guns
If you are a pro, go electric. Pricey, but saves your hand when you have to do a long day of caulking. Very high quality caulking gun. See if you can rent it if you are doing one project.
Great for big jobs: A pneumatic caulk gun uses your air compressor: great for big jobs.
Dual chamber caulk gun for 2-part epoxy glue.
Quart size quality caulking gun (for the 32 oz. size tubes): the type used on construction sites for applying A LOT of material.
Video: Feature of quality caul guns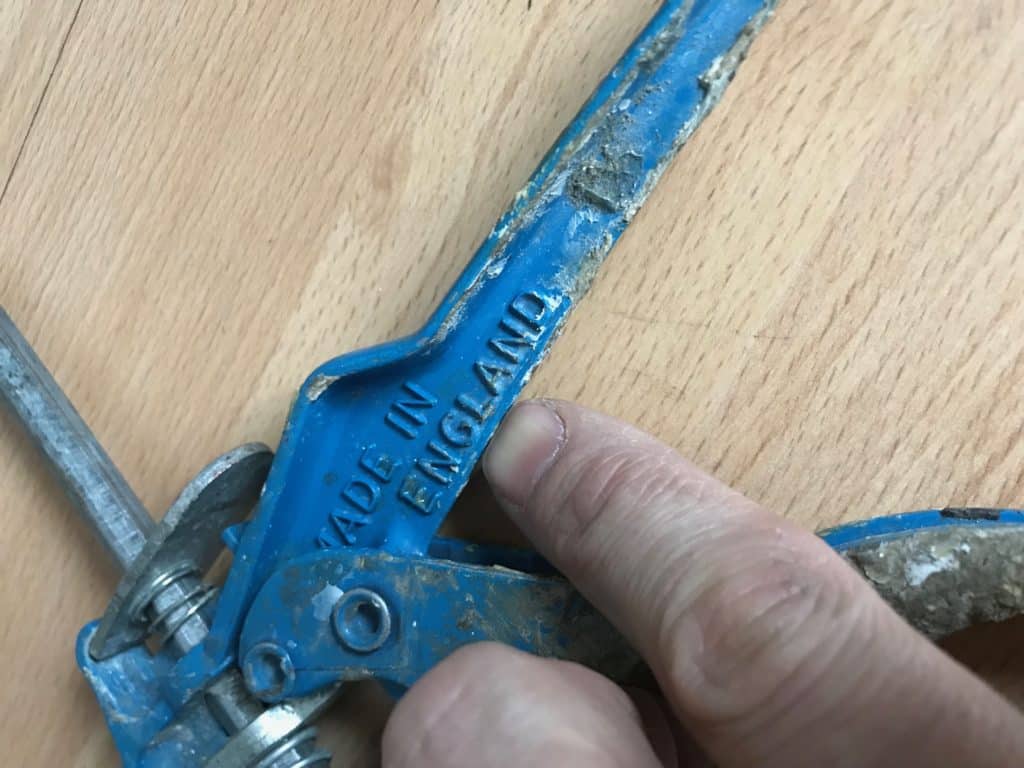 (* = Affiliate links / Images from Amazon Product Advertising API)