Not all types of sprayers are worth considering, and there are good companies and not-so-good. Most pros own several types of spray guns.
Everything about sprayers (types, tips, accessories, etc) is all on one page.
Main types of paint sprayers
Only three basic types of paint spray guns are used today are:
Airless
Handheld airless
HVLP (High Volume, Low Pressure)
---
What are the main types of paint sprayers?
Airless Paint Sprayers: I have 2 full posts on these: airless sprayers for the homeowner and the big boy commercial airless sprayers for the pros (which sell mostly to homeowners!) If you are painting your house inside or out, grab one of these types of sprayers (my pics shown below). Sort of fun too.
Handheld Airless, nephew to the big boy above.
HVLP Paint Sprayers: Requires no training, easy to control, and very accurate. On the other hand, they are slow because of the low pressure. Plus you do have to fill up the quart-size bottle of paint frequently. But it's also a "green" tool: you are saving the ozone layer of the earth by not buying aerosol cans full of CFC's. (Read an article of how CFC's are still harming our air.) HVLP's are great for furniture and other small projects.
More details below.
Other types of spray guns, not used much:
Compressed Air Paint Sprayers: the first kind invented. High pressure, hard to control but leave a very even coat of paint. Mostly for professional painters. Besides, the cost of airless has come down so much that nobody really uses these much anymore. Very affordable if you already have the compressor. If you DO NOT HAVE a compressor, go with this all in one unit from Astro, a very good brand. If you DO HAVE a compressor, here is the best gun for the money today. For a great compressor, look at this oil-free Porter Cable.
Gravity Feed Spray Guns: for autobody. The original version had the cup under the gun (siphon feed) but all you want today is gravity feed. Very easy to control, and for cars, great. Otherwise, not so much. If you want one, I recommend three guns for 3 budgets: to go with: low-budget, get the Astro EVOT14. But if you want the very best, get the best company's (website) best gun: the Tekna Plastilinum by DeVilbiss. This is an autobody professional tool.
LVLP Paint Sprayers: these are almost not a category. Low volume and pressure. You know, like a spray can. Plus these cannot spray latex paints. Bummer. This Campbell Hausfeld is the only one that I can recommend.
---
Details: the main types of paint sprayers
Please remember this key point for these low-budget machines: keep them clean! Read my tips on all that at the bottom of the page.
---
Airless: the best types of paint sprayers for interiors & exteriors
For walls both inside and out (including ceilings on porches etc), you want to rent or buy an airless sprayer with at least 2,000 psi. Contractor machines have 3,000-3,300 psi.
You could use the handheld airless or HVLP (discussed below), but you'll be quickly frustrated.
Rental fees for an airless are over a hundred per day and you probably won't get all your spraying done in a day…plus the cost of the homeowner type of sprayers are less than you'd pay a rental outlet in a couple of days.
So I say go with the standard airless (either cart or 'stand'…same thing), and when you are done, just sell it! The market is great for these. However, I cannot recommend buying a used machine. You never know why it's being sold!
All these are great interior and exterior airless paint sprayers:
I recommend these airless paint sprayers for homeowners: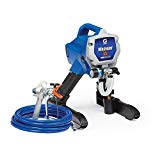 Read my full post on these great airless paint sprayers and more.
---
For serious homeowners or professional painters: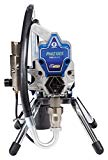 The lowest level contractor machine (also the highest 'homeowner' sprayer). Many small painting companies use this.
If you want the one most mid-size company's use, it's the Graco 390. In the link just below, you can read all of its features. This is a powerful machine and worth every penny.
Finally, and this is for pros only, it's the 695 ProContractor by Graco. Pricey, but it's like a tank joined with a Ferrari.
Read my full post on the best commercial paint sprayers today. They rock.
Even if you have only one big project, these have a great resale value.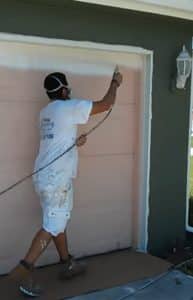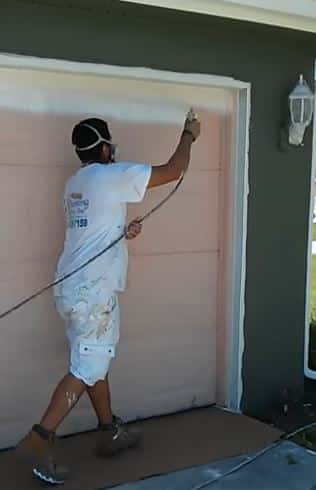 ---
Handheld Airless: for decks and fences
Same great company, smaller unit. I love these sprayers. Every pro carries one of these. For larger decks etc, you can use the larger types of sprayers shown above, but for small to medium-sized projects (indoors and out) try the handheld airless.
These are very easy to clean and use. These all come with one of the RAC tips ("Reverse-a-Clean"). If clogged, you flip it backward, blast, the flip back and keep spraying. Such a great invention.
Maximum pressure on average is 2/3 of a big one, therefore these sprayers don't have the same overspray as the big boys.
---
Low Budget
For these 2 sprayers, do not use any material labelled "flammable".
Two sprayers you'll get your money's worth: both are corded-electric and use the tips all painters use: they reverse to clear clogs. So helpful. They come with a tip for basic latex work, but these are not the "RAC" tips, but work just fine.
These both give 1,200 psi which is 25% less than the 'medium budget' sprayers below, (and half of the big airless above).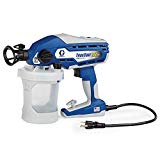 The Graco TrueCoat 360 (16Y385) is corded and very inexpensive but only lets you spray at one speed, But you can shoot latex paint very well.
True Coat 360 DS ( 17A466) is exactly the same, but for a little more money, you get 2 speeds.
Honorable mention: The little sprayer that could…Rexbeti. Not the Graco, hardly, but folks like the price.
---
Corded Medium Budget

Cut the cord? Not me. No battery to deal with is nice in this Graco Ultra Corded. The Ultra is used by many pros as it costs quite a bit less than the Ultra Max top-level gun as we'll see. The Ultras come with the RAC X tips which are the best in the biz, and like all the handhelds below, it has the patented Triax pump. Graco won't tell us much about their secret pump, but it delivers steady, powerful pressure.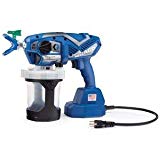 This is like the lesser cousin of the Ultra above, but the TC Pro Corded has the same pressure and all. The gun will contain lower quality parts, but the good price reflects that.
---
Cord-LESS Medium Budget
These will hit the sweet spot for most homeowners. Two types: corded and cordless. These use appropriate low-pressure tips in the top-of-the-line RAC X ("rack 10") tip system. You have to love the liner bag: no cleaning the cup after you are done.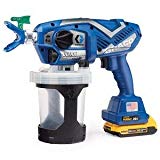 Like it's big brother just below, this Graco Ultra Cordless uses the DeWalt 2o-volt batteries used in many DeWalt tools. You can adjust the pressure to any in the pump's range, not just high and low like lesser guns. Charges fully in 35 minutes while you spray your 2nd gallon.
Significantly less money than the Ultra Cordless just above, but the Graco TC Pro Cordless has the same pump. The tips are not as good, but the pressure and the controls are the same. Generally, the Ultra above, you'll be paying for higher quality parts. Graco holds many patents and they are worth the cost.
---
BIG DOG: The best handheld today
The Ultra Max Cordless: the ultimate handheld unit today uses the DeWalt 20-volt battery (many Dewalt nail guns, drills, etc) and you can shoot about a gallon per charge. That's why it comes with 2 batteries. Plus it uses the RAC X ("rack 10" tip system, the best). This does it all. Enjoy this. Great choice.Pricey, but built to last a lifetime.
Us pros use these types of airless paint sprayers when we have touch-ups to some dry spray work: a roller would show nap marks. We also break out the handheld airless sprayer for a few louver doors or railing and spindles, etc.
---
HVLP for everything else
These are the best types of paint sprayers for furniture and small projects. The low pressure (on average, about 10 p.s.i.) of these babies gives you plenty of coverage right where you want it.
Exteriors? If my fence was more than 20 feet, I'd avoid HVLP. Why? The "LP" part means low pressure. It's too slow. I'd grab the airless.
Lowest Budget
I recommend two machines here for your hard-earned money. This Rexbeti is from a fine company and they make a little handheld that will do what most folks want. It won't be in your Last Will, but it is fine for this type of sprayer. It yields 2.7 psi. Talk about low pressure.
Also, the Wagner Spraytech in both the all-in-one Flexio and the other version with the gun and pump base have great reviews. Here is a review on YouTube.
---
Medium Budget
There is a great machine for under 500 bucks that is worth the money. It comes from a trusted name in sprayers, 100% made in Canada. Fuji has been around since 1986.
The Semi-Pro should be called Pro because a lot of professional painters have one. Fuji has perfected the no-drip tip and the turbine is protected in a cabinet of heavy metal. Not like Motörhead.
You can choose the gravity feed Fuji 2203G or bottom-feed 2202 Semi-Pro. They even thought of a gun holder on the pump housing for storage. Keeps it safe.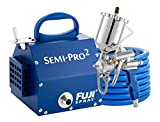 Watch a sales video 'unbox' it.
---
Top Budget: best value for this type of sprayer
Graco seems to win every battle when it comes to sprayers these days: 100% made in the USA, and parts are very easy to get, if you ever need any. Unlike the lesser units, the turbine turns off when the pressure reaches maximum, so the pump works a lot less and it's not as noisy or hot. The turbine design (SmartStart™) is a secret patent that gives 30% more power at the gun than competitors.
There are a new batch of model numbers and I'm only looking at these, but you may pick up one of the discontinued models (see related products). These are pricy, but you'll have the best of this type of sprayer made today.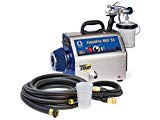 First, is the FinishPro 9.5 which has a bit more power than the FinishPro 9.0. The number comes from the maximum pressure that the gun can accept. You don't want much more for these types of sprayers. Other than that, these 2 sprayers are all equal.
These have 2 auto-paint grade filters (I still strain all paint via a cone filter). Probably the coolest thing is the flex bag in the cup: no cleaning. Here is good price on more bags. Like the Fuji above, it has a gun/cup holder for storage.
---
When to use HVLP?
It's fine for furniture, but not for big jobs. It's in the name: High Volume Low Pressure. Max pressure on a typical HVLP sprayer is about 10 p.s.i. To compare, a homeowner airless sprayer is between 1,500 and 3,000. So HVLP's are very easy to control, but then there is the stopping to refill. Then again. Over and over. These paint sprayers are for small jobs like furniture and railing spindles, etc, only.
These have much less overspray than the big airless types of sprayers above, or the handheld airless for that matter. You hold the tip closer so you have less waste (but of course it's far slower!)
---
Three useful tips for all sprayers
For all of these types of sprayers: clean them immediately after you are done, and if you take a break, keep the tip WET.
Many parts go bad because people let them dry up.
Practice spraying with water
New to spraying? With water in your machine, you'll get the hang of your speed and how and when to stop each row. After some practice, you'll learn that you don't have to stop at the end of a row. It's all in the wrist. You just flick your wrist quickly so there is no build-up when you change directions. You'll see. It's actually very easy.
This prevents disaster and makes cleanup MUCH faster.
Increase the paint you buy. Airless: You will use at least 1/3 more paint due to overspray. But there are ways to minimize it (read my post on that here).
---
Read more about how to spray paint efficiently.
Read my long read about commercial airless sprayers.
---
There you have it. BTW, no, I don't work for Graco: I just love their machines (like all pros).
If you have any questions or comments, I'll see you in the comment section below.