The latest, and for small jobs, the greatest. The HVLP spray gun is simply a giant airbrush so it's very easy to use, and for small painting jobs, a HVLP paint sprayer is awesome. For big jobs, not so much. I'll show you better options for walls, etc. There are many indoor paint sprayer reviews elsewhere, but I found that they are mostly sales articles. I've cut out the chatter.
Full sprayer accessories page is here.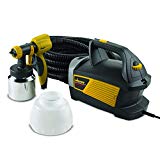 For a fist full of dollars, this Wagner Spraytech HVLP will knock out several projects before it dies barking like a dog. It will not last forever, but sells the best because so many people have a short-term need. It fills that niche.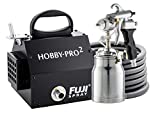 A very good little HVLP: the Fuji Hobby Pro 2, made in Canada. Very decent price for a semi-pro machine. This cannot shoot latex, but it has a very reliable 3-stage system.
Big Dog if you're serious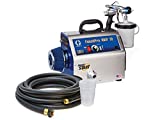 Graco's 7.0 ProContractor has the most features for the money. Has most of what the Graco 9.0 and 9.5 psi sprayers (reviewed below also) have but costs way less. Below, have a look at the Graco 7.0 Standard for quite a bit less money (and features).
Need background? Buying your first one? To read the skinny on these machines, jump down this page.
What to look for: the best HVLP paint spray gun lineup



All about tips here.
You pay more for more  "turbine stages" in the HVLP gun motor: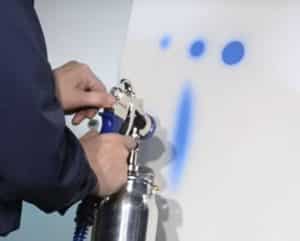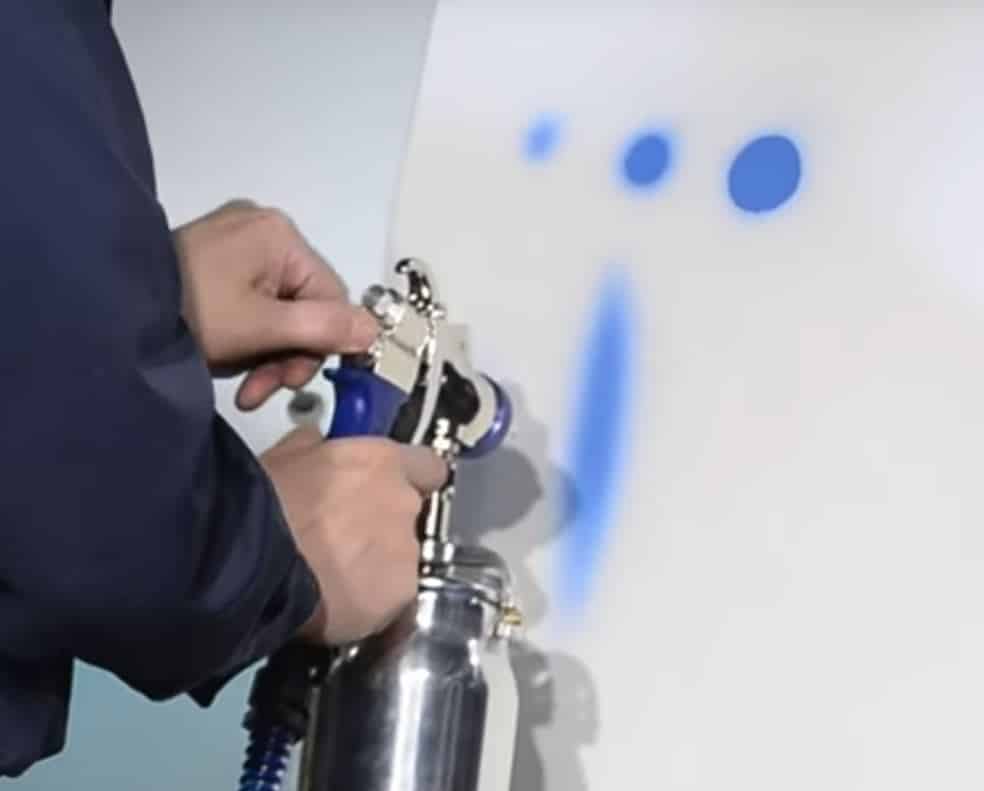 These are the number of fans/pumps pushing air and allowing for steadier pressure.
The best HVLP guns offer 2, 3, even up to 6 stages.
My advice: Get the most you can afford. More stages = less stress on the pumps, longer life.
With more fans/pump stages, they can atomize thicker paints more efficiently which keeps your turbine from overheating (the big killer of HVLPs).
The low pressure of HVLP's (on average, about 7-10 p.s.i.) gives you just enough for small, intricate work. I know many people use them for trim work, etc. These will do it and will do 4rniture as well. But…
If you might want more pressure for jobs later on, read my look at handheld airless sprayers (divided into guns for 3 budgets) and most have variable pressure control and are also capable of low-pressure spraying. I wrote also about DIY airless sprayers.
---
Yes, all these HVLP paint guns are able to spray latex paint. You'll just need to get a bigger needle for thicker paints like Home Depot's Behr or Benjamin Moore's Aura. I explain below what you need. While most of these can handle latex, some require thinning, but don't let that put you off.
Always experiment with your paint and your tip on some cardboard to see if the combination works for you.
What to avoid: The kind of HVLP spray gun Home Depot sells are mostly low end (not high-end ones) and the prices are always better somewhere else. (I tried to compare them all). So, you say you have no shipping with a Home Depot spray gun you pick up? But all the ones I recommend here have free shipping as well. Plus, try asking the paint department about a Home Depot HVLP 'fluid sets' (nozzles). They just don't know.
---
Lowest Budget
I can only recommend one maker in the low end.
The drawback of the all-in-one gun style is that the air intake will certainly suck in some atomized paint from the air. It can't be good for its long-term health. With the separate turbine and gun, you can keep the turbine clear of the fog.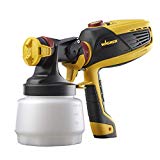 The Wagner Spraytech (company website) has two decent small units: the Wagner Flexio HVLP is an all-in-one gun. But the Wagner

Control Spray Max

has the gun and pump 2-stage base like the better Fuji and Graco sprayers below. Both of the Wagner HVLP's have great reviews.
These affordable sprayers shoot regular latex interior and exterior house paint. If you want to do a lot of latex, these are not for you. Those pumps will work awfully hard to push thick paint. Think about a DIY airless.
Review: You will probably prefer one of these small units above to an air compressor spray gun like the Husky HVLP spray gun, even if you own a good compressor. The pressure is not always constant with the compressor spray paint guns. The HVLP spray gun is just a simpler, steadier setup.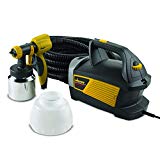 Honorable Mention: The Husky gravity feed spray gun is here if you like that company. I have never owned a Husky spray gun, but they do have a good reputation for gravity feed spray guns using compressors. The Husky paint gun does cost less than the super low-cost Wagner Opti-stain Plus Handheld HVLP paint sprayer (see it here), but you need a compressor with the Husky HVLP.
---
Now, let's check out the Fuji HVLP spray gun kits: not terribly expensive but real quality.
Medium Budget
These are Fuji Sprayers, made in Canada. These really do last. Fuji has made sprayers since the '80s.
The Fuji turbine, a.k.a. the pump is protected in a very tough steel housing.
All Hobby-Pro units come with:
1.8 mm cap (most thinned paints)
2-year warranty
washable air filter
25 ft. hose
gun holder on turbine box
They can use up to 6 different cap sizes for different materials. See the condensed tip chart at the very bottom of the page.
---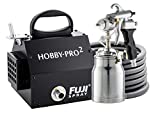 The DIY series: 2 lines
For the money, the Fuji Hobby-Pro fills the niche for pros and homeowners both.
Have a look at the Hobby Pro 2 System. This is very reasonably priced for a 3-stage, well-built HVLP sprayer.
My review: Avoid the Semi-Pro in my opinion. Same price as the Hobby-Pro but comes with a less versatile 1.3 tip, (a.k.a. #3 tip set) vs the HobbyPro's 1.8 (#5). The #3 cannot shoot latex, which is going to be a big hurt at some point.
Yes, Semi-Pro is a much better name, but Will Ferrell demands a cut!
Fuji tips 5 and 6 are best for latex and most house and other paints. You can always buy any other tip set (see links and tip chart below). Tip sets are about 50 bones. I like having one for latex and primers, and a small one for misting furniture in layers.
If you do prefer the Semi-Pro, choose your weapon: gravity feed Fuji 2203G Semi-Pro or the siphon-feed in the 2202 Semi-Pro. Why switch styles? The bottom-feed gun comes with a 1-qt cup and the gravity feed guns are with 400-cc cups and allow for spraying in tighter spaces. You can do this with the Hobby Pro too: same gun but better tip. The Hobby Pro has:
2-stage motor (all levels of Fuji HVLP-DIY)
5 psi maximum
"M" model gun can be changed from HVLP gravity feed spray gun to siphon feed with a conversion kit (short video on how-to switch)
For any M-gun convert to

⇌

bottom: the gravity to bottom-feed kit is here, bottom to gravity-feed kit is here
Quick dial from wide to narrow fan (from 1″ to 12″ oval)
The gun and 1-Qt cut is fairly easy to clean
Gun holder on the pump housing to hold the gun
---
The Mini-Mite Platinum series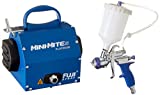 Choose from the gravity paint gun Mini-Mite 3, the bottom-fed Mini-Mite 4, or the HVLP gravity feed spray gun Mini-Mite 5 (better gun than 3).
Big jump over the DIY's above, (but about the same as the Platinum's below for a better price)
3-stage motor and much more psi
Mini-Mite 3-stage motor = 6.5 psi

Mini-Mite 4-stage motor = 9.0 psi
Mini-Mite 5-stage motor = 9.5 psi
These all have the same gun, hose, gun holder, cleaning features, etc
The Mini-Mite and Q-series feature a heat dissipation chamber to extend the life of the motor.
---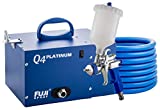 The Platinum series
Q is for quiet, but other than being a few pounds lighter, there is not much advantage over the Mini's above. And they cost more for the quiet.
Again, different sized tip sets (see the chart and links below).
I just wish the Fuji HVLP sprayer had a bigger cup, as with the Graco HVLP guns below.
You don't need ear protection, but it's about as loud as a vacuum cleaner. What? See.
Watch a Fuji company sales video.
---
Medium Budget, Honorable Mentions: We all trust 3M and they invented the Accuspray gun a long time ago. It's a gravity feed paint sprayer that also uses your air compressor's pressure to push paint. It's basically an air spray gun. The original system comes with a few nozzles. There is also a version just for cars: the Accuspray automotive paint gun.
(PPS means paint prep system.)
They want you to have a close look at the upgraded unit, but I still prefer the original above.
I don't highly recommend it as its mostly plastic, and they want you to use it once and throw it away. Yes, you can clean it and replacement cup liners and lids are here,(with sealing plugs), or just 50 plastic sleeves and lids. I don't like that they want you to make it disposable so you have to buy another but you can clean them and re-use.
It has very high user ratings.
Dead and gone: Graco, the best company in sprayers, once had the Graco Spraystation 2900 HV2900, but it's been discontinued. Their best HVLP paint guns are just below. But why did it fail? No idea. It had a backpack container for paint. Cool. Guess not.
A final note on Fuji
The DIY series 2-stage turbines – Semi-Pro 2 and Hobby-Pro 2 – are designed for the home hobbyist who intends on spraying a handful of times a year.
Most commercial sprayers will look for increased power, which correlates with increased speed, and will, therefore, opt for a Mini-Mite or Q-series 4 or 5-stage turbine system.
See some spraying test results my rep at Fuji sent is shown after the Fuji tip chart below.
---
Top Budget: the best value in an HVLP spray gun kit

Graco is simply the best and all their stuff is made in the USA. Parts are very easy to get, if you ever wear any out, which for a homeowner is unlikely. Of course, you may need a filter now and again.
All the Graco's below have:
variable turbine pressure to run at very low-pressure
all come with the EDGE II Plus Gun that works with all the spray nozzles in the Graco tip chart below

washable air filters (outside of the turbine box)
a 32 oz. cup
turbine housing has decreased in weight and size in these new models
flex liner bags (no siphon tube) let you spray at any angle including upside-down, and very low on paint (so nice)
Wood-shop pros and amateurs write that the Graco is the best HVLP spray gun for woodworking because of the reliability. So that's worth the money.
The new Edge II Plus gun accepts thicker fluids and has a better flow rate, separate controls for material and air for fine-tuning, and works in 360° angles, and the QuickClean check valve.
---
The Graco Sevens: 7.0 psi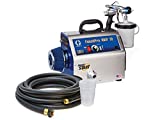 The homeowner line has two: the HVLP 7.0 Standard, and for 30% more cost, the Procontractor model.
These both have:
3 turbine stages: a patented pump that ramps up as you ask for more paint (very cool)
20 ft hose
one quick release nozzle ("#3 fluid set") which is .051 inches and fine for everything from lacquer to varnish and urethane (thinned latex is ok, see the Graco tip chart below)
a filter that comes out without tools (nice)
They say it gives 30% more power than other HVLP spray guns.
But with the 7.0 ProContractor you get all that plus:
10 feet longer hose (you can buy more for a total of 60 ft.)
SmartStart™ turbine that stops the pump when the pressure is up to capacity AND ramps up the pressure as you spray
automotive filtration (the Standard model is fine, but not like this)
toolbox built-in for extra tips/nozzles
gun/cup holder: holder on the housing (easy to re-fill)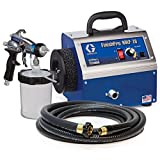 The turbine design is patented and it's called SmartStart™. Also, it's not quite as noisy (or hot) as competitors' HVLP paint sprayers (Fuji's).
If it's more power you want, don't forget, not only do I show a higher pressure HVLP gun just below, but there are airless handheld sprayers these days too.
Both are new and reliable technologies.
My review: Graco Sevens are better than any Fuji, but the ProContractor line may be overpriced for the features it adds to the Standard.
Ok, Graco is better. There I said it. The features over the Fuji make the extra money really worth it.
KEY: You have to decide if the 7.0 ProC's features are worth the extra cost for the SmartStart Turbine and automotive level filtration and the other few extras you see just above. For me, it is very much so. The auto-shut off tipped it for me. It's my baby.
You would pay the extra for the steady constant pressure, but the Standard is not chopped liver.
For both machines: The Manual PDF, and here is the Edge II Gun Manual, and the Warranty PDF.
---
The Graco Nines: 9.0 and 9.5 p.s.i Procontractor
For serious woodworkers and painters…
The top-of-the-line, the top HVLP sprayer in the world is the FinishPro 9.5 ProContractor which gives slightly more pressure than the FinishPro 9.0 ProC. The difference? It's right in the model number: 9.0 psi and 9.5 psi.
I don't highly recommend the 9.0 Standard. Why? The Standard 9.0 costs the about same as the 7.0 PC (!) but you get way more features on the 7.0 PC. Ok, so you want that 2.0 psi extra the one extra turbine fan gives you on the 9, get the 7. Fair enough.
Well, you seem dead set on the 9S, so here you go—the Graco 9.0 Standard. The 9-Standard lacks the auto-shutoff turbine and high filtration, (as does the 7.0 Standard) of the 7.0 ProC (see just above). If I were spending this much, I'd go 9.5 ProC.
These have both these same features…
4-stage turbine with SmartStart™—Graco only has a pump that ramps up as you spray and shuts off when pressure comes up
30′ hose but you can add more
The 9.0 has 2 tip sets that come with: #3 (.051″) and a #4 (.071″) (see the Graco tip chart below)
Quick-Release tip sets that you change with no tools (fast to clean and change needles)
filter that comes out without tools (nice)
about 25 lbs
…the 9.5 'ProC' has that plus…
A third fluid set quick-release nozzle  (a #5, .087″,  which is best for latex)
My review: The 9.5 is over 200 bucks more and what do you get for that? One extra tip that you can buy for 60. Get the 9.0PC if you are a serious user, not the 9.5.
For both HVLP sprayers, here is the Manual PDF, and the Edge II Gun Manual, and the Warranty PDF for the sprayer.
Every HVLP spray gun kit should be like this. This is the best on planet Earth. Just pricey. Put it in your Last Will.
---
All Graco HVLPs give you other perks:
I always strain all paint via a cone filter…we all do, but Graco ProContrator units do provide two filters, one of autobody grade. Nice. Remember, even new paint has lumps.
Another great invention: the flex bag instead of just a cup: quick clean up. Replacement bags are here. The housing has a holder for the storage of the gun.
---
Six things you need to know: every HVLP spray gun kit
Keep the tip WET! Whenever you take a break or after your done and before you clean it. So important! Tips and tubes and pumps get old fast because people let the paint set up in them.
Practice spraying. I learned on an airless (long before HVLP guns were invented) shooting water onto cardboard and outdoor walls. It's worth your time.
It's all in the wrist. When you get to the end of a row or line of sprayed paint, you simply flick your wrist quickly so there is no build-up when you stop and change directions. Beginners should go over the edge and let up on the trigger.
Masking is important. You can really make a mess. I use 3M's hand-masker. It comes with tape and plastic which it joins as you go. You can use either a roll of paper or a roll of plastic for your all-in-one masking. It's quick. Remember, tan masking tape is designed for a few hours then the glue sticks. We use green painter's tape: no sticking even after a month.
Buy extra paint. Even if you know well how to use the HVLP spray gun there will be some waste in overspray. The transfer rate for an HVLP spray gun is 90% at best, so you will need more than you would if you brushed. There are ways to minimize overspray (read my post on that here).
---
Small jobs yes. Big no.

The HVLP spray gun that is really only suitable for furniture and small items. HVLP paint sprayers are made to be slow, so only use for small, detailed work.
Exteriors? If my fence was more than 20 feet, I'd avoid HVLP. Why? The "LP" part means low pressure. It's too slow. I'd grab the airless.
Whole indoor rooms? Same answer. The airless is just a better tool for broad surfaces.
Here is my look at affordable homeowner airless sprayers and the higher quality commercial airless sprayers.
---
Other issues to consider
Autobody?
Most shops use a specialty low CFM spray gun, but I've seen people using HVLP paint guns to paint cars. I wouldn't do that unless I had some experience which I don't.
I'm told by a pro to go with the Tekna gun for that. You'll need a good compressor too.
Read this blog about spray guns for cars. They discuss the best gravity feed gun and automotive paint gun for the money.
---
Which sprayer is faster?
Many people use an HVLP paint sprayer to paint walls and they do. So I did a comparison. It took 2 minutes to paint a section of a wall that would take you 30 seconds with a roller. Still, the HVLP paint gun is far better than the old compressor paint gun your grandfather had.
But for lots of detail that would take a long time to brush, yes, it's worth it to have an HVLP gun.
Key benefit: The lower pressure (10-20 psi) reduces overspray and 'bounceback' (where the paint is caught in a wind vortex and ends up on the floor).
So you'll waste less paint with a low-pressure spray gun.
An HVLP gun is easy to clean up, but don't let the tip dry between use and cleaning. Read my tips on that above.
---
HVLP paint types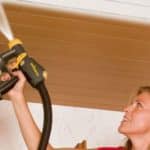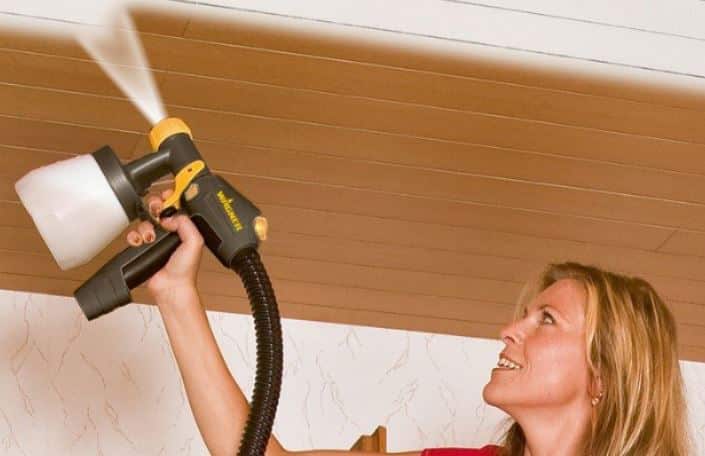 With the right tip, most HVLP spray guns can shoot latex paints and stains, oil-based paints and stains, and lacquers. Read above for each model as to what you can shoot with it.
Great for intricate louvre doors and wicker chairs etc
Have a look at the handheld airless sprayers. These have lower pressure than the bigger airless and very easy to use and maintain. Every professional painter has one of these, or will at some point.
For big jobs: HVLP is not the one
HVLP's can cost as much as a nice airless, and you go so much faster.
Doing a house inside or out, even just the trim…go airless
If you are doing walls, indoors or out, read my posts for homeowner airless paint sprayers and the post for commercial airless paint sprayers.
Remember
Keep your turbine base (if your system has one) 20 feet from where you spray so it does not suck. Paint. From the air. So it does not suck paint from the air.
---
Cleanup is easy
To clean you don't HAVE TO take it apart. You could just fill with your solvent and run it clean, but that will take a long time. Better to drain the paint, re-assemble and spray solvent (water or mineral spirits, etc) until it comes out clean. You can use mineral spirits many times to clean, with your last rinse being some unused solvent.
---
Reduce overspray
Tent/booth (just plastic taped to the ceiling for example) helps with overspray on your things.
Mask with paper, tape, plastic (see the 3M masker above).
Keep your pressure as low as you can as long as you get the result you want.
Overspray is easier to control indoors because you're generally using a smaller tip at a lower pressure and there's no wind.
Safety is always key
---
Beginner's Short List
What is an HVLP spray gun and how does it work?

The two 'air horns' on the tip let out two cones of air that meet in the middle that forces the paint, coming out of a 3rd opening, into a horizontal or vertical fan, depending on how you orient the horns.
"HV", or high volume means a lot of paint comes out with "LP", low-pressure. The result if great control of the stream and high 'transfer efficiency' (the amount of paint that goes where you want it).
What is the HVLP to a professional painter? A gap filler. We use it for small jobs like louver doors, etc.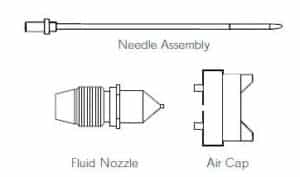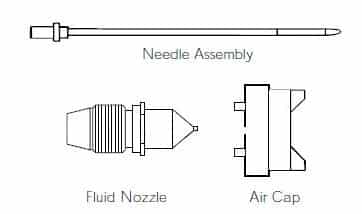 It's not that different from the old-fashioned compressor spray guns. Simply put the air forced out the 'horns' of the nozzle creates a suction which brings paint to the central 'needle' and the air grabs it and atomizes it into a stream. In short, it's an air paint gun.
Pros: Inexpensive, portable, easy to maintain, spray most frequent coatings, very easy to control, and easy cleanup.
Cons:
Frequent refills of the reservoir, turbines on low-end models can be noisy. I wear
earmuffs
for all things like that. Oh, the stopping to refill. Then again. Over and over.
---
How to use HVLP spray gun
Little to no training required.
This is one of the easiest sprayers to use, which is why so many people have one. If you can use a spray can, you can use an HVLP…but you don't need to shake it!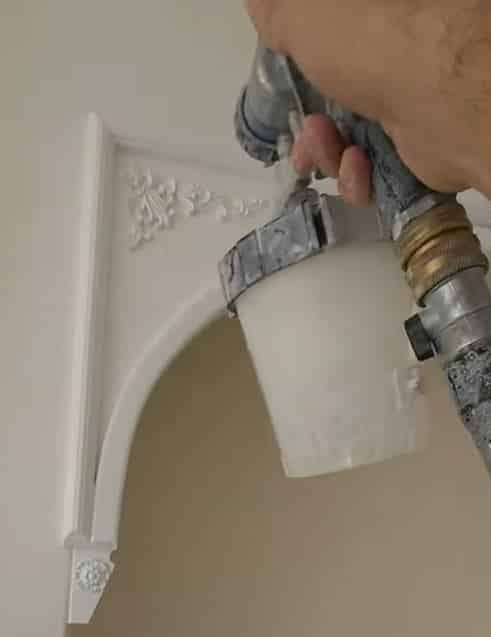 Settings in any HVLP spray gun kit
Air pressure: this determines the paint flow.
Some units have 2 knobs, one for pressure one for paint, but some have one combo knob. Have a look at the Graco
Tip size (fan size and rate)
Tip for clear coat: 2 to 3
Tip for latex: about 4 to 5
Distance: 4 to 8 or even 12 inches depending on the above settings.
Rate: you move slowly for HVLP
That's it. You can adjust vertical or horizontal fan and fan width. Some low-end guns are not adjustable.
Some high-end guns have a diagonal feature we don't use much anyway.
---
Tips you'll need to know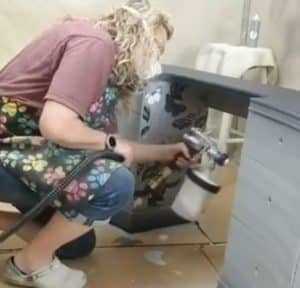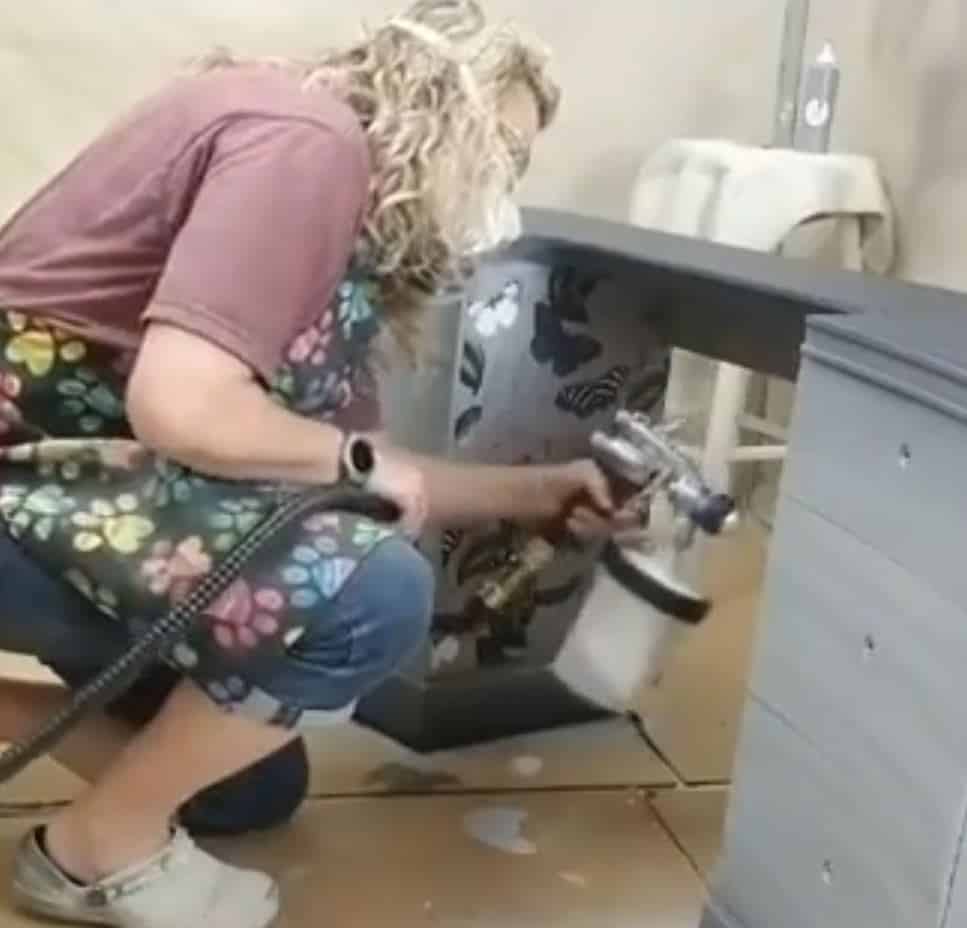 Practice on some old junk before you start your precious piece of furniture, etc.
Test fan pattern before you start on cardboard or paper.
Spray harder to reach areas first, then large open areas.
Set your fan pattern wide enough to cover the most surface area you can but still get good coverage at a moderate rate.
Overlap by about 33-50% on each pass and continue each pass beyond the project surface.
Don't reverse or stop inside the strip.
Keep the tip wet when you take a break. They should come up with a special can…anyway, I use a wet rag.
Don't cross the streams, Venkman. (Just kidding).*
---
When to use the HVLP?
It's fine for small, but not big jobs. It's in the name: High Volume Low Pressure. Max pressure on a typical HVLP sprayer is about 10 p.s.i. To compare, homeowner models of airless sprayers are between 1,500 and 3,000.
These have much less overspray than the big airless types of sprayers above, or the handheld airless for that matter. You hold the tip closer so you have less waste (but of course it's far slower!)
Many professional painters carry one for quickies such as fence railings, etc. Most homeowners want these for furniture and decks etc.
---
Can you use an HVLP sprayer to spray latex?
Yes, HVLP spray gun for latex paint. I often use latex on furniture re-paints or old outdoor wicker tables etc. Just use exterior paint if the piece will be out in the weather.
---
Is HVLP better than spray cans of paint?
Spray paint cans have about 70 psi, so the HVLP is about ¼ of that. That allows you to control the paint results very well. Of course, it's slow, but what do you have a hot date? You do? Wow. Cool.
If you spray a few times per, you'll save money with the HVLP sprayer. Each can is anywhere from 5 to 15 bucks per (for only 12 ounces).
Toxins? You can control VOC's. I used to say it saves the environment too, but these days spray paint cans no longer contain propellants with CFCs that harm our ozone layer. (Read about the new law). The ozone layer filters the sun's harmful rays. We did plenty of damage already and some countries still use CFCs.
Dangers? Modern-day, CFC-free spray paints emit volatile organic compounds (VOCs). These are known to cause cancer and are a main component of smog.
I say buy a good sprayer once.
---
HP-LV? or HV-LP?
It's not called an "HPLV sprayer" or "HPLV gun". HP would be High Pressure and low volume. Just remember Low Pressure. It's an HV-LP spray gun.
---
Ask anything or let me know if I forgot anything in the comments below. Thanks.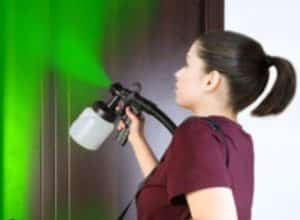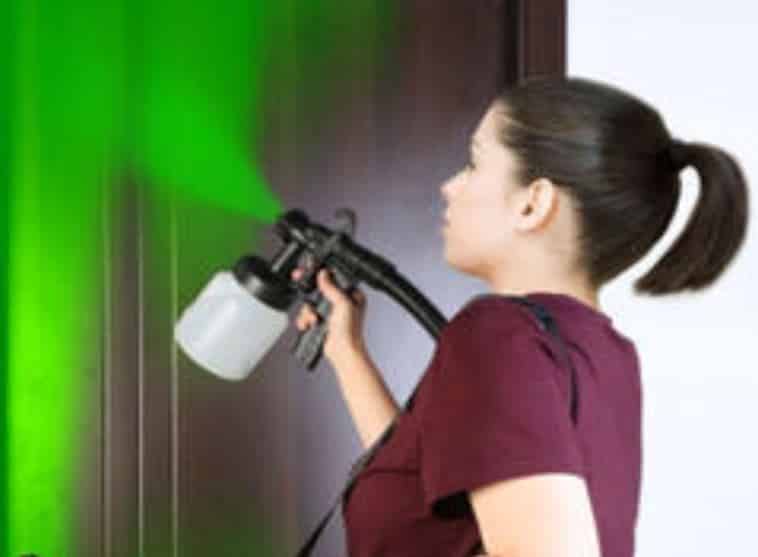 Links to HVLP Tips for these sprayers
Graco HVLP Tip Guide:

links to purchase each are just below the chart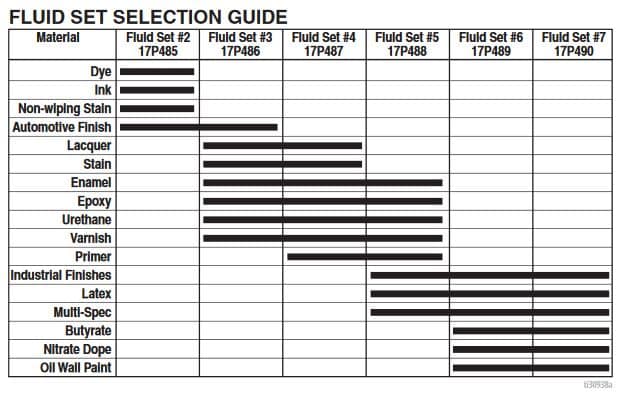 Size (in) Model Graco number
0.032 #2 (17P485, see it here)
0.051 #3 (17P486, see it here)
0.071 #4 (17P487; see it here)
0.087 #5 (17P488, see it here)
0.098 #6 (17P489, see it here)
---
Fuji HVLP Tip Guide:

links just below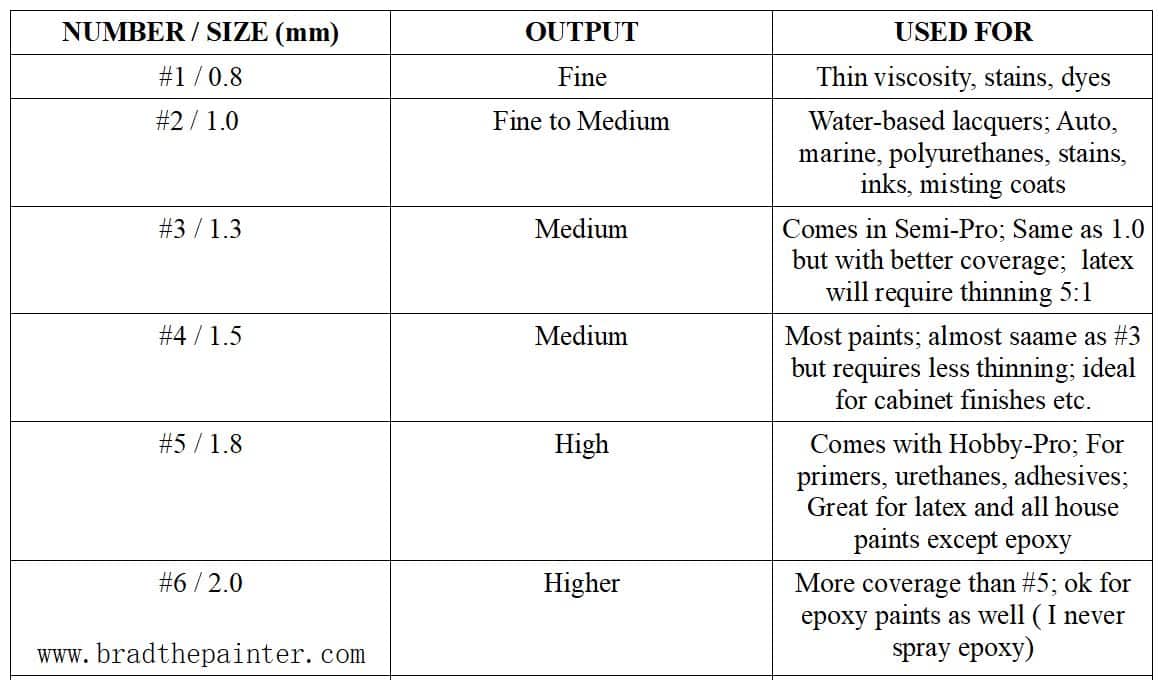 Available replacements for the M-Series gun (Hobby-Pro and Semi-Pro)
---
Testing the Fujis
Spraying the face of a typical sized kitchen cabinet with latex paint (thinned 20% with water and using a 1.8mm air cap set), the following durations occurred:
System Motor PSI Duration
Semi-Pro and Hobby-Pro 2 2-stage 5.0 37 seconds
Mini-Mite 3 or Q3 3-stage 6.5 22 seconds
Mini-Mite 4 or Q4 4-stage 9.0 15 seconds
Mini-Mite 5 or Q5 5-stage 9.5 12 seconds
As you can see, the higher the motor stage, the faster the speed of application.
---
---
* Spengler:
Try to imagine all life as you know it stopping instantaneously and every molecule in your body exploding at the speed of light.
Venkman:
Right. That's bad. Okay. All right. Important safety tip. Thanks, Egon.
---
Thanks for reading. Ask me anything below in the comments. I hang out there.