What's not to like? Interlocking garage floor tiles are ultra-low maintenance, long-life, quick-to-install tiles come in 2 basic designs and in several levels of quality. These floor tiles are tough plastic and are assembled with a peg and loop system that snaps together with a rubber mallet or your foot.
Read about the other types of garage floor coverings here.
Most interlocking garage floor tiles come in thicknesses from ½-inch and have a relief pattern that's anti-slip but allows small items to roll over with ease.
1. A child could install these… Literally.
Big tip: What other websites don't tell you before you buy is that the interlocking tiles do move around if you drive on them. So just leave a gap around garage posts and walls, and be ready to slide back into place every so often.
Here is my method, but it's not better than yours: just make your game plan and stick to it. Before ordering, it's best to draw the garage floor on paper and calculate the needed number of tiles and the optional edging.
Standing at the garage door looking in, start on the left near the door and work off that tile. Put the tiles' female on your left and front (nearest the door). To join them, I use a rubber mallet, but a blast from your foot will do.
The most important side is by the door. Line up that first row about an inch or so from where the door touches the garage floor (working inside with the doors closed is best for this first row. Then make a big "L" by doing the left side. If you'll add a ramp edge, add it now.
Then, work your way back and to the right, like Kevin Costner. Get it? Grassy knoll? Too soon?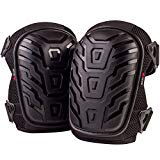 You only need to cut the tiles in the last row back and right (and only if you don't use the edging in Section 7 below). Remember to leave a gap about ½ to ¾ inch between the last tile and the wall for temperature contraction/expansion (as with posts, etc).
One tip from experience: knee pads. Great for cleaning the house too.
---
2. Vented vs. solid?
I preferred the vented type, but both types allow water to evaporate, but water under the vented tiles dried faster. Mold hates dry floors.
Vented tiles are designed to prevent most small screws etc, from falling through, and the floor underneath can be washed and vacuumed easily. If you get gunk under the tile, there is no need to remove the tiles.
It lets snowmelt run for the drain or the outdoors if you have some slant. Water stands on the solid tiles, as it would a painted garage floor. Not great.
Here are the picks of the litter: all are quality garage tiles made in the U.S.A.
3. My top pick: RaceDeck's premium models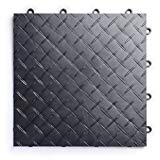 Three premium tiles from RaceDeck: (all ship for free).
These are all high-quality options with a reasonable price tag.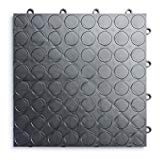 10 colors in each style (most makers offer fewer colors)
16 connectors per tile (4 per side)
80,000 lbs rolling limit
Thickness of tile: ½-inch
Composition: 100% polypropylene (plastic)
Solid tiles allow moisture to escape
Good resistance to petroleum and chemicals
Made in USA
20 yr. warranty
All RaceDeck flooring is interchangeable with other RaceDeck models (same connectors). See the edges available in Section 7 below. In hindsight, I might have put vented under the cars and solid around. No worries though.
---
4. GarageDeck and GarageTrac (made by RaceDeck above)
These are a slightly lesser version of the tiles above, made for the maker's private outlet which actually sells them for more than the ones linked here. Same product. Free shipping on all these.
See the ramp edges below in Section 7.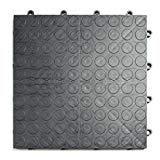 GarageTrac (G900), has a traditional diamond pattern and comes in 5 colors. The spec sheet is here.
GarageDeck has the coin pattern and comes in 6 colors. The spec sheet is here.
Maybe the best for the money at about 2.30 per foot. Just as resistant to oil, grease, petroleum, antifreeze, and most household chemicals. These are just a bit thinner than the premium RaceDeck tiles in #3 above.
Rolling weight limit of 80,000 lbs.
Composition: high impact copolymer polypropylene
Thickness of tile: ½-inch
Warranty: 10 years
Made in the USA
---
5. TrueLock HD
There are 2 types: HD Diamond and the HD Extreme Diamond.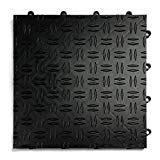 The Extreme tiles have a 12-year warranty and the HD only have a 10-year warranty. Also the patterns are different. The Extreme is more of a traditional diamond pattern and easier to move small objects across. The HD Diamond is a double diamond pattern: the ridges stand taller off the tile base.
At only about 3 dollars per square foot, TrueLock HD Extreme tiles are a contender. Constructed of a high-impact polypropylene that allows for both air movement and drainage underneath, as with the other tiles.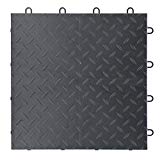 Customers liked the smaller coin size design: it is better rolling of toolboxes, etc.
4 fasteners per side
Composition:
Thickness of tile: ½-inch
rolling loads in excess of 36,000 lbs (less than the above, but still plenty)
Warranty: 10 years
Made in USA
Each box of 40 comes with 2 ramp edges but not available are rounded corners as with RaceDeck ramps.
---
6. Speedway tiles: great reviews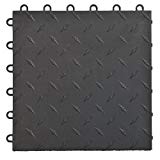 For about 2.50 per foot, Speedway makes a tile with a great reputation. The edge ramps and corners in gray and black are easy to find, unlike some other makers. It's a very good system that features more connectors per side. Free shipping.
The ramps and corners below are only compatible with Speedway tiles.
6 Connectors per side (24 total)
Good airflow underneath
11 colors, nice
Diamond texture (traditional look)
Copolymer resistant to oil, other auto fluids
Male edges (posts)
Female edges (receiver)
---
7. Ramp edging and corners
These edges for all 5 RaceDeck products above have either the female loop, or the male peg connector: not both.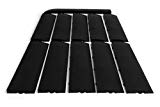 Choose from male or female edges here.
The package of 11 edges comes with 10 straight male or female edges and one with a rounded corner. It's a wise way to package this.
These connect to all RaceDeck tiles (#3 and #4 above):
Size is 12″ in length, ½" in width then sloping down to zero. If you want a nice border all the way around, you need both male and female, plus 4 with rounded corners (2m, 2f).
These edges are compatible with: RaceDeck, CircleTrac, FreeFlow, GarageTrac, and GarageDeck.
---
8. Bingo. Now, some tips:
Prep? Tiles all have a free-floating design: no glue.  You will have little to no preparation to do other than cleaning the floor of anything you don't want to trap underneath.
Got crack? Small concrete cracks can be left but larger cracks should be filled with concrete filler.
Cutting:  For the edges that need a trim, I like a jigsaw, but the table and circular saws work fine too. The blades hardly get dull at all! The "dust" is from the saw considerable, however. You can also try the utility knife, but I think this is more dangerous.
---
Garage floor coatings: Coatings include floor paints, epoxy paint, stains and sealers generally cost a lot less per foot than tiles if you apply them yourself. Both kinds of products protect against stains, corrosive chemicals (like road salts) and moisture penetration. But coatings can fail for two reasons: damp concrete and incomplete floor prep.
Also, coatings can't be used where ground moisture rises through the concrete and keeps it consistently damp. Moisture prevents the coating from bonding to the concrete, and the coating soon delaminates, chips, and flakes off. That's why it's critical to test your concrete slab for moisture before you apply a paint or stain coating.
See the series of articles on painting garage and concrete flooring, including this post on garage floor paint, which includes what other websites get wrong.
Summary
If the long life of even the best garage floor paint or epoxy or stain is not enough for you… and tiles are very easy to install. In the non-paint/stain and non-sealer areas, there are some good choices for your garage floor.
Ask anything in the comment section below. Good luck with your new garage floor covering: a smart choice.