Yes you can.
Painting vinyl is possible, but the prep is key.
And it's a lot less expensive than new siding.
There is a new paint I have reviewed here of Ben Moore's new vinyl paint called Colors for Vinyl, which has about 75 colors. Nice.
---
Clean very well

I recommend a pressure washer first, starting on the bottom level and working your way up (yes that's right).
Let it dry and make sure you have removed all mildew etc to create good bonding. You can hand scrub as well, whcih is of course going to be a better prep, but at the cost of many hours.
Let it dry completely and wait for a day with a dry weather forecast.
---
Priming?

Usually not needed. The paint I mentioned above is considered to be self-priming if you have done the prep of the vinyl properly. But if the siding is pitted or porous, yes you must use a very good bonding primer.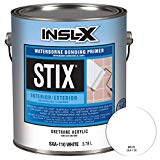 Color: one important point

Don't choose a color DARKER than the original siding. Ben Moore will not warranty their vinyl paints if you do, so you can tell it's not a good idea with any paint.
---
Painting finally

The fun part: but you have to do two coats for almost any exterior job. One will not cover and two will create a much tougher weather shield than one.
Don't apply too thick whether you spray or roll/brush. I roll and tip out the siding with a brush for quick jobs and spray and tip out the first coat (only) with bigger jobs.
Pick a dry day with temps greater than 40°F (4.4°C) and never paint in direct sunlight or when the weather is VERY hot.
---
Good luck. Let me know in the comments how your job is going!