Setting a nail is not brain surgery. But too deep and it's a problem.
This post has nail hole fillers and nail gun accessories too.
Basics
We have a video demo at the bottom showing how to set a nail and how to fill the holes. I recommend this set.
First, the basics;
Any sharp tool can be a nail set – anything that functions to hide a nail head by submerging it under the surface. You could grind an old screwdriver into one (it's been done).
Some finish nails that have an indentation in the head.
Other nails have flat heads so your must hold the nail set perpendicular.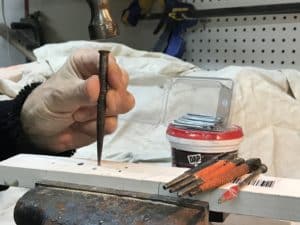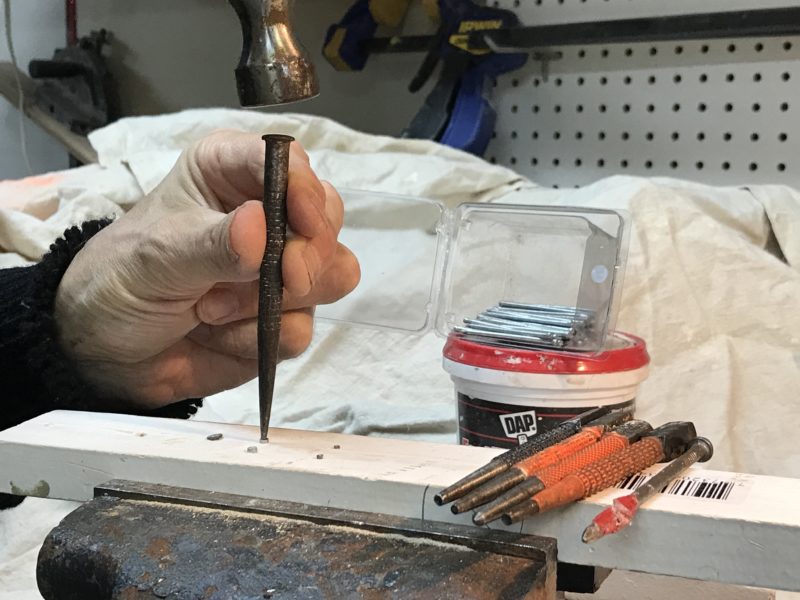 ---
How to use a nail set
Simply choose the size nail set that suits the situation (the Stanley set on this page has the only 3 you need).
Start with a light tap to be sure it won't slip off to the side.
Finish set with only much force as you need. Try to set the nail just under the surface.
Too deep and you have a hole so big that the putty or spackle will crack and need two coats.
Fill hole as needed.
This page has stainable putty, spackle, and also nail gun accessories.
Tip: leave a small mound of spackle to sand down. Putty will not be sanded so leave it flat.
---
Skilled users know…
Start with light taps to make sure your nail sett will not slip off
Hole fillers all shrink somewhat: the bigger the mass, the more it shrinks…and you have to fill it again

I knew a carpenter who thought a nail set tool was called a 'nail seat'. He knew it was wrong but…anyway, but his joints were always tight!