This is going to hurt. But in the end, you will be very happy. But it'll hurt.
First, background: how to lighten dark stain, a no-brainer
First, it's good to know how to darken a light stain. Then we apply that to the other way 'round.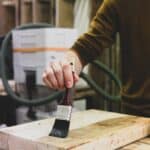 Strip the varnish or polyurethane if the wood has a layer, and simply apply dark wood stain as you would wood, Chuck. Do test carefully in hidden areas to see the final color as stains can be tricky.
Read below about strippers. No, paint strippers. Use this eco-safe stripper or if you have good ventilation and courage, go full-red-blooded-toxic-waste. Plus you'll want a selection of sandpapers.
That wasn't so bad, right? Send me before and after pics and I'll make you a star on the internets.
---
Diagnosis: what to do to lighten dark stain?
GOOD NEWS: you may not need to. Why?
Few people know that very old varnish (used a long time ago) will certainly have darkened over the years. The dark color you see may just be the varnish!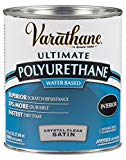 There is a stripper in your future, but not the kind you got at your bachelorette party. I'm done with Vegas.
Pick a hidden section of wood for testing. Use either an old-fashioned toxic paint stripper or use a modern, but less powerful citrus-based stripper. It may be that the actual wood stain is not as dark as you thought and you can simply strip the finish and re-coat with a modern product (that will not darken like the old stuff). Glad you came to bradthepainter.com now aren't you?
---
Dark stain embedded deep into the wood
Ok, you are sure that it's really dark stain and not just aged varnish. Sorry to hear that.
Ok, this is going to hurt. Do you like my bedside manner? Seriously though, really, this is really going to hurt.
Take a breath and hold it: You have to sand way down into the wood until you get past the old stain. Ok, breathe. Breeeeeaaaaaathe.
The only way to remove a dark stain from wood is to take out the stained wood grain. First, you will stripping all varnish or poly-whatever is on there (see above), and then you will be sanding the upper portion of the wood off and the dark stains with it.
Think carefully about what it will be like to sand in tiny corners, over and over and over. It's hard.
Use an electric sander and lots of fresh sandpaper. Don't go budget on the sandpaper. The good stuff is a much better value: it lasts longer.
Good luck…
---
Sometimes it's best to just paint over stain.
Ask me anything on any topic! Please use the comments below.