Pros own multiple guns for different gauge nails. And they have to last, so we buy the best brad nailer, best trim nailer, etc on the market…highest quality for the money that is.
Everything on this page ships for free and these are the best prices I found.
Trivia—Old School: What does 'gauge' mean in the gauge of a nail? Google can't help you now. Try it. You old guys are smarter than Google. The answer is just above our video at the end. Only the old pros will know.
Short List: Best Overall
Our favorite brad gun is this reliable Hitachi brad nailer—for us fans of the electrics. (Hitachi is now called "Metabo", it's true).
This high-quality nailer won't disappoint. Like most Hitachi guns, this brad nail gun comes with a lifetime warranty—nice.
If you already have a compressor, then a pneumatic gun nailer is the best value and we recommend this one, at an amazing price.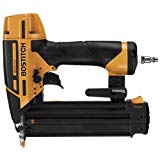 Also, see our favorite Combo Kit: compressor and guns together are a really good deal for pneumatic fans. But…
Not sure if you should buy a Finish Nailer instead? Read here the differences between a brad nailer and a finish nailer.
Tip: Most carpenters these days are giving up on pneumatic and going electric, even if they have a compressor. They're just better.


All the brad nail guns on this page have the best features:
18-gauge brads for lightweight trim or softer wood trim, e.g. door stops
Very small holes, sometimes need no hole filler
Length brads: min: 5/8-inch, max: 2-inch
"Anti-dry-fire" feature (prevents accidental shots)
Tool-free jam release: all new models have this
3-year warranty (others are noted)
Belt hook: a must-have (many are reversible)
A window showing nails left before re-load
Not all have bump or sequential firing. They should.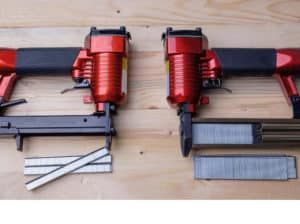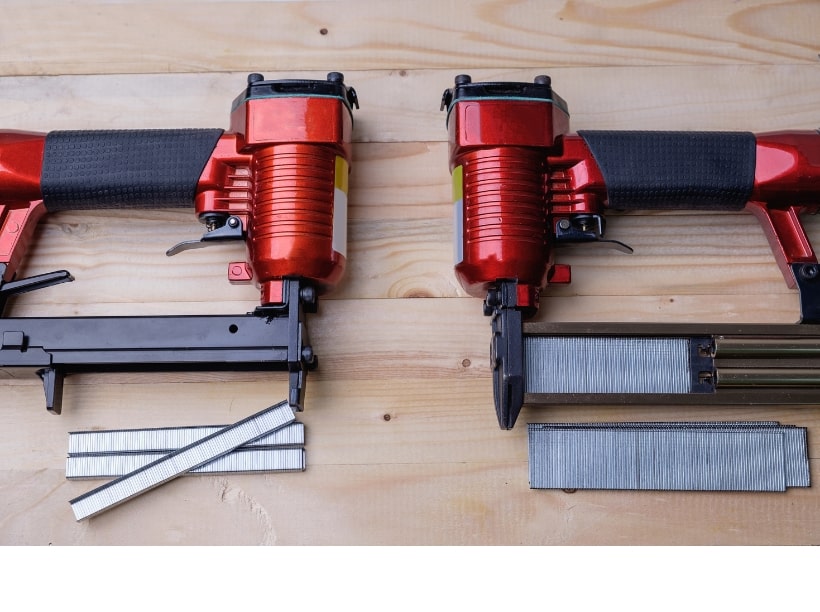 ---
Best Brad Nailer –

Electric

Cordless
(These have batteries. Hate batteries? Jump down to corded electric brad nailers.)
Best Brad Nailer Overall
Hitachi (Metabo HPT) Lifetime Warranty
Bump or sequential
Lighter battery with more power than others
Over 1,500 nails per charge: wow
Depth adjustment knob
Recoil like pneumatic (same spring as pneumatics)
LED light
The lifetime warranty (which means as long as they make parts for it) and the zero-ramp-up time sold me on this. It comes with a flashlight (they share one battery) and safety glasses all in a carry bag.
Best Value
Dewalt 20V Max XR Cordless Brad Nailer (DCN680B). Extra features are worth the extra money. Check our best value here, excellent ratings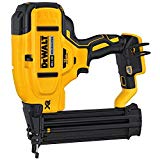 Bump or sequential
Battery protector: shuts off before totally drained
The tool alone is only 4 lbs.
Belt hook is reversible: nice move Dewalt
Very small nose
Brushless motor: important in an electric brad nailer
Depth adjustment
A lower price than the Hitachi, and it means lower quality, but we all know DeWalt is a great US company. This tool comes with a 12-volt car charger which pros will like and has a battery charge indicator LED which every power tool should have. Really good reviews.
---
Most Versatile Brad Nailer – Electric
Porter-Cable 20-Volt Cordless Brad Nailer (PCC790LA)
Bump or sequential
Depth adjustment wheel and window
Choose 1, 2, or zero batteries (all Porter Cable 20's work
LED lamp
No better price on a quality cordless brad nailer
Great value for the price as you can see here.
Shoots 1,300 nails per charge which is really good in the lower price range. I called P.C. to ask what it means to have an 'error indicator' (why did I have to call you, PC?). It means that it has 2 flashing modes: one means jam, the other 'low battery'. A nice feature. Great customer service
---
Brad Nailer –

Pneumatics
If you want, or already own a compressor, these guns are your best value. (See the combos below too).
Best Brad Nailers, Pneumatics – tied for first
Hitachi (Metabo HPT) Brad Nailer (NT50AE2)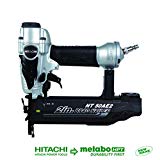 Bump or sequential
Only 2.2 lbs.
Adjustable direction exhaust vent, – 360° – very cool
Straight magazine that is bottom loading – nice
Comes with glasses and a hard case, but most of all it comes with a 5-year warranty. Nice. It just lacks the air duster feature (we use these in dusty shops), but this tool is a lot for the money. This gun also is part of a Hitachi (Metabo) Combo Kit.
---
Best in Class – Pneumatics – tied for first
Bostitch Brad Nailer: 'Smart Point' (12233)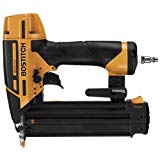 About 30% more money than the competing tool above
Bump or sequential
Up to the longest brads in any brad gun available: 2+1/8
Depth dial
We liked the narrow nose on this gun for accuracy and the fact that there is no need to add oil: this is nice. Comes with a case and extra tips that are supposed to not mark your work-piece.
---
Budget Best Brad Nailer for the Money
Wen 2-in-1 Brad Nailer (61721)
18-gauge (3/8 to 2″)
60 to 115 PSI
Depth adjustment wheel,
Rotatable exhaust
Quick-release  magazine
nose latch easy to clear jams
You may not have heard of WEN, but they have been around. This particular gun sells a lot and people give very positive feedback. Nothing fancy but amazing price and about 6000 excellent reviews at the time of publication.
---
A Budget Model Wins our "Most Versatile Award": 
The budget choice is also an excellent brand in nailers: the Wen 18-Gauge shoots flooring staples and brads up to 2".
WEN 18-gauge Pneumatic Flooring/Brad Nailer/Stapler (61741)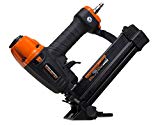 Tip rotates for either for floor and trim
¼-inch wide staples from ½- up to 1+5/8-inch
Brads from 5/8- up to 2-inches
Depth adjustment wheel
Adjustable air exhaust
Comes with hex keys, and oil
Seems obvious but why buy a special gun for flooring? WEN does a good job generally and this tool will last…but for the price, I'd probably stick with Hitachi etc, and rent a big boy flooring nailer when I lay a floor, which is, never. Comes with a case.
---
Honorable mention:
Corded guns and combo kits
Best Brad Nailer: Electrical corded
Hate batteries? Rodger that. No brainer: we picked the DeWalt as the best-corded brad nailer.
Dewalt 5-in-1 Multi-Tacker and Brad Nailer (DWHT75021)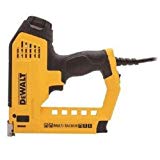 18-gauge staples and headless brads
Power adjustment dial
Loads from the bottom like a stapler
This is a no-frills tool, but we always grab it first. Of all the electric tools out there, I have learned to go with the cord: never loose power, never wear out a battery…but you have to deal with the extension cord. See our 'new' tool list for an extension cord with 2,000 perfect reviews.
---
Budget Best Brad Nailer – Corded
Arrow guns have been around since the earth was formed. Very trustworthy.
Arrow Fastener Heavy Duty Electric Nail Gun (ET200)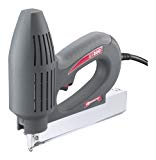 Must wait 3 seconds between shots 🙁
Up to 1¼-inch brads
Max rate is one shot every 3 seconds. A safety switch is nice for the turkeys in the office. A 10-foot cord helps: mine is only a few inches. Size matters. Don't rub it in.
---
Best Nailer Combo Kit
Porter-Cable 4 Piece Combo Kit (PCFP12234)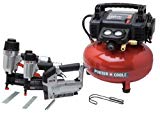 There are other companies also, but this is the best deal:
Under three-hundred bucks – cool
25 ft. hose
3 guns: 2-inch max brad, and 2½-inch finish nailers and a 3/8-inch stapler (¼-9/16 inch staple lengths)
The two nailers have same depth adjustment as all the PC guns.
The 6-gallon tank, oil-free should be able to run 2 hoses at once at 150 p.s.i. You're set for life.
(This tank alone is below as our best budget compressor.)
---
How we picked: Best Brad Gun In Each Class
Durability. Reputable high-quality nailer brands ONLY. With cost/value a big consideration
Nailer depth adjustment (we prefer to be able to set this manually).
Brushless motors preferred on electrics (read about why on Wikipedia).
You won't find a Ryobi brad nailer or anything else by Ryobi here: Why? Read what the pros say: language warning!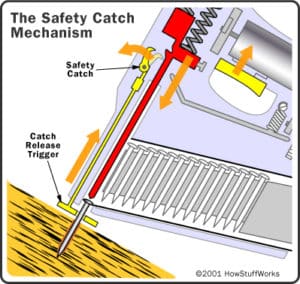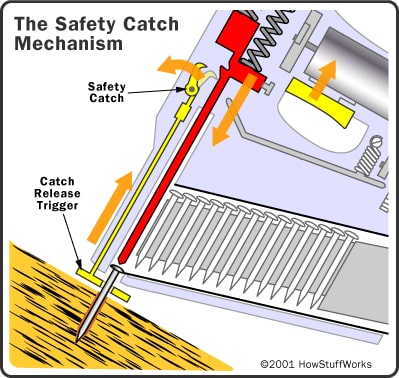 ---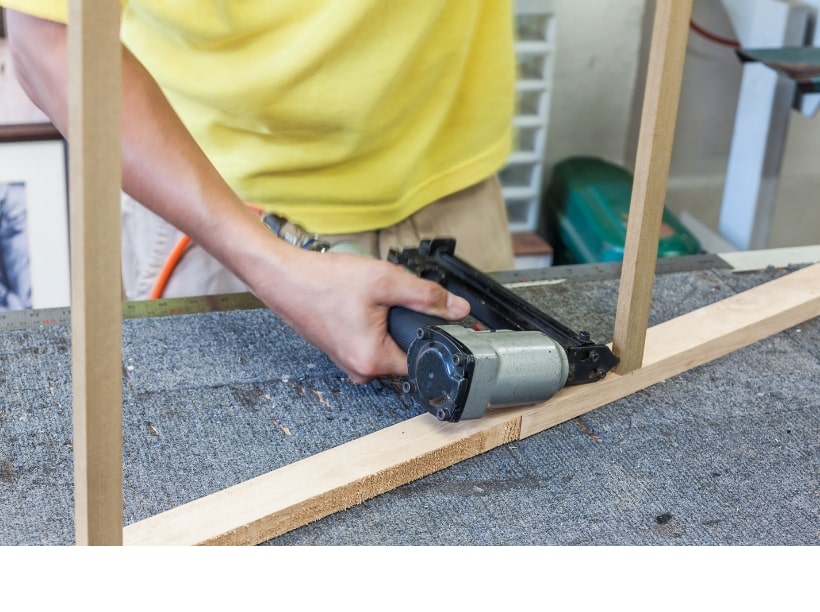 We don't receive any compensation from any manufacturer of any product we recommend. If you click on an Amazon link, we get a small fee BUT IT DOES NOT COST YOU ANY MORE!
---
*Metabo HPT is the new name for Hitachi, so the products listed do not have many reviews, but the old ones we list here are all favorites and time tested. They make the best brad nailer and many other great power tools.
---
That's it, did we leave anything out? Let us know in the comments.
---
Trivia Answer:
If you can lay 23 nails side by side in one inch, you have 23-gauge nails. I had a dog and his name was … Bingo.
Here is my short video on nail sets and how nail gauges are named.