Painting or staining old concrete? this post is for you and your old concrete floor/wall.
Painting, water-based staining or even epoxy coating old concrete is no problem: just clean and go. Read about painting concrete here. Here is my list of the best concrete epoxy coatings, 2-K and 1-K. These are all suitable for basements, and each one states if it is suitable for a garage.
Water-based concrete staining? That's below, and you acid heads: the rest is for you!
---

Can you stain old concrete?
Yes, old concrete can be stained, even very old concrete can be acid stained. Older concrete has given up some of its mineral content over the years, and will not acid-stain as well, no matter what prep you do, but even new concrete will acid stain unevenly by design.
Also, please be aware that blemishes/spills, etc on your floor will not take color evenly as they would with paint: just camouflaged somewhat.
You should also know if it is too moist to treat: read this to test it.
How to remove old concrete sealer is just below the general prep section:
Prep Concrete for Stain
What to use to clean concrete before staining?
A pressure washer is very useful here, sort of essential. But if you have a powerful spray, just remember that any area that is cleaned more than a nearby area will take the stain differently and show up in the end. This 2000 psi Sun Joe is the one I will buy next (if my old one ever dies), but there is also a great 1740 psi for 60% less cost.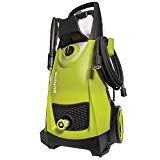 With concrete, you don't need to get too close with the tip. I never use the 'fan' tip that comes with all washers. I use this rotary tip: it prevents too much pressure in one spot and gives an even treatment.
Prepping New Concrete
This is fairly easy: wait a month for it to cure, wash and apply your coating. I've written all about that in the related links at the bottom of this page.
Sealed Concrete
There are three ways to do remove an old sealer:
using a remover solution (how-to is described below)
by acid etching and
by grinding
If you plan to do acid-staining, the only option for you is the removal solution-solution. Acid etching and grinding remove the ability of concrete to react with acid stains. For water-based stains, it's pretty much the same situation, but water-based stains do have some acrylics that sit on top of and bond to the surface.
The sealer will only be in the top 1/16 inch of the slab, but that is an important layer of the concrete, and you need it all.
If you had no choice and had to grind off some of the top layer, either go with water-based stains, concrete paint or if you are still married to the idea of acid stains, you could randomly grind sections so the problem area will not be as noticeable.
This may be a deal-breaker for staining acid staining concrete. If this is the case, go for a nice concrete paint.
Painting? Here are the steps for how to paint a concrete floor.
How to remove concrete sealer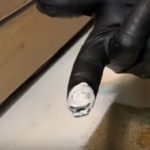 First, test the old sealer so you know what kind of sealer you have to remove (unless you did the work and you actually remember).
For this, you need some xylene. Try to borrow a cup from your neighbor, but if you know you have a solvent-based sealer to remove. This is useful to have around and a quart is almost the same cost as a gallon. For this, get some good chemical (nitrile) gloves.
Pour a ½ cup of xylene on a test area
Allow the xylene to sit for 30 seconds and then wipe any liquid still there.
Touch the area with your skin
If the concrete is sticky the concrete was sealed with a solvent-based sealer.
---
I like Aqua Mix sealant remover
You can grind the concrete to remove the top layer which contains the sealer: no good for acid-staining later
Acid etching is not an option if you are acid-staining but fine if you will paint.
Removing a solvent-based sealer
Wire brush any obviously peeling areas
Wipe on xylene to remove the previous sealer
Work in sections you apply it to in a couple of minutes
Let it sit and react for about a minute or two, then…
Pressure wash (a.k.a. power wash) well
---
Your go-to tool: a good pressure washer
This is an amazing tool—you can wash your car/deck/house etc. It also removes paint and old stain from structures like walls and decks before you re-treat them. When I have to remove paint, I can do up to 95% of the prep with it, oh yeah.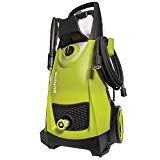 These machines don't die. Ever. I'm trying to kill my cheap electric after 10 years of professional use! I want you to die, Mr. Bond.
---
Grind off the goop? Not the best idea if staining.

Chewing gum? Paint drips? More? It all needs to come off.
Grinding is fine if you are painting or applying epoxy. Some concrete is unpaintable though, so do the moisture and pH tests if you are in doubt. Many slabs are over moist earth and stay very wet. All concrete is somewhat wet all the time, but most can be painted.
For water-based stains, you could grind sections randomly, then you would have a more uniform look…but it's not ideal.
Are there concrete patches? These will not take up the satin as dark/light as the rest of the floor and may ruin the look that you want.
---
Related:
All my posts about concrete, including paint, stain, tiles
Preparing concrete for paint or stain
Testing concrete for moisture and alkalinity