We wanted the best pin nailer we could get for the money: we looked at everything and have been very happy with the selection: it's not brain surgery, Mr. Abbey Normal.
In construction, we mostly use the pin nailer to hold a workpiece in place to let the glue dry: so you can send your helper to go get coffee!
Bet you don't know: 23 gauge means you can fit 23 nails side by side in one inch. Old school carpenters knew that. Well, old anyway.
Short List: Best Overall
Electric, a lifetime warranty: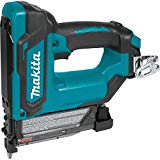 We really like all of our Makita tools. This Makita 12 Volt wins the cigar.
Pneumatic:
Read my other reviews:
Just so you know: Most folks these days are giving up on the corded pneumatic and going electric, like Dylan at Newport '65.
All these 23 gauge pin nailers on this page have:
min: 5/8-inch, max: 1+3/8-inch pins
23-gauge, delicate wood
Uses: pin gun is mostly to hold work a small piece in place while the glue dries
Very small holes, usually need no hole filler
"Anti-dry-fire" feature (prevents accidental shots)

Hitachi is now called Metabo after the German company (short for metal boring, the name for a drill)

Tool-free jam release: all newer guns have this
3-year warranty (others are noted)
Belt hook: a must-have (many are reversible)
A window slot showing nails left before re-loading
Disappointing that there are no top-quality makers offering pin nailers with an angled feed, but since pins are usually just used for holding your piece in place while your glue dries, it's tolerable
---
Best Pin Nailer —

Electric
Makita 12 Volt (TP03Z )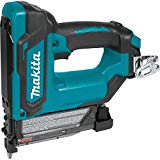 Shoots 6 different size pins
Up to 1+3/8 with depth adjustment
Pricey and does not even include battery
but this is the big dog of all the tiny best pin nail guns
Makita makes a better one (the XNB02Z), for about a hundred and twenty bucks more, but it has worse reviews than this one! So that one did not make our list of the best pin nailer reviews. This is a Makita. Has one ever let you down? Not us. Comes with safety glasses as if you don't have enough! Tops the list of all-electric pin nailer reviews. There is nothing else in its class.
---
Best Pin Nailer —

Pneumatic
Porter-Cable 1-3/8 Pin Nailer (PIN138)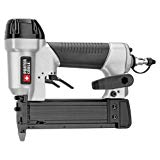 Oil-free
Auto-depth adjusting
Belt hook for Lefties and Righties
Comes with a case
The Porter Cable 23 gauge pin nailer is a professional tool and others agree: the buyer reviews are great. There is a lady in this video using this tool, or a very similar P.C. It comes with 2000  pins which is a nice start.
---
Runner-up —

Pneumatic
The Hitachi (Metabo) Pin Nailer (NP35A )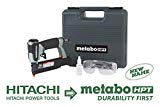 Bump or sequential mode
Rear exhaust (not positionable)
Depth adjustment
Comes with 2000 pins
5-year warranty
Comes with safety glasses and hardshell case
For about 25 bucks more than the above,  you can have a Hitachi 23 gauge pin nailer which we feel is one of the best nail guns on the market, but we placed it 2nd because the P.C. above does all we need. That said, this may be the highest quality pin nailer in its class based on the maker's reputation.
---
Low Budget Pin Nailers
Electric — just don't exist for less cost than the above Makita TP03Z.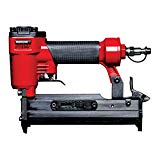 Pneumatic — Don't Laugh. Arrow, yes, Arrow Pin Nailer (PT23G)
Adjustable exhaust cover keeps air blast from causing damage
Only ½ to 1-inch pins, very limited
Price is unbeatable compared to other well-known brands
---
How we picked the top pin nailer
Obviously, we look at price and value, but our tools have to show a history of durability.
We only want tools from reputable high-quality makers that we know. Sorry to say, but these off-brands from China do not hold up.
Modern motors have a brushless design and we prefer that for longevity when it comes to electrics (read about them here).
We will not consider the Home Depot brand "Ryobi". Why not? Read what the pros say: it is not good. Still, I do have a small screw gun from them that still has power after many years: but I'd never buy it again.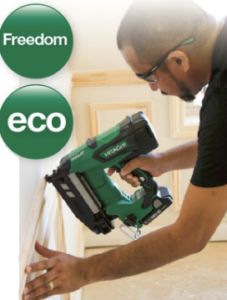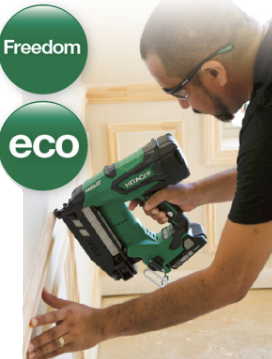 ---
Watch a very nice lady showing her favorite pin nailer. A non-commercialized video for a change. Jump to 3:30 to see how she uses it.
Brad nailers: We have other posts for the best brad nailer (just the 18 gauge guns).
Framing nailers review: the high-quality framing nailer (which of course includes electric, pneumatic, and gas canister—and more.
Finish nailers: My recommendations for the top finish nailers (15 and 16-gauge nails) for different budgets too. Finally, we also have a post just for the accessories and nail sets we all need, like pneumatic combos, etc.
---
Opinion: The old favorite maker of nailer guns of all sizes, Hitachi, has been sold to the German company Metabo HPT. So we have to get used to a new name for Hitachi. Don't be fooled by the low number of product reviews: they changed the model number and name, but the guns are still the same, and if anything are better now.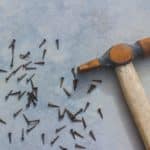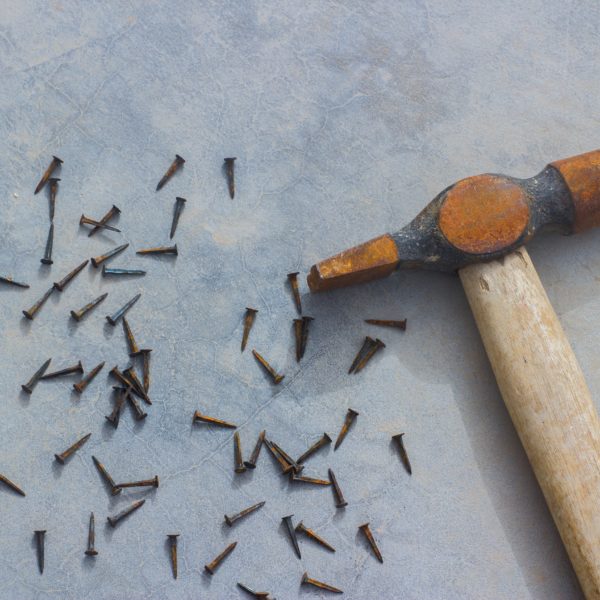 We still feel that Metabo is the maker of the best pin nailer, period.
---
That's our review of the best 23 gauge pin nailer scene. We kept it short by overlooking the nice Bostitch pin nailer and the Dewalt pin nailer, but all of the above click for us. Pun intended. Would you like to see something else? Do you feel we left out the best pin nailer that you know? Let us know in the comments.  Thanks for reading, Bob.
Dylan goes electric: They booed everything else but they sang along and stood up with "Like a Rolling Stone".