We did a ton of comparisons to come up with this list for the best finish nailer in both the electric and pneumatic classes, picking the best in quality and value.
If you had this in mind as a gift, we have a list of recently invented new tool gift ideas for people that are good with their hands.
Quick jump list:
---
Short List: Best Overall
Electric: a lifetime warranty – nice
Pneumatic: the top-gun has a 5-year warranty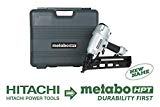 If you are not sure if you should buy a Brad nailer instead, read here our comparison of a brad nailer and finish nailer.
Tip: Most carpenters these days are giving up on pneumatic and going electric, but don't boo and walk out, like they did to Bob Dylan when he went electric.
---

Other nailer posts:
All these finishing nail guns feature:
15- or 16-gauge nails for trim (a.k.a. "finish nails")
Min: 1-inch, max: 2½-inch nails
Uses: interior trim such as door frames, hardwoods, thick plywood, MDF
Length nails: min: 5/8-inch, max: 2-inch

Hitachi is now called Metabo after the German company (short for metal boring, their name for a drill)

"Anti-dry-fire" feature (prevents accidental shots)
Tool-free jam release: all new models have this
3-year warranty at least (others are noted)
Belt hook: a must have
A window showing nails left before re-load
---
Electrics 

— Best Finish Nailers (both 15 and 16-gauge)
---
Tied for 1st—

Electrics

—

15 gauge

finish nailer
Dewalt Finish Nail Gun: 20-Volt Max (DCN650B)
This comes without the battery: Most folks will want two to never be left hanging and the best deal is here,
and the charger which you will find here.
Angled magazine
Brushless motor
Bump or sequential modes
LED for battery status AND a LED headlight, cool man
This tool was designed in heaven…
but made in the good 'ole USA.
---
Tied for 1st—

Electrics

—

15 gauge

finish nail gun
Metabo HPT (Hitachi) 18-Volt Lifetime Warranty (NT1865DMA )
 Angled magazine
Brushless motor
Bump or sequential modes
Depth adjustment setting
Lifetime Warranty (not including battery)
LED headlamp and LED battery indicator
Hitachi gives us a reversible belt hook (for us southpaws), which is nice, but what makes this tool great is the zero ramp-up time: rapid-fire comes in handy. When you shoot, it has a recoil like a pneumatic finishing nail gun (same air spring drive) and gets…wait for it…1,000 shots on a charge. Nice.
---
Best Finish Nailer—

Electrics—16 gauge

nailer
The Made in the USA Dewalt 20-Volt Angled Finish Nail Gun (DCN660D1)
Love the tool-free depth adjustment, tool-free jam clear
LED light blinks code for low battery, jam, etc.
Comes with a bag
Beats the runner up below because of a better price (slightly less quality though)
The big boys toys. You see this in every carpenter's truck.
---
Close Runner-up—

Electrics

—

16 gauge

nail gun
Metabo/Hitachi 18-Volt (NT1865DM)
Only 7.3 lbs with a battery attached: very light
Can shoot nails as small as 1-inch: most are 1¼"
LED light for dark spaces
Bump or sequential modes
Lifetime warranty (not the battery)
Zero Ramp up time
For about 100 bucks more than the Dewalt above, you can have Cadillac quality. Like the 15-gauge Hitachi cousin above, this gun has a recoil similar to pneumatics because they use the same air spring drive as in the pneumatics. It can shoot 2-3 nails PER SECOND – wow. For a finishing nail gun, this is very good. We just wish it had an angled magazine…oh well. Comes with a bag (normally 43 bucks alone) and safety glasses.
---
Pneumatics

— Best Finish Nailers  (15's and 16's)

Tip: Pros all have this: a small palm nailer. If you have a compressor, why not? Great for when there's no room to shoot.
---
Best All-Around—Pneumatic—

15 gauge

trim nailer
The hands-down best gun is on so many job sites… New name!
The Hitachi (now called Metabo HPT) Angled Finish Nailer (NT65MA4 – new version)
Angled magazine
Air duster
Bump and sequential modes
Depth adjustment dial
Adjustable direction exhaust vent – 360°
Comes with safety glasses
Hardshell case
This is the big dog on the street: it has all the features lacking nothing. Well, it's a bit pricey, but should really last, so I was sold. The downside? Dragging the hose around, but still, this finishin nail gun is your new right hand.
---
Runner Up—Pneumatic—

15 gauge trim

nail gun
Makita 34° Angled Finish Nailer (AF635)
Angled magazine at 34°
Air duster
Bump and sequential modes
Depth adjustment settings
Adjustable direction exhaust
Comes with safety glasses
Requires 34° nails, available here
I used to only buy Makita and was not ever disappointed. They have a lot of competition, but this gun has a lot of ju-ju. The angle is the sharpest of any gun made anywhere, so that helps a lot in tight spots. Actually comes with a real hardshell case, like the old days.
---
Best Finish Nailer—Pneumatic—

16 gauge

nail gun
Hitachi 16-ga Finish Nailer (NT65M2S)
Bump or sequential modes
Shoot nails as small as 1-inch: most are 1¼"
Depth adjustment dial
Adjustable direction exhaust vent – 360°
Replaces the NT65MA4 16-gauge (same tool body as 15-ga above)
Again, the longer 5-year warranty of Hitachi a.k.a. Metabo is a winner for me. This finishing nail gun is light…only about 4 pounds, and like the electric cousins of the family (shown above), it shoots shorter nails than most (most start at 1¼-inches). Comes with a case.
---
Gas Canister—(

16 gauge

nailer)
There is only one name and you already know: the Paslode 16 gauge Angled Finish Nailer (902400)
Angled magazine
Only 4.5 lbs.
6000 shots per charge, wow
Lightweight
Battery (for spark) can come from zero to 80% in 3 minutes: amazing
Case
Still the king. Probably on more job sites in history than any other. It's light, fast, and this generation has upgrades that Paslode says makes it easier to use than the previous generation. We'll be the judge of that, but the jury is not expected to be out for long: it's the one.
---
How we chose the best finish nailer for each type
We only looked at reputable high-quality finish nailer brands. Of course, cost/value was a big consideration.
For the electrics, we lean toward the new style of brushless motors preferred on electrics (read about why on HowStuffWorks: easy read).
We don't recommend any Ryobi finish nailer or anything else by Ryobi here: Why? Read what the pros say!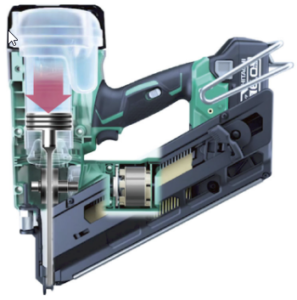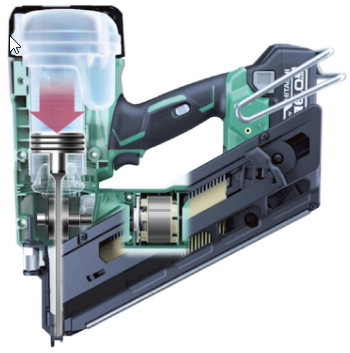 ---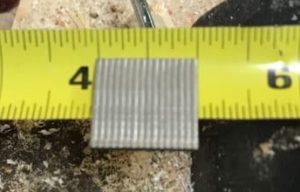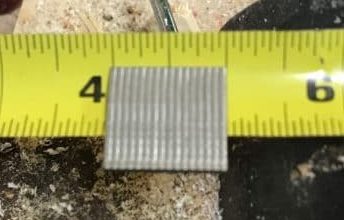 I think my finish nailer reviews are what people are looking for…hope you can find the best finish nailer that works for you.
---
"Metabo HPT" is the new name for Hitachi since the Japanese sold it to the Germans. The products listed do not have many reviews, but the old ones did and they were very good. On the builder chat rooms, nobody disrespects Hitachi. They make the best finish nailer on the market for sure.
---
My most read review is for the highest quality brad nailer (just the 18 gauge nail guns).
---
For a quick non-commercial video of how to use a finish nailer, Bosch has come through.
The Woodworkers Guild of America has a website too.
Nail Gun Safety CDC guide is well worth the read. So many ER visits with nail gun accidents.
---
We have other nail gun reviews for the best brad nailer (both 15- and 16-gauge nail guns) and for the best framing nailer (which includes gas canister, roofing, and so on. There is a post on the best pin nailer (shoots 23 gauge pins), and finally, we have a post just for the nail gun accessories like nail sets, with some pneumatic combo sets, etc. that we all need.
---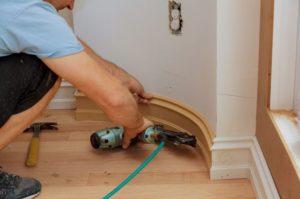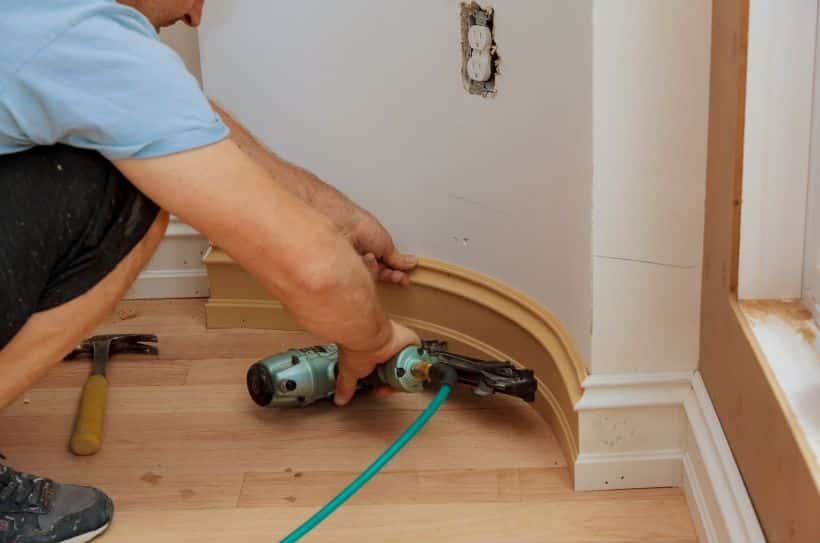 So that's it for our finish nailer reviews. Did we miss anything? Let us know in the comments. Thanks!
Have a look at staining the nail hole filler below.