Here's when to acid wash or grind, when not to, and how to do concrete etching by grinding or by acid wash.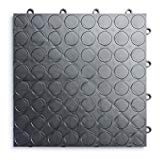 Mechanical etching, a.k.a. grinding is easier than acid etching in some ways, plus you'll own a nice grinding/cutting tool for future work (it's what we prefer).
Alternates? Also, consider floor mats or interlocking tiles if you are put off by this sometimes messy work. Lots to see at the bottom.
Key point: failure in floor coatings is almost always due to insufficient prep.
When not to acid wash or do concrete etching:
Most of you folks will fall into the lucky category: you won't need etching. How do you find out?
You only need etching if…
your floor is too smooth to grab the paint/coating, or if…
if it fails the absorption test, or if…
you have a laitance problem (you must grind).
It's all below.
---
Test me:
"Profile" The first test is easy: look, feel. Most builders do not trowel a floor very smooth, but some builders do. You want it to be like 80 to 100-grit sandpaper or so. Etching will create this if the concrete floor was trowled very smooth.
"Porosity" Next, do the water drop test. Pour about 1/4 or 1/8 cup of water on dry your concrete floor. If the slab turns dark immediately and water absorbs quickly (in under a minute), you do not need etching because the concrete is nice and porous for the paint/coating. (Read about other methods of moisture testing here).
"Moisture" This is not a test about etching or not, but we need to include it here. All concrete is always wet to some extent. Painting cement is a bad idea if it gets wet from below or from any direction. The same page just linked above has the moisture test. Actually, there are several you can do yourself.
---
One time for sure that grinding is better:
Laitance is when the top layer of concrete is weak or soft. You would not want your coating to bond to this as this is not well bonded to the concrete below.
You also may see very fine cracks.
This is just a cement top layer that is left by water bleeding up when the troweling was done. Do you see concrete dust on the surface? That's a sign too.
Grinding the concrete will remove this whereas acid etching on the will not. The acid will take out some and leave the surface rough.
Test by scraping the surface hard sharp tool. Good concrete will not leave much of a mark: test several floors around your area and you'll see the difference.
If you don't take this layer off, then eventually you'll have peeling layers.
---
Caution: Muriatic acid is diluted hydrochloric acid (HCl). Handle it with great care. Remember high school chemistry? HCl is the one your teacher kept locked up!
---
HOW TO: Concrete etching by acid washing
Begin this sequence after the complete cleaning and removal of all paint drips, oil, etc, as best you can. The acid will not clean up oil. We use TSP and some less nasty alternate cleaners as discussed in this post, under "Final Cleaning".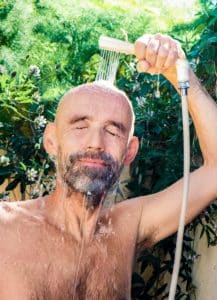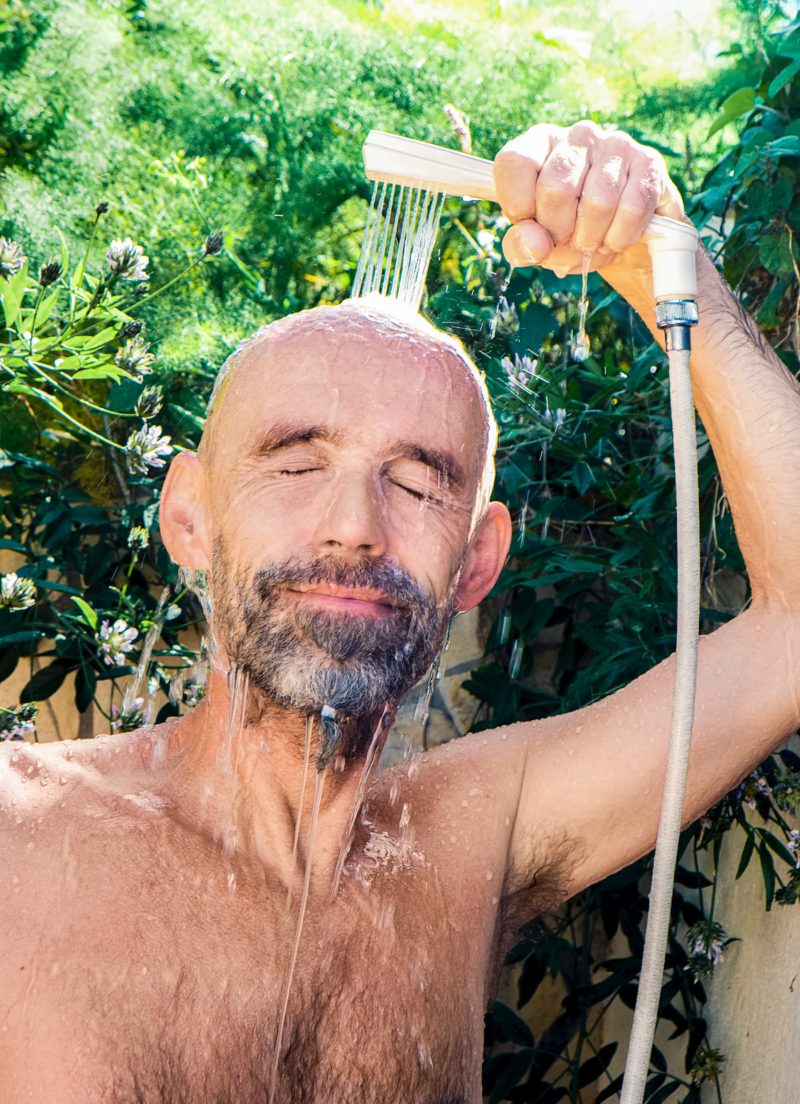 Mask off walls, posts, or anything you don't want to splash acid on with plastic and tape (the stuff we use is on our main tool page.)
We used to use muriatic acid which is toxic of course. One gallon does about 500 ft². for concrete etching. See the State of California's warning on muriatic acid at the bottom*. Wear the same respirator we do! Very reasonably priced.
A green product: green-friendly solution which claims that it gives the same result as the acid wash concrete etcher.
If you go with muriatic acid wash for the concrete etching, remember: never pour water into acid, only add acid slowly into water (the other way can propel acid at you). There is heat expelled and acid will jump at you!
One gallon of mixed solution will do about 50 sq. ft.
Open windows in the room, and put on rubber or nitrile gloves and other protective gear: wear that respirator, and goggles etc.
How to Mix: 3:1 water to acid? and some say 10 to 1? Do some testing and when you see some bubbling in the concrete, that's it. Violent bubbling is too acid-rich. Here is what we do:
In general, we mix 3 parts water to 1 part acid. First, we test the strength needed by first mixing a small solution at a 5:1 ratio. Applying it to a test area of pre-wetted concrete, if it does not fizzle right away, we need to increase the strength accordingly.
Use a hose to dampen the floor, not soak.
Uniformly pour out, or should we say, "Like hey man, drop some acid", on the floor as per the directions and push the solution around with a scrub brush that works with a painter's pole or broomstick. A garden watering bucket is useful to spread it evenly. You can scrub on hands and knees, but this brush fits on a broom screw pole to stay off your knees. Here are my knee pads. Thank you, thank you, thank you.
 Let it fizz from a few minutes up to 15 minutes, and don't let it get dry: add more solution in sections that go dry.
Rinse the acid wash (don't use a pressure washer – it can drive the acid into the slab). Rinse two to three times with water. This will deactivate the acid (and this also removes the particles you don't want to leave behind). A ShopVac that is wet/dry is really helpful here. You can use rags (you really must wear chemical a.k.a. nitrile gloves linked above.) If your floor has a drain (that really works—do a test!), this will be fastest if it is not a violation of local codes. You can also use a mop and bucket.
Does it feel like medium sandpaper now? No? Repeat the process.
When done, but while still wet, use some pH paper to check that the rinse water is not acid. You have to rinse until it's at least neutral (7.0) or above (alkaline).
After the concrete etching is done, let it dry completely. Keep a powerful fan going and a window open, even in winter for dry air (a dehumidifier is even better). Having a blower shown here will have any surface dry in hours, not days. You'll use it so many times—thank me later.
Drying may take days, depending on the weather.
* Muriatic acid warning: "This product can expose you to chemicals which is [are] known to the State of California to cause cancer and birth defects or other reproductive harm. For more information go to www.P65Warnings.ca.gov."
---
HOW TO: Concrete etching by grinding
We called Benjamin Moore's helpline to see what they prefer: acid or grinding.
Answer: grinding.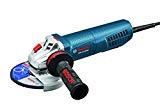 We don't rent the big boys' floor grinders. The right stone head is never in stock. We prefer our angle grinder combined with a diamond edge grinding wheel. For about the cost of a floor grinder rental (links below), you get to keep the tool in the end.
The two products shown is what you need.
Go slow at first (test in spots) until you get the even motion: just take off only the concrete that you must, and try not to leave gouges. You want to remove about 1/32 or 1/16 inch so use a light touch. (The big machine does this so much better, so there is a vote for renting).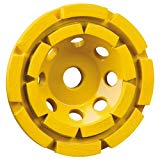 Remember the 100-80-grit feel that you are aiming for. Practice getting that first in a test area.
Rental info and links
We dug down into the rental world for you. Using United Rentals, a Fortune 500 company, (who have been gobbling up all the small business owners over the past decades). They rent a machine for about 130 bucks per day plus you have to rent grinder stones for another 26.
These work great, but we still think owning a machine is better, even if it is much slower: you will have decent resale value or if you keep it, use it for removing paint, shaping metal, etc.