First, a simple test if you are not sure what kind of paint it is, then we show how to remove paint from plastic: both latex and oil. You probably have what you need at home now.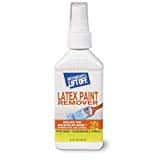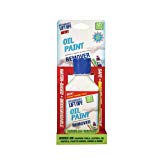 The go-to product (something we should all have around the house) is Motsenbocker's for latex paint and for oil paints (both shown). Mr. Motsenbocker, is there anything you can't do? How to know what paint you have it key.
---
Is your paint latex or oil-based? Test it:
Latex will become gooey when exposed to certain solvents.* Acetone is the best way to tell if dried paint is latex (most nail polish removers have acetone), but rubbing alcohol will also dissolve latex, just more slowly. Video of me doing this test is at the very bottom.
How to Remove Paint from Plastic (Without Damage):
Put on some gloves.
Rub acetone or alcohol on the paint in a test spot and keep it wet for a few minutes. Don't get acetone on the plastic (it may melt).
Not gumming up? It's oil.
Gummy? Latex.
The video at the very bottom shows what it looks like.
Latex?
If latex, go to the post just about removing latex paint: you are the lucky ones.
Oil-based (alkyd)?
1. Is it still wet? Keep it wet! Apply the paint's known solvent right away if you can. Not sure about the solvent? Start with paint thinner (mineral spirits). Lighter fluid and gasoline will work too.
Wear gloves!
As you wipe, the thin residue will dry fast: don't let it: keep it wet with paint thinner or even cooking oil until you can get the full clean-up going.
Don't use a cloth with much dye—it leaves a mark!). Other solvents listed below.
Wash hands very well if it touched your skin:
Don't be a cowboy, John McClane…Yippee-Kie-Yay it slowly seeps into your blood.
2. Has it dried up? Let's start with what we have around the house, then we'll look at some solvents and paint removers (and stock up for next time). That old paint remover is now illegal for good reason. Read the Washington Post about new law from the EPA, or you can it on the EPA's website.
• Always do a test spot for each method to see if the solvent harms the plastic (or any surface) underneath.
Use a tool to scrape off what you can: choose a tool that won't scratch the substrate.
Tru cooking oils, motor oils, WD-40, etc, — these work best if the paint has only recently dried. It will just soften paint for easier removal.
This eco-safe stripper claims it can remove 30 coats of paint at once: we have used strippers like this and it works, but slowly. Keep it thick and wet to keep it working.
Motsenbockers' Lift off for oil-based paints linked above is an old standard.
Citrus based gel paint removers (shown here) do work, but slower (and safer).
Shocker: eucalyptus oil worked! We add this to laundry to kill dust mites etc. Oh, how we love this stuff. Me-love-you-long-time. Pricey.

〉〉 From here down, wear gloves, eye protection, & respirator! The complex world of respirators is simplified here.
Paint thinner — let soak, then remove with a tool. We prefer odorless thinner, ah.
Alcohol— will not work for oil-based paints, but will for latex.
Nail polish remover, linked above. It's just acetone— let soak, then remove with a tool. This is likely to damage the plastic.
Acetone — let soak, then remove with a tool (use the link in #9). This will damage most kinds of plastic.
Lacquer thinner: very flammable! — let soak then remove with a tool. Warning: this can melt plastics.
Old-fashioned paint remover: nasty but effective. I'd not use this unless the above methods fail.
Heat Gun — Go ahead, make my day. Fun to use? Sure but…keep it moving to avoid melting the plastic. Really made for removing paint from metal, but this is your .45 Magnum, the most powerful handgun in the world, Clint.
We have listed scrapers and all the basic painting tools in one place.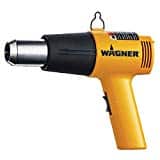 SOLVENTS: Most of these are toxic so you will need to wash your hands well if you touch it. Don't delay.
---
Important Safety Warning: How to remove paint from plastic if the paint contains
Lead
Before removing old paint, make sure it contains no lead. Did you hear that it causes irreversible damage to the brain, liver, and kidney? With this kit, you can take 5 samples, send them into the EPA approved lab and the cost of the lab is included in the purchase. I've looked at other kits that have hidden fees.
Removing lead paint? Wear the respirator on this page with the purple, circular filter: the 3M 2097, Organic Vapor Relief. Take that lead and transmute it into gold: pays for itself.
How to remove paint from plastic or from anything, if any lead paint is present: wear a good respirator mask: read about my respirator: it's cheap insurance. Also…
Read from the EPA about what professionals are required in "abatement projects in pre-1978 target housing and child-occupied facilities to be certified and follow specific work practices."
I ruined a collector's item once because I guessed at how to remove paint from plastic: it turned a G.I. Joe bald. I hope this all helps.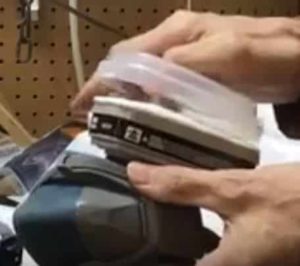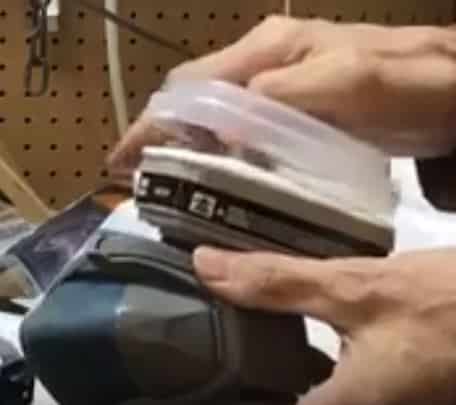 ---
Finally, done? Wash skin over and over with lots of soap to get any chemicals off.
Did we forget something? Let us know in the comments if you have some concerns or insight as to how to remove paint from plastic or how to remove paint from anything of any kind. Thanks!
---
How to Touch-Up Paint In 4 Steps (mostly deals with walls, but gives some tips)
How to Remove Spray Paint (From All Kinds of Surfaces)
How to Get Spray Paint Off Skin (with Home Remedy)
How to Remove Latex Paint: Dry or Wet (Painter's Rag Trick)
The first of 2 videos below show the tests we ran.