Act fast but be safe:
Latex paint spill
You must act while it's still wet, and it's likely that latex can be removed from almost any surface.
Do not let the edges start to dry (permanent damage)
Spray, sprinkle, etc with water, and even cover the spill with plastic or cloth and wet the cloth
Scoop up as much paint as possible
If you have a wet/dry vac, suck up all you can
Use a rag to mop what's left
Even on parts that have started to dry, soak them and slowly pick away: it WILL all come off.
A pressure washer is key for big outdoor paint spills on concrete or brick etc.
Dried parts of a paint spill will stain clothes, carpet. You can use Goof Off on most dried paints to remove paint spills.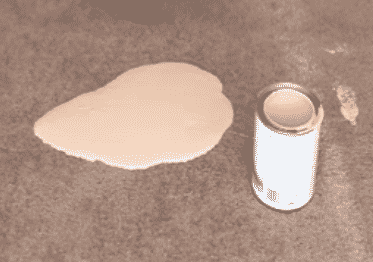 ---
Oil-based paint
Same as above but use paint thinner, or even gasoline or lighter fluid.
If you don't have these solvents, keep the spill, especially the edges from drying, and go get some paint thinner.
---
Pressure washer caution
Be sure to get a pressure washer with a rotating tip (works with the Sun Joe linked above) so as not to damage the surface you are cleaning: some jets of water can ruin some surfaces.
---
Your paint spill cannot be as bad as this one: