It's easy. Today there is no need for the toxic latex paint remover that we once bought. In fact, the old ones are now illegal, thank you EPA. Oil paint problems: See this post.
Still wet? Jump to #2 below.
1. Latex Paint Remover: dry paint
For removing paint in small spots, the go-to product, the industry standard, is of course Goof-Off. Another honorable mention is Motsenbocker's Lift Off. All painters carry one of these, always. Wet, wait, wipe. 
Home Remedy: Water, "the Univeral Solvent". Keep the dried paint wet for about a ½-hour then scrape with a plastic knife sort of thing, but not metal. See how soft it is after an this time? The spray solvents above will be MUCH faster with not much scraping (just wiping).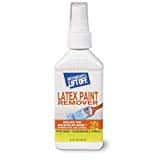 Goof Off and Motsenbockers have the reputation of not leaving a residue on the substrate, but if you have paint on a sensitive surface, do a test spot first to make sure.
Refinishing and stripping lots of paint? Use a big-time latex paint remover:
Heat Gun: From my cold, dead hand, Charlton. This paint removing heat gun to use, but don't start a fire, this gun's for hire, said Bruce never. Paints melt under this heat and you can scrape it easily as you go. You really should wear a respirator. Read my post: I simplified the crazy world of masks and filters.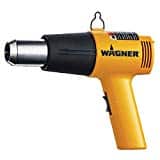 Nothing working? Go Ballistic.
The Nuclear Option: Jump into the toxic paint removers: they sure do work well. Protect yourself and your family: wear eye protection, skin protection with nitrile gloves, and of course a chemical respirator. The mask I wear is explained in a short post, (same link as just above).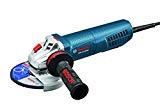 Toxic paint removers would be your old-fashioned 100% sure-fire best paint remover for metal and so on. Stripping paint from metal and wood could be a combination of methods including a drill attachment or a variable speed grinder (shown) with the awesome 3M Sandblaster pads shown just below.
Here is a video of how the pad is installed on the grinder.  There are many types of pads for 4½ – 5-inch grinders and most tools come with assorted washers for a good fit. Not all grinders have the same threads so you may need the adapter kit for this pad. Not expensive and handy since you will probably fall in love with a diamond cutting wheel later on.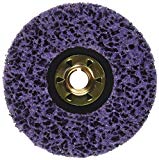 Paint Strippers: Insert your own joke here. I'd like to suggest that everyone uses this VOC-compliant stripper. (VOCs are volatile organic compounds: this is the cause of some cancer.) In the old days, paint strippers were not at all eco-friendly like this one.
This paint stripper is reported to remove 30 coats of paint at once. Let me know if you don't love it (in the comments below). I once used this citrus product which works, but it's slower (and safer).
Lost faith in latex paint removers? You may not be trying to remove latex paint. Could it be oil?. Watch this video to learn the test.
Caution: You know that old paint stripper lying around? The EPA has made it illegal. Below we have safe options.
 Important note on LEAD PAINT below. 
---
2. Wet Paint? Easy to remove
It's easy to create clean up with a nice sharp edge if you goof when painting indoors or outdoors.
Cover your scraper with your dry rag and wipe a bit (we don't use a cloth with strong dyes as it leaves a mark).
As you wipe your line, with each swipe of the rag/knife, slide the rag a bit to expose fresh cloth.
See how the line is totally clean and sharp? Just don't let the wet paint on the rag make more mess! That never happened to me 🙂
This is demonstrated in the first video, below.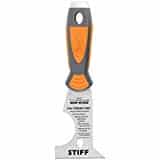 The #1 tool and 'right-hand' of a painter is the 6-in-1 multi-tool removes/hammers nails, cleans rollers, and more. It's the key to the painter's rag trick in the video below.
We have other posts on removing paints (links below).
Floors? Some floors STAIN when in contact with latex paint. Try rubbing alcohol as a paint remover, and if not, try items in the list of latex paint removers above (also see the last video about flooring).
---
Make Sure You Are Not Exposed to Lead Paint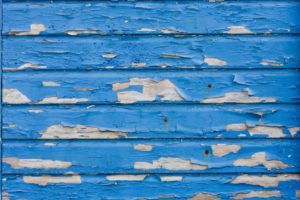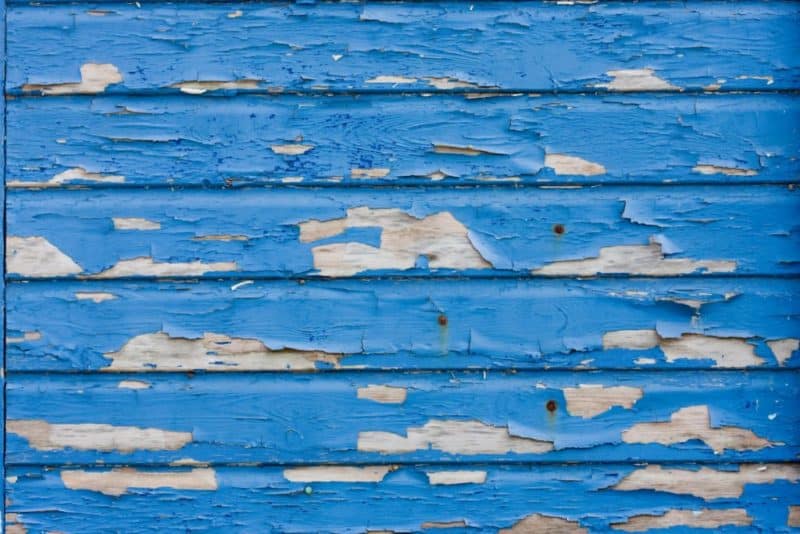 Old paint very possibly has some lead. We all know that it causes brain damage. Here is a test: take up to 5 samples, with this lead paint test kit and send them into the lab (EPA approved). The lab is paid for in the price of the test kit. There are no hidden fees.
As always, we wear a respirator when creating dust: cheap insurance. The WebMD website on using paint remover for paints containing lead.
How to Touch-Up Paint In 4 Steps (mostly deals with walls, but gives some tips)
How to Remove Spray Paint (From All Kinds of Surfaces)
How to Get Spray Paint Off Skin (with Home Remedy)
How to Remove Paint from Plastic (Without Damage)
Let us know in the comments if you need any help!
There is one case when I did not know how to remove latex paint: some 'click' flooring is stained by latex paint… I failed to get the stain out. I might have used acetone or other nasty solutions if I had had time.