This post is on the paint and the project, but…. Here is the post on how to apply the movie projector screen paint.
About 300 clams. Behr for 30 bucks per quart? Don't you go there, girlfriend! See why the Home Depot paint is not what it claims below. It contains no metals.
Why spend this money? This movie screen projector paint makes your movie image far better than just some white paint. And Behr movie projector screen paint? It's not what they claim. Surprise.
I've read other websites discussing this: they didn't do their homework! They will now.
 The paint I recommend below is a bit expensive but well worth it. It's astounding: you'll see the difference right away. Yes, the shipping is high, but it's all worth it.
Here is the skinny:
Easy as any paint to apply, but not for beginners
Key point is to have a very smooth surface
Always apply 2 coats (rolling is typical but spraying is fine)
I recommend 4K ready movie projector screen paint (soon all projectors will be at this resolution).

---
Short buyer's guide
Why not just white wall paint?
Oh, it matters. Specialized projector screen paint is 50% brighter than a pure white wall. They contain a choice of minerals such as quartz, some silver, etc.
Movie projector screen paint reflects the images very well, whereas other paints are designed for different reasons: reflecting is not one.
Home Depot's 'Cinema Screen One-Coat' is a movie screen projector paint? Bunk. This is just to get market share. There is nothing in this paint that does what real movie projector screen paint does. I mean really, "purple/lavender family"?? It's vinyl. It has no metals or minerals. Sometimes I oughta….
My movie projector screen paint below has a metallic mix the dries very smooth, unlike wall paint.
Regular wall paint has vinyl, i.e. plastic and it's all a blur. You won't be happy and you'll repaint, and in the end, you spend more than the (yes, high priced) screen paint I recommend below. But it's one and done. And stunning.
---
The screen is attractive even when you're not using it. It calls you. "Please watch City Slickers again? I'm on VACATION!"
---
Why is my recommendation better? Because there are metals in all (real) movie projector paint. "Silver screen".
Bottom line: Even if your movie projector is older, you should get a paint made for modern, high contrast 4K projectors. Your current older machine and whatever you get next will both look great.
The makers of the paint I recommend below have thought of all the factors, so you don't have to.
In an article in Homes and Gardens, they ask if a home theatre increases your home's value: "If you are serious about setting up a home theater that's truly impressive and functions just as well as a movie theater, expect to pay from $5,000 upwards – more typically between $10,000 and $30,000. For a really luxe finish, expect to reach at least $50,000."
Obviously, it's a big plus when selling your home, but I don't think you need to spend all that money. Invest in a great projector (see bottom) and spend the few hundred for a great screen. Done.
---
Cost of the project
The best part: far less money than fabric.
The paint and all new (quality) painting tools will be about three hundred, with over two hundred of that being the movie projector screen paint including shipping.
A good fabric projector screen can cost 15,000? Wow. Curved screens are WAY more.
Still, this is a bit pricey for paint but gives a picture comparable to those screens. Plus no size limits.
---
Three best movie screen projector paints today
A great little movie projector paint company Paint On Screen has three excellent products available … and Amazon has the best price I could find. Don't let the 250 clams fool you: it's worth every penny. I chatted with the owner of this paint company when writing this post.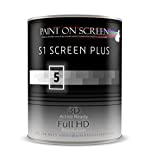 WHICH ONE? The three main choices are
Radiant White: 1.2 gain
Digital Theater White: 1.4 gain
S1 Screen Plus: 1.5 gain
Think of 'gain' as brightness. More gain for rooms with windows, outside light. Darker rooms can be lower gain.
The Radiant White would be best if you have a dark room.
---
These Paint On Screen paints have an anti-glare sheen that gives maximum brightness with no reflections "hot spots". Even regular 'matte' wall paint shines a bit.
Any of these 3 from this maker will be fine for home theatre use
Designed to reject most ambient light
Neutral grayscale
Can handle very bright "TV" set up
Lasts forever (see 'Maintenance", below)
All are not toxic like the old paints: they have low VOC that meets California Prop. 65
Of these three paints linked above, I don't think you'll be able to tell the difference and they all cost about the same (about 200 after shipping). Still, all three support up to 4k HD Resolution.
---
"S1 Screen Plus" is the most used in home theatres. S1 Screen Plus has the best contrast and depth and does support the 4K if you have or will someday have that. It just costs about 20 clams more than the others.
How much to buy?  More below in "Shopping List", but one gallon will provide you with enough paint for 170 sq. ft (one coat or 85 sq. ft. if 2 coats).
From the company:
Particulate size, binder density and leafing properties are all designed to reject ambient light.
For any pixel resolution including 1080p, 2K, UHD, 4K and 8K
Lasts a lifetime
Water-based and low VOC
Here is my post on VOC's in paint
---
Primer? Any water-based primer in white is okay to use with Paint On Screen products. A primer should be used with new drywall or over old surfaces that have any imperfections, and medium to dark colors. My view on primer: always.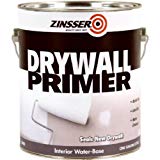 Just always.
No risk of unhappiness this way.
---
Borders: Two types
I use this paint for a flat black border: you can make a wooden frame or not.
Felt tape, 2 inches wide: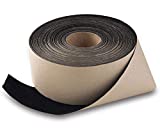 Do the math to make sure you buy enough. This felt tape's width is 2 inches. It is a bit noticeable when you are NOT watching a movie, but looks great when you are. If you want to do it differently, use black ultra-flat paint.
---
Maintenance
Dust the wall with a  feather duster when you do any cleaning. Never a cloth as that will drive dust into the paint.
Touch up stray marks by finger painting. See? That private kindergarten is paying off.
---
Don't forget the post on how to apply the movie projector screen paint.
---
The best projectors for 3 budgets
Simply the best: Sony is making the best projectors today, but the prices are …. if you have to ask…
Sony Home Theater Projector VPL-VW295ES
It's is the Ferrari of projectors.
Don't check the price, just add to cart with blinders on. Match it with the soundbar at the bottom.
---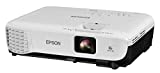 Mid-Budget: For people who work for a living, a mid-budget being in the area of about 600-700 clams, the best reviews are for the Ben Q.
Epson VS250 SVGA, HDMI 3LCD Projector
They say it's for 'everyday' needs. That's me.
---
Low Budget: For me and you other savers, splurge with: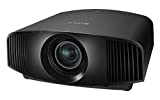 Sony Home Theater Projector VPL-VW295ES
You won't really find these high on the list of home theatre sites greatest lists, but it's still a fine machine.
---
What's a great picture without great sound. This is my soundbar:
Alexa, make it swing. Nice.
---
Readers' Unusual Ideas
Both ideas below will be heavy, so maybe add some handles just above the middle for carrying.
Frank writes:
Don't want a screen painted on your wall? Make a portable screen. A 4×8′ (a 107″ diagonal) high-grade plywood (or MDF which is even flatter, but softer) is very smooth on the "A" side.
Prime with drywall primer (assuming no tree 'knots' which need a stain blocking pimer) then sand and paint as above.
Henrietta writes:
Want it big? Construct a frame from drywall sheets that come as 4×8 and can be joined just like any wallboard.
Thanks to everyone for their help.
Comments below. I'll see you within a day.
If you buy anything on this site via Amazon, I get a small finder's fee but you don't pay any more! Thanks!