The most expensive hand tool is not necessarily the best hand tool. Looking at the reputation of the maker is important. The country of origin is key.
Almost everything here was made in the USA, and if not, I checked it out for you. No prob.
There are over 30 great ideas below.
Which brand of hand tools is the best?
The top hand tool brands today are all made in the USA:
Channellock (Lufkin)
Klein
SK
Crescent
Stanley
Proto (and Blackhawk)
IMPORTANT:
Some makers of hand tools claim to be an American company. That means the headquarters are in the US. Often they make tools both at home and abroad, and you have to dig to find out where your tool is being made.
All of these companies offer some form of a limited lifetime warranty on the hand tool.
---
In this article, I review some of my favorite new ideas , as well as some traditional best quality hand tools being made today (all with free shipping)!
We have all seen it: low-cost tools made with metal from China, (sorry but it's true), break and even shatter when put under high stress: the work they were created to do. These budget companies use a lot of 'white metal', a weak mix that is very low cost to produce.
1. Best Mechanic's Hand Tools. All made in the USA. Why go anywhere else?
Value is what we want: a lifetime tool is made from quality steel and high-grade plastics.
Tool owners that I know are fed up with the tools from China that break the 1st time you use them.
---
Crescent Tools' Vise Grip Set
Please don't be tempted to buy Irwin Vise Grips, although they seem to have the market cornered. Irwin is now made in China.
This set will be your go-to pliers for life.
Who doesn't prefer a pair of vise grips to regular pliers? Almost always a better choice.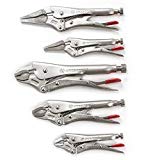 I have the 5-piece set, but I could probably get by with only 3. The long 'needle' nose on the extra two tools really comes in handy. These have a wire cutter included now as well. Nice.
The curved jaw is really important in so many applications. I had a set of Chinese vise grips with rubber-coated handles but I found that that slipped around under strain.
Crescent is a venerable old company. How venerable? "Hand me the Crescent wrench", applies to any brand of or adjustable or combination wrench. Like 'Kleenex' for 'tissue'!
---
Channellock tongue & groove: the best of the best.
Channellock, founded in 1886 is still made in Pennsylvania.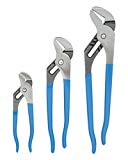 This 3-piece straight jaw tongue and groove set is a set for life. Heat-treated for resilience. The teeth are very sharp and are cut at 90° angles so bolt/nut/pipe does not slip.

12-inch
9.5-inch
6.5-inch
These are the ones you think of first, you know the ones you used yesterday. And the day before.
Workers call any kind of channel locking (tongue and groove) pliers "channel locks", even if made by another brand.  Simply the best.
---
Plier Set from Channellock: it's all most of us need
All but the two large pliers are spring-loaded. This makes it so much easier to use in delicate situations.
See this cool set from Channellock: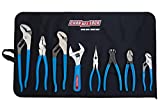 What's in the box?
Too many to list!
Pricey but a great gift
The spring-loaded tools feel good in the hand and you don't have to use an extra finger to pull it back for another grip. Whoever invented spring-loaded pliers: I could kiss you. Not like that.
---
Detour: Channellock's extra-wide adjustable wrench appears in a 'new tools' post on my website.
---
Klein Stubby for confined spaces 
Try this small driver, for confined spaces: ratcheting with 4 bits and 2 drivers included. (More bits shown below).

We need these to get into tight areas where both a screwdriver and drill will fail to reach. This tool has perfect ratings, as most Klein tools do.
Comes with:
#1 and #2 Phillips

1/4-inch and 3/16-inch straight

1/4-inch and 5/16-inch nut drivers
Here, the rubber-coated handle is VERY important for tight spaces. This has a new feature that the shaft holds bits that are not in use: nice. You could get by with a non-ratcheting tool in confined spaces, but this makes the work less frustrating: no moving your hand around the tool.
Comes with a few bits, but see section 5 below for a much more complete set that works with all kinds of screw-guns and driving tools. Note: the 'square' bits they list are what we know as "Robertson".
Klein tools focus on electrical and utility and are maybe the single top tool marker still made in the USA (Chicago-based). Every old Klein tool I have still works like new.
---
Klein Folding Hex Key (Allen wrench) Set
These won't snap in two and the tips won't get mangled when you really need to turn hard.
Square cut ends so they don't slip out. Thank you.
Has the most common eleven key sizes: 1/2, 3/8, 5/16, 1/4, 7/32, 3/16, 5/32, 9/64, 1/8, 7/64, and 3/32 inches.
I chose this over the competitors because it has more keys and not to mention the Klein quality: it won't mutate.
---
2. Toolsets: for pros and homeowners. All Made in the USA.
Feel the pride in holding and using high-quality hand tools.
Note: steer clear of 'toolsets for women'. They come in pink and look nice but are of low quality from China. A lady deserves a quality set of tools!
---
A very basic toolset from the top name in hand tools
This is a very reasonably priced set and in a well-organized case.
Look at this basic toolset from Crescent: great USA quality.
Available in:
30-piece
84-piece
170-piece
---
Stanley toolset
Stanley basic kit, designed for 'homeowners' but it's for pros too.
It comes with a nice selection of driver bits. This is a simple, all-around kit.
My rule: always buy quality tools because low-cost tools tend to chip and snap just before you start swearing!
This Stanley has an amazing rating. I recommend it very highly. This set is perhaps the best hand toolset for the money.
Stanley is probably the most well-known hand tool brands still making great tools.
---
3. Carpenters' Hand Tools. All Made in the USA.
Disappointment from money-saving deals eventually we all come to the same conclusion: buy the best quality hand tool you can afford.
---
Carpenter's combo square: with a new twist
There is a metal scribe stored in the handle so if your pencil breaks… you can mark your spot.
The photo on the product page does not show all the features (see image below).
Metal. American steel. Enough said.
See this updated combo square by Lufkin (Crescent).
Lufkin is now a company under Crescent and therefore also under the Apex Group.
In this blow-up, you can see the level (green).
---
Contour / Profile Gauge: what a great invention.
This cool tool lets you duplicate any shape for re-creation. 
This metal tool has very thin, rust-proof pins and a ruler along the edge.

I have the 10-inch and for a few extra clams, I'd highly recommend bigger being better.

It is able to reproduce exactly any contour that is too irregular for a compass-triangle combination.
I'll use this hard when laying my new floor. I am reading how to copy the shape of a guitar neck: cool. Is there anything it can't do?
I have had good luck with General Tools products.

General Tools started in 1922 in a hardware store in NYC. Still made in the USA. Update: one review says they are made in China. We can't be sure, but it feels like quality.
---
Great new inventions: New Type of Clamp
Create a clamp of every length with just a 2×4.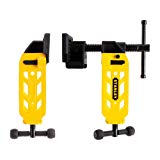 Stanley quality. They sure come up with great new tool ideas.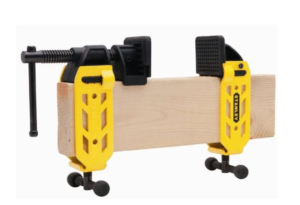 ---
Crescent square: a new twist
The orange overlay folds out to create a straight edge twice as long as the tool. It's a nice new touch. It removes the need for larger squares in many situations.
The edge has notches to make your mark quickly.
Made from aluminum, so very tough, and light for the work belt. Thank you once again, Crescent.
See this awesome new speed square.
---
Rockler
12-inch

Woodworking Vise: top of all workshop gifts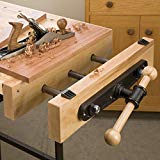 Relatively easy to install but requires woodworking skills! You have to make the faceplates from your own wood, and they need large holes (more just below).
To finish the faceplates, you need to drill six 1-1/4″ holes, so buy your spoon bit now too.
This has rapid action and the 2 support rods make the long jaw close perfectly parallel.
The 13-inch span (before you add the wood jaws) is mounted on 12-inch on-center guide rods.  See this PDF to make sure this rather large vise will fit under your bench.
Hardwood handle. The benchtop, where you mount it, should not be less than 1¾ inches thick.
Not provided are #12 wood screws.
I looked high and low for a USA-made woodworking vise. None. Zero.
I found lots of Chinese ones for not much money. Fool me twice, shame on me.
Rockler has been made in Michigan since 1908.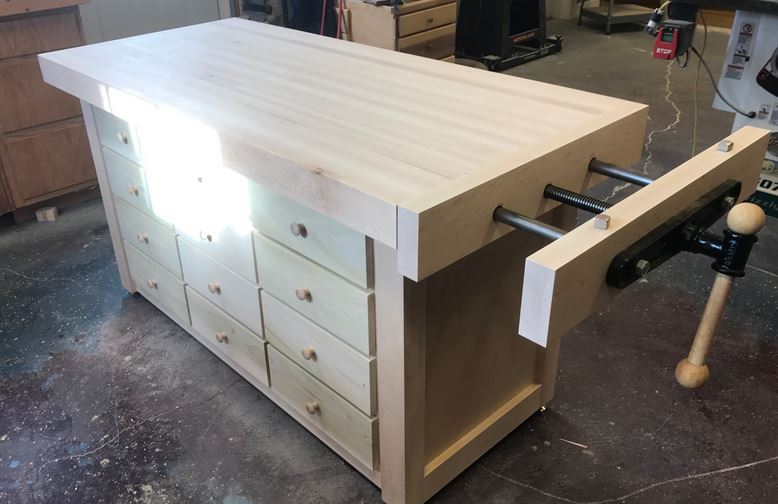 ---
Japanese Precision Suizan Saw 
Traditional precision hand saw, very sharp, for very accurate, clean, narrow, smooth cuts.
There are many other fine saws from Suizan, but I highly recommend this folding saw to protect the teeth.
This comes with a 2nd blade guard as when it is folded, one set of teeth remains still exposed. They thought this out very well.
Hundreds of perfect ratings.
Great workmanship from a great tradition of sword makers.
This particular saw also has a longer blade than most: 9 inches, compared to 5, 6, or 7-inch blades.
Made in Japan at the old factory in Sanjō.
Arigatō gozaimashita.  ありがとうございました
---
Digital Level that beeps at level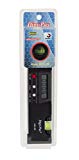 Yes, it beeps. This updated level will soon be the one and only type any carpenter will use.
Hold button can freeze the display for other than leveling applications.
This digital read-out level is so easy to work with because it sounds off when it's at 0°, your eyes can stay on your work, and you never need to look at the level. A great addition to this new age in tools. No brainer.
Magnetic base comes in handy too. Easy to re-calibrate when measuring the relative angle between two surfaces. Wow, cools-ville.
---
Bosch laser distance meter.
Extremely fast and accurate: errors of only 1.8-inch in 65 feet? Great.
There are other models for greater distances, but this baby will do almost all anything a typical builder might need.
Technically it is infinitely long if the laser line can be seen, which I have found to be as long as my house.
The memory recalls the last 9 angles you measured.
Mount and magnetic to hold on saws etc.
Comes in 3 lengths, but the small is the best deal because of the laser line.
Much more accurate than the apps in modern phones that work with an image.
Needs two AAA batteries (included, yes).
---
Magnetic Tool Belt: a new twist
The new part? Magnetic exterior to hold metal things like screws, tools, etc.
Great design and is surprisingly inexpensive.
The reason I use these rather than a technician's belt is that it's quick to put big tools like screw guns in and also to get them out quickly.
Seems to only come in black now.
---
My favorite of all these:
All-Terrain Vise: fits on your trailer hitch!
Every builder wants this, but nobody knows it exists.
Fits in your car or truck's trailer standard 2-inch hitch receiver (most vehicles)
There is another maker of this style, but it costs more and has lesser ratings
Includes hitch pin
Swivels 360°
Whoever thought of this portable heavy-duty vise should win the Nobel Prize for tools.
---
Rotating 6.0″ Vise from Wilton, the unquestioned best name in a bench vises.
Wilton does make some but not all vises in China: This one is made in the USA. "Made In USA" is cast into the steel.
Lifetime warranty
Hardened steel, of course
120° swivel base with 2 lock-downs
Anvil in rear
Option to buy jaw plates of rubber, fiber, v-shape, copper
It's nice that they provide different options for the jaws, especially the rubber face. I'm always protecting my work with two blocks of wood that limit what I can do by size and are difficult to mount.
American-made is really worth the extra money and lesser models are a safety risk. Edwards tools (that own Wilton) are made in the USA. Wilton Tools has been making clamps and vises since 1941. Based in Clevland: rock on.
---
Stanley Chisel Set 5-Piece Set
One of the few chisels still not made in China. These are made in the UK and are awesome.
They come very sharp and you can get that edge back with a little sharpening skill.
This awesome set comes with ¼, ½, ¾, 1¼, and 1½ bevel edge tools.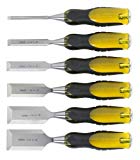 shatterproof polymer handle
carbon alloy steel (ball bearing grade steel "EN31")
steel striking cap
blade guards come with (not shown)
You will never need more than these 5 chisels unless you do specialty cabinet carving etc.
Tip: keep your edge with a good sharpener (see just below).
---
Work Sharp Tool Sharpener
For your finest kitchen knives or for your yard tools and everything in between. I have started using mine to sharpen my drill bits.
The grinding mechanism is not stone, but more like very tough sandpaper belts of various grits that leaves a razor edge. Extra belts are available on the same product page.
I'm so glad I bought this several years ago. Friends bring me their knives now, and I do that favor.
---
Old-school whetstone: 2-sided
No oil needed: you wet the stone with water only: this is the old way.
Both 1000 and 6000 grit on a non-slip bamboo base.
Thousands of perfect ratings: wow. This is the real thing.
These quality stones last for decades.
This comes with instructions, but it's probably easiest to watch this video of a master teaching the art.
---
Punch me
This hole maker is much like an ice pick tool but much stronger than what a bartender uses. We use these to find studs through drywall and so many other hole punching duties.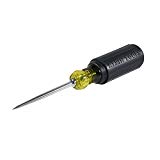 I don't actually have this particular Klein awl, but I had an old screwdriver with a broken tip, so I ground it down to an ice pick point. Look and buy at Klein's tool here.
This awl has a very low price for the quality you get. Surely it will never break. But stop calling me Shirley.
Klien Tools founded in 1857 still makes them all in the USA. Great company as discussed above.
---
4. Smart, Quality Toolbox System. Made in the USA.
Dewalt offers mix and match: they all clip together and you can even buy the trolley.
There are choices for auto/van racks, mobile cart trolley, and of course stationery shop racks.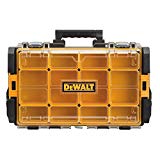 This page has all the components of the system.
Click on any of the 11 options. I want all of them right now.
Any box can clip to any other. What a great system.
Dewalt may or may not be giving free shipping right now, but Amazon does.
Note: Milwaukee has a similar toolbox system, but I don't buy Milwaukee products anymore. I had a cordless drill that failed in less than one year.
---
5. Misc fun gadgets and accessories.
I bet you didn't even know some of these new items existed. Neither did I.
---
A bit of fun
A quality DeWalt screwdriver bit set that works in any hex tool or screw gun.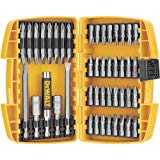 These are very tough and don't chip or break under heavy loads.
Choices of:
14-piece
45-piece
80-piece
Also included is a magnetic bit holder which helps to hold the screw in place when inserting or removing. This one breaks my rule and is made in Mexico, but I have found DeWalt to make a strong set.
---
Clamping Power Strip
Clearly not a 'hand tool' but I could not resist adding this great device.
A very smart idea in new tools: Clamp your power strip where you need it. What a relief.
Pivoting rubberized grips grab on to just about anything. See this invention by Stanley—its quality.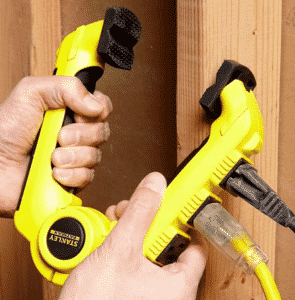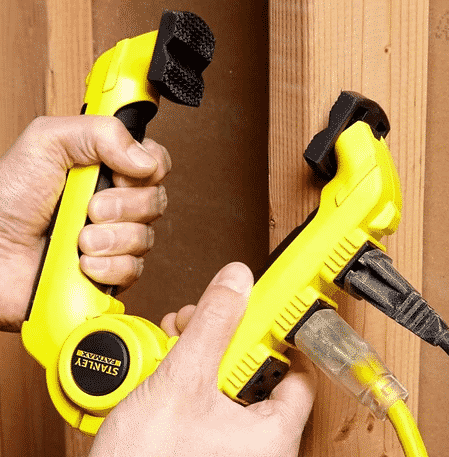 ---
Magnetizer for screwdrivers and bits
Sometimes you want a screwdriver or bit to be magnetic. Other times you do not.
This magnetizes AND de-magnetizes too. Great reviews. It makes it a great add-on gift.
Watch a 20-sec video: so easy to use. Costs very little.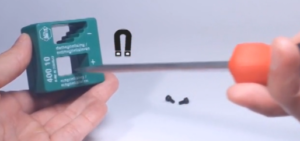 ---
• Add-ons: cool gifts & things we never buy for ourselves.
These are some of the best gifts I ever got.
---
The Leatherman Wave
The number one selling of all is the top hand tool gift today for good reason: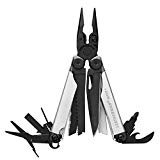 See this awesome, versatile hand tool: 18 tools in one. This is THE Leatherman with the goods.
Only 4 inches closed, and under 9 oz. This is the single most popular of all the styles made by any company, and Leatherman is the first and still the best. It has a 25-year warranty.
Needlenose pliers with wide-jaw pliers
Wirecutter
Wire stripper
Two knife blades: flat (2.9 inches), and serrated
Saw (very sharp)
Spring-loaded scissors
Ruler (8 in / 19 cm)
Can and bottle opener
Wood/metal file
Diamond-coated file
Large bit driver (no bits included)
Small bit driver (no bits included)
Medium Phillips screwdriver
These days you can get a Leatherman in 6 colors and the company makes all combinations, but this particular tool is the best-selling for a reason. It has fundamental tools and some nice extras.
Most parts are made in the USA, and it is assembled in Portland OR. No complaints here.
Leatherman Extras:
Put icing on it with the bit replacement set: the tool only comes with one removable double-ended bit.
Each bit is the same quality hardened steel.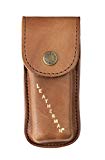 Belt holster: get the medium for the Wave models. It is sturdy and made with quality leather, and made in the USA.
"The Leatherman" has been around since 1975. The story goes that Tim Leatherman carried a knife and kept wishing he had plyers as well…so he invented the original multi-tool. Pure American ingenuity.
---
Multitool Mini Tool with a hammer

I got this as a gift: never knew it existed. I keep it in a kitchen tool drawer for quick fixes but it's really for camping and so-called 'survival'. Just really helpful. The hammer is the right tool more often than you would think.
This has:
Small hatchet

Hammer

Pliers, wrench, file

Saw, screwdrivers, chisel, bottle opener
Spring-loaded safety lock
It collapses and is held together with the clip so it does not take up much room.
See other add-ons on the same page. Made in China but almost perfect ratings, so I dropped my usual rule.
---
Thin credit card-sized Swiss Army knife. 
What a great idea: who really likes to carry one of those big heavy knives all day?
The Swisscard has:
Blade
LED light
Scissors
Ruler
Tweezers (not the best quality but ok for splinters)
Magnifying glass
Screwdriving tool
Toothpick
Nail file
Pen
Almost perfect reviews. Nice. This outclasses the Pocket Ninja, but it's a bit thicker too. Remember to transport in your checked bag if you are flying!
---
Wallet Ninja – Credit Card Sized Multitool
This is always in my wallet: a gift that really comes in handy: thanks Pops.
See it here. It has:
Bottle opener
Phone stand (with a credit card)
Can opener
Box cutter
Several hex wrenches
Many mini screwdrivers
Nail puller
I heard this is the most popular gift in the world. No wonder. It comes in colors other than black now too.
It's slick.
---
Magnetic Pick-up Tool and Flashlight
I won this in a gift game and it's great.
Two lights: both the top and front are plenty bright
Extension grabber (magnetic)
Magnetic stand for hands-free use
Standard AA batteries (3)
This is a great gift for someone who works on cars.
I did not even know it existed and now it's one of the most often given gifts in the world.
---
The above with what is below is a great gift tool guide for anyone who enjoys working with their hands:
---
• Quiz for the old school
Test your hand tool knowledge with this antique gem from my grandfather:
What is this tool?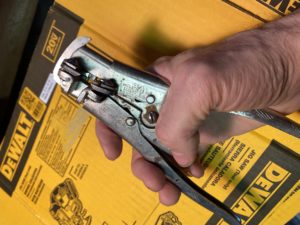 The video below or click here for the answer (the answer is at: 00:30 sec)
---
Share your tool idea:
Help to spread the word of more new and unique inventions.
What's your favorite top tool brand? Please send us your gift list ideas for 2020.
I'm a big fan of inventive hand tools and new unique items…so please send me any of your favorite tools!
Please use the comments below: I'll see you in there right away.