Here I've recommended a good electric nail gun in every gauge. The big winner in my reviews turns out to be Hitachi, but I'm not connected to that company in any way.
Electric Nail Gun that will last a lifetime: only top-of-the-line electric nailers here.
---
Quick quiz: Where does the number in the "gauge" come from? Why is, for example, '15-gauge', called 15? Answer at the bottom. Old guys like me know boring trivia.
The Pin Nailer: smallest electric nail gun

I really love all of my Makita tools. This Makita 12-volt won my vote. Makita makes a more expensive electric pin gun, but the reviews for this are much better. Check the price online.

Good old Makita. Never let me down. My only regret is that nobody makes an angle-feed electric pin nailer. Oh, how I looked.
Only 4 lbs: nice. I reviewed other pin nailers and it includes some budget electric nail guns of this size on this page.
---
Brad Nailer: most popular size
My baby is the 18V Hitachi (now called Metabo), 18-gauge. It's quality and yes, you pay for it. But it does not break down like the budget guns. It's a 'cry once' situation. Battery included. Price online here.
Brad nailers in general: 18-gauge brads for lightweight trim like door stops, etc, and leave a very small hole which sometimes needs no hole filler.
This is hands down the best electric brad nailer out there. My full comparison with other styles is on this page.
Don't want to cut the cord? Some corded electric brad nail guns do exist, but not in top brand names, and I'd never go there.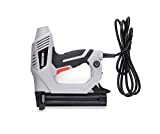 Stapler and Brad Nailer from Arrow
Arrow the office supply maker has one if you dare. I have an old one and it still runs fine. And I beat it up.
See all the brad nailers, two other electrics I like and some pneumatics compared on my other post.
---
The Finish Nailer: a great electric nail gun
Electric finishing nail guns for interior trim such as door frames, hardwoods, thick plywood, MDF.
See the price online of my TOP CHOICE.
My top choice is once again the awesome 18 volt, angled, 15-gauge from, once again Metabo (formerly "Hitachi").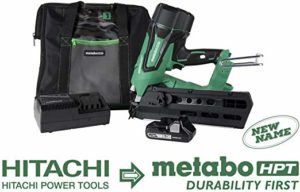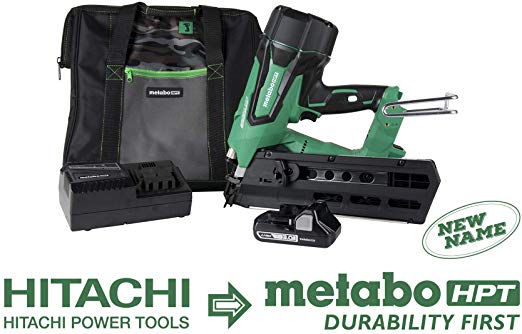 A corded finish nailer does not exist to my knowledge. I'd love one: if you find one please let me know in the comments below?
Full comparison with electric and pneumatic powered guns on this page.
---
Framing Nailer: the big boy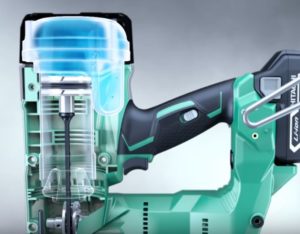 Show stopper: the 18V angle-feed electric framing nailer from the top maker. Hitachi is now called "Metabo".
See the price here: it's worth every penny.
This is an electric framing nailer worth every penny. It's for life. Put it in your Last Will. There was a time when an electric framing nailer was hard to come by, but today it's all different.
The only thing they don't make: a corded electric framing nailer. Someday maybe. But the lithium batteries today are great.
Read my comparison with pneumatics and gas and other electric framing nailers on this page.
Even electric framing nailers are loud, and you cannot do without ear protection. This 3M gives great protection at an affordable price.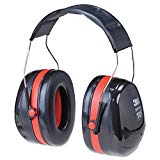 See the CDC list of noise levels and the exposure limit.
---
Bonus: Non-electric Brad Nailer and Stapler
No, I don't mean a hammer!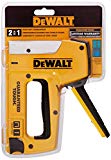 For quickies, a non-electric brad nailer stapler is what I bought here. The DeWalt stapler/brad nailer is purely mechanical: no power is needed.
It's so cool that DeWalt lists Stanely and Arrow brad and staple sizes alongside the DeWalt sizes stamped right on the gun. They are unafraid of competition! Seem my quick video on this gun.
---
Nail Set and Nailer Accessories
See what's on this short post where I put together a fairly complete list of accessories like hole filler, and especially some quality nail sets. You don't need color–coded nail sets! You need American steel. At the bottom is my blurb on how to use a nail set with a video.
---
Any questions? I'll be in the comment area below!
Final thoughts: Careful! "You'll shoot your eye out, kid." There are about 37,000 Emergency Room visits from nailguns every year. Download the Nail Gun Safety CDC guide.
---
Trivia Answer
Where does the "gauge" in 15- or 18 gauge come from?
If you can lay 18 nails side by side in one inch (not counting any heads), you have 18-gauge nails.

Here is my short video on nail sets and how nail gauges are named.
Here is my one minute video on that: