We use two types of additives generally, but get ready for a new type of paint that leaves no brush marks: water-based alkyd.
Big tip: no matter what you apply, don't use dollar store brushes or roller covers: they shed like a shaggy dog story. See all my tools here.

Floetrol and Penetrol by the Flood Company are additives that extend and smooth out the finish of your paints. Floetrol for latex/water-based and Penetrol for oil-based paints. The 'working time' of the paint/primer/etc is also extended, which means drying time is also lengthened.
Floetrol

Floetrol is a latex paint additive that improves paint flow and levelling while helping to reduce the adverse effects that weather and surface conditions have on paint. It's a great product that's been around forever.
It is for use with acrylic paints, primers or stains.
The recommended ratio is 8 -16 ounces of Floetrol per gallon of paint or stain. Do not exceed 32 ounces per gallon.
Penetrol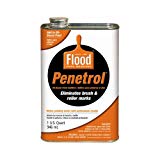 Penetrol is an additive designed to improve penetration and adhesion of oil-based primers and paints, as well as stains and clear coats, etc. It's not something you want to breathe, but they claim it is low-odor. You can't smell carcinogens. Still, use this if you have the right conditions (ventilation, a good respirator, etc). It's very good stuff.
It also inhibits the growth of rust.
The recommended ratio is 16 ounces of Penetrol per gallon of paint or stain. Do not exceed 40 ounces per gallon.
Advance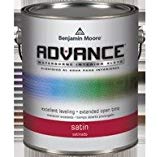 Mostly for interiors, (there is one exterior but only in high gloss), Advance is a water-based paint that behaves like oil in that it levels out and leaves no brush or roller marks.
The downside is that it behaves like oil in the sense that drips, sags, and runs are easy to form.
What to do? Just apply several thin coats as necessary.
I recommend this only for experienced painters, but if that's not you, just do some testing. Watch to thick you can apply it before it sags and runs. I like to apply it with any quality roller (not the budget type that sheds lint), and then tip it out with a good latex brush. Even if you don't tip it out, this paint will still level itself and you should not see roller/brush marks.
I used it for doors, trim and cabinets.
If you don't want to use these
With only knowledge, you can hide brush strokes somewhat.
For example, if you paint a door with normal interior or exterior latex paint, making all the brush marks parallel and in line with the door's lines is the professional touch. See the video below.
Let me know if you have any questions using the comment area below. I cruise it daily.