We know that everyone wants a one-step easy solution and Zinsser mold killing primer and mold killing paints sound grea5-t, but…is it really that easy?
Will mold killing primer and mold resistant paint be enough to protect me?
We recommend this mold resistant paint by a very trusty brand, Zinsser ( check the price here).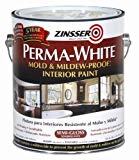 Mold inhibiting paint will not kill mold! (See our recommendation just below for that). The general name is 'mildew', and it will grow right through ordinary house paint: you must mechanically remove all you can, then SEAL it with a mold killing primer such as Zinsser mold killing primer. It's not the nightmare you were expecting, and we simplified it all here.
If you are in doubt as to whether you can use anti mold paint or not, I highly recommend that you call a professional mold remediation company to evaluate what needs to be done. A company like FDP Mold Remediation can handle the worst cases.
A product new to me is Siamons Mold Control. Like BioBarrier, it leaves a film that is hard for mold to grab. If you have a recurrent mold problem and nothing works, get the large bucket and clean with it every time. Considering the health risk, the cost is quite reasonable.
List of what you need before you paint over mold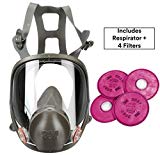 Safety first: 3M's full face respirator mold remediation kit which you see just below…or use the painter's workhorse respirator discussed in this post.
Mold killing primer by Zinsser This company has been making primers since companies started making primers.
Mold resistant paint: Rust-Oleum. Totally trustworthy brand
More below on these: Non-toxic prevention solutions: BioBarrier has great reviews. We link to two other very good products below. The other is Siamon's Mold Control which comes in buckets or spray bottles.
Bleach is very deadly. Our preferred products are better and safer (linked just below). If you use bleach, click on the link above to the respirator and DEFINITELY wear it. Open windows and blow fans. People die from improper use from bleach.
Quality rubber gloves: these will last forever.
Trying to become mold-free
After painting with a mold killing paint, inhibit growth another way in damp areas with a non-toxic spray that remains effective for 6 months. This plus the special mold resistant paint will make your life easier (and safer).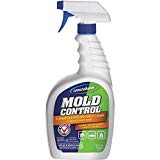 My new favorite is Siamons Mold Control.  Unlike bleach which leaves some spores to multiply again, this stuff whacks 'em.  A new product I have not tried has 10's of thousands of great reviews: RMR-86 to remove the mold stains. Let me know how it goes?
Ceiling mold? Bathroom mold, garage or basement mold? You will use the same routine to kill and cover it. Ceiling mold may be the hardest on that list because it is over your head: you will need special protection for your eyes and face from dripping solution and your mold killing primer and your mold resistant paint.
---
Hard truth and the secret of moldy freedom
It's hard to find a company willing to say they can kill mold because mold is everywhere. If you have moisture, and especially if it's dark, you will have mold growth. And it does not die easily like James Bond. Well… Anyway, here is the bototm line: you have to stay on it. There's no easy way.
My best recommendation…this works for my moist basement… is to use a de-humidifer year-round. Yes it eats electricity, but it's only like a light bulb. You have to pay that cost and it's worth it to stay mold free. That's my opinion.
Then there is UV light bulbs. See below on "Prevention".
---
6 easy steps to paint over mold
Don't breathe the spores: put on your respirator (our article on respirator mask simplifies the weird world of respirators). Scrape off any loose mold and recover it for disposal.
Don't be tempted to use bleach: it's deadly and will make the problem WORSE. Thanks to a generous reader who pointed out that bleach can make the mold that survives (there is always some) stronger and faster to multiply.
Put rubber gloves on for any toxins: don't go dollar store on this one: re-use  quality gloves many times over. This prevents chemicals from touching the skin. There is no reason to take a risk with your health ever.
Wipe with any rag until no more black/green comes off.
Rinse the surface with clean, wet rags. Leave rags outside away from people/animals.
Let dry – your first coat should be a mold killing or resistant primer, then two coats of mold resistant paint.
If you have a very large area to treat, you can use a sprayer with your mold killing paint (please wear protection!) You would not want to use your garden sprayer here as the plastic will probably not handle the bleach solution well. Conversely, a sprayer that works with bleach will probably also be fine with garden solutions. Bleaching inside can be very deadly: choose from the respirators above.
We like this eco-safe mold-killer which comes in large one- and 5-gallons as well as spray bottles. Spray and let dry. It leaves a mold-blocking film that can be painted. We use a garden sprayer to apply solutions like these as well.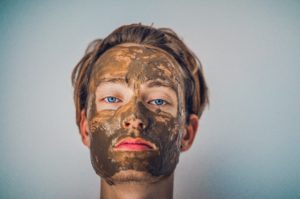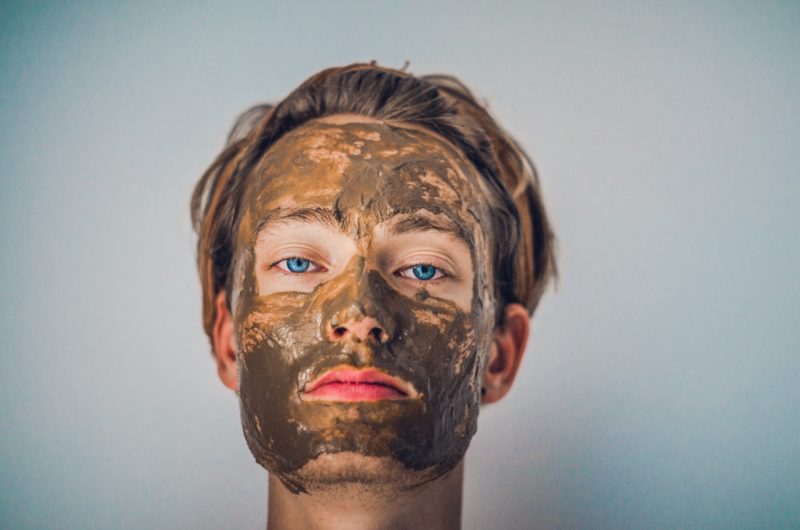 At the end of the post is a video of me breaking the rules killing some mold in our garage: I should have had gloves on, but could not wear a respirator and talk to you!
Careful with manufacturers' promises: don't trust the ads that make that claim they have a paint to cover mold or kill mold
When you hear about anti-mold paint, it is not a mold-prevention paint and certainly not a mold killing primer.
Mold inhibiting paint can only resist, not prevent mold, You will make a fortune if you can invent a one-step mold killing paint! There is what is called a mold killing primer: Mold killing primer by Zinsser makes good claims, but let's be reasonable. It depends on the situation.
Important points for the paint to cover mold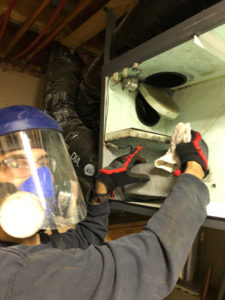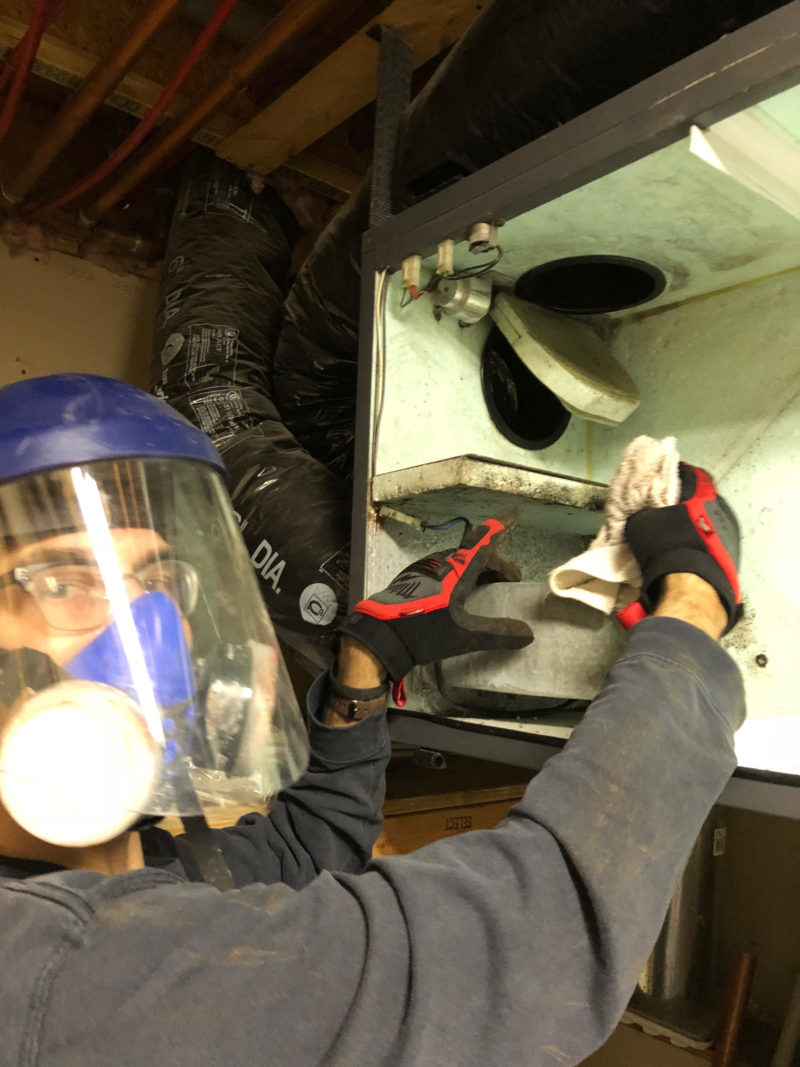 If you have powdery mold sitting on your surfaces, do you really want to mix that into your walls for the future, or leave it for someone else to live with? Just follow the steps above to paint over the mold and you'll have peace of mind.
Also, the stain mold leaves behind must be totally sealed or it will bleed through your latex paint. Zinsser Mold Killing Primer just says, "aides in covering residual microbiological and fungal stains". Not good enough, sirs.
For serious stains, get a quart of shellac-based BIN primer or  by the gallon. We use it as overkill or as we say "Over Kilz". Rubbing alcohol is the solvent. We have an entire post about painting over stains. It's very messy so wear gloves and don't inhale, Bill.
Again, the respirators at the top of this post will protect you.
We follow our primer with the best mold resistant paint: the Benjamin Moore Aura mentioned below.
I have some other posts on the procedure for painting a room and some professional-tested time-saving tips we learn as professional painters.
---
Flat, Satin or Semi-Gloss?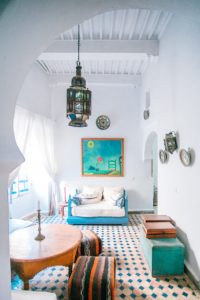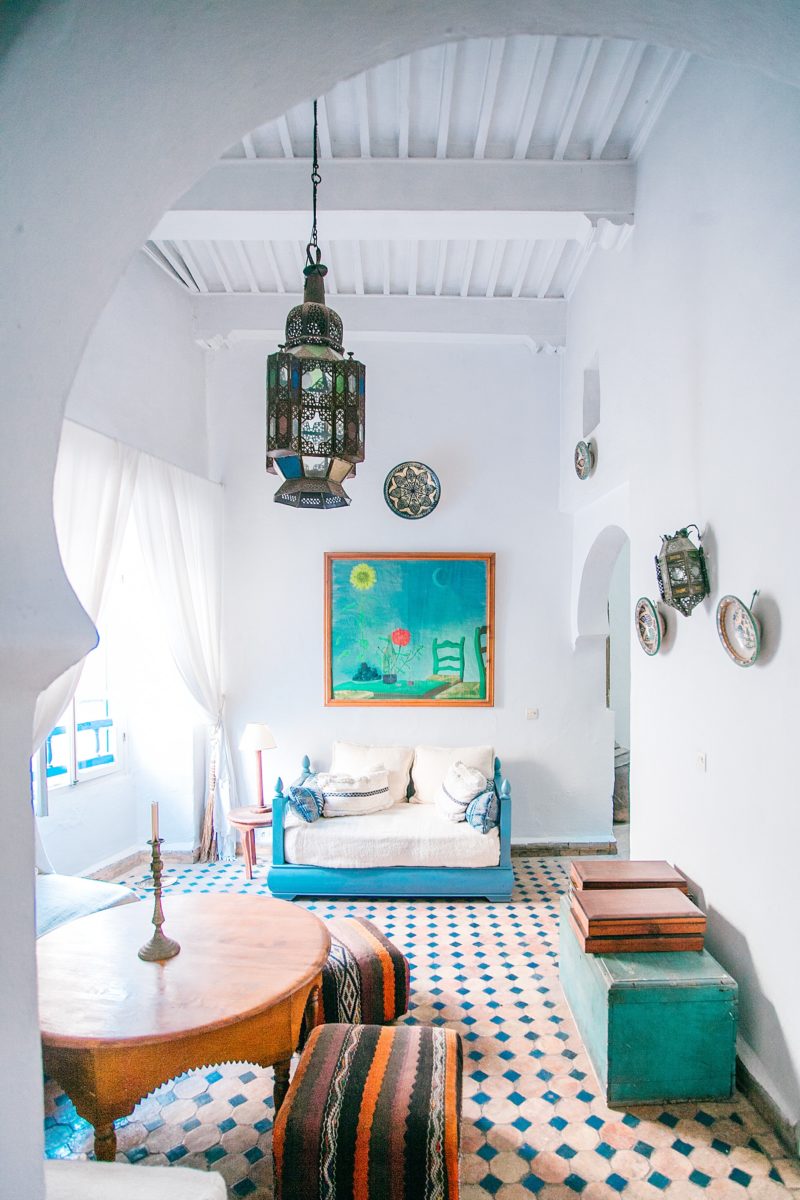 Through my 30+ years as a painter, I have seen the trend change from "always semi-gloss in bathrooms and kitchens" to "anything goes". The chemistry of paint today allows you to do whatever you want, but still flat and matte paints finishes are naturally going to hold water longer than shiny paints: but they look better! So most people compromise with satin and eggshell. If you keep a bathroom or high moisture area clean, you will not have mold and mildew growth. It's actually the easy way.
Colors?
You will find some gorgeous bathroom paint colors on the internet. Keep in mind that smaller rooms benefit from lighter colors and more light inhibits mold growth.
What we do
Mold paint does not kill mold! It inhibits growth. So after you do the prep described on this page, choose THE+BEST paint. We recommend always using the best paints you can afford as it's less cost in the end as we have written, it is a money-saver and you don't have to paint as often.
For bathrooms and other high moisture areas where mold loves to grow, we recommend Rust-Oleum.  The technology behind it is a formula to lock out moisture and prevent or deter mildew/mold growth.
---
Fixing a hole where the rain gets in?
Flex Seal Liquid Rubber makes sealing leaks easy
Before you replace a cracked sink or floor etc, it's worth a few bucks to try to seal it and a product I discovered at Home Depot Flex Seal paint. You'll find Flex Seal at Lowes as well as online. I fixed my cracked garage sink with a liquid sealer and it kept me from replacing it!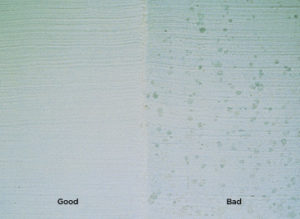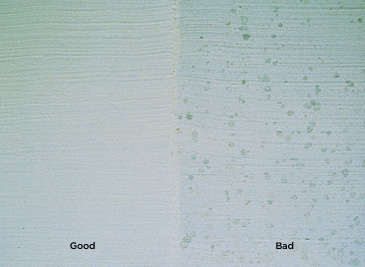 Health Dangers of Mold in Your Home
Some people are more sensitive, but mold affects everyone. Symptoms of mold exposure can include:
Nasal and sinus congestion, runny nose
Respiratory problems, such as wheezing and difficulty breathing, chest tightness
A cough
Throat irritation
Sneezing / Sneezing fits
Thank you, Wikipedia.
---
One Ingenious Pro Tip: Every time you dip a brush into a can of this nasty primer, you are sacrificing that brush. You don't mind? Do you have a dollarstore brush or an oldie? Sure, but how many will you kill each time you spot some mold or stain that you know you must prime?
What do pros do? We leave a crappy brush in the can for life. If the can is small, we cut or break the handle. After weeks in the can, is it all mushed up and bent? Yes So? It's wet and ready! Unless we have a large area to seal, we don't care. The brush strokes from a primer will usually flatten out when dry and if not, will sand fairly well. Faster…Better…ALMOST FREE!
---
Prevention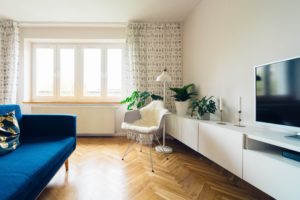 Certain mycotoxins can be harmful or lethal to humans and animals when exposure is high enough.
An easy way to prevent the growth of mold in dark and/or damp areas in your home is the use of a UVC lamp. Research shows that UVC lamps kill mold, the airborne allergens, bacteria, viruses and protozoa in your home or office. Ultraviolet light breaks up the DNA of mold and mildews which results in the sterilization of the mold.
We tried a hospital-style UV wand but found that it gobbled up batteries, then even with new batteries did not work anymore. Now we will switch to a plug-in type compact germicidal bulb/wand  in our mold areas. Hospitals use it.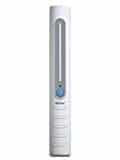 Prevent mold growth:
Increase ventilation and sunlight or UV bulbs if possible
Clean surfaces with strong cleanser or a safe mold killer (don't use bleach)
Check nearby plants for mold
Bright light inhibits mold growth
Don't leave very wet towels/puddles around
Use mold-killing primers and mold resistant paint
Just be glad it's not the old days when they put mercury in mold paints as a fungicide.
Thanks, science
Remember:
Black, gray, green, brown, it's moldy and it stinks and it's a health hazard. Don't just paint over it even with a mold killing primer and a mold resistant paint: you have to clean it safely first!
We used  this mold test kit and found penicillin and one other: not deadly, but just sayin'. You can test 3 different times per kit.
PS read about mold and mildew on Wikipedia, the Overlord of us all.
Let me know in the comments if we left anything out. Thanks.
How to Paint over mold video.
This video uses bleach which we have since learned is not good to use: it's not just deadly to us, but allows some spores to survive and multiply even faster. Use the BioBarrier or Siamons above.