As a professional painter of well over 30 years, in my own home, I shoot for zero maintenance on everything from decks to siding to concrete. Say hello to semi-transparent concrete stain. I've listed here what I have found to be the best concrete stain in two categories, along with the complete "how-to" for stained concrete floors.
Plus I do not have to worry about paint chipping or re-painting in future years…another plus: it's relatively easy to do.
Below are my picks and review of concrete stain for any kind of concrete—new and old in any condition.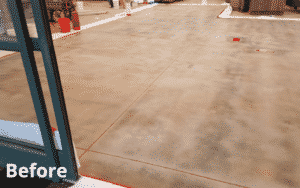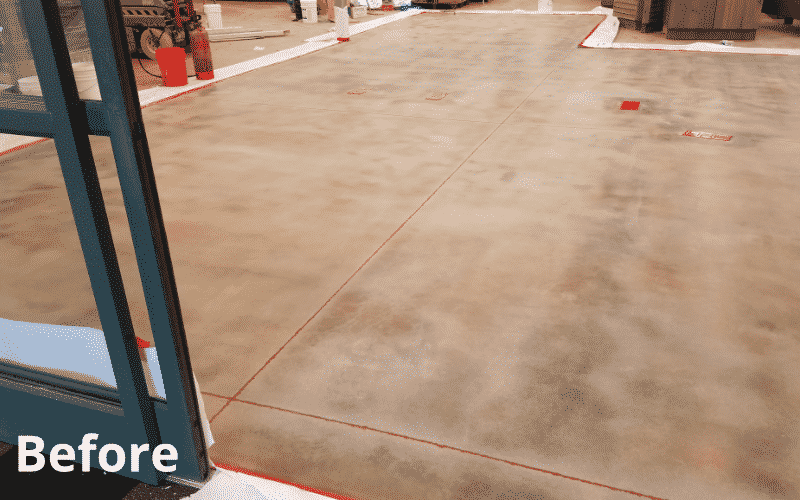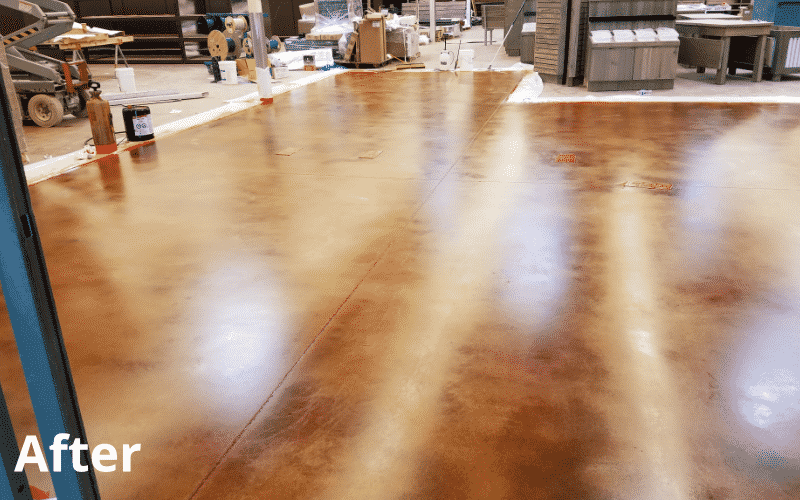 What is the best concrete stain these days?
Two types and these are the top products (more below about these two types) for stained concrete floors: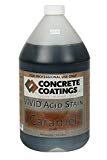 In acid-stains, the best these days is Vivid from Concrete Coatings: they use very high-quality raw materials and have a suite of products intended to be used together.
This is why I am all in Concrete Coatings. No, I don't work for them and I don't even get free samples!
All you need to do the entire job with this excellent product is listed below.
Concrete Coatings has its own products for prep, stain, neutralizing and clear coat and they all play nice together. This is a good solution for an outdoor stained concrete patio or indoor garage or basement.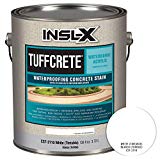 For a water-based concrete stain: TuffCrete Waterborne from Benjamin Moore is my top product. It's also less complicated to apply than acid-based stains.
It's basically an acrylic, which means it's more has more in common with paint than the above stain. It stains yes, but it also is a layer on top. It does not have to be clear-coated when dry.
This is a perfectly acceptable way to go for both indoor and outdoor projects. You'll have a gorgeous stained concrete floors, patio or basement floor.
Choosing the type of stain: know the differences
For you who are not sure what stain you want, we have created a 3-minute read explaining the difference.

Want to see some amazing results using concrete stain? Check out ConcreteDecor.net
If you already know the type of stain you want, jump to the full descriptions, which is followed by 'how-to'.
Can you use wood stain on concrete?
A common question, but no, it's not in your best interest. It will look fine for a while, but the minerals in concrete do not react the same way as wood. A low-cost way to go is with acid-based stains. They create a one-of-a-kind floor—but you do not have total control over the exact final design, and the random result is highly desirable. It's best described as a 'mottled' look. The idea is to simulate granite or marble, with some 3-D effect.
The stains I recommend on this page are suitable for staining concrete patio, basements, garages, and many people will stain concrete driveways.
---
How do you stain a concrete floor?
Decide on your set of products (cleaners, stain, rinse, clear coat) all discussed below
Prepare the concrete (cleaning, solving problems, masking, etc)
To etch or not, for water-based stain users
Rinsing with care
Apply the stain
Neutralizing for acid-based users
Let dry completely
Apply a sealer for acid-based users
That is the shortlist!
---
Details of my two favorite concrete stains
Water-based concrete stain: best in class:
TuffCrete Waterborne Acrylic Concrete Stain from Benjamin Moore (INSL-X). When this company says it's designed to resist fading, detergent, oil, etc, we believe it. Check the price here.
TuffCrete on its own is durable enough to withstand foot traffic and does not require a clear coat. If you use the clear 'color', know that is is more slippery when wet than the other colors.
If you desire a clear topcoat, they offer compatible clear coats as well (more below).
4 colors: colors (white, sand, gray pearl and clear)
covers 450-500 sq. ft. per gallon depending on porosity
interior or exterior masonry surfaces
water-based
can be applied in one coat, as a stain, or in two coats for an opaque finish
does not require a primer on bare concrete as it is a concrete stain
Here are the datasheets for Tuffcrete: one for safety, and another one for the technicals.
I went back and forth with my Ben rep, and I learned that you can expect to re-coat every 5-10 years of use, as in traffic lanes, cars or feet, and that when re-coating, you just sand to dull the finish, clean then re-coat. Again, no need for any clear-coating.
The best acid-based concrete stain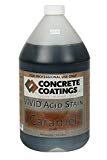 A company called Concrete Coatings has excellent user reviews and makes a cleaner, stain, and neutralizer products that all play nice together. We contacted the customer helpline and asked some tough questions and are very satisfied with their answers. This 25-year-old company makes products formulated to withstand Utah winter freeze/thaw cycles.
Beyond the high reviews, I like the system approach: one company formulates all the products. There is always doubt about using company X's products with another from company Y. I hold that to be true, except for the clear coating, the last step.
The Vivid line of acid stains has 11 color choices that can be combined for an infinite variety:



The actual look of each acid stain is shown fairly well on its product page: this page shows the Caramel color. The seller, Concrete Coatings, (not some 3rd party), has done a good job of managing these product pages.
One gallon will treat about 200-300 sq. ft. depending on the slab
Any color can be diluted up to 50% with water for a lighter color
must be sealed (more below)
interior and exterior
intended for driveways, sidewalks, pool decks, patios, walls
can be applied on any porous cement surface
When you get serious about going forward, read the technical data sheet and here is the safety data sheet. I've summarized both of these in this post, but not all. It's worth reading once or twice so you know all you need to know. It's good to watch the company's video also (at the very bottom).
Combining two colors
Two colors can be mixed wet-on-wet, or for sharper boundaries of colors wet-on-dry for more dramatic effects (allow 5 hours for the first color to dry). My advice: have a pro do any mixing or do at least one test floor before your main project. When mixing 2 colors, second color fills in the empty areas while overlapping the lighter base color. Remember, the dark colors easily overpower the lighter ones.
Behr? Hmm. I've used Behr products which are 'ok', but not top of the line. I do not recommend home depot concrete stain at this time.
Prepare to prepare
New concrete:
Be sure your new concrete has cured: at least a full month after pouring or longer if the temperature has been cold. It may look dry but still be wet: you should wait until you are sure. Here is the full info on testing concrete.
Older concrete:
To determine if it has been sealed, read this separate short article. If you have paint drips, glue, etc on your floor. You will be busy! The bottom line is for old, unsealed concrete, then there should be absolutely no issues with alkalinity, so if you have no sealer and no paint drips, etc, you are ready to roll. If unsure, read about the litmus and moisture tests. For sealed concrete, do the moisture tests.

---
What is concrete staining?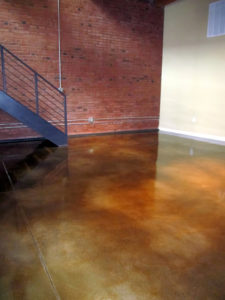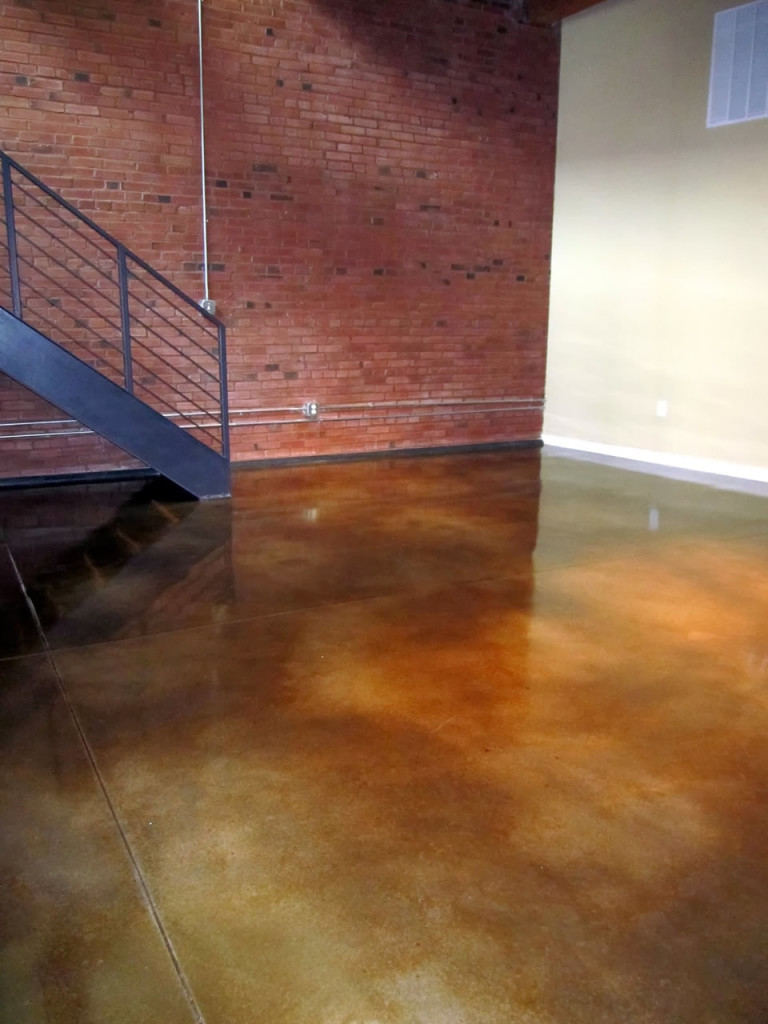 Concrete is naturally somewhat layered and concrete stains interact with the 'cream' or top layer which is usually about 1/16 inch thick. The stains react with minerals in the concrete for a finish that will not chip or peel, unlike all 3 kinds of concrete paint.
For stains to yield the marbled swirly look that folks find so desirable, you want to have the most uniformly prepared surface possible, so try not to remove any concrete when removing old paint drips: instead of grinding, try using a sharp paint scraper and working slowly and carefully.
---
Before you begin
If you are serious about doing this, please read the rest of this page completely. Here is a PDF of the full sequence and notes for printing. (10 pages, but it will help.)
Two moisture tests
When concrete is trowled to be very smooth by the original builders, it often will not stain well and must be 'opened'. What is this like? It's that concrete that is so smooth it's almost shiny. This will likely fail these two important tests.
Water content test: Any surface that is wet cannot be painted or stained unless the source of the water is removed. If you are fairly sure your concrete is dry enough, you probably can skip this. But know this: all concrete has some moisture content all the time.
Water penetration test: put a few teaspoons of water on your dry concrete. If it absorbs within 30 seconds, you can clean it and it will accept stain. If not, you need to 'open' it. If your slab fails, and if the concrete is old, it may have been sealed at some point. Read the short post on old concrete.
I have an article about how to test your concrete's moisture. Most houses are fine, but you cannot be too careful: too moist and it all goes south.
---
Has the slab ever been sealed?
You can try to remove the sealer, which is a lot of work or go with concrete floor paint. Read this short post for more about how to remove the sealer.
---
Do a test spot
The reason to do a sample test in one spot on all concrete is to make sure the stain will do what you want (for acid stains that means that it will react properly), and to give you practice. You'll learn to measure the time, how to neutralize and the number of rinses (for acid-based concrete stain only), etc.
---
Dirty Jobs Time: how to prep
Is the concrete 'open' ?
Was the concrete trowled very smooth? Did your floor fail the water-absorption test? Then it's not 'open'.
If so, for:
…water-based stains:
Here is the traditional way to do it, but in the section just below on 'acid staining' there is an easier way (EZ-Prep):
you should not stain it until it has been roughed up physically or with an acid etching — this is only true for water-based stains.
read the short post on etching with muriatic acid here. Remember, when mixing acid and water, slowly pour the acid into the water. Don't add water to acid, as a chemical reaction will occur that will propel the acid out of the container and possibly harm you. Definitely wear eye goggles and some good nitrile gloves.
Even better, wear a full-face respirator. I wear and recommend this respirator (you'll want it for life's toxins regularly too, like bleach etc). I have simplified the crazy, complex world of respirator masks and filters here. You'll want a filter for organic vapors to be completely safe. Short answer: get the filter #60926.
…for acid stain or water-based stains: "EZ-Prep"
This is done with a slightly acidic cleaner: Concrete Coatings' EZ-Prep, diluted greatly. If you use it in a concentration that is too strong (for acid-based stains), the solution will be too acidic and will remove the minerals you need to create color in the top layer (lime and calcium). The consequence: you will not get good results with your acid-based stain.
If the surface was 'tightly trowled', (made very smooth), EZ-Prep when greatly diluted at 10-to-1 will not rob the concrete of the lime and calcium, but at the same time, it will open the pores slightly to allow the stain to react.
For a water-based stain or overlay, EZ-Prep full strength will etch and prep the surface
Diluted 10-to-1, EZ-Prep will lightly etch and open the concrete pores for an acid-based concrete stain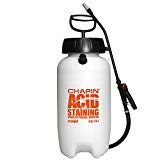 You can (and should) apply it with a pump sprayer with no metal parts. When fully dry, repeat the water test above. If it fails to absorb water quickly as described above, repeat with EZ-Prep in a 5:1 dilution. (Read more about garden sprayers and staining. The level of solids in your stain matters.)
Do the water test again when the floor is dry. If the water test is a failure, you might slightly increase the strength of your solution and repeat the cleaning until it passes. Again, make sure the floor is 'open' (passes the water test) so the acid will still react well and give you the look you want.
---
A Common Problem: Efflorescence
Do you see a fine, white powder on your concrete? It is probably the salts left on the surface after the water evaporated. This can happen over the first year and it can become worse whenever water is allowed to infiltrate bringing up more.
After curing, any moisture being introduced into the slab (like from paints) may cause efflorescence. Blistering and peeling of the coating can result due to the reactivation of the high alkalinity of the concrete.
You need to remove this powdery stuff as part of your prep.
Best way to remove this: use very gentle water pressure from a pressure washer (see just below).
The other way is to use a scrub brush with water and rinse well with water.
There is a very good article about efflorescence on this page. To remove this contaminant, I use my pressure washer with a special rotating tip, which has to be purchased separately. The rotation prevents any one area from becoming damaged, which is possible with old concrete. This washer is the top maker today. It cannot die. Washes cars too.
---
Cleaning
Cleaning is the number one key to getting a good result!

If your concrete passes the water test discussed above, you only need to clean well, remove all the bits of dust, and you are ready to stain.
Cleaning/De-greasing – two ways: EZ-Clean or TSP

Cleaning products for one floor may not be as effective on other floors. It's best to test different products, including some you already have in your home. Do they all bring up the old paint drips and glues? Probably not.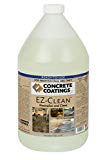 I prefer EZ-Clean over TSP. It comes in two strengths: EZ-Clean Concentrate should be diluted with 4 parts water to 1 part solution, EZ-Clean "Ready To Use", can be used 'straight'. Ignore the one bad rating.
EZ-Clean Concentrate comes in a gallon which when diluted becomes 32 gallons (1:4 ratio), enough to easily prep 2 two-car garages for staining, and have some leftover for cleaning later.
EZ-Clean (either type) is suitable for both acid-based and water-based concrete stain prep.
EZ-Clean can also be used later as a light general cleaner for floors as the years go by.
A gallon in a pump sprayer will handle 200-300 sq. ft.
EZ-Clean has no acids and is used for cleaning concrete generally and when acid-staining in particular.
After applying the stain, you can use it to neutralize the stain to 'stop' the reaction. It helps with cleaning up the residue left behind from acid stains.
Paint spill? You will likely end up using paint strippers for paint, etc for all that you want to remove. A good wire brush (the wires fall out of budget brushes) and a razor blade can help a lot here. Remember the theory of acid-staining and avoid removing the top layer of the slab.
Cleaning Procedure
Start with a sweep and/or vacuum of the floor (you'll love that wet/dry shop vac later on when rinsing and drying).
The traditional way to clean is to scrub it thoroughly using trisodium phosphate (TSP).
Wear goggles and rubber gloves when using TSP: it may not seem like much more than soap, but it is. If it gets on any skin, wash it well with soap and water. Eye goggles linked above are important too.
Whatever cleaner/degreaser you use, rinse the cleaner very well…a few times, and let it dry totally before staining.
Take care to clean evenly as very-clean sections will take stain differently than less-clean sections.
But in any case, do a deep cleaning until the surface is as clean as it can be to get the best results. Owning a pressure washer (linked just below) is always useful, and for older floors can do a lot of the work.
Safety First: Always be sure to wear the right protective gear, and wash and dispose of the cleaning rags, etc., properly (hazardous waste containers: ask your local government).
---
Got cracks?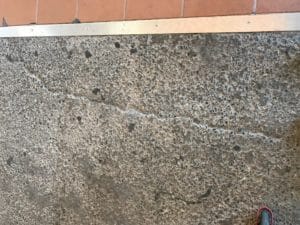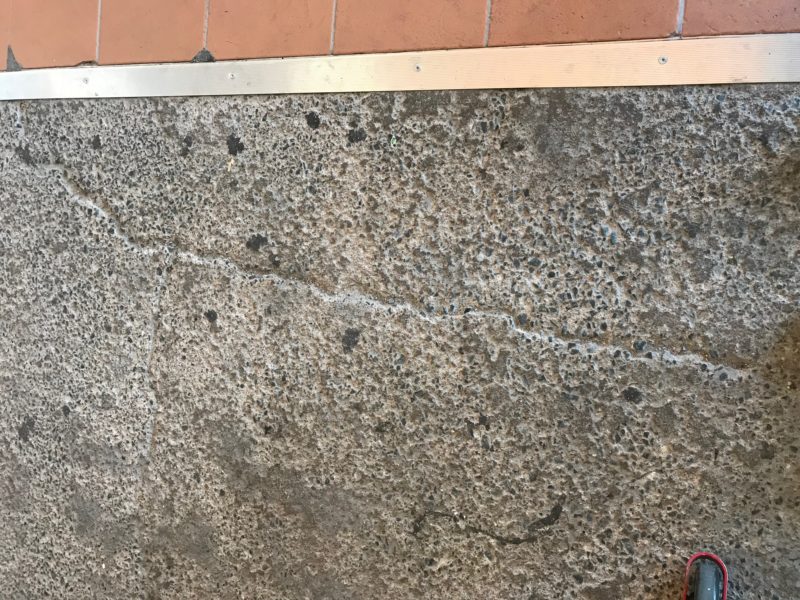 Don't repair any hairline cracks at all (they will blend in and repairs are always somewhat noticeable). For any large cracks, wait to fill them with clear silicone caulk after the entire project (including clear coating if you use it) is dry. Keep in mind that these cracks were caused by the internal movement of the structure and nothing will prevent this from shifting around again.
We have a series of posts on caulk guns, on how to caulk, and more.
---
The etching question
To etch or not? The answer for most of you is, luckily, 'no'. You most likely don't need to acid-etch. If you are applying an acid stain, etching is out of the question. Move on to the next section!
Acid stains
You should not use an acid etch which removes lime and other minerals you need to make the color. Why remove what reacts with the stain?
Water-based stains
Yes, it is fine to use muriatic acid or EZ-Prep undiluted (see above) to open the pores of the concrete so the water-based stain can grab hold, but cleaning it well will probably be enough. But… is your floor very smooth? Then what is next is for you.
Benjamin Moore wrote to us about their water-based stain: "For the TuffCrete, any  concrete that does not have a tactile feel of  about 80 grit sandpaper must be acid-etched prior to applying any coatings." But I also spoke with another BM executive who is not a fan of acid etching. He likes light floor grinding. I looked into renting one of these and found that Home Depot Rentals and other rental places have the machines, but often do not have the grinding stones needed.
In the end, I just used my trusty variable speed grinder. You will get several hours of grinding out of the DeWalt grinding wheel.
My advice: try simply cleaning well first as well as removing paint drips one by one. Then test your water-based concrete stain in an out-of-the-way area.
---
Rinsing after the prep
Just use a hose and large squeegee that fits on a broomstick (not threaded, but clamps on) to push the water into a floor drain or outside (if you can). Test that your floor drain is not blocked, of course before you start. Check if this is in accordance with your local law/code.
You'll want this squeegee later if you are doing acid-based staining—in the rinse cycle. A wet/dry shop vac works great here too (linked above).
---
Masking… and your prep is done
Carefully mask off surrounding areas to prevent the stain from going where it should not: this kind of liquid has a mind of its own! Either kind of concrete stain can be very difficult and sometimes impossible, to remove. That's why they call it stain.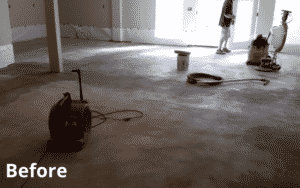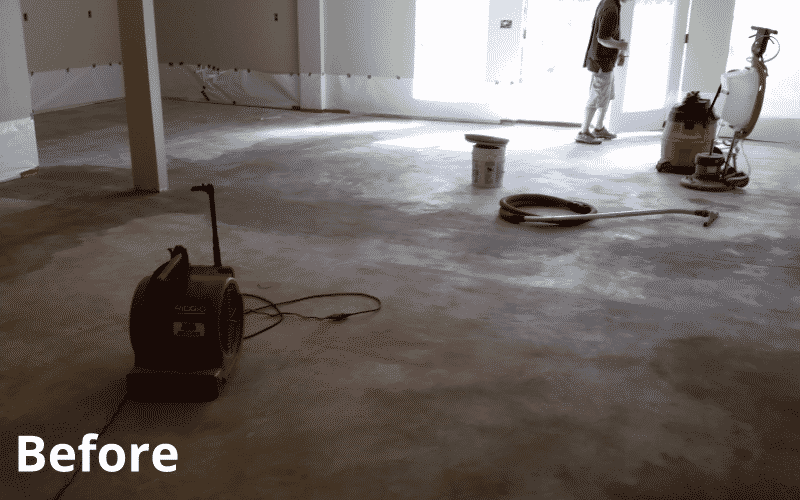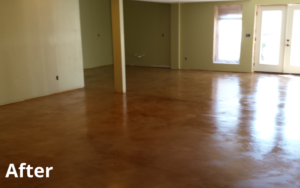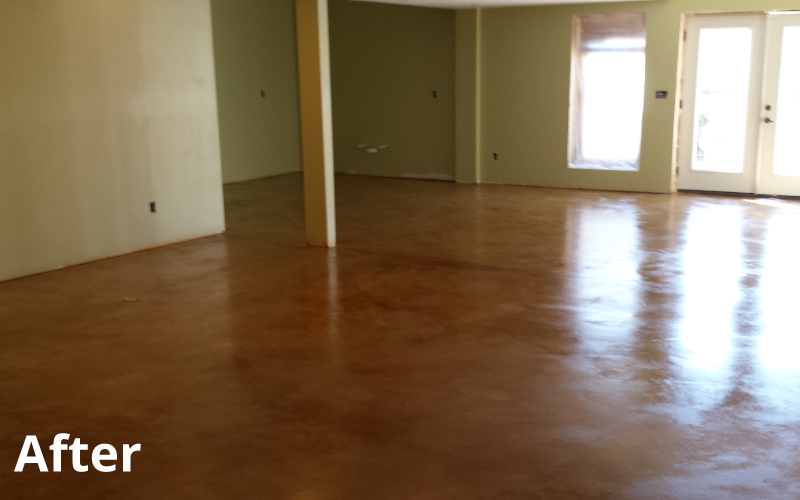 Mask walls/poles, door frames, etc. around the floor with tape and/or a 3M hand masker, which for a painter is never far out of our reach. It comes with plastic sheets that unroll as you go, but I generally use masking paper as it is more eco-friendly and less expensive.
Either with or without the 3M masker, use green painter's tape. The glue on this tape will not pull off paint from walls, etc., unlike the old tan tape.
---
How to stain concrete: the sequence
Always do a staining test: a small section 1-2 days before you are planning to do the big job and do it in an out-of-the-way corner etc, before staining the entire area. Use a camera if possible and record the burn times and take a photo of the sample (for acid-based stains) for reference later.
The fizzing you see is normal (in fact a good sign of the reaction happening).
Many people write that the acid-stain comes out darker than they expected. Stopping the reaction is key.
For Concrete Coatings stains: to adjust color let it burn 1 up to 24 hrs.
For an average concrete floor, about 4 hours of reaction time is a minimum.
You'll know from the test sample that you did. You do not need to add any additional stain in most cases.
Acid-based stains must be sprayed: do not use a brush and roller as they will leave lines you won't like.
Materials
Procedure
Mix
If using more than one gallon, mix all your gallons together in a large bucket because there can be some variation between single gallons. We call this 'boxing' the stain. Stir just before filling the sprayer each time you refill.
Do not dilute the stain for a lighter color: this is a very tricky business. For example, if you try for a lighter brown by adding water, you may get something closer to orange. There will be nothing you can do about that but live with it.
Dampen slab
For most acid-stains, you need to make the concrete damp, not wet, just before spraying the stain. Use the sprayer for this too.
Why dampen the slab? If a drip of stain hits dry concrete, it will show later as a spot. You cannot hide it with more stain. Misting prevents this danger.
Apply the stain
Follow the instructions on the label: not all stains are the same.
Spray in circular random motion, never in box-like lines. This affects the uniform look you want.
Whether you roll water-based or spray acid, try your best to keep a 'wet edge' meaning you don't let any edges dry.
After your burn time is up, and you like the color, spray the neutralizer (fully discussed below), rinsing well. Let dry before clear-coat.
Clean the sprayer right away to keep the tip from clogging.
Don't walk on the acid until it is totally dry: you will leave permanent footprints. I have never tried the plastic spike sandals that are designed for this, but they may work if you need to walk on the wet surface. I never have had to. These sandals come with some stain kits. I think that's a bit weird, but whatever floats your boat.
Here is the official 'how to stain concrete' video from Concrete Coatings (commercial-free if you scroll to the bottom of this post to play). The music is a bit silly, but he hits the main points. The music is Monty Python silly! But you should definitely watch it at least once.
---
Neutralize or 'stop' the acid: for acid-based stains only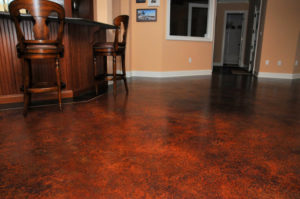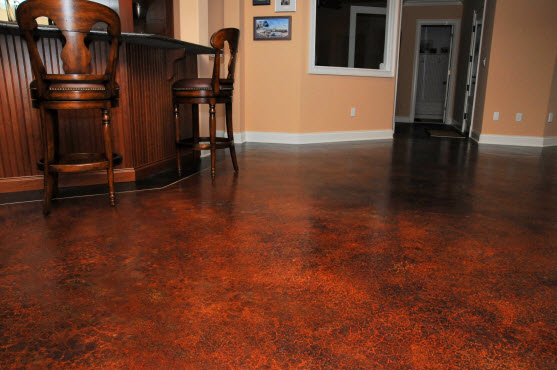 (This is only necessary if you are using an acid stain: water-based stains do not require neutralization.)
Important: If you do not do this step the acid will continue to darken even after it is dry. All acid-based concrete stains must be neutralized, or 'stoped' it, with a neutralizer (water or solutions for this).

Adjust the color with the burn time. Have faith in the test sample that you did earlier and what you see in the photos on this page. Again, know that you cannot control the exact outcome of concrete stains.
The instructions for the product you chose will tell you how long. Plus, you'll know from your test spots.
You can spray the neutralizer like you did the stain. Important: if the stain is still somewhat wet after your desired burn time, put on clean shoes and spray ahead of your steps as you move around spraying your neutralizer. Avoid twisting your feet as you walk.
How to mix the stopping solution
If you are using Vivid stains from Concrete Coatings, use the EZ-Clean Ready to Use straight: don't dilute. If using the EZ-Clean Concentrate, yes, dilute 4 oz. of concentrate to 1 gallon of water. You can also use and 10:1 of clear ammonia for this, but not for the actual cleaning step above. This is why it's best to stock up on EZ-Clean. Leftovers will be your general cleaner for later.

Begin rinsing
There may be some residue that you need to remove before you are ready to let it dry for the next step (clear coating).
Use a mop or if you can, a hose. Repeat rinsing/mopping until the water that runs off is clear. How clear? It will never become completely clear, but when you can easily see the bottom of your mop bucket, it's clear enough. Three moppings is an average.
When it is clear, you have removed all the residue and your acid is neutralized. Have a cigar, you're gonna go far.
Important points
Do not use vinegar or baking soda as a neutralizer as some big-name websites have claimed. Baking soda leaves a white powder film and vinegar is an acid! It can't be good for your new floor.
A large squeegee (shown) is good to push the water into a floor drain or outside if you can. Test your floor drain to see if it works beforehand!
Dry times will vary based on humidity, temperature, and air movement. A fan is helpful.
Also, you can use a wet/dry shop vac for the last of the water and leave the floor to dry with good ventilation.
---
Clear Sealer: Required for some
Water-based stains: Best not to clearcoat

If you used the Benjamin, Moore TuffCrete: this stain is durable enough to withstand tough children play and you do not need a sealer/clear coat. In fact, I would say it's a mistake and my Ben Moore representative agrees: just stick with the tough stuff and no clear coat. Why?
My view is that when the year comes you have to re-coat, you start building layers of various materials which is just something more to deal with. If you don't use a clear coat, you simply re-stain after minimal prep, if ever needed.
Acid-based stains: Must be clear-coated

A clear coat brings out the depth of color.
What type of clear sealer to use?
There are epoxy, polyurethane, and acrylic sealers. What to do?
I recommend just one product: it's easy to care for and very tough. My reasons are just below the next section.
Concrete Coatings SuperSeal 2000
SuperSeal 2000. This is a semi-gloss, acrylic sealer made by Concrete Coatings and is fine for garage floors too, but will wear out in time. Some people need to re-coat a garage floor annually, at least where the vehicles move around. There is no danger of 'hot-tire pickup'. And there is no sanding: the fresh liquid re-emulsifies and bonds to the old. Just make sure you clean well beforehand.
Apply the first coat brushing and rolling in one direction, then for the next coat, a perpendicular direction.
SuperSeal 2000 is an acrylic sealer can be used indoors or out, but if used indoors, extinguish all pilot lights in the house and wear a chemical respirator, and all necessary protective gear.
The first coat will be absorbed into the still porous concrete, so you will use more sealant than in your second coat. Expect to get 100 sq. ft. per gallon on the first coat. Most people apply 3 coats.
Outdoors, SuperSeal 2000 must be re-coated every several years. Just clean it and use a brush and roller: no sanding. The new coat's solvent will re-emulsify the last coat and bond perfectly well.
If there has been any debris that got on the surface, vacuum just before applying the clear coat. The best condition is when the area is warm.
The 2nd coat will cover about 150-200 sq. ft. per gallon.
The 3rd coat will cover about 200 sq. ft. per gallon.
If you will apply 3 coats in the end (you have to decide ahead of time), apply the 2nd coat on after 1-3 hours. Put your last coat on after the next-to-last coat has dried for 12 hours.
So, again the 3rd coat (if the last) should be applied 12hrs after the 2nd coat!
No prep needed in between coats: the surface just needs to remain clean and dry.
Won't yellow with time
Comes in gloss or matte finish
VOC Content: 99-599g/l (Meets most states' VOC requirements)
Interior/exterior use
Enhances look: without the sealer, the floor looks, well, not so nice
Remember, a clear coat is required for acid-stains
Re-coating in future years if desired requires not sanding: just clean and re-coat (fresh coat emulsifies old)
About clear epoxy
Epoxies are harder than acrylics but don't allow trapped moisture to escape which may become a problem later: many slabs are on moist earth. When painting with an epoxy, you really must do the moisture testing (described here). Epoxy sealers are popular for stained countertops.
I could not find a clear epoxy that promises no yellowing over time: even Concrete Coating's products will do this as UV is exposed. Remember that you do get some low-level UV from windows and of course when the garage door is open.
Not only this, in years to come, if and when you have to re-coat, your looking at some intense prep.
The best option is the SuperSeal in my view: when it comes time to re-coat, you just clean the floor, let it dry and apply. The coating re-emulsifies the old hard clear coat and bonds perfectly.
How often to do this? Some people touch-up every year where the car tires travel. Others do the whole floor. Others don't do anything, at least until it needs it.
---
Tips for any clear coat work
Always wait at least 24 hours after your stain dries to clear-coat.
Check the edges and areas that tend to retain water longer to be sure.
Applying the clear coat over a wet area can cause the clear coat to dry a hazy white that won't come out.
If moisture comes through the concrete with some sealants (resinous sealants like epoxies, polyurethanes, and poly-aspartics), the clear coat will become hazy, then delaminate and you then must use a grinder to take it off which will ruin your stain as well.
---
Important points
A very important point repeated here: once you have chosen a product, stick with them. Most manufacturers make systems of products to work together: this way they perform well. If you choose one company's prep recommendations another's stain and another's sealer odds are you are going to run into problems because the chemistry of the products was not designed to work together. If you stick with a system and do your research/prepare beforehand you should achieve your desired results. This is a vote for SuperSeal as your clear coat as well.
Always refer to the manufacturer TDS (technical data sheet) for specifics on prep, application, sealing, and maintenance.
O

nce you have chosen a product, refer to the manufacturer's TDS (technical data sheet) for specifics on prep, application, sealing, and maintenance. That is the final word, and I have not been able to reproduce all that information here.

Does your old floor have an uneven appearance? Yes, it will likely stain unevenly too. That may be fine with acid stains as they make a nice mottled look which hides a lot of the imperfections.
---
Related articles
Here is the full category of concrete treatment articles.
These may be a good start;
Garge floors tiles and other floor covering options
Floor Paints for Garages
How to paint floors
Are there any questions you have? I'll see your comment below within a day and reply right away. If I don't know the answer, I'll ask the maker for you. Thanks for reading! Good luck!
---