Plaster Walls are worth saving and painting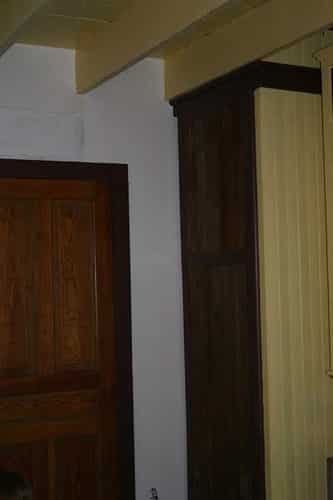 Plaster walls are harder to prep and paint than modern drywall, but it is great to save them, and it will probably cost you less in the end.  Often plaster walls have a lot of lime so mold cannot grow in them. Plus…Character.
Right here at the top, you will be happy to see my top primers and paint. (For old plaster, I don't recommend any paint-and-primer-in-one).
Water-stained walls? You need a stain-blocking primer. Here you see Zinsser's Cover Stain. Tops. Some stains will still bleed through after some years, so you need to go nuclear. Just spot prime with shellac-based primer (nasty, nasty). Read about stain-blocking primer (scroll down to #3).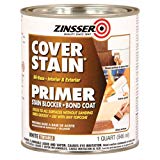 Painting plaster walls that are in good shape: prime any bare plaster (or drywall), with basic drywall primer. Comes in a one-gallon, or buy 5 gallons (shown) for the price of 4 singles.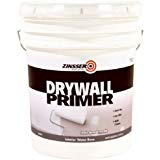 What paint? Pick whatever you like, but here is my best advice: don't skimp. The best paints don't fade, go on easier, and last longer than a well-advertised big box store brand.
There's more below.
---
Plaster walls are usually cracked but are worth saving. If the plaster wall is still firm and has just separated from the backing "lath" which was usually cedar strips, you just need to re-attach with drywall screws.  This will cause some cracking which you just patch up with spackle (sand all when dry). The products you need are all below.
Painting plaster walls in 5 steps
You should be ready to paint at that point.
Paint your walls with 2 coats of paint (in most cases):

Sometimes, if your primer is white and your wall/ceiling/trim/whatever is going to have white paint over that, you may be ok with one top-coat, but you have to cover every square inch with no skipping.
Worried about future mold? This fine mold-resistant paint is from Rust-Oleum (shown here).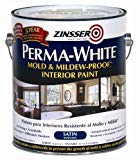 Make sure you have all the painting tools that you need.
If you are working with a lot of sanding, read our respirator mask guidelines.
---
How to paint plaster wall – summary
Painting plaster walls is almost like painting any other drywall. The primer that you use is the key. Don't skimp: you need to use the best primer for plaster walls to seal the wall. If you don't, top-coat paints won't take to it evenly.
Important point: watch out for the toxins you are putting into the air that you and yours are breathing. My respirator link is just above. It's for the zombie apocalypse also.
Key point: most water stains from plaster walls will bleed through every coat of latex painting work. Then you are laughing. After your top quality primer, you paint plaster walls just like any other interior paint job, which you will read about all over my site.
Write a comment below with any questions about how to paint plaster walls!